ASME Marine Committee To Present Thirteen Papers At Zurich Gas Turbine Conference
The Marine Committee of The American Society of Mechanical Engineers Gas Turbine Division is presenting a program at the Gas Turbine Conference in Zurich between March 30 and April 4, 1974. This program consists of 13 interesting and timely papers as well as a Forum on Marine Gas Turbines.
The marine program is as follows: April 1, Morning Session—Subject: "Installation, Application and Maintenance of Marine Gas Turbines"; chairman, P.E. Speicher Jr., U.S. Department of Commerce, Maritime Administration, Washington, D.C.; vice chairman, R. DuPont, ACEC, Division de Gand, Gand, Belgium.
"Gas Turbines in Ships—The Installation Problem," J. Neumann, Yard Ltd., Glasgow, Scotland.
"Noise Control of Marine Gas Turbines in Propulsion and Auxiliary Power Applications," M.I. Schiff, Special Products Department, International Acoustics Company, Inc., Bronx, N.Y.
"Controllable Pitch Propellers in the DD- 963; A Status Report," D.E. Ridley and R.C.
Case, Bird-Johnson Co., Walpole, Mass.
"Operating Experience of Kongsberg Gas Turbines and Marine Systems on Board Merchant Ships," T.H. Westrum, Gas Turbine Division, Kongsberg Vapenfabrik, Kongsberg, Norway.
"Water Jet Propulsion Systems—Design Studies Using a Computer," D.A. Frith, Aeronautical Research Laboratories, Melbourne, Australia.
April 1, Afternoon Session—Subject: "Marine Gas Turbine Fuels, Lubrication, Protective Coatings and Economic Comparisons"; chairman, R.J. Bradford Jr., National Steel and Shipbuilding Co., San Diego, Calif.; vice chair- man, Dr. H.N. Sharan, Gebr Sulzer, Winterhur, Switzerland.
"Supplementary Analytical Procedures for Evaluation Fuel Handling Characteristics of Heavy Distillate Gas Turbine Fuels," E.G.
Barry, Mobil Oil Corporation, Paulsboro, N.J., and S.P. Cauley, Mobil Oil Corporation, New York, N.Y.
"A General Review of Lubrication Systems for Marine Gas Turbines," A.S. Morrow, Shell Oil Company, Chicago, 111.
"Initial Work on the Application of Protective Coatings to Marine Gas Turbine Components by High Rate Sputtering," E.D. Mc- Clanahan and R. Busch, Battelle Pacific Northwest, Richland, Wash., J. Fairbanks, Naval Ships Engineering Center, Hyattsville, Md., and J.W. Patten, Battelle Pacific Northwest, Richland, Wash.
"Gas Turbine Propulsion—An Engineering and Economic Comparison of Mechanical Versus Electrical Drive," E. Gott, ASEA, Goteborg, Sweden, and S.O. Svensson, Stal-Laval Turbine AB, Finspong, Sweden.
April 2, Morning Session—Subject: "Military Applications of Marine Gas Turbines"; chairman, J. Siemietkowski, Navall Ship Engineering Center, Philadelphia, Pa.; vice chairman, H.B. Wiken, A / S Norsk Elecktrisk & Brown Boveri, Oslo, Norway.
"A Cruise Gas Turbine Naval Ships," H.E.
Johnson, Rolls-Royce Ltd., Coventry, England.
"Planning and Development for a New Generation of Gas Turbine Ships in the U.S.
Navy," R.E. Goldman and R.R. Peterson, Naval Ship Systems Command, Washington, D.C.
"Gas Turbines in the Royal Navy, 1970- 1973," R.T. Shaw, Ministry of Defence, Bath, United Kingdom.
"Test and Sea Experience of the GE LM2500 Propulsion Gas Turbine Mrdule," R.W. Brisken and W.R. Bobo, General Electric Company, Cincinnati, Ohio.
April 3, Afternoon Session—Marine Gas Turbine Forum—chairman, C.E.M. Preston, Rolls-Royce Ltd., Warwickshire, England; vice chairman, P. Zenker, Energieversorgung Oberhausen AG, Postfach, Germany; moderator, J. Herdlevaer, Kvaerner Brug A/S, Oslo, Norway.
This forum will be conducted by the moderator, who will field questions from the audience.
The answers to these questions will come from experts on marine gas turbines, who will also be in the audience.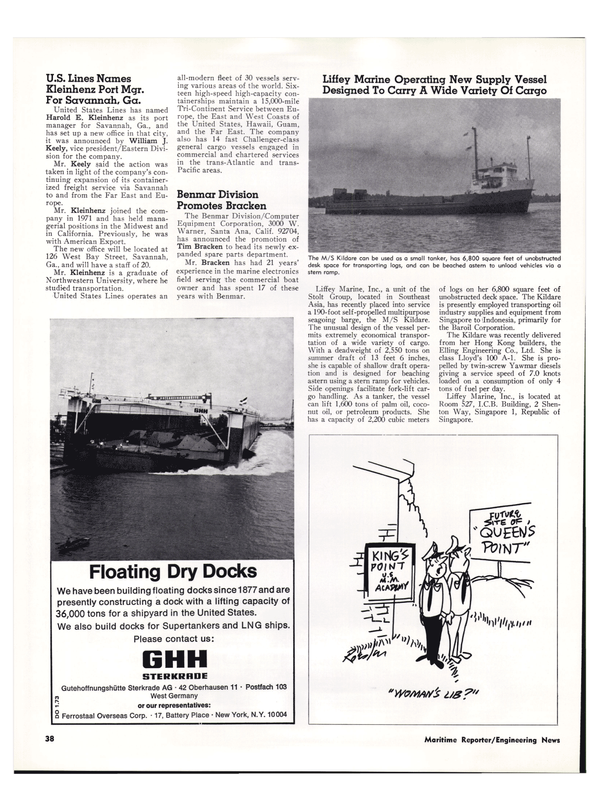 Read ASME Marine Committee To Present Thirteen Papers At Zurich Gas Turbine Conference in Pdf, Flash or Html5 edition of March 1974 Maritime Reporter
Other stories from March 1974 issue
Content