Todd Shipyards Los Angeles Division To Build Four 89,700-Dwt Tankers At A Total Cost Of $136 Million
Todd Shipyards Corporation recently announced that it has signed contracts for the construction of four 89,700-dwt tankers at approximately $34 million per vessel. Two of the tankers will be built for subsidiaries of Overseas Shipholding Group, Inc., and the other two are to be constructed for affiliates of Seres Shipping, Inc. United States Government commitments for guarantees under Title XI of the Merchant Marine -Act of 1936, as amended, have been issued for each of the four vessels.
The vessels, to be built at Todd's Los Angeles Division, will be 894 feet long, with a beam of 105 feet 9 inches, and a draft of. 49 feet. They are of the San Clemente class powered by steam, with an shp of 24,500. Delivery of the first vessel will be in March 1977, with the balance at fourmonth intervals thereafter.
With the award of these contracts, and the prospect of substantial additional shipbuilding business, the Los Angeles Division of Todd promises a significant increase in employment and income for the San Pedro area.
Todd Los Angeles is capable of employing 3,500 to 4,000 people, which would mean a payroll of $38 million or more annually.
The capital improvement program at Los Angeles, which is still under way, began over a year ago with the installation of a 975-foot craneway and a new 175-ton crane. Many additional improvements have been made in the intervening year, including the installation of new blasting and painting facilities, at a cost of just under $1 million, to comply with APCD requests for control of air pollution from industrial processes.
In all, a total of $12 million has been expended for facility expansion and improved production capability.
The multiship construction programs now in hand are fruits of this modernization.
Todd is spending $8 million more to extend and widen the existing shipways to accommodate the building of the 89,700-dwt tankers.
Two new cranes of 130-ton capacity each have been purchased to be used on the extreme sides of the two building ways. Both ways are being extended to handle the new, longer ships—their new dimensions will be 900 feet by 126 feet. The new crane capability will now make possible lifts onto the ways of 200 tons or more.
As a part of the company's overall plan for an integrated network of Autokon 71 at its four new-construction yards, the Los Angeles Division is planning to purchase a CM-100 numerical-control burning machine for automatic shape cutting.
The Autokon 71 program, sponsored by the Maritime Administration, is designed to reduce building costs and improve production methods.
The system was first developed by the Central Institute for Industrial Research in Oslo, Norway, in conjunction with cooperating Norwegian shipyards. A computer is used for speed and precision, to provide lines fairing, steel plate development, plate nesting, numerically-controlled burning, and many other shipbuilding functions.
A training program for both the design staff and shipyard production men is already under way for this system. The Autokon process has some 10 years of operating application in numerically defining ships' hulls.
Additional expenditures contemplated at the Los Angeles Division will also increase heavy lift capabilities, outfitting, and other related ship production improvements. The semiautomated panel line, dust-controlled abrasive blast facility, assembly and fabricating installations have all been designed to suit construction of ships up to 100,000 dwt.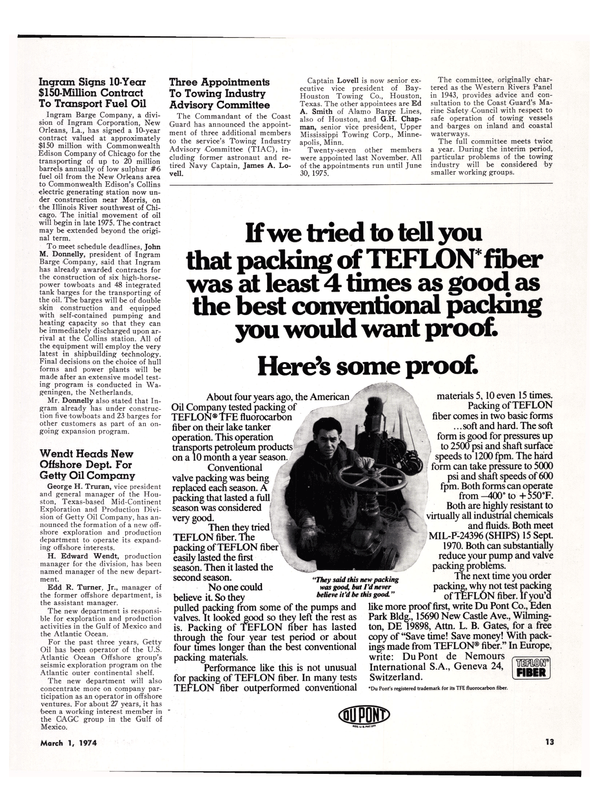 Read Todd Shipyards Los Angeles Division To Build Four 89,700-Dwt Tankers At A Total Cost Of $136 Million in Pdf, Flash or Html5 edition of March 1974 Maritime Reporter
Other stories from March 1974 issue
Content