60% Of Spanish-Built Ships Built By Astilleros Espanoles —Spain Now In Fourth Place
Astilleros Espanoles, S.A. recently held a special stockholders' meeting in the Assembly Room of the Spanish Industry Institute (I.N.I.), Madrid, to authorize the board-of directors to increase the capital stock of the company by 50 percent during the next few years.
The board is also authorized to modify the bylaws so that they reflect the true amount of the capital stock of the company. _ Don Tomais Galan Arguello, executive vide chairman of Astilleros Espanoles, S.A., previewed some of the essential points from the report he will submit at the regular stockholders' meeting in May, the most significant being: The invoicing of the. companies which are 100 percent within the Astilleros Group represents 29,250 million pesetas.
Astilleros Espanoles, S.A. delivered 1,420,000- deadweight tons in 1973, an 11 percent increase as compared with deliveries over the last fiscal year.
The type of vessels were 230,000-dwt, 110,- 000-dwt and $3>5,000-dwt tankers ; 53,000-dwt, 35,000-dwt and 27,000-dwt bulkcarriers, and 19,000-dwt cargoliners. These include the tankers for Iraq.
Spain now ranks fourth in shipbuilding and moves ahead of such traditional shipbuilding nations as France, England, Norway, Denmark and Italy.
Astilleros Espanoles, S.A. is the builder of 60 percent of Spanish newbuildings. The orderbook shows 92 vessels with' 7,700,000 deadweight tons.
TTie new facilities, which are about to be placed in service by the company, will allow Astilleros Espanoles, S.A. to increase production.
The meeting also disclosed: The concerted action program will be completed in 1974.
The construction of a large dock in the new repairing center in the Bay of Cadiz continues as anticipated and will foe in operation at the end of this year.
Construction of the new yard, also in the Bay of Cadiz, continues as planned, and the first vessel to fee built there will be delivered in 1975.
The restructuring of marine equipment manufacture will enable Astilleros Espanoles to reach a position of importance in the marine equipment market and start the new activity of turbine manufacture.
Regarding iron and steel production, another activity of Astilleros Espanoles, S.A., improvement in production at the Reinosa Works is anticipated as a result of the company's decision to install a new special steel plate mill.
In concluding, Mr. Galan said: "The courses of action of Astilleros Espanoles, S.A. do not rest only on the demand but also in the capability of the company to meet this demand in a competitive way."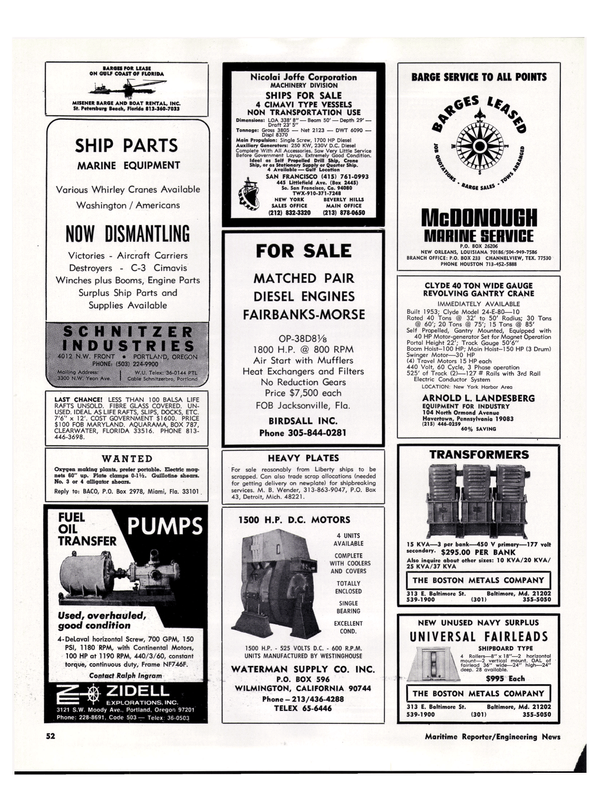 Read 60% Of Spanish-Built Ships Built By Astilleros Espanoles —Spain Now In Fourth Place in Pdf, Flash or Html5 edition of March 1974 Maritime Reporter
Other stories from March 1974 issue
Content