Soviet Merchant Fleet Now 'Blankets The Globe'
The Shipyard Weekly, published by the Shipbuilders Council of America, recently quoted a Wall Street Journal report by staff reporter Bill Paul on a "worrisome trend" implicit in Russia's expanding ocean shipping fleet which now "blankets the globe." His timely article makes these points: "Soviet shipping policy, in contrast to Western policies, considers every merchant vessel a military ship first and a commercial ship second." "The 'greatest disparity' between U.S. and Soviet 'combat capability' is in their merchant marines." "The Soviets have been on a shipbuilding binge for years, and they are still going strong." "With the Soviet emphasis on hard currency, the Russians can 'pitch their prices 25 percent below whatever (Western) commercial rate is offered.'" "Western shipowners are convinced that Moscow is influencing Western shipping policy." "A major concern to U.S.
planners is the military implications of the big Russian commercial fleet." "The Soviets, whose state-owned shipping companies can operate at a loss for long periods, now are capable of destabilizing shipping rates at will . . ." Mr. Paul reports that the Soviet Union is supporting "proposal by the shipping committee of the United Nations Conference on Trade and Development (to) prevent most Western shipowners from flying a low-cost flag of convenience by requiring the owner to have a majority of his assets in that flag country, which few of them do." Advanced by developing countries which "want to limit developed nations' access to flags of convenience as a means of increasing their own participation in world shipping," Russia's motive, Mr.
Paul says, is to reduce "low-cost shipping competition." Soviet merchant marine, as of January 1, 1982, numbered 2,449 vessels of 1,000 gross tons and over; U.S. commercial fleet, not including Great Lakes vessels, totaled 574. Gross tonnages were 16,542,000 and 13,516,000, respectively.
Deadweight tonnages were about equal. In containership category, U.S. outshines U.S.S.R., but in other categories of major shipping resources (freighters, tankers, roll-on/roll-off vessels and bulk carriers), Russia holds the lead.
Ratio of bulk carriers, in particular was 8 to 1 in numbers and 7 to 1 in gross tonnage.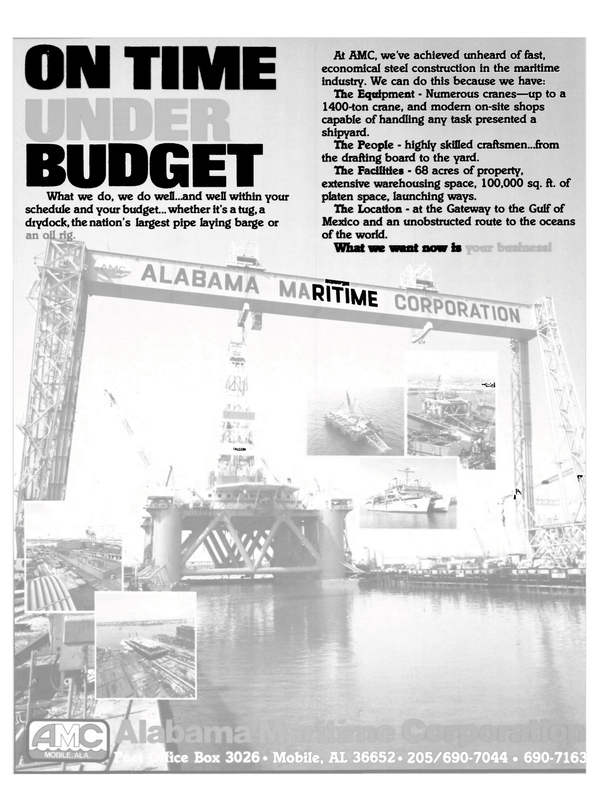 Read Soviet Merchant Fleet Now 'Blankets The Globe' in Pdf, Flash or Html5 edition of October 1983 Maritime Reporter
Other stories from October 1983 issue
Content