1985 A YEAR OF CHANGE AND CHALLENGE
Joseph Farrell, President The American Waterways Operators, Inc.
Excerpted from a speech to the American Association of State Highway and Transportation Officials Annual Meeting AWO is the National Trade Association representing over 300 members active in various facets of the inland and coastal barge and towing business. Our members include carriers who bring direct service to 41 states on more than 25,000 miles of navigable waterways. Our membership also includes over 50 small to mid-size shipyards which build and maintain the equipment for our industry.
Overall, the industry employs nearly a quarter of a million people if all direct and ancillary enterprises are considered.
Our industry is in severely bad shape. The inland and coastal carriers remain mired in a deep and continuing state of depression—untouched by the much-vaunted revival of the economy in other sectors.
There are three particular issues of immediate concern to us. These issues are a landmark case involving intermodal transportation; the issue of revenue adequacy as it ought, equitably to be applied to water carriers; and the pork barrel image associated with water project legislation.
A particular case now before the Sixth Circuit Court of Appeals sitting in Cincinnati, Ohio, proves illustrative of the basic issue of intermodal transportation.
In June 1983, the CSX Rail Conglomerate, the nation's second largest railroad, signed an agreement to acquire Texas Gas Resources, the parent company of American Commercial Lines Inc., which owns American Commerical Barge Lines Company (ACBL) the nation's largest independent barge interest.
Pending approval by the Interstate Commerce Commission (ICC) of an outright takeover of the operations of the barge company, CSX agreed to place American Commercial Lines, Inc., and by extension, ACBL, into a separate voting trust.
On July 24, 1984, the ICC approved the acquisition of the barge company asserting that no reduction in competition would result despite the fact that CSX and ACBL do in fact compete, and serve much of the same areas and in several cases have parallel routes competing primarily for the transportation of coal.
Our organization and other interests have appealed this decision to the sixth circuit court of appeals.
Written arguments in this case were placed before the court in December.
The challenge to this acquisition is time consuming, costly and multifaceted. It is also vitally important.
Because it involves monopoly power and restraint of trade. It is not about deregulation, as some would have us believe. It is, in fact, all about monopoly power in the transportation marketplace.
Monopoly power has no home in a free enterprise system. Quite the opposite. Monopoly power is antithetical to free enterprise. It is in effect corporate regulation. CSX by its action proposes to supplant government regulation of interstate commerce with its own brand of commercial regulation. I can imagine CSX feels impelled to do so seeing the void left by the ICC's flagrant indifference to the exercise of its legislated mandate to promote healthy competition which benefits the nation.
Our history is replete with examples of individuals and corporations who have hidden behind the mantle of free enterprise while consciously setting about to disrupt free trade through monopolistic practices.
These individuals and companies do not wish to merely participate in the market; they wish to corner it, to control it, to extinguish it for all but themselves. A note from history may be of interest here.
The most formidable monopoly which was ever conceived was the Standard Oil Trust.
In March of 1911 when the Supreme Court finally dissolved the Standard Trust, Chief Justice Edward Douglas White wrote the final words in a case which featured years of protracted, costly and nationally divisive litigation.
Justice White, writing for the majority, observed in dissolving the monopoly that "no disinterested mind can survey the jungle of conflicting testimony relating to the innumerable complex and varied business transactions existing over a period of forty years without being irresistibly drawn to the conclusion that the very genius for commercial organization soon begot an interest and purpose to exclude others." (emphasis added) And that is precisely what the present CSX/ACBL case is all about: a commercial enterprise in this case seeks to increase its own size and strength and, at the same time, muscle out others from participation in the marketplace. The CSX/ACBL merger represents a monopolistic power play, it is unlawful under the Panama Canal Act and it will greatly inhibit the choice of shippers in considering their most cost effective transportation options.
But the battle we must now fight in the courts at great expense in time, energy and money is a battle we ought not have to fight. This merger should justly never have progressed past the administrative level.
The Staggers Rail Act of 1980 deregulated the nation's railroads and I believe that was wise legislation.
While there are aspects of the Act which need fine tuning and modification, I am in substantial agreement with the major thrust of the legislation.
But one goal of the Act—the concept of revenue adequacy—for the freight rail industry—needs to be briefly considered here because it has ramifications which impact our industry and the other modes as well.
Revenue adequacy means making your basic costs as well as a reasonable profit margin on employed capital outlay. In deregulating the railroads, the Congress recognized that the precipitous decline in rail profitability justified the concept of revenue adequacy. Put another way, if a particular railroad is not revenue adequate, it can increase prices to shippers beyond the threshold which would otherwise be permissible until, under the complex formulas employed in the Stagger's Act, the carrier has achieved an acceptable level of profitability.
I am in no way advocating that the water carrier industry needs an equivalent to the Staggers Act. Only about 9% of our products move in a regulated environment.
What the water carriers and other modes do need is parity and uniformity in government conduct toward all the transportation modes.
Clearly, the water carrier industry is not now revenue adequate. We ask that the government, when it embarks upon policies such as grain embargoes and payment-in-kind programs, which drastically reduce the movement of grain and fertilizer products, recognize the severe financial impact of these programs on our industry. Will these programs and ever escalating user tax proposals help the water carriers to become revenue adequate.? Just the opposite.
Revenue adequacy is a philosophical concept and a good one in the abstract. But in practice for this concept to be a benefit and not a hinderance to the nation's transportation system it must be equitably and universally applied. It must not be a special perquisite for a single carrier mode.
But underlying perhaps all other problems, our inability to articulate persuasively our vital interests is intimately linked to the perpetuation of the myth that all water projects are. per se, pork barrel designed to line the pockets of certain favored interests.
Mr. Webster's Dictionary defines pork barrel as "a government project or appropriation yielding rich patronage benefits." One of our greatest challenges as an industry is to undo the damage done by the synonymous association of the terms "water project" and "pork barrel" in the standard political vocabulary.
While it is certainly true that there have been initiatives enacted, and probably others will be proposed, which would authorize pork barrel water projects, water project does not automatically mean pork barrel, anymore than highway repair, airport maintenance or rail crossing projects are necessarily pork barrel.
Our primary dilemma is that given the nasty connotation that water projects have taken on, some in the political arena and the more facile media types have forfeited their vital capacity to discern between that which is patronage and that which is in the public interest when they consider water project legislation.
Nowhere is this inability to equitably discern between good and bad parochial and national interest more evident than in the current user fee controversy involving who should pay for needed improvements in the waterway system.
There is virtual unanimity that the transportation infrastructure of the United States is aging and beginning to fail. All politicians of whatever stripe and ideology agree that something drastic needs to be done—and done soon—about this looming catastrophe. However, there is no such unanimity as to who should pay for these repairs and improvements.
Opinion ranges from the extreme of those who suggest that the transportation system is a quasi-public utility and all costs should be funded totally by the public, to those who argue that the commercial navigation interests should underwrite the entire cost of all improvements.
I believe most rightminded individuals, when conversant with the facts, would shun both of these arguments.
I am not against the concept of user fees in the absolute. Our industry has been paying a user tax since 1980. I am, however, against proposed user fees which are excessive, financially crippling or which seek to divorce government from its rightful role in promoting the national interest—not merely the interests of commercial warriors, political expediency and ideological orthodoxy.
Put simply there are those—mosty blind fiscal ideologues, green eyeshade accountant types, some envi- ronmentalists and errant lobbyists who argue that we—the commecial navigation industry—should pay for all needed repair, expansion, improvement and maintenance of the waterway system, regardless of who benefits from the system, regardless of regional economic sustenance, regardless of protection of life and property afforded by this work.
What higher user fee proponents fail to understand or admit is that there is direct taxation—flowing from the explicit actions of government, and there is indirect taxation— flowing from the reactions of industry to government policy.
Whether these waterway levies are called a fee or a user charge, they are in reality a tax. Let's not delude ourselves: the water carriers cannot realistically be expected to absorb these costs and write them off.
These taxes will ultimately have a direct impact on all American consumers, in very specific ways. The vital, life-sustaining freight we carry will increase in price at the retail level as a result of these taxes.
A recent user charge "impact" assessment conducted by Walter J. Willis, Economics Professor Emeritus at Southern Illinois University's School of Agriculture, warns that increasing user taxes on waterway transportation could damage the coal industry in the "Eastern Interior Basin" as well as increase electricity rates. Professor Willis' studies indicate that if the Administration's user tax plan would prevail, it would result in an 85

Do these few men of limited vision who today sometimes hold sway in the national economic debate ever pause to consider that a healthy, integrated transportation network is in the national interest, and vital to our national survival?

Or are they, as I sadly suspect, captive of their eyeshades, obsessed only with raising taxes, but not through raising personal income taxes?

Our industry only appeals for equity. Our service is an essentially simple one: moving products of great importance to the nation from point to point over water. The nation's physical plant is in need of repair and maintenance. We cannot afford nor should we be asked to shoulder disportionate costs.

The message of the biased or the narrow minded to the water carriers appears to be: free enterprise for your competitors, onerous and burdensome taxation and indifference for the barges. Who can wonder why we languish in depression.

It is crucial to remember that we serve the nation, not merely our own commercial interests. Therefore, it is appropriate that the proposed improvements be viewed for what they are: preserving the nation's treasure and therefore funded mostly from the national treasury.

There have been numerous specific proposals and an omnibus water bill considered and passed in the House and another taken up in various Committees of the Senate, only to fall short of adoption. And, as the 98th Congress prepared to adjourn, water project authorizations— minus cost-sharing policy— were stripped from the continuing resolution. Why? For the most part because of the awful, subliminal spectre of the equation: water project = pork barrel.

Until that equation is demolished and the misunderstanding inherent in it is purged from the political lexicon, real progress will be inhibited in setting in motion a comprehensive and equitable waterways policy in the United States.

And we must have such a policy.

Our industry is in a depressed state.

President Carter's Grain Embargo of 1980 still generates seismic aftershocks.

While President Reagan has lifted the embargo, the Soviets now see us as an unreliable source of supply and have made contingency plans with other nations that have resulted in significant loss of U.S.

market share.

Moreover, pre-embargo high export expectations of grain shipments and projections of record exports for U.S. coal generated a massive overproduction of waterway capacity and equipment—further encouraged by seductive tax shelter positions enacted by a Congress then eager to encourage equipment production. This capacity, born of these false expectations, now lies fallow. Government imposed higher user taxes would truly add insult to injury and risk sinking the commercial barge industry.

At AWO we have our work cut out for us exorcising the pork barrel demon as an accepted synonym for any waterway project. We also need to work harder on improving our industry's image and elevating its profile. And we need to get the Government to take a sensible look at some of the existing programs and proposed policies which have already had, or which would have, the effect of wreaking more havoc on our industry.

We seek partnership with government to achieve a water carrier version of revenue adequacy.

But the battle before which all the others pale is the battle over the proposed CSX/ACBL merger/acquisition.

The stakes are very high for all of us. The stakes are literally monopoly versus free trade. Our industry pleads for and respectfully demands that the Government turn about and act to maintain a balanced transportation system which gives no unfair advantage to any segment: a system which is passive in its encouragement of competition but which is aggressively active in its discouragement of monopoly power.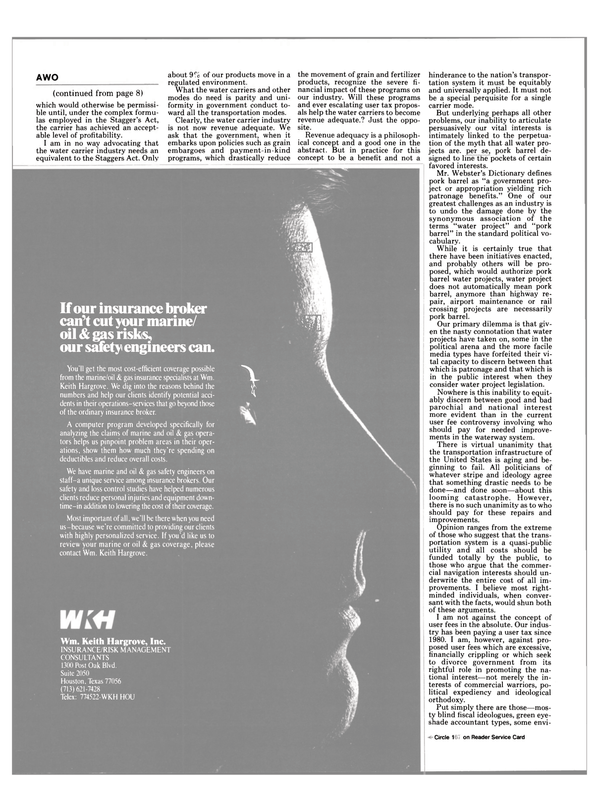 Read 1985 A YEAR OF CHANGE AND CHALLENGE in Pdf, Flash or Html5 edition of January 1985 Maritime Reporter
Other stories from January 1985 issue
Content