OUTSTANDING OFFSHORE/SHALLOW-DRAFT VESSELS OF 1984
A portfolio of the most important offshore and shallow draft vessels featured during 1984 . . .
selected because of unusual and superior characteristics of design, purpose or performance.
ASIE DUA Halter Marine The second of Halter Marine's new high-speed Sea Shuttle class crewboats was delivered last year to Asie Crewboats SDN BHD of Kuala Lumpur, Malaysia. The all-aluminum Asie Dua, like her sister vessel Asie I, is 112 feet long with a 25-foot beam and 11-foot depth. Her spacious 60- by 20-foot aft deck can carry up to 80 long tons of cargo together with 15 tons of consumables below deck. She can accommodate 55 passengers and has quarters for a crew of five.
Asie Dua is powered by four Detroit Diesel 12V71TI diesel engines developing a total of 2,040 bhp.
They drive two Federal propellers through Twin Disc MG514 reverse reduction gears with a ratio of 2.5:1.
An interesting feature of the new vessel is her 1,200-square-foot aft deck, which is completely level and not cambered as on many other vessels engaged in similar work.
Another design innovation of the Sea Shuttle crewboat is the placement of the passenger compartments.
All are above the main deck and away from the engine room.
This reduces noise and allows rig crews to arrive fresh and ready for work. Passenger well-being is also enhanced by large windows providing excellent visibility and lighting of the spacious, airy passenger compartments.
The extended visibility is carried through in the pilothouse high atop the passenger compartment, where the captain has a 360-degree view through extra-large windows. Also fitted in the pilothouse is an aft pilot station with duplicate controls for backing down on rigs. This permits dry, comfortable, and safe operation in foul weather.
The Asie Dua was built at Halter's Chalmette, La., division, one of six shipyards operated by the company in the Southeastern United States. Halter builds more than 30 different types of vessels, and is the world's largest builder of supply boats for the offshore oil and gas industry. Halter was purchased recently by Trinity Industries, Inc. of Dallas.
ASIE III Fjellstrand Fjellstrand A/S of Omstrand, Norway, recently completed the 96- passenger crewboat Asie III. An allaluminum, semi-planing catamaran with asymmetric hulls, the vessel was handed over to the owner in Omstrand, then shipped as deck cargo to Singapore, where it was christened.
Asie III has a one-year contract of affreightment with Esso Production Malaysia Inc. (EMPI), with an option for an additional year. The vessel will operate in the South China Sea transporting personnel and light cargo between installations in the Semangkok, Irong Barat, and Tapis oil fields. This entails the vessel being stationed offshore for periods of 6-8 weeks. EMPI will also use the boat to evaluate the feasibility of using a high-speed vessel such as the Asie III between the shore base and the offshore installations.
The vessel has an overall length of 103.35 feet, beam of 30.84 feet, depth of 11.48 feet, and maximum draft of 7.38 feet. She is powered by two MTU 16V 396 TB 83 diesel engines, each developing 2,010 bhp at 1,940 rpm, driving Liaaen/Helix c o n t r o l l a b l e - p i t c h propellers through Reintjes reduction gears with a ratio of 2.5:1. A water jet, hydraulically operated bow thruster supplied by Frank Mohn is installed in each hull. Electric power is provided by two Mercedes Benz/Stamford diesel generators, each of 50 kw.
During trial runs the boat's speed was measured at 29.1 knots, 0.5 knots above the speed specified in the contract. Fjellstrand's 103-foot catamaran has been subjected to extensive tests in extremely rough sea conditions.
The vessel has two single cabins, one double cabin, and one four-man cabin forward on the main deck.
Crew quarters also contain a galley, messroom, and a shower/lavatory.
The passenger lounge has adjustable seats and two lavatories with showers. The cargo deck aft has an area of about 1,075 square feet and a capacity of 40 tons.
Built to Det norske Veritas classification 1A2, Light Craft, R150, Passenger Catamaran, the Asie III is the third 103-foot offshore catamaran built by Fjellstrand. Of the previous vessels, one was delivered to Brazil and one to France. In addition to the three offshore boats, the shipyard has sold seven 103-foot passenger catamarans to Chinese and Norwegian shipping companies.
BALDER CHALLENGER Marystown The first of its new M9700 diving support/supply vessel design, the Balder Challenger, has been delivered by Marystown Shipyard Limited of Marystown, Newfoundland, to Labrador Offshore Shipping Company Limited. The 2,300-dwt vessel was originally ordered by Petro Canada Exploration Inc., then sold during the construction period to Labrador Offshore.
The vessel is constructed to the latest regulations of Lloyd's Register of Shipping, and is classed +1A Offshore Supply Ship, Ice Class 3, + LMC, UMS, Unrestricted Service, and is in compliance with Canadian Steamship Inspectorate Regulations, SOLAS 1974, and Damage Stability to IMO Regulations and Norwegian Regulations 1980. Construction cost was C$21.4 million.
Balder Challenger has an overall length of about 236 feet, molded beam of 52.5 feet, depth to main deck of 23.8 feet, and design draft of 18.9 feet. Her main propulsion plant comprises two MLW (Bombardier) diesel engines, each with an output of 2,712 bhp at 1,100 rpm, providing a service speed of 14 knots.
Electrical power is provided by two 1,360-kva alternators driven by power takeoffs on the gearboxes via flexible couplings. Also installed are three diesel-driven alternator sets for ship's service duties, each rated at 490 kva, and a 12-kw emergency diesel generator set.
For diving support applications, the vessel is fitted with a fully redundant dynamic positioning system that meets the Lloyd's Register A-A classification. Three independent reference systems are provided: a vertical taut wire system, an Artemis microwave system, and a hydro-acoustic positioning system, the latter a dual system with full transducer/transponder back-up.
All sensitive equipment is located in an independently air-conditioned computer room. To aid maneuverability and offer full redundancy, the vessel is fitted with two 800-hp bow thrusters and two 600-hp stern thrusters. A moonpool is installed amidships, fully serviced with compressed air, fuel, and electric power outlets.
During the initial design stage, emphasis was given to an optimum hull shape producing good seakeeping qualities in marginal weather conditions, and best utilization of space for liquid and dry bulk cargoes.
For offshore supply work, the vessel has the following capacities: 800 tons of drill/ballast water, 1,000 tons of fuel oil, 550 tons of potable water, 12,000 cubic feet of cement/ bulk cargo, and 1,000 tons of deck cargo.
The vessel has high cargo discharge rates, and the capability to deliver potable water, drill water, fuel oil, and two types of dry bulk cargo simultaneously. A Kongsberg portable joystick provides a high level of control during maneuvering.
The latest electronic navigation and communications equipment is installed, including two independent gyrocompasses, autopilot, Simrad ADF and navigation sounder, JRC speed log and two radars, an emergency located/transmitter, crewcall/talkback system, two Sailor VHF radiotelephones, two CMC portable VHF radios, Skanti watch receiver, and Sailor tandem main radio station with full back-up.
BETTY EDWARDS Iowa Marine Iowa Marine Shipyard in Keokuk, Iowa, recently delivered the river towboat Betty Edwards to Morris Harbor Service of Morris, 111. Both companies are wholly owned subsidiaries of Iowa Marine, which is also headquartered in Morris.
The new vessel is named after the mother of Tom Edwards, Iowa Marine's board chairman. She has a length of 50 feet, beam of 22 feet, and depth of 7 feet; the pilothouse has an eye level of 25 feet.
Twin Cummins NTA-855 main diesel engines develop a total of 650 bhp at 1,800 rpm. Two Twin Disc 5.17:1 reduction gears turn 54-inch Kahlenberg propellers through 5- inch shafts. Electrical power is provided by a 25-kw Lima generator driven by a 3-cylinder Duetz aircooled diesel. Other equipment includes a Dayton air compressor, Humphrey sanitary system, hot water heater, air conditioners, electric range, and refrigerator.
The vessel has many innovative design features that add to her versatility and ease of maintenance.
The pilothouse measures 8 by 8 feet and has deep windows that provide complete visibility to all four corners of the boat from the operator's seated position. The second deck is equipped with a full fleet deck, specially designed for strength and safety, allowing the vessel to handle empty barges with ease.
A new Iowa Marine design allows the 30-ton Patterson electric winches to be installed inside the tow-knees. This protects the winches from weather and provides a large, clear forward deck area. The raised stern deck is covered with rough-cut 2- by 8-foot oak planking, giving it a non-skid surface for safe access to rudders and steering mechanisms.
Heat is provided by 30,000-Btu truck type heaters fed by the main engines and equipped with 12-volt fans. This heating system is backed up by 220-volt electric heaters. Two Carlisle & Finch incandescent searchlights are installed, one 120- volt and one 12-volt. The vessel has two all-channel Raytheon 53 VHF radios, a Raytheon 400 loudhailer/ intercom, and complete engine alarm system. All navigation lights, pilothouse lights, and some deck and engine room lights are 12-volt operated.
The Iowa Marine-designed, fullfollow- up steering system is driven by main-engine-powered hydraulic pumps, giving the vessel the ability to operate without the generator in case of emergency or for added economy.
The bilge pump is designed so that any compartment of the vessel can be either pumped or ballasted by using the sea cock. A 12-volt Jabsco automatic pump, separated from the engine room bilge, pumps the stuffing box drain water directly overboard even with the vessel completely shut down.
A spacious, paneled bunk room with a full head is located on the main deck, and a small, fully equipped galley is on the second deck. This gives the Betty Edwards the capability for operations between Lemont and Hennepin, 111.
BIG ORANGE XXI Moss Point Marine Moss Point Marine, Inc. of Escatawpa, Miss., recently delivered a big towing/supply vessel for Intermarine of Houston. The vessel has an overall length of 218 feet, beam of 40 feet, and depth of 14 feet. It was named the Big Orange XXI.
Propulsion is provided by twin GM Electro-Motive Diesel 12- 645CE2 engines with a total output of 3,000 bhp at 900 rpm. These drive Coolidge stainless steel propellers mounted in Kort nozzles via Falk 2.98:1 reduction gears. The main engines were supplied by George Engine Company. The propulsion package also includes a 600-hp Schottel bow thruster. The steering system is by E.M.I.
Electrical power supplied by a 125-kw Delco generator driven by a GM Detroit Diesel 8V71N engine.
Electronics include a Furuno radar and Sperry autopilot. The Carrier air conditioning and heating systems were supplied by Marine Refrigeration.
Kahlenberg supplied the air horns, Carlisle & Finch the searchlights, and Hubbell the running & navigation lights. Lifesaving gear is by Switlik and Zodiac. Accommodations will be provided for a 20-man crew.
Big Orange XXI has a clear deck area 146 feet long and 31 feet wide (4,526 square feet), and the following capacities: drill water, 228,700 gallons; liquid mud tanks, 1,352 barrels; bulk mud tanks, 11,824 cubic feet; fresh water tanks, 10,100 gallons; and fuel oil, 64,740 gallons.
Equipped with a stern roller and double-drum winch, the vessel will be able to handle light towing and anchor-running duties.
CAROL JEAN Eastern Marine Eastern Marine, Inc. of Panama City, Fla., recently delivered the passenger/vehicle ferry Carol Jean of Interstate Navigation Company of New London, Conn. Built at Eastern's shipyard in Panama City, the ferry measures 187 by 39 by 14 feet with a draft of 9 feet. The vessel will be home ported in New London.
Propulsion equipment on the Carol Jean is supplied by three Cummins KTA-115-M diesels coupled to Capitol HP 28000 gears on a 4.5:1 ratio. Steering is provided by a Wagner LB 2-40-35 system, with additional maneuvering facility supplied by a Harbormaster BT 200 bow thruster driven by a Detroit Diesel 6-71 engine. The propeller is by Columbian Bronze Corporation.
Navigation equipment on the ves- sel includes Furuno radar, two USA Standard Horizon VHFs, Micro- Logic loran, and Datamarine depth sounder. Monitors and alarms are International Electronics Ltd./16- point system, horns are by Kahlenberg, and running and navigation lights are by Perko.
The Carol Jean has the capacity for 5,100 gallons of fresh water and 9,320 gallons of fuel.
Eastern Marine is a growing company that has earned a reputation as a builder of high-quality vessels with exceptionally good workmanship.
The company operates yards in both Panama City and Allanton, Fla.
"FIREBOAT" MonArk Boat The City of Memphis, Tenn., at mid-84 placed in service a new fireboat built by MonArk Boat Company of Monticello, Ark. The Memphis Fire Department specified two major requirements when ordering the new boat; the craft should be small enough for trailer mobility but also large enough to handle the variety of marine fire problems that confront the department.
The all-aluminum vessel is powered by twin Cummins model 6BT high-speed, marine diesel engines.
Each engine has an output of 152 bhp at 2,500 rpm. A third identical diesel drives the boat's fire pump, Hale model 60FJ-M rated at 1,200 gallons per minute. These diesels are the first Cummins engines of this model and type installed in a workboat application; they are part of the new Cummins small B-series, fuel-efficient engines.
The new craft, which has attained a speed of 28 mph upstream and 33 mph downstream, will be based at the Memphis Fire Department's downtown headquarters. It will remain on the trailer at all times except when it is responding to fire emergencies on the Mississippi River and McKellar Lake.
The boat is equipped with a forward deck monitor, Elkhart model 294-11X, rated at 1,100 gpm; the monitor is fitted with a CSW Select- O-Flow nozzle and foam stem. Two spill fire protection sprays, 1-inch Elkhart model NTL-CF 1, are located under the forward deck, with remote controls at the operator's console. The boat is fitted with a 100-gallon foam tank capable of discharging 3- or 6-percent concentrate through the forward monitor or spill protection nozzles.
Electronics aboard include a Raytheon model 1200 radar and a Raytheon D250 Fathometer.
GLOMAR BALTIC I Marathon LeTourneau The Glomar Baltic I, first Marathon LeTourneau Super 300 Class jackup drilling rig, recently began its first drilling assignment in the Gulf of Mexico. The rig, which is being operated by Global Marine Company, was built at Marathon's Gulf Marine Division in Brownsville, Texas. A new design, the Super 300 is a large jackup designed to work in locations with water depths and environmental conditions too severe for standard 300-foot water depth jackups but not hostile enough to require a Marathon Gorilla Class rig.
The Glomar Baltic I is fitted with the Super 300's optional leg length of 515 feet (the standard length is 448 feet).
In this enchanced configuration, the rig can drill in 350 feet of water with 100-knot winds and 55-foothigh waves.
Like the Gorilla rigs, the Super 300 utilized the Marathon LeTourneau Slotilever™, which allows drilling in both the slot and cantilever positions. With the derrick package over the slot, the rig's drilling mode and survival mode are the same.
The new rig's hull is 270 feet long by 268 feet wide by 28 feet deep. It is designed for a normal elective variable load capacity of 4,250 tons plus 650 tons derrick pull-in load.
The Super 300 is classed + A1 by the American Bureau of Shipping and built in accordance with the Mobil Offshore Drilling Unit Regulations of the U.S. Coast Guard.
When required by the customer, the Super 300 can be constructed to meet the requirements of the U.K.
Department of Energy, the Netherlands Department of Mines, and other regulatory bodies.
HALEAKALA McDermott A unique self-loading/unloading container barge, the Haleakala, was delivered to Matson Navigation Company recently by McDermott, Inc., followed soon after by a sister barge, the Mauna Loa. Each barge is capable of carrying 216 containers of various sizes, including dry and refrigerated boxes and auto frames, plus 1,700 long tons of molasses in bulk.
Total cost of each barge, which has a beam of 64.5 feet, was about $9.5 million, including the revolving container-handling cranes that will travel atop massive steel girders supported by pillars rising from the deck. The cranes were built in Japan under a separate contract, and will be installed when the barges arrive in Honolulu following a 7,200- mile tandem tow that is expected to take about 34 days.
Innovations designed by Matson engineers include adjustable cell guides for securing containers and a remote-controlled stern thruster to aid in docking.
The new barges were built in three sections at different McDermott yards—the bow sections in New Iberia, La., the stern sections with machinery at Morgan City, La., and the midbodies at Gulfport, Miss., with final assembly at Morgan City.
The Haleakala and Mauna Loa will operate in Matson's "Neighbor Islands" feeder service between Honolulu and Hilo, on the Island of Hawaii; Kahului in Maui; and Nawilwili in Kauai.
KLONDIKE Nichols Brothers A hallmark event for Nichols Brothers Boat Builders of Freeland, Wash., was the recent christening of the M/V Klondike, a unique 72-foot high-speed catamaran built for Yukon River Cruises of Alaska. The first of its kind to be built in the U.S., the vessel, which can carry 210 passengers, is powered by two Caterpillar 3412 TA main engines (Niigata 2.5:1 reverse reduction gear) and can reach a cruise speed of 28 knots. The hull and superstructure was specially designed by Nichols Brothers to allow for convenient landings on the banks of the Yukon where the vessel will cruise during 1985. Until then, after carrying passengers between Long Beach and Catalina Island during the Los Angeles Olympics, it moved to San Francisco for a season of dinner cruises.
On hand to celebrate its maiden voyage was designer Philip Hercus of International Catamarans, Australia as well as 150 passengers from the government and private sectors invited to enjoy the ride to Seattle. A rubber buffer positioned between the hull and passenger cabin ensured a smooth, quiet ride.
Deluxe appointments include two carpeted decks, upholstered seating, oversized windows for outdoor viewing, gift shop, and full bar and galley.
LANDING QUEEN Walker Marine The 500-passenger Landing Queen, a 290-ton displacement sternwheel riverboat, was christened recently at the Landing at Seven Coves, a country club/resort hotel on Lake Conroe, Texas. The vessel is owned by Wilburn S.
Bruce, owner of the resort.
The Landing Queen measures 120 feet from bow to sternwheel, has a 38-foot beam, and is 38 feet from her keel to the top of the pilothouse.
The boat is said to be one of the largest to navigate any inland lake in the U.S.
The all-steel vessel was constructed by James K. Walker Marine, Inc. of Moss Point, Miss. It was built in modular sections that were then tack-welded together. After approval by the American Bureau of Shipping it was disassembled and shipped overland by truck to the Landing's site on Lake Conroe, where it was reassembled and permanently welded by Walker craftsmen.
Finish carpentry and outfitting were done locally.
The Landing Queen is distinguished from other paddlewheelers in Texas because she has an authen- tic riverboat structure, rather than a superstructure built on a barge. Her curvilinear design is dictated by the fore-and-aft sheer and the side-toside camber of the decks, which is the mark of all true riverboats. The vessel was designed by naval architect William G. Preston, owner and president of Marine Power, Inc., Gulf Breeze, Fla.
Beneath the elegant Victorian facade, the Landing Queen is as modern as she is beautiful. The vessel is powered by two 18-foot-diameter paddlewheels that are independently controlled and fully reversible for maximum maneuverability. The paddlewheels are driven by two variable-speed hydraulic motors that are powered by two 200-bhp GM Detroit Diesel engines. Each engine drives a 40-kw electric generator, providing 120- or 220-volt power.
The Grand Salon on the Main Deck is enclosed, with year-round Carrier air conditioning. It seats 124 for dinner, features a stage for plays and musical entertainment, and has an antique-style bar. Five hrass and cut glass chandeliers, 26 sconces, Encarnex marble, custom-cut leaded and beveled doors and windows, antique-style floral carpets, and 80,000 linear feet of solid oak moldings and rift-cut raised oak paneling are blended in a rich setting of colors and textures.
The Boiler (second) Deck is covered by the third deck but the sides are open to the lake breezes. This deck is for moonlight cocktail dance cruises. It is appointed with Honduran mahogany decking, carved glass panels, antique-style bar, authentic embossed tin ceilings, a bandstand for live music, and imported marble restrooms.
The Hurricane Deck and the Texas Deck form the split-level third deck. The Texas Deck is the uppermost deck upon which the pilothouse is installed. The Hurricane Deck wraps around the Texas Deck and is the favorite for observation, as it is the highest public deck and is open. Another antique-style bar is located on this deck.
MISS JULIE Gladding-Hearn Designed by Robert Henry of Bay Marine, Inc. and built by Gladding- Hearn Shipbuilding Corpora- tion for Robert P. Stevens of Buzzards Bay, Mass., the lobster boat Miss Julie is an all-aluminum, 65-foot single-screw vessel that combines speed, maintainability, economy of operation, and comfort in a lightweight but rugged boat.
The Miss Julie has some definite differences from the usual lobster boat design. Her unpainted aluminum hull is a rarity for offshore fishing vessels. An aft-mounted, 12- cylinder diesel, together with light- weight construction, provides significant speed and fuel-saving advantages.
Up-and-down, amidships lobster tanks are designed for ease of unloading, and controlled water levels provide added weight savings.
These features, among others, will provide longevity of service, speed enhancement, low maintenance requirements, and operational efficiency.
The vessel's M.A.N, diesel engine, model D-2543-MLE, is rated 515 bhp at 2,100 rpm. Cooled by a heat exchanger, the engine drives a Columbian Bronze 40-inch, 4-bladed stainless-steel propeller through a Twin Disc 3:1 reduction gear and Armco Aquamet-17, 3 Vi -inch-diameter shafting. This efficient propulsion system moves the lightweight boat at speeds up to about 14.5 knots.
Topside, the Miss Julie has a 19- foot beam, with a spacious deck aft capable of accommodating 40-50 lobster traps. A 14-inch hydraulic pot hauler, driven off the main engine and controlled from the pilot house, is fitted to the aft bulkhead of the cabin. Amidships are two fully insulated holding tanks with a combined capacity of some 16,000 pounds of lobster. The tanks and their piping systems are designed so that the level of the holding water is held at just what is needed to cover the quantity of lobsters caught.
Both tanks are fitted with bottom aluminum trays that are raised and lowered by an electric hoist to bring the catch to the surface for ease of unloading. A circulating water system, as well as a backup aeration unit that infuses filtered air into the holding water, serves both tanks.
In addition to her functional efficiency, the Miss Julie offers a full range of amenities for convenience of operation and crew comfort. She has a spacious, well-insulated and electrically heated pilothouse fitted with starboard control station, charting area, captain's berth, day galley, and locker area with access to the engine room. The front of the pilothouse is of "West Coast" design, with forward-slanting windows and protective visor. This arrangement allows more space for overhead mounting of electronics, and generally enhances visibility in bad weather. Crew quarters in the forecastle has accommodations for four hands and includes a galley area, mess table with settees, bunks, head/showers, and storage area.
MOBIL JOLIET St. Louis Ship The 3,600-bhp towboat Mobil Joliet, designed and built for Mobil Oil Company by the St. Louis Ship Division of Pott Industries Inc., features the St. Louis Ship exclusive Super Hydrodyne hull. The new vessel, which replaced the Mobil La- Crosse built by St. Louis Ship in 1951, will operate out of Mobil's Joliet, 111. refinery.
Mobil Joliet has an overall length of 140 feet, beam of 44 feet, depth of 10 feet 6 inches, and normal operating draft of 8 feet 6 inches at her design draft. The all-welded steel hull is heavily framed longitudinally and transversely, with the aft deck raised to provide additional strength to the stern.
There are 11 fuel oil bunkers with Mobil Joliet (continued from page 33) a total capacity of some 75,000 gallons, two wash water tanks having a total capacity of 7,000 gallons, two potable water tanks with a total capacity of 9,000 gallons, a 2,600- gallon bilge holding tank, one 1,800- gallon sewage holding tank, two 1,300-gallon lube oil storage tanks, and a 2,600-gallon dirty oil holding tank, all built into the hull.
Propulsion power is provided by two Wartsila 12V22HF diesel engines capable of burning blends of residual fuel, each developing 1,800 bhp at 900 rpm. These drive two five-bladed, stainless steel 102-inch propellers through Lufkin RHS 3022 offset reduction gears. The engines and gears are cooled with water circulated through a St. Louis Ship-designed skin cooling system.
The engines can be started from the engineer's control booth or the pilothouse, and are controlled by Tracor Marcon equipment installed in both loctions.
The new towboat is equipped with a Tracor Marcon monitoring system that features a video monitor in the engineer's control room, the pilothouse, and the engine room.
The system is designed to accept information from 168 sensor inputs, which include various parameters such as pressures, temperatures, switch closures, rates, voltages, etc.
A Matthews electro-hydraulic, two-speed power package having two service and one standby dualoutput pumps provides the power to the hydraulic system for the two steering and four flanking rudders.
This system provides for electrical wiring and mechanical linkages for follow-up in the steering compartment.
Electric power is supplied by two GM Detroit Diesel 125-kw diesel generator sets. A Simplex deadfront switchboard is wired for parallel operation of'the generators.
The engine room is soundproofed and is provided with overhead trolleys and hoists port and starboard.
Each generator room is partitioned off by soundproof panels for isolating the diesel generator sets.
Deck machinery consists of one Schoellhorn-Albrecht 10-hp, motordriven, double-barreled capstan; two Beebe 5-hp, motor-driven winches; and a Sasgen derrick boat davit located aft on the second deck to handle supplies and a small workboat.
A FAST Model L4 sewage treatment plant processes the sewage from the toilet drains, and is valved to discharge to the sewage holding tank, overboard, or to a flanged connection on the main deck.
Seven staterooms are provided on the second deck for the captain, pilot, guest, and four crew cabins.
All living quarters, lounge, galley, mess, and pilothouse are air conditioned with either hot or chilled water circulated through McQuay and Burnham fan coil units. A combination heating and air conditioning system is installed. The primary source of heating is circulating water through an Alfa-Laval heat exchanger utilizing the generator diesels' cooling water system. The secondary source of heating is by a Keewanee oil-fired boiler. The air conditioning system is a Carrier 20- ton, packaged liquid chiller refrigeration unit with two 10-hp electric compressors.
Navigation and communications equipment includes two Decca radars, two Uniden VHF-FM radiotelephones, one Motorola Modar Triton SSB radio, one Anschutz swingmeter, one Elac LAZ depth sounder, a Hose McCann soundpowered telephone system, and Dukane intercom and public address systems.
MUSIC CITY QUEEN Marine Builders The new 400-passenger Music City Queen (shown above) was christened recently in her home port of Nashville, Tenn., according to Dr.
Hugh D. Claughton, owner and president of Belle Carol Riverboat Company of that city. His daughter, Carol Ann Claughton, was the vessel's sponsor.
The 135-foot luxury riverboat was built by Marine Builders in Utica, Ind. She sailed down the Ohio River to Paducah, Ky., then up the Cumberland River to Nashville. The fourth vessel in the company's fleet, the Queen sails on regularly scheduled cruises from Nashville's Downtown Riverfront Park, which was the original site for docking of steamboats about the turn of the century.
"The Music City Queen has been created in the tradition of the sternwheeler riverboats that dominated Southern rivers in the 1800s," explains Dr. Claughton, "and has a decor designed to transport passengers back in time to an era in history when riverboats were the source of entertainment, fine dining, and escape from the fast pace of life." The first deck houses a catering area, bar/lounge, dining room, and stage for the variety of musical groups and entertainers who appear nightly. The second deck has its own bar, lounge, and dining area.
From this deck passengers can observe the entertainment on the main deck. These two enclosed, air conditioned decks provide year-round comfort where passengers can enjoy dining then take moonlight walks on the two upper decks.
The new Queen, which has an 85- foot hull and beam of 35 feet, com- of 8 feet. She is powered by a pair of GM 12V71 diesels with a combined 800 horsepower, driving Coolidge 42-inch four-blade bronze propellers through Twin Disc marine gears. Auxiliary power is provided by two Nissan diesels coupled to 20- kw Lima generators. Hydraulic power comes from a MARCO Hydraulic Pump Drive connected to the starboard main engine. The switchboard and electrical system were provided by Harris Electric, and the engine controls by Mathers.
Deck machinery aboard the Nene consists of a 22-ton hydraulic winch built by Lentec of Canada.
Below her raised pilothouse, the Nene boasts some very comfortable and thoughtfully laid-out accommodations, including a complete galley, dinette area, and berthing for a crew of three. In keeping with her working environment, the new boat's interior is fully air-conditioned.
Electronics and navigational aids aboard include radar and two VHF radios by Raytheon, a Northern SSB radio, a Ross depth sounder, a Furuno satellite navigation system, a Wagner Mk 4 autopilot and compass, and a Raytheon three-station intercom system.
PAULA McCALL Gulf Craft The 145-foot Paula McCall, said to be the world's largest aluminum crewboat, was completed recently by Gulf Craft, Inc. of Patterson, La., and delivered to McCall Boat Rental, Inc. of Cameron, La., a firm owned and operated by Norman McCall.
Mr. McCall has been in the offshore boat rental business for 18 years and has grown to a fleet of 30 vessels. Gulf Craft has built 20 of the 22 aluminum crewboats owned by McCall Boat Rental, and presently has two more McCall vessels under construction—125-foot and 145-foot aluminum crewboats. Gulf Craft designed and built the first 110-foot, quad-screw aluminum crewboat for McCall in 1975, and in 1981 delivered the first five-screw, 125-foot crewboat to the same company.
The Paula McCall is U.S. Coast Guard-approved to carry 75 passengers, 200-mile ocean service, and her stability letter allows 150 tons of deck cargo. She attains a speed of 27 knots from the five Cummins KTA 1150 M diesel engines that develop a total of 3,400 bhp, driving five Columbian propellers through Twin Disc gears.
With the five-engine concept, she can loose an engine and still be a very fast vessel to transport personnel and supplies offshore, and suffer no downtime. The five engines also allowed the shipyard to design a more maneuverable vessel by locating a rudder behind each of the three aft propellers. This allows the captain to safely position the vessel precisely at the rigs for loading or unloading personnel and supplies.
The Paula has a beam of 28 feet, depth of 11.5 feet, and fully loaded draft of 8 feet. The aft cargo deck is 82 feet long and 22 feet wide. It has the conventional cargo guard rails on each side, center line tie-down pads, and a cargo guard across the back of the passenger cabin to prevent anyone from being trapped inside in the event of an accidental cargo shift towards the cabin.
In addition to transporting supplies and personnel, the vessel is capable of offloading fuel and water.
Fuel capacity is 10,000 gallons, 8,000 of which can be transferred through a fuel meter. Fresh water is also important on the offshore rigs, and the Paula has the capability of offloading 20,000 gallons. All perishable supplies such as meat, milk, and groceries are carried in a 252- cubic-foot walk-in cooler.
Other safety features of the vessel include three Carlisle & Finch searchlights to provide more than ample light when loading or unloading at night, a stern personnel loading ramp with safety rails, a Gulf Craft-designed aluminum man overboard rescue ladder, and a PTO fire pump with fire monitor mounted on the aft deck.
The electronics outfit includes two radars, Loran, SSB, VHF, depth finder, and autopilot. Another first incorporated in the Paula is a lube oil blender supplied by Cummins that blends the used engine oil with diesel fuel; the mixture is burned in the diesel engines.
During the past 20 years, Gulf Craft has grown from a small aluminum boat-building yard into a multi- faceted organization equipped to construct all types of aluminum vessels.
In addition to the main shipyard in Patterson, the company has other facilities in Abbeville and Simmesport, La. The yard can construct crewboats, passenger ferries, party fishing and sightseeing boats, research vessels, and diving support craft.
PILGRIM BELLE Bender Shipbuilding Bender Shipbuilding and Repair Company of Mobile, Ala., recently delivered the 150-passenger minicruise vessel Pilgrim Belle to Coastwise Cruise Line, a new service of Hyannis Harbor Tours. Her appearance is in the manner of a 1925 coastal steamer, with a decor and ambiance that her owner has dubbed the Steamer Class™.
Designer of the new vessel was John W. Gilbert of Boston, a naval architect recognized internationally as one of the leading designers of commercial craft in this size range. Interior design was assigned to Interior Design International of Seattle and Copenhagen.
The Pilgrim Belle has an overall length of 192 feet, beam of 40 feet, and draft of 7 l/i feet. She is powered by twin Caterpillar diesel engines, each with an output of 1,055 bhp. A 300-hp bow thruster aids in docking and undocking. Electric power is provided by two 390-kw Caterpillardriven generators.
The vessel's hull was built upside down from the stern forward. After the framework was plated over, the hull was rolled over into an upright position for completion.
The 49 outside cabins all have private bathroom facilities and individually controlled air conditioning and heating. An elevator is installed serving three passenger decks.
The Steamer Class coastal cruise vessel is the first of its type to be constructed by Bender. The Mobile yard specializes in construction and repair of fishing vessels, supply boats, large tugs, and a wide variety of inland and oceangoing commercial vessels.
PLAYA DEL CARMEN St. Augustine Trawlers In 1983 the Jacksonville, Fla., naval architectural firm of DeJong & Lebet, Inc. signed a contract with Transportes Maratimos de Yucatan y del Caribe S.A. to design a 600- passenger ferryboat for fast service between Cozumel and Playa del Carmen, Mexico. A combined effort with St. Augustine-based shipbuilder St. Augustine Trawlers, Inc. resulted in a remarkable elapsed time between contract signing and the 1984 delivery of about three months.
The vessel was further designed to receive passengers from visiting cruise ships while at anchor at sea.
Special hull construction and a high degree of maneuverability make this operation possible in complete safety under most sea conditions.
The Playa del Carmen has an overall length of 121 feet, beam of 27 feet, depth amidships of 11 feet, and full-load draft of 6 feet. She is powered by three GM Detroit Diesel 12V92-TA engines, each rated 600 bhp at 1,800 rpm. Power is transmitted to the 4-bladed Columbian Bronze propellers through Twin Disc reduction gears. Shafting is 4- inch Armco Aquamet; engine controls are by Kobelt. The bow thruster is a Schottel Model S-51, driven by a Detroit 3-71N diesel. Cruising speed is 15.7 knots.
Two Lima generators are driven by Detroit 3-71N engines. The capstan was supplied by New England Trawler, and air supply fans are by Hartzell.
RIONI Valmet Oy Valmet's subsidiary yard, Valmetin Laivateollisuus Oy in Turku, Finland, recently delivered the first unit in a four-vessel series being built for the Ministry of Gaz Industry of the USSR. The supply/ anchor-handling vessel Rioni incorporates a number of interesting features, like the "father and son" ma- chinery installation, as well as onecompartment structural subdivision to provide extra safety for operations in harsh conditions such as the Arctic.
The Rioni is the lead vessel in the series that will be delivered during 1984-85. Behind the customer's decision to place the order with the Valmet yard was, among others, the fact that Laivateollisuus already had good experience with such craft.
In the mid-70s the Turku yard built a series of Ulstein type UT 704 vessels for I.M. Skaugen in Norway and The Offshore Company of Houston.
The Rioni type, however, is the yard's own design and is tailor made to meet the stringent requirements of the USSR rules and specifications.
The Rioni type is intended to serve the needs of offshore installations with the transport of pipe, bulk material, fresh and potable water, fuel, cement and mud, as well as food provisions in refrigerated containers. She will also be able to tow drilling rigs and other structures.
In addition, she will be able to carry and handle anchor chains and cables of the offshore structures, as well as take the drill sludge ashore in containers.
The Rioni has an overall length of 220.8 feet, beam of 45.6 feet, and design draft of 16.4 feet. Storage capacities are designed to give 30 days of uninterrupted operation with a complement of 24 and at an 85-percent machinery output.
The machinery arrangement comprises two separate propeller shafts, each driven via a reduction gear by two diesels of different sizes. Each diesel is coupled to the reduction gearbox by flexible couplings; in addition, the smaller engines are coupled from their front ends to separate alternators. Thus the smaller engines serve a dual purpose—as a main engine or as a generating set, either coupled independently.
All four diesels are of Wartsila type 22, the two larger in V form with 22 cylinders each and the two smaller units in R form with six cylinders each. The corresponding outputs are 2,420 bhp and 1,200 bhp, respectively, for a total vessel output of 5,330 bhp. Both of the smaller engines are fitted with 550- kva alternators. One generator is needed to serve the vessel in all conditions except when the 1,000-hp bow thruster and the towing winch or the cargo-handling equipment are in operation.
The two propellers are of controlli able-pitch type fitted in fixed nozzles.
They can be controlled by joystick type operation from both ends of the bridge. Also on the bridge are remote controls for the towing winch, and alarm stopping of the cargo pumps.
The one-compartment structural subdivision is achieved by careful placement of the bulkheads and tanks. As a result, either of the compartments may be flooded without causing danger to the vessel.
RIVERANDA Blount Marine Blount Marine Corporation of Warren, R.I., last year delivered the 425-passenger, U.S. Coast Guardapproved dinner cruise vessel Riveranda.
Designed and constructed for World Yacht Enterprises, Ltd. of New York City, the new 145-foot vessel is a close sister ship to the Spirit of Philadelphia, delivered earlier in the year.
The Riveranda's passenger capacity has been limited to 425 in order to provide an atmosphere of spacious luxury. She will seat a total of 350 persons in two carpeted, air conditioned dining rooms and will accommodate dinner parties on both main decks as well as on the open third deck in good weather.
Both enclosed decks feature a complete bar, with portable bar facilities on the third deck. All equipment was designed and installed to enhance the interior and exterior appearance, as well as to lower noise levels throughout the vessel.
While the primary operation of the vessel is deluxe dinner cruises, she will also cater to wedding receptions and other social functions, and serve as a conveyance for corporate gatherings.
Main propulsion is provided by two GM Detroit diesel 8V-92 engines, and ship's electrical power is supplied by two 125-kw diesel generators.
Steering is Wagner hydraulic with an optional joystick control.
A Morse single-lever, twin-control system is used for engine rpm and gearing. The large galley is equipped for complete preparation of meals comparable to fine restaurants.
Pilothouse equipment includes a Furuno radar, Polaris Regency VHF radio, Wagner rudder angle indicator, Ritchie 5-inch compass, automatic fog horn timer, air-operated windshield wiper, and an intership talkback system. A complete stereo and public address system with optional individual deck control is also installed.
SB 406 Rauma-Repola The Rauma-Repola shipyard in Uusikaupunki, Finland, last year handed over to its Soviet trading partner, V/O Sudoimport of Moscow, a type SB 406 ocean-going salvage tug, the 14th ocean-going tug delivered by that yard to the USSR.
Construction of the series started in 1976; four 3,500-bhp vessels were completed in 1977-79, and nine in the 1980s. The new 7,800-bhp SB 406 tug is bigger, more powerful, and more comprehensively equipped than the previous vessels. A second SB 406 is under construction.
The SB 406 is powered by two Wartsila 3,900-bhp diesel engines.
Her length is 225.72 feet, beam is 50.85 feet, and draft is 16.73 feet.
She has twin screws and a bow thruster. The strength of her ice reinforcement is shown by the UL1 classification given her by the USSR Register of Shipping, a rating exceeding even the highest Finnish ice class.
The new tug is the product of collaboration in many ways. Design and construction were based on Rauma-Repola's own know-how and on the experience gained in foreign markets. V/O Sudoimport is very strict in insuring that the final product corresponds to the original designs. It also knows exactly what makes a good tug. This presents the builder with the challenge of carrying out the plans scrupulously.
She has ultramodern diving, pumping, and fire-extinguishing equipment needed for rescue and salvage operations. Using the pinpoint accuracy of her four water/ foam monitors, the SB 406 can take shelter behind her own water screen while putting out fires on other vessels up to 260 feet distant. One of the monitors is telescopic, and can be raised hydraulically to a height of about 100 feet. The tug also has equipment for the dry powder extinguishing that has proved most effective for fires aboard tankers.
Using the special equipment on board, salvage diving and technical work can be carried out up to a depth of almost 200 feet. The tug has two diving stations, and both a fixed and a portable decompression chamber.
Towing is one of the SB 406's main operations. She is equipped with two Rauma-Repola winches, one pulling 60 tons and the other 30 tons. The 2.20-inch and 1.57-inch diameter towing cables are 2,460 feet long. The towing hook, designed and developed in collaboration with the supplier, can be remote- released from the tug's stern control room.
There is a fast-acting, 5-ton articulated- boom crane installed on the stern deck; this is used for various hoisting jobs. The crane can withstand rolling caused by even the heaviest swell. It can be used for the lifting operations involved in diving work, and carries a "basket" for lifting up to eight people at a time from the water.
R/V SEWARD JOHNSON Atlantic Marine The advanced research vessel R/V Seward Johnson was delivered by Atlantic Marine, Inc. of Jacksonville to Harbor Branch Foundation of Fort Pierce, Fla. Named for pharmaceutical heir J. Seward Johnson Sr., who with famed engineer and inventor Edwin A. Link was co-founder of the Foundation, the 176-foot ship can carry two Harbor Branch-designed submersibles capable of diving to 2,640 feet. Following completion by Atlantic Marine the vessel was taken to Fort Pierce for fitting of a specially constructed aluminum A-frame that was designed and built by Harbor Branch engineers.
The new ship is the first to be built specifically for the Foundation.
Each of the other seagoing research vessels in the Harbor Branch fleet is capable of carrying a single submersible. They are the Johnson, a former Coast Guard cutter, and the 100-foot Sea Diver, originally built for underwater archeological research.
Designed by Rodney Lay & Associates of Jacksonville, the Seward Johnson has a beam of 36 feet and draft of 12 feet. The 295-grt vessel has a capacity of 60,000 gallons of fuel, giving it a range of 8,000 nautical miles at a speed of about 14 knots.
Main propulsion is provided by two Caterpillar 3512 DI diesel engines, each with an output of 850 bhp at 1,200 rpm. Electrical power is supplied by three Caterpillar/ Kato diesel generators, each rated 295 kw. Two Elliot White Gill thrusters are installed, each with a thrust of 7,000 pounds, and 360- degree rotatable.
Accommodations are provided for a normal complement of seven operating crew, six submersible crew, and 10-14 scientists. A briefing room is equipped with video recorders, video monitor, projection screen, and conference table. There is also a quiet lounge with technical and science library. Laboratories include a submersible maintenance lab, submersible electronics repair lab, compressor room with dive locker, operations electronics lab, and wet and dry labs.
Navigation and communications electronics include: Sperry gyrocompass with three repeaters, autopilot, and magnetic compass; two Furuno radars; RDI collision-avoidance system; Northstar Loran with Epsco plotters and Digitac printers; Navidyne satellite navigation unit interfaced to gyro and speed log; Harris SSB transceivers; Sailor VHF; Regency Polaris VHF with ADF; Sea Lab portable radios; EDO depth recorder; Furuno depth sounder; Data Marine depth sounder; Klein side-scan sonar; Aldin weather facsimile recorder; and Dytek sea temperature recorder.
In addition to the special A-frame for submersible launch/recovery, deck machinery includes an Appleton 5-ton crane, SMATCO anchor windlass, Boston Whaler small boats, constant-tension towing winch for submersible recovery, and three capstans.
SMIT SINGAPORE Niestern Sandery Smit Tak International Ocean Towage and Salvage Company of Rotterdam recently added a third 22,000-bhp unit to its fleet of large oceangoing tugs. Named the Smit Singapore, the new tug was built by Niestern Sander b.v. of Delfzijl, Netherlands, a member of the Conoship Group.
While basically similar in design to the Smit Rotterdam and Smit London, the Smit Singapore incorporates a number of modifications, most notable of which is the layout of the aft part of the vessel for special anchor-handling duties and salvage assistance to ships in distress.
She can also tow heavy objects over long distances. The aft deck is fitted with a stern roller and towing winch of Machinefabriek IJmuiden manufacture, designed in close cooperation with the owner.
The ship has an overall length of 246 feet, extreme beam of 51.5 feet, molded depth of 25 feet, and maximum draft of 22.3 feet. Main propulsion is provided by two Stork- Werkspoor 9TM410 diesel engines, each with an output of 11,000 bhp, driving two controllable-pitch Lips propellers in Hodi nozzles via Van Tol reduction gears and Lohmann & Stolterfoht pneumatic clutches.
The main engines can run on heavy fuel up to 1,500 sec Redwood.
Each gearbox is provided with a power takeoff shaft driving a 1,000- kva Indar generator; the portside PTO also drives the firefighting pump. Electricty is also generated by auxiliary sets consisting of Stork- Werkspoor DRO-218 K diesels driving Indar 740-kva generators. The harbor/emergency set consists of a Scandia DSI-14 diesel driving a 312- kva Indar generator. All auxiliary engines run on gasoil.
STAR OF DETROIT Chesapeake Shipbuilding The 400-passenger dining cruise vessel Star of Detroit was delivered at mid-84 by Chesapeake Shipbuilding, Inc. of Salisbury, Md., to Star Line Corporation of Williamston, Mich. Designed by the firm of Knud E. Hansen of Copenhagen, the ship's sleek exterior and plush interior distinguish her from most other vessels of this type.
The new vessel has an overall length of 162 feet, beam of 45 feet, and draft of 6 feet. Propulsion is provided by twin GM Detroit Diesel 8V-71N engines, each with an output of 230 bhp at 1,800 rpm. These drive two Jastram rotatable rudder/ propeller units. Utilizing joystick control from the pilothouse or bridge wings, propeller thrust can be obtained in any direction, greatly enhancing the vessel's maneuverability.
Electrical power is supplied by two 150-kw generators driven by Detroit Diesel engines. Maximum continuous speed is 11 knots. The engine room is located on the main deck aft.
The spacious galley is installed below the main deck, with food service to the main and upper decks provided by a dumbwaiter supplied by Dan Elevator of Denmark. Extensive fire, noise, and vibration control insulation is installed throughout the ship. The upper deck has a dance floor, with a raised ceiling forward.
The Star of Detroit operates from a site at Hart Plaza in downtown Detroit, offering lunch and dinner cruises in a unique environment.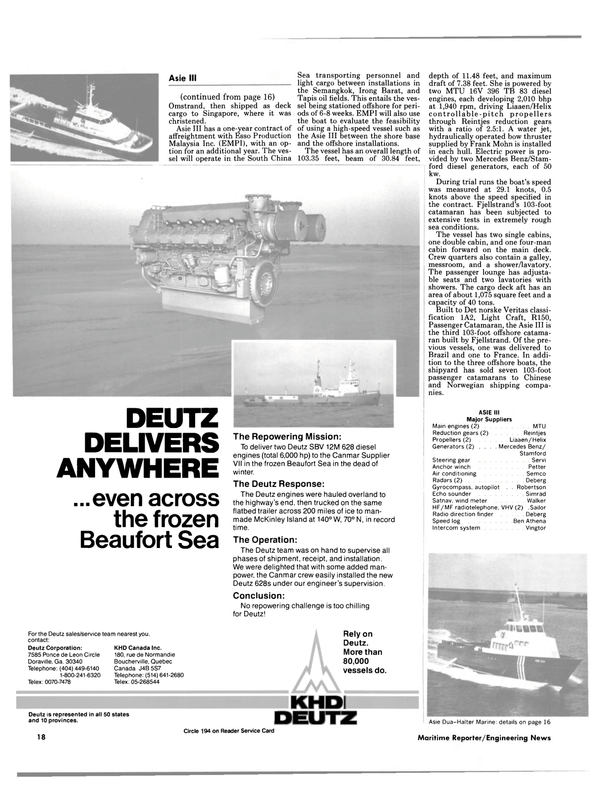 Read OUTSTANDING OFFSHORE/SHALLOW-DRAFT VESSELS OF 1984 in Pdf, Flash or Html5 edition of January 1985 Maritime Reporter
Other stories from January 1985 issue
Content