Fast Sealift Ship USNS Altair Dedicated At Avondale Industries Shipyard Division
Another of the U.S. Navy's TAKR Class of Fast Sealift Ships, the USNS Altair, was dedicated at Avondale recently and was delivered ahead of schedule.
The USNS Altair (T-AKR-291) is the second of its class to be dedicated at Avondale. It was converted from a Sea-Land (SL-7) commercial containership. A sister ship, the USNS Antares (T-AKR-294), was converted by the shipyard and delivered in July 1984. A third ship, to be named USNS Pollux (T-AKR- 290), is currently being converted at Avondale for delivery in March. The T-AKR Class vessels are among the largest and fastest auxiliary supply ships in the Navy.
The principal speaker at the renaming ceremony was U.S. Representative Robert L. Livingston (RLa.) of the 1st Congressional District.
The Congressman's wife, Bonnie, was the ship's sponsor.
Others participating in the dedication were U.S. Navy Capt. Paul D.
Hurst, Supervisor of Shipbuilding, New Orleans; Albert L. Bossier Jr., president and chief executive officer, Avondale; Eugene E.
Shoults, Program Manager, pms 377, Naval Sea Systems Command; and Richard F. Brunner, senior vice president, Avondale.
Monsignor John Bendix of St.
Matthew the Apostle Church delivered the invocation. Miss Brandy Ann Jackson, daughter of Mr. and Mrs. J.D. Jackson, was the flower girl for the ceremony. Mr. Jackson is superintendent of rigging at the shipyard. Traditionally, the flower girl is a daughter of an Avondale employee. Music for the occasion was provided by the Grace King High School Band.
The mission of the USNS Altair and the other T-AKR Class ships is the rapid transport of military equipment and vehicles to any area in the world. The ship will carry tanks, jeeps, armored personnel carriers, helicopters and other wheeled equipment.
The USNS Altair, which successfully completed sea trials in September, is 944 feet long with a beam of 105 Vi feet, a depth of 66 feet, and a draft of 36 feet 8 inches. Displacement is 55,400 long tons and she is powered by two steam turbine plants of 60,000 shp per plant. Her service speed with full cargo underway is 33 knots.
Some of the major elements of Avondale's conversion of the SL-7 ships into T-AKR ships include the addition of several decks for vehicle and cargo stowage; a flight deck with a helicopter landing platform; two side-ports with hinged platforms and a portable ramp; restructuring of the cargo holds to carry containers, seasheds (open containers) and flat racks; and installation of twin cranes fore and aft, a new fuel system, and expanded fire protection.
The Shipyard Division is the largest group of Avondale Industries, Inc., a new corporation created recently under an Employee Stock Option Plan (ESPO). The new corporation is a diversified company with manufacturing facilities operating in the major markets of shipbuilding and metals.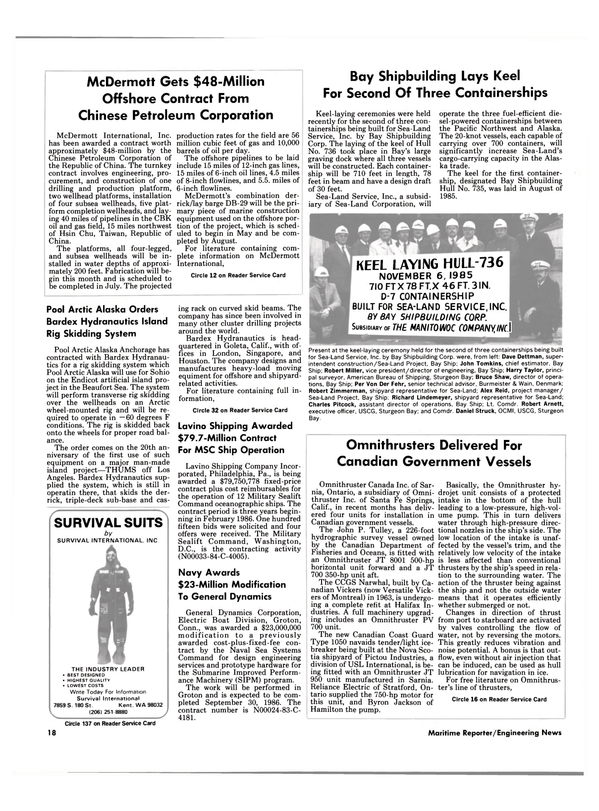 Read Fast Sealift Ship USNS Altair Dedicated At Avondale Industries Shipyard Division in Pdf, Flash or Html5 edition of January 15, 1986 Maritime Reporter
Other stories from January 15, 1986 issue
Content