Seacor Continues Rational Fleet Expansion
Seacor — through an unprecedented string of strategic and financially sound acquisitions — has emerged as one of the world's premier operators of a fleet of vessels that provide marine services to the oil and gas exploration and pro- duction industry, and oil spill response services in the U.S. Gulf of Mexico, North Sea, offshore West Africa, the Far East and Latin America. For the fiscal year ended December 31, 2000, the company announced net earnings of $11.1 million on revenues of $88.3 mil lion. For the 12 months ended December 31, 2000, net earnings were $34.1 mil- lion on revenues of $339.9 million. The improvement in the fourth quarter offshore marine results was led by a 10.3 percent increase in operating revenues due primarily to higher rates per day worked for vessels operating in the U.S.
Gulf of Mexico and in West Africa and higher overall utilization for all vessel classes except utility. Offshore marine operating expenses were essentially unchanged between quarters as higher wage and benefit costs were offset by lower repair and maintenance expense.
During the fourth quarter, the Company completed 19 drydockings for a cost of $1.4 million as compared to 30 drydockings in the third quarter for a cost of $3,059 million. In the fourth quarter, Seacor purchased three towing supply vessels and took delivery of a newly constructed Fast Support Intervention Vessel. The company also purchased a 25 percent minority interest in the Seacor Vision, a 1997 built, 12,240-bhp, anchor handling towing supply vessel, previously held by a partner. Vessel dispositions during the quarter included four supply, two standby safety, and one anchor handling towing supply vessel.
Two supply and one anchor handling towing supply vessel were leased back, and four supply vessels were redelivered to a leasing company. In December 2000, Seacor entered into a 50/50 joint venture with Penguin Boat International Ltd. of Singapore. The joint venture owns seven newly constructed Fast Support Intervention Vessels that currently operate in Southeast Asia. Penguin built six of the seven joint venture vessels in the last three years. Also in the fourth quarter, the company's joint venture in Mexico terminated the charter-in of one anchor handling towing supply vessel and a pooling arrangement with respect to four standby safety vessels was terminated.
In the fourth quarter, the company expanded its inland barge business with the acquisition of SCF Corporation and related companies, which owns and operates inland river barges and that was substantially owned and controlled by certain Seacor directors. Seacor now owns 66 barges and a 50 percent interest in a partnership that owns 11 barges and manages 204 barges for third parties.
Subsequent to year-end, Seacor committed to the construction of an additional 60 barges. The Company expects a certain number of these barges to be purchased by third parties and managed by SCF.
So far this year, the company has acquired six mini-supply vessels and two supply vessels, and signed a definitive agreement to acquire Gilbert Cheramie Boats, Inc. and related companies.
The Cheramie companies own 14 mini-supply vessels (half of which were delivered within the last five years), eight utility vessels, and one newly constructed supply vessel. A Cheramie company has another supply vessel under construction with delivery scheduled in April 2001. Other 2001 transactions include the sale of one utility and one crew vessel and the termination of the charter-in of a supply vessel.
Recently Seacor Marine, Houston, awarded Bollinger Shipyards a contract to build two 145.5 ft. (44.3 m) supply/utility vessels. Construction will commence at Bollinger's Lockport, La.
facility in April and May, with delivery of the vessels scheduled for November and December 2001. Yet-to-be-named, each vessel will measure 145.5 ft. (44.3 m) with a 36 ft. (10.9 m) beam and maximum drafts of 10 ft. (3 m). They will be powered by two Cummins diesel engines developing a total of 1,500 bhp at 1,600 rpm. driving Bollinger 72-in. x 57-in. stainless steel propellers through Twin Disc reverse/reduction gears. Each vessel will boast 2,800 sq. ft. of aft deck space with a maximum deck load of 390 tons, as well as four mud tanks with a total capacity of 50,000 gallons of liquid drilling muds. Navigation and communications equipment onboard will be comprised of two JRC radars; Fururno GPS; Comnav autopilot; Furuno radio; Standard Horizon Intrepid VHF radios with two remotes; and one Loudhailer with exterior hailer horns.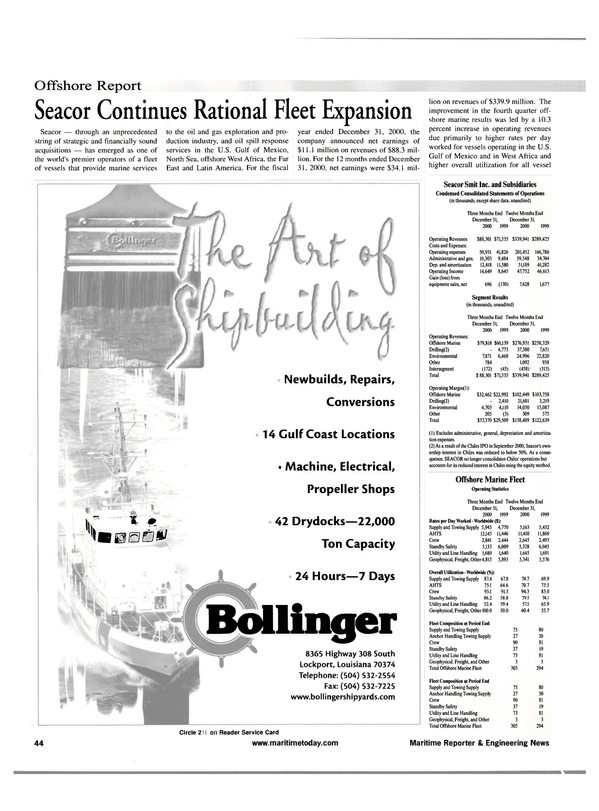 Read Seacor Continues Rational Fleet Expansion in Pdf, Flash or Html5 edition of April 2001 Maritime Reporter
Other stories from April 2001 issue
Content