GLM Poised For A Strong 2001
Global Marine (GLM) is a holding company that provides offshore contract drilling services on a dayrate basis and offshore drilling management services on a dayrate or fixed-price basis. The company has an active fleet of 31 mobile offshore drilling rigs and two ultra deep-water drillships under construction.
The company also participates in offshore oil and gas exploration and development projects: operations conducted mainly in the U.S., the U.K., Nigeria, Canada and other countries abroad. Contract drilling accounted for 64 percent of 1999 revenues; drilling management services 35 percent and oil and gas, one percent.
On January 18 the company reported net income for the year ended December 31, 2000, of $113.9 million on revenues of $1 billion. This compares to net income of $89.5 million on revenues of $791 million for the year ended December 31, 1999. For the quarter ended December 31, 2000, the company reported net income of $40.9 million on revenues of $332 million, as compared to net income of $10.7 million on revenues of $199 million for the same quarter of 1999.
Global Marine chairman, president and CEO Bob Rose said, "Our industry had an eventful year in 2000 as oil and gas prices soared and exploration and production companies stepped up their drilling programs. During 2000, worldwide offshore rig utilization increased to 82 percent from a year-end 1999 level of 72 percent. In the Gulf of Mexico, utilization of jackup rigs approached 90 percent, and dayrates for most classes of these rigs more than doubled." At Global Marine, seven rigs that had been idled for lack of work returned to service during 2000. and two new ultradeep-water, dynamically-positioned drillships began earning dayrate. By year-end 2000, Global Marine's rig utilization rate had increased to 91 percent from 71 percent at the beginning of the year, and the two remaining idle semisubmersible rigs were preparing to begin operations in the first quarter of 2001.
"Our drilling management services segment achieved record levels of activity during 2000," Rose said. "Over the course of the year, we drilled 122 turnkey wells and captured a 65 percent share of the Gulf of Mexico turnkey market. However, due to a number of difficult wells, this segment's fourth quarter operating profit declined to $2.1 million from $6.2 million for the same period in the previous year." For the full year, drilling management services contributed $21.6 million of operating profit, the third highest level in the company's history. On 2001, Rose said, "Our business is poised for very strong financial performance in the coming year.
Customer budgets are projected to increase an average of about 20 percent in 2001, with activity in the international markets expected to accelerate as the major oil companies refocus on internal growth opportunities. In addition, the Gulf of Mexico rig market should continue to tighten as the industry drills aggressively to meet the need for new natural gas supplies." In 2001, Global Marine will also benefit from the fullyear contribution of the new drillships placed in service during 2000. The Glomar C.R. Luigs and the Glomar Jack Ryan are state-of-the-art rigs and represent the culmination of a five-year capital investment program to expand the company's deep-water capabilities.
During 2000. Global Marine's capital spending totaled $178 million and was dominated by final construction and commissioning costs of the two new drillships. "With these projects completed," said Rose, "our anticipated capital requirements for 2001 will be reduced by almost 50 percent." Nearly half of the company's preliminary capital budget for 2001 is earmarked for rig upgrades to meet growing customer demand for deeper and more highly deviated wells. "These enhancements are expected to generate only minimal unpaid downtime," Rose added. In answer to concerns about the speculative construction of new offshore drilling rigs in the foreseeable future.
Rose said, "Global Marine will not build new rigs on a speculative basis. If and when the market demands new rigs, term contracts will be available to support construction."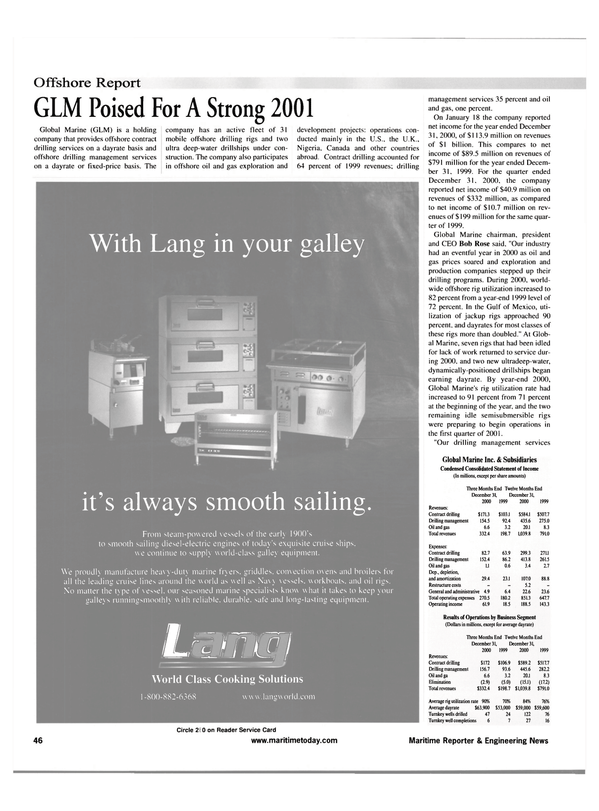 Read GLM Poised For A Strong 2001 in Pdf, Flash or Html5 edition of April 2001 Maritime Reporter
Other stories from April 2001 issue
Content