The New Knowledge Brokers?
by David Tinsley, technical editor
Increasing commercial pressures and structural changes in the maritime industries call for new approaches to better ensure vessel and equipment quality and improved safety, believes Lutz Wittenberg, Germanischer Lloyd's divisional director of projects and marketing.
In a bold presentation likely to spark controversy within a sector, which tends to have very set ideas about its function, Wittenberg indicated that classification societies needed to become technical knowledge providers over the life of a ship, rather than simply rule enforcers. While also advocating greater emphasis on continuous appraisal, rather than focusing on traditional annual inspection and the attendant cyclic peaking of vessel condition, he argued the case for societies being brought in at the earliest stage of a newbuild project as a way of better ensuring ship quality and long-term integrity.
Infusing fleet investment schemes from the outset with the kind of knowhow and experience concentrated in class societies has greater-than-ever merit in today's era of reduced technical establishments and lean operations, outsourcing of technical competencies, much increased reliance by shipyards and equipment manufacturers on subcontractors, and shipbuilders' shift to series production methods.
The worldwide deterioration in newbuilding prices has forced shipyards to put economic pressure on suppliers of materials and components. "By way of subcontracting, suppliers are trying to spread the commercial risk," said Wittenberg, who also felt that "the lowering of standards and quality had become an obvious way for many in the industry." He expressed concern over growing requests for class societies to ease requirements on certification of components.
A resultant deterioration in quality was evident in the incidence of equipment or system failures and breakdowns during the guarantee period. The longrun impact of flaws, and attendant implications for ship safety as well as performance, is accentuated by the shipyards' necessarily increased adoption of series production for all types of mercantile vessel. Of course, it is not the actual concept of maximized, repeat fabrication or construction which is under question, but the propensity for such methods to accentuate deficiencies in the initial design or componentry.
Design or construction flaws lead to long-term consequences involving vessel and equipment dependability and performance. Another expression of design shortcomings, cited by GL director, was where the nature and standard of layout and outfitting hindered maintenance routines. This increased the risk of failures in ship operating systems, especially as regards the drive train, with attendant safety as well as efficiency upshots. As a practical step in enhancing maritime safety, Wittenberg argues the case for clients retaining the class soci- ety retained at the start of a project.
Engagement as early as the conceptual design phase is currently the exception to the rule, probably applying to less than 10 percent of the projects in which GL is involved. But it would be beneficial to all parties concerned, particularly in the light of increasing project or vessel complexity and reduced lead times, by better safeguarding against design errors and potentially considerable, knock-on effects. "It also helps to rectify concepts that may require costly remedial action at a stage when purchasing or construction has already started," said Wittenberg.
According the society extended scope of this nature would also ensure closer consideration at the early design stage of maintenance and operational requirements.
"If we help owners to get ships that are designed for ease of maintenance, we will enhance the safety of shipping and reduce cargo losses," he contended. By proposing that the industry makes greater recourse in this way to the pool of knowledge available in the classification sector, Wittenberg was effectively advocating a broadening of the role of class from ensuring rule compliance to becoming a technical partner of owners and yards. While acknowledging the vital importance of the ruleenforcing aspects of ship classification, he stated that it was time "to utilize the accumulated know-how in classification societies to become a knowledgeprovider for all stages of the life-cycle from design to scrapping of a vessel." Significantly, Wittenberg is not an advocate of increased legislation and controls. "Today, we have reached a point where the cause of maritime safety will be advanced not by more regulations and inspections, but by more efficient implementation of the existing framework of rules and regulations," he pointedly observed to this writer. Controversially, he questioned whether the current system of major and minor surveys still adequately covered the survey needs to day of large bulkers, tankers or even containerships. Ways to carry out proper inspections on a more continuous basis need to be defined. Food for thought from Hamburg, indeed.
9,000-TEU On A Single Engine Another milestone in linehaul vessel capacity is set to be reached with a clutch of projects in hand for boxships of the 9,000-TEU size. In a bid to ensure technical readiness in advance of actual shipbuilding contracts, and to assist potential clients in cutting newbuild lead times, Germanischer Lloyd has completed design studies for a 25-knot post- Panamax giant of 9,200-TEU.
Most significantly, the concept design lies within the bounds of the largest two- stroke diesels already in production, and reflects containership fleet operators' overwhelming preference for singleengine, single-screw configurations.
Key elements of the investigations, carried out using the society's latest information technology (IT) tools, have included the evaluation of global strength, maximum bending movement, hatch corner stresses, and fatigue behavior.
with the accent on minimized use of high tensile steel.
While GL ranks in sixth place globally in terms of total tonnage and number of vessels under its class, the society's commanding position in the container vessel sector owes much to a proactive approach to design and technology research and development. Earlier work on strength analysis and dynamic loading on an 8,000-TEU design, completed by GL in 1997 as part of a broader research program, has fed into the latest study.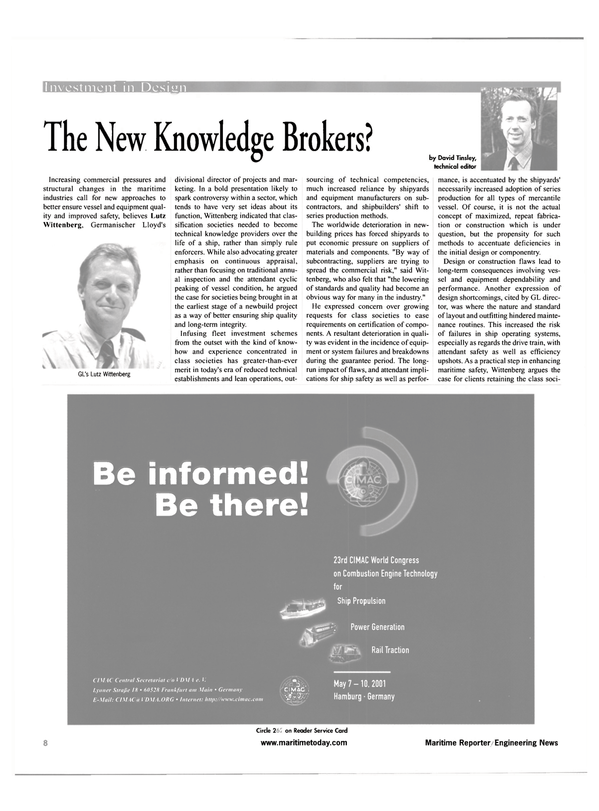 Read The New Knowledge Brokers? in Pdf, Flash or Html5 edition of April 2001 Maritime Reporter
Other stories from April 2001 issue
Content