High-Tech Service Initiatives From Deltamarin
By David Tinsley, Technical Editor
Finnish technical consultancy Deltamarin, in characteristically innovative style, is breaking new ground with the development of new computer-based services encompassing safety simulation and risk assessment, knowledge management and life-cycle support. Its latest endeavors form the basis of what it describes as contemporary configuration engineering and management, and extend the role and business scope of a practitioner of the latest technology tools in marine design, engineering and production.
Armed with new methodologies and products, which offer a seamless link from the design and construction period into the post-delivery stages, Deltamarin is equipped to meet an emerging market requirement for cradle-to-grave technical support, starting with the initial feasibility studies and extending through lifetime operation.
The company's first experience with a specific knowledge management system has encouraged Deltamarin to approach selected shipowner and shipyard clients with its proposed new type of service, dubbed knowledge management consultancy.
The preliminary system has been used in connection with the design project for Tallink's 40,000-gt cruise ferry due for delivery next year from Aker Finnyards.
Deltamarin believes the concept could bring tremendous benefits to the industry at large, by providing an integrated, electronic model of the ship and its component parts that will assist postdelivery tasks relating to maintenance, technical procurement, refitting, repair and modification.
Pivotal to the envisioned tool is the 3- D product model and core information structure laid down and continuously refined from the early design stages of a newbuild scheme. The model is a means of better ensuring the efficiency and reducing the complexity associated with shipbuilding projects, typically involving large numbers of subcontractors. It contains all data relating to the build and outfit, including materials, structures, components and equipment, and provides an integrated working platform which is continually refined and referred to by multiple users throughout the life of the project.
In essence, the latest initiative aims to tap the resource represented by the product model to the long-term benefit of the shipowner, by using the data store as the basis for an operational lifetime model that can be continually used and updated in parallel with ship maintenance, refurbishment and modification in every shipboard technical discipline. It will provide a single, consistent source of integrated data containing the accumulated details of a ship and its throughlife technical standing. Such a system would also be useful in relation to future fleet newbuild schemes.
Building on its experience in simulation work, Deltamarin has also unveiled a new product known as Total Safety and Risk Assessment (TSA), developed in conjunction with Royal Caribbean International and Norwegian ferry specialist Color Line. Drawing on both owners' experience from earlier, theoretical safety assessment schemes, criteria for the new technique was that it should be systematic and comprehensive, and should yield practical results in analyzing the ship and in determining the most cost-effective ways of improving safety and service reliability.
The collaborators took the view that if the safety assessment process were to be effective and efficient, the effort required to undertake the task and implement remedial action should be minimized. Accordingly, a working procedure has been developed which can be repeated from one case to another. The new method sets out to identify all single mechanical or electrical failures or operational errors leading to a situation where the ship is incapable of fulfilling its mission.
The methodology is general and systematic in appraising the overall safety of the ship, systems, spaces, and functions onboard. It is based on two generic databases, which are used according to formal safety assessment principles (FSA). One introduces a model of the ship, describing all the essential services on board, and links functions, systems and subsystems to services. The other is an evaluation criteria database. A software application called the auditing guide assists the surveyors through the different phases and facilitates efficient management of documentation.
The classification society sector has shown serious interest in TSA. "To date, we have worked on four vessels utilizing the TSA method successfully, but in the future we intend to use it as a design tool, so that it can be applied more widely and proactively, even as a surveying tool," observed the consultancy's business development director Markku Kanerva.
In applying the methodology to newbuild projects, the process starts with analysis of the arrangement of the vessel, including location of high-risk spaces and areas, system location and routing, through to system configuration.
It is felt that the major strides in technology, vessel concepts, and size and complexity necessitate a proactive approach to safety issues. "New concepts should be thoroughly tested before application," argues Kanerva, who considers that modern simulation techniques and risk-based assessment methods offer valuable opportunities for reflecting such structured analysis in a design before construction is initiated.
Effective simulation tools and computer- based safety assessment open up major new potential in achieving costeffective safety improvements. As one element of the drive to use virtual-reality techniques for modeling operational scenarios, Deltamarin has developed a passenger evacuation model in co-operation with the University of Strathclyde.
Code-named Evi (evacuability index), it employs a virtual environment for enhanced effectiveness in evaluating evacuation performance of ship design.
Provision of the contract design and detail design for the forward half of the 72,000 gt newbuild cruise ship ordered at Litton Ingalls by American Classic Voyages Co. (AMCV), Deltamarin is making an important technical services contribution to a seminal U.S. program.
The Finnish stamp on the milestone Project America scheme, signifying a U.S. return to large, ocean-going passengership construction after a gap of 40 years, is also expressed in Elomatic's retention for the parallel design work on the aft half of the vessel. Litton Ingalls' teaming agreement with Kvaerner Masa-Yards had already generated Finnish input ranging from concept development and preliminary design to the latest production know-how.
Finnish shipbuilding's propensity for the most technically sophisticated and specialized forms of commercial vessel tonnage has given Deltamarin an important domestic platform from which to progressively develop business on the international stage.
The extension of its activities has been such that some 90-percent of invoiced sales last year were generated outside Finland.
Circle 3 8 on Reader Service Card www.maritimereporterinfo.com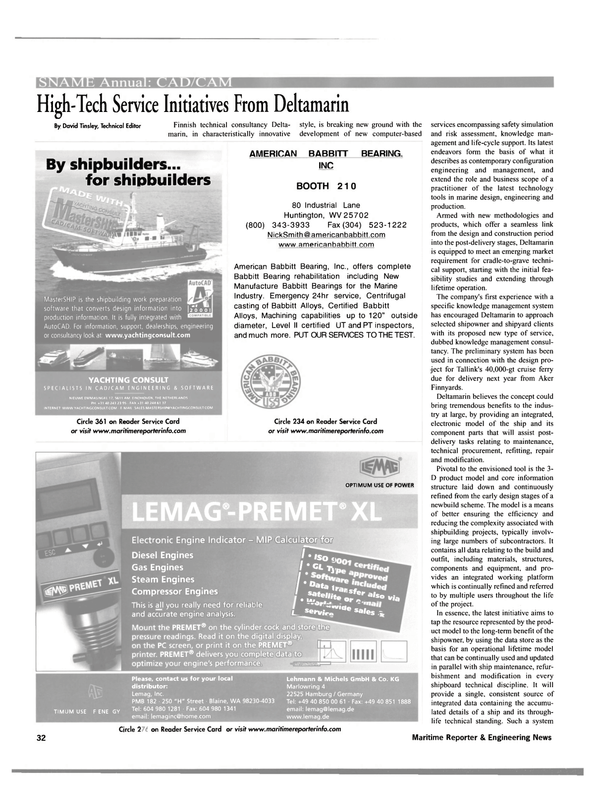 Read High-Tech Service Initiatives From Deltamarin in Pdf, Flash or Html5 edition of October 2001 Maritime Reporter
Other stories from October 2001 issue
Content