Now the Carousel Ship
by David Tinsley, technical editor
Technical proposals for the shipment of natural gas under compression rather than in the refrigerated, liquefied state have surfaced from time to time over the years, but have received a lukewarm response from the marine industry. The considerable cost of the shipboard containment methodology has been a major stumbling block. Now, a Canadian engineering contractor has come up with an altogether more economic solution to the cargo carrying needs of compressed natural gas (CNG), and pitched at relatively short-distance sea transport applications.
Instead of the prohibitively expensive pressure bottles that have earlier been central to CNG transport concepts, Cran & Stenning Technology has proposed a more efficient and economical pressure vessel made from small-diameter pipe coiled into a steel carousel. The CNG ship would be equipped with multiple carousel units, stacked below decks in inerted holds.
Each Coselle (coil in a carousel) gas storage unit contains 10 miles of 6-in. diameter pipe, wound within compact external dimensions of 50-ft. diameter and 11 -ft. depth. The standard Coselle CNG carrier would be fitted with 108 coselles, giving a cargo capacity of 7,700-tons or 330-million cu. ft. The configuration would keep the newbuild cost to less than 40 percent of that of an equivalent CNG 'bottle' ship, it is claimed, since the Coselles are much cheaper to produce than pressure bottles, yet offer an equivalent level of safety.
While the cargo volume pales against the 60,000-tons or so accommodated in a deep-sea LNG carrier, the latter requires a substantial infrastructure, including cryogenic facilities for liquefying the gas for transport, coupled with large reserves and large, sustained shipment volume demand.
The modest load intake of the Coselle CNG ship is pertinent to its target markets, including offshore or small reserves, and small or developing markets, in which the LNG carrier mode is generally economically unattractive. The technology holds out the prospect of commercially exploiting small or marginal gas fields, akin to the way in which floating production, storage and offloading (FPSO) vessels have enabled a broader spread of oil reserves to be economically tapped.
For projects involving smaller volumes and shorter distances, an articulated tug-barge (ATB) unit has also been developed, with a shipment capacity for 80-million cu. ft. of gas in 28 Coselles. Cran & Stenning are hoping to give form to the concept before too long, in the shape of a pilot shipment scheme involving a tugbarge combination. The Canadian firm has the worldwide right to use and license the proprietary, patented Coselle CNG technology.
The safety features of the proposed vessel design are enhanced by the degree of cargo compartmentalization, the resistance of the Coselle unit to external load impact, and the fact that CNG is a gas, not a cryogenic liquid, like LNG.
Fast RoPax Contender from U.K.
The dramatic contraction in U.K. shipbuilding over the past quarter-century has served to highlight the resilience of the industry's remaining players. At the recent Fast 2001 event held in Southampton by The Royal Institution of Naval Architects, a new mark of industrial resolve was afforded by Vosper Thornycroft's display of a model of an exceptionally long RoRo catamaran that the Hampshire company has under development.
As well as pushing back the bounds in catamaran ferry length, the stylish new vessel signals a plan by the predominantly naval builder to expand commercial shipbuilding.
Envisioned as a 'next generation' RoPax vessel, using a Wave Piercer Catamaran (WPC) platform, the concept has been given initial form at a length of 476 ft. (145-m), offering payload capacities up to 1,650-tons at speeds from 30 to 40- knots.
Australian know-how in fast, lightweight vessel technology is reflected in the advanced design supplied by Incat Designs as the basis for the technical project, to which Vosper Thornycroft is marrying its skills in shipbuilding construction, engineering, ride control systems, and shipboard electronics, together with planned and throughlife maintenance programs.
In the bid for economy with speed, an all-diesel power plant burning heavy fuel oil has been nominated for the RoPax, with the designers favoring Wartsila's relatively new 38B medium-speed design in a four-engine configuration. Depending on whether 12-, 16- or 18-cylinder models are used, in accordance with actual speed and payload combination criteria, overall power concentration would be in the range of about 34,800- 52,200 kW (47,300-71,000 bhp).
The ability to carry heavy freight vehicles and containerized goods as well as cars and passengers, and to efficiently vary transit speeds in accordance with fluctuations in traffic demand and mix, improves the year-round economics of the fast ferry. Twin objectives of robustness and lightweight would be met by adopting an aluminum alloy superstructure atop a high tensile steel hull. Allowing for naval tonnage commitments, VT is ready to deliver such a vessel by the 2004 season, from a new facility in Portsmouth.
Debut for A WISE Craft Japan's unerring commitment to research into innovative maritime technology also found expression at the Fast 2001 conference by way of a status report on a project for a small, wing-insurface effect (WISE), fast passenger craft. As the first such passenger transport vessel in Japan, the prototype is being trailed on a 16-km route across Shinji-ko Lake, in western Honshu, and has the look and characteristics of an airplane.
Whereas much of the long-term development research in Japan is government-sponsored, the WISE project is a private undertaking financially supported by Fukushima Shipbuilding, and drawing on developmental input from Tottori University.
The shipyard proponent has sought to demonstrate that a WISE vessel of a useful size could be designed and constructed with technology that is already available to a shipbuilder. Through the opportunity provided by the Shimane Prefecture authorities to test the vessel, valuable operating data should be obtained in the course of providing transportation on demand for up to eight passengers from the center of Matsue City to Izumo Airport.
While prudence dictates modest speeds to begin with, the intention is to gradually increase vessel speed. The concept, as applied at the prototype's payload capacity, is claimed to lend itself to cruising speeds up to an astonishing 150-km/h. Two water-cooled reciprocal engines rated at 250-hp apiece are mounted in the center of the craft's body, driving two propellers of twometer diameter at the top of the propeller masts via reduction belts. WISE addresses what is perceived as substantial scope for new solutions to a future demand for fast, light-duty, short-range services, a field that is often not costeffective for very high-speed vessels.
However, it is acknowledged that the testing and demonstration program needs more financial support if the concept is to be taken further to more advanced WISE designs.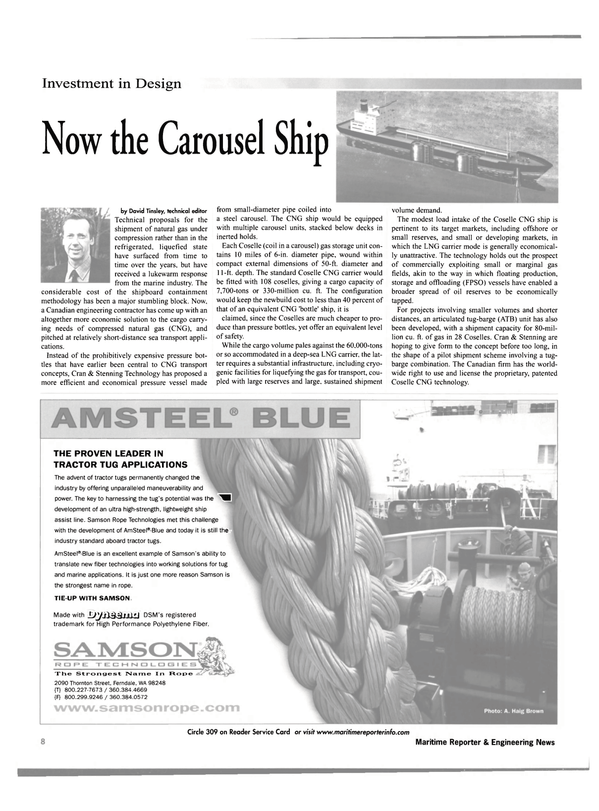 Read Now the Carousel Ship in Pdf, Flash or Html5 edition of October 2001 Maritime Reporter
Other stories from October 2001 issue
Content