Beyond the Black Box
By Joseph Keefe
Using the VDR as the Ship's Data Clearing House provides budget-minded operators with the means, the bandwidth and the economy to monitor critical systems. Go on: dip your toes in the big data water.


Big Data. It's all the rage across the full spectrum of the maritime world. Thousands of data points on 70,000 vessels literally scream out to be harvested and sent back to the home office, all with the intent of making your vessel more efficient, your operation more profitable, the environment cleaner and perhaps, your bunker and maintenance bills lower. The only left to ask is: what's it going to cost me? Actually, not as much as you might think.
Industry estimates of those owner/operators actually performing remote monitoring of critical equipment on a meaningful level amount to less than one-half of today's commercial merchant fleets. In reality, it's probably less than that. And many shipowners don't even know that the means to accomplish such tasks is already on board, in the form of the vessel's (IMO required) Voyage Data Recorder (VDR).
The VDR's true function is a "black box" for retrieving vital data after an accident at sea. A new IMO VDR standard, which came into force July 1 of this year, requires all new VDR installations on vessels over 3,000 gross tons to be type approved to comply with the new standard. Existing VDRs are grandfathered, but when replaced they must be replaced by a product meeting the new standard. In response, the Danelec DM100 VDR was introduced earlier this year to meet this new requirement. The Denelec device also introduces a new twist – VDRConnect – designed to exploit the ubiquitous, very efficient data collection device already gathering and storing valuable data aboard the ship.

VDRConnect
VDRConnect is a Web-based value-added remote access service available with the new Danelec DM100 Voyage Data Recorder (VDR). VDRConnect is a interface module that provides selective transmission of data from the Danelec DM100 via satellite to the home office. The VDRConnect module connects directly to the ship's IT and satellite communication systems without the need for a separate PC. With VDRConnect, the ship manager ashore can log into an IP-based Web portal using a convenient dashboard on a computer or tablet to request specific data files to be downloaded from the Danelec VDR and select intervals for automatic transmission.
There is growing demand among ship management companies to get more data from their ships to improve ship performance, optimize weather routing and enhance efficiency, as well as safety at sea. The first prerequisite is accessing good data in a timely fashion. That's not as easy as one might think. Installing a ship-wide data network with cable or wi-fi connections with hundreds of data sources is difficult and expensive. And once all that hardware and software is installed, it must be serviced and maintained at ports all over the world. And then, there is the cost of all that bandwidth to get the data from point A to point B. how much of it do you really need, and how often do you need it?
The shipboard VDR represents an attractive alternative to an expensive custom ship IT network when it comes to data collection for transmission to shore offices. VDRs store data is stored until needed for an accident investigation (48 hours in the storage capsules and 30 days in the VDR). This data – position, speed, heading, depth, rudder order and response, engine order and response, wind speed and direction and main alarms – if made available in near real-time, could have commercial value to help optimize ship efficiency and performance, when combined with KPIs from other non-mandated sources such as fuel flow meters, engine RPMs, engine temperatures, emission measuring devices and other data points.
VDRConnect is a value added, external add-on function that is not required under the IMO standard, but at the same time, does not affect the primary function of the VDR, which is to collect and securely store data from mandated sources. Beyond this, the VDRConnect module can be easily connected to legacy Danelec VDRs as well as the newer DM100 for an expensive upgrade retrofit solution. In practice, there is no practical limit to the number of systems and sensors that can be connected.

Bandwidth – A Non-Issue
The VDRConnect module connects directly to the ship's satellite communication terminal. The selective data transmission function is optimized for narrowband satellite channels, allowing the ship manager to download only those data sets that are desired. While the next generation of maritime communication satellites will have substantially more bandwidth, the great majority of ships are currently fitted with Fleet Broadband. But, how much bandwidth is really needed?
Hans Ottosen, CEO of Danelec Marine, explains, "It's not really a 'bandwidth' issue. There is plenty of capacity for storage of huge volumes of data in a VDR. Under the new IMO standard, the VDR must store a complete record of data including voice and radio audio and video outputs from two radars and ECDIS. These are enormous files."
Bandwidth becomes a limitation when it comes to transferring the data from the VDR through maritime satellite channels. It would be impractical and prohibitively expensive to stream entire data files from the VDR. Thus, the VDR must be able to transmit smaller blocks of data without doing a full data dump. Ottosen adds, "That's why the critical element in VDRConnect is selective remote access. The process works in a 'push-through' or 'pull-through' mode. The shore office can request data from specific sensors on demand, or can program the system to provide automatic downloads of desired data sets at intervals. This can be dynamically controlled by the computer. For instance, when open-ocean steaming, they might specify reports every four hours, or even once a day for the noon report. When the depth sounder shows shallower water readings or the ECDIS shows the ship entering restricted waters, the system could be programmed to increase the reporting interval automatically."
At the end of the day, however, 'data is just data' when it comes to transmission costs. The more you send, the more it costs. Ottosen calls the selective remote access just 'smart business,' adding, "Instead of 'all you can eat' bandwidth, VDRConnect allows 'just what you need' consumption." It's here, he says, where operators can really save money.

The Poor Man's Remote Monitoring
It all sounds good, but in age when many operators are struggling to make money and others are drowning in red ink, the remote monitoring of critical equipment remains out of reach. Or, maybe not. The VDR is an unavoidable capital expense – part of the cost of doing business. But with selective remote access, operators can actually get a return on that investment, using the VDR as the central 'clearing house' for data from mandated and non-mandated systems and sensors.
The cost of installing and maintaining a custom data network on the ship with a combination of hard-wired and wi-fi connections to hundreds of data points is very high. Denelec's Ottosen continues, "The VDR can provide a very economical and efficient platform for gathering and storing data from a wide range of ship systems and sensors, making it available for selective extraction by shore offices. Since you already have to buy the VDR anyway, why not use it for something more than just storing data for accident investigators?"
According to Denelec, adding a function like VDRConnect to the VDR is a relatively small incremental increase in the cost of the VDR itself, and a small fraction of the cost of installing and maintaining a custom ship-wide data network, with cables, wi-fi connections, data acquisition units and computers.
Separately, the Oil Companies International Marine Forum (OCIMF) has called for proactive use of VDRs to enhance safety at sea. OCIMF believes that the VDR can be a useful tool for detecting unsafe practices, analyzing incidents and correcting navigational mistakes. Using data from the VDR, the ship manager can set up remedial crew training, correct poor practices and create event-driven roles for parameters such as depth beneath the keel at speed, traffic separation scheme adherence or voyage plans with automatic warnings for deviations detected. And since this function wouldn't require new cabling or links with non-mandatory ship systems or sensors, the practice can be implemented immediately. Existing clients already use VDRConnect to provide a portal for remote configuration of the VDR and reviewing data for the mandatory VDR annual performance test before the service personnel board the vessel. It can also provide an immediate warning if any of the devices sending data to the VDR, such as GPS, gyrocompass, speed log or depth sounder, should malfunction.
Beyond the obvious utility of the system itself, VDRConnect has been designed to accept connections with other systems not mandated by the IMO VDR standard, such as fuel meters, main engine, generators, emission monitors and auxiliary machinery. The VDR can thus become the centerpiece of a ship-wide IT data network, serving as a clearing house for collection of data from all the ship's systems and sensors and making it available for selective ship-to-shore download in an economical way, to enhance fuel efficiency and voyage optimization.

Big Data / Small Package
Remote monitoring is here to stay. So, too, is Big Data. Both will cost you money. On the other hand, since various VDR manufacturers already have global sales and service distributors fully trained and equipped to maintain and repair the VDRs, that cost can be minimized. Go ahead: stick your toes in the water. What are you waiting for? Big Data is here.

(As published in the January 2015 edition of Maritime Reporter & Engineering News - http://magazines.marinelink.com/Magazines/MaritimeReporter)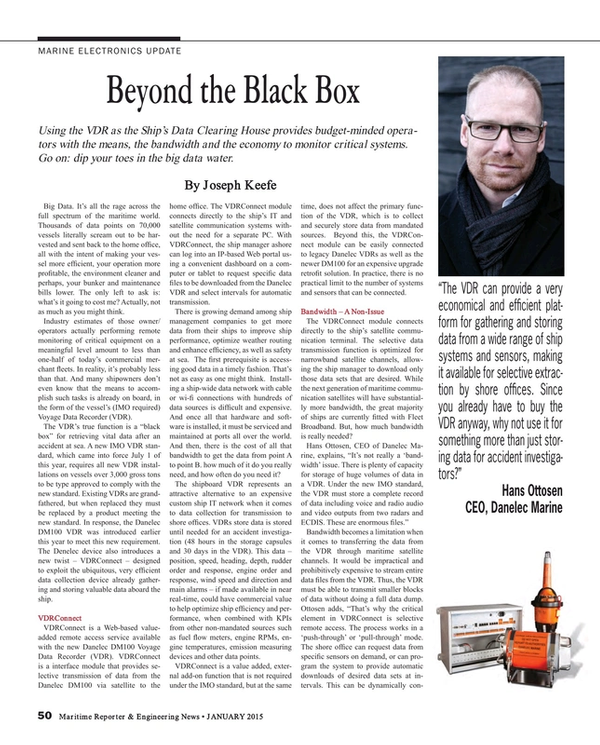 Read Beyond the Black Box in Pdf, Flash or Html5 edition of January 2015 Maritime Reporter
Other stories from January 2015 issue
Content