The Art of Propeller Making
By Peter Pospiech, Germany
The world's biggest propellers have their cradle in the North of Germany. MMG – Mecklenburger Metallguss GmbH – has manufactured for more than 65 years propellers for ships, including the biggest and fastest, in the State of Mecklenburg-Vorpommern. With the manufacture of propellers up to 130 tons, its manufacturing process requires a delicate hand and lots of patience.
Despite the fact that commercial shipbuilding has shifted to the Far East, the melting-furnaces in Waren an der Müritz, headquarters of MMG, have not switched off. Quite the contrary – the business runs well to this day, manufacturing ship's propellers – 95% of which are for export, mainly for delivery in Asia.
Just two years ago Manfred Urban, CEO of MMG, and his 235 employees landed a big deal for a supply to a South Korean shipyard. "We equipped the world's 20 biggest container vessels with our propellers," said Urban with pride. They have been built for the Danish Shipping Company Maersk and feature about 18,000 container slots each. Particularly lucrative was the fact that these vessels feature two propellers instead of one.
MMG has a history of supplying propellers to the world's largest ships, as it previously supplied product for the then-largest 13,4000 TEU containership, a propeller supplied by MMG with a weight of 130 tons and a diameter of 10 meters.
"Size and weight is important, but all parameters had to be optimal tailored for this particular vessel," said Urban. Giants of the sea such as the "Queen Mary 2" also boast propellers tailor-made by MMG engineers.
The 60-year-old Urban, who was born in Mecklenburg, is fairly pleased with his company's current order situation: "By the end of 2014 we will have supplied 148 propellers and for the time being there are around 160 propellers in our order book for 2015 - worth $118m," Urban said.

The Critical "Interface"
It comes without saying that the manufacturing of propellers is the "ultimate discipline" of building vessels of any size of shape, as the propeller is the all-important link between the engine power and the water, and a critical factor in a ship's overall efficiency. The propeller must help the ship navigate across the oceans, turning 140,000 times a day onboard the large container vessels, even more on cruise ships.
MMG designs its propellers in-house, leaning on more than five decades of experience. To date more than 2,400 ships have been equipped with propellers from the "Müritz-lake," a number which is increasing by about 150 each year.
In the era of CAD CAM and computer simulation, it is worthy to note that all drafts are reviewed on ship models in Ship Model Basins, even if all complex flow conditions around the propeller vanes can be calculated on the computer. Strength calculations are completed to ensure that the propeller withstands all stress situations.

Made in Germany
MMG's continued success is remarkable, particularly in the face of the large loss of domestic and regional shipbuilding capability to the Far East. It is significant that the shipyards in Asia have yet to fully take up the mission of full propeller design and construction, and MMG counts not only on its accrued propeller building experience and knowledge, but also its casting technique which is difficult to replicate. This leads to the point that Japan, Korea and China could not form large competition for manufacturing propellers "Made in Germany" … so far. "Our experience from more than 50 years are not that easy to copy," said Urban bluntly.
It also can become very expensive if a propeller of a giant container ship or tanker – or for that matter any commercial vessel – breaks during normal operation, as lost time is lost money, and in many of today's markets that is a commodity that many ship owners can ill afford to lose.
When he engineering graduate Urban took over the management of the company after the 'fall of the wall,' it was a new territory for him to fight for new customers. "After the fall of the wall our employees would not want to be part of the old management any longer," Urban said.
But when Urban took the helm, he barely had a chance.
The former State DDR built vessels exclusively for the Soviet Union – for rubles, which were almost instantly without value in the West. Regardless, practically overnight the company lost its only large existing customer.
But the problems did not end after the privatization.
MMG was sold in 1992 by the trust company (Treuhandgesellschaft) to Bremer Vulkan, which has taken over most the East-German Shipyards. One of the big financial scandals after the German reunification followed: The Vulkan-bosses took hundreds of millions Deutsche Mark of subsidy payments for their western companies – but went bankrupt in 1995 and this influenced also MMG.
A second privatization followed.

The Path Forward
"Engineering in 'Waren an der Müritz' has a more than 135-year tradition," said Urban. The "Maschinenbauanstalt mit Eisengießerei" was founded in 1875, which has been changed into "Eisenwerk Waren" in 1913. Since 1948 the first bigger ships propeller have been manufactured here for the former DDR-fleet. In 1991 the partly modernized Mecklenburger Metallguß GmbH (MMG) was founded; 170 people worked there in 1992, and sales were around $8.8 million.
The final breakthrough and build-out towards the worldwide leading manufacturer of giant ship propellers was enforced by the acquisition of Deutsche Gießerei- and Industrie-Holding AG (Dihag) in 1999. In the beginning of 2008 about $32 million we invested into the production facilities to be "ready for the future."
Up to today the company has invested about $82.9 million to create what it dubs the largest and most modern propeller factory world-wide.

The Art of Making Propeller
Making propellers to drive ships at sea is a liberal mix of art, science and experience. The mix of the material is not a secret, as about 80 percent is copper with the remaining 20 percent consisting of aluminum, iron, manganese and nickel.
The true art of propeller making comes in the design, casting and mechanical post-processing, and unlike many manufacturing entities in 2015, the lowest price is certainly not the most appealing virtue for owners that are serious about running efficient ships.
But what is it that makes a medium-sized company from the Mecklenburg province a world market leader for big ship propellers?
"Well," said Urban a bit reserved, there are certainly a "few tips and tricks."
But the real reason in addition to technological intuition and optimal quality, is "the confidence" which customers put into MMG.
"Ship builders must rely on us to receive on-time what they expect," said Urban. This confidence in MMG has been increased continuously during the last years. Confidence is therefore so essential because the propeller is the only component which cannot be modified or changed after undocking without again taking the ship out of the water. Propeller tests before launching cannot be done under real conditions, so everything has to be just right. Design or material defects as well as delays in delivery may have big and costly consequences, both short- and long-term.
MMG combines the most modern processing technology combined with craftsman skills, as the experienced MMG employee is one of the secrets of its high quality propellers. Particularly sensitive areas, for example the leading and trailing edge, are sharpened by hand – even on the biggest propellers. Measurements are taken: again, again and again. And after the propeller finally passes all tests an original shaft is mounted as a trial to ensure that the work was done well and the propeller runs smoothly.
Looking ahead, Urban discusses prospects for his company in a fluid and fast-moving shipbuilding environment, which today takes place predominately many thousands of miles from his headquarters in Germany.
"It is clear that new vessels will be built," said Urban, "as ship owners must comply with the new emission standards." At the same time, there are tremendous cost pressures that seemingly increase daily. This plays directly to the advantage of MMG and Urban. "A vessel which consumes three percent less fuel can save up to 70,000 EURO on a trip from Shanghai to Hamburg," said Urban. "Particularly for this we developed specific fuel saving propellers and complete drivelines together with fuel saving rudder shapes."
A so continues a German manufacturing heritage in the matter of ship's propulsion.
(As published in the January 2015 edition of Maritime Reporter & Engineering News - http://magazines.marinelink.com/Magazines/MaritimeReporter)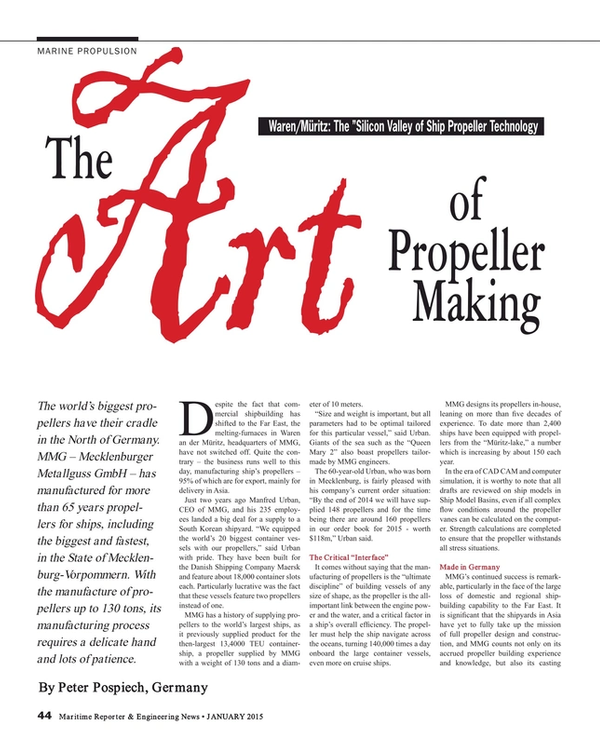 Read The Art of Propeller Making in Pdf, Flash or Html5 edition of January 2015 Maritime Reporter
Other stories from January 2015 issue
Content