BAE Systems Investing in San Diego
By Edward Lundquist
A discussion with Bob Koerber, General Manager, BAE Systems Ship Repair, San Diego, Calif.
Bob Koerber, general manager of BAE Systems Ship Repair in San Diego, served on active duty as a surface warfare officer from 1981 to 1987, then continued to serve as a Navy Reservist, retiring as a captain in 2007. His last reserve assignment was as the Deputy Commander of Naval Special Warfare Command. As a SWO he served aboard USS Hull (DD 945?) and USS Brooke (FFG 1). He has been employed by the San Diego yard for 27 years.

What's new here in San Diego?
A lot of good things happening in the yard. This is a very exciting time to be with this company. We're putting more upgrades in this facility now than I've seen in the last 27 years. We've just dedicated (significant investment) a brand new—Pier 4—where we can berth two more ships. The other big investment is a new dry dock. The current dry dock that we have, the "Pride of San Diego," has a 26,000 ton lift capacity. The new one we're having built is 55,000 ton—that's twice the lift capacity.
So what does that mean for the port? Currently there are two dry docks – NASSCO has one called the Builder; we have the Pride of San Diego. With roughly 60 ships home ported in San Diego today, and only two docks, there are severe limitations on the maintenance capability within the port. With the 19 additional ships coming out here, we did an analysis and ran the models and decided to make this major investment for the facility in order to support the Navy. The contract for the new dry dock has been signed and the build has commenced. We expect it will be fully operational by the end of 2016. In conjunction with the new dry dock, we're going through the entire facility accomplishing upgrades, including; new offices, restrooms, yard services, and increased machine and electrical capability.
These investments will enable BAE Systems to do more work within the port and will enable fleet maintenance to remain within the port thus benefiting the city and the surrounding communities of San Diego. If ships have to go elsewhere for maintenance and repair, the Sailors go, too, and that represents a big loss to the local economy. Bottom line; these investments helps us to better support the Navy and keep jobs within this port - it helps the City of San Diego.

We understand the multi-ship/multi-option repair and modernization contracts will not be continued. How will that impact your yard? And how will we achieve the stability and predictability of the deployment, maintenance and training schedule?
Rather than knowing what ships we'll be getting, and planning accordingly, we will have to bid on each and every availability. This complicated the decision about the new dry dock.

But at the same time, it might make you more competitive.
That's correct.

We understand that there will be an emphasis on giving small contractors an opportunity to prime some of these jobs that have traditionally been awarded to the master ship repair facilities. If one of those small companies needed to include a dry dock in their bid, they would have to come to you or NASSCO, which would make you a sub to them. They would not have include the cost of that infrastructure, such as piers, dry docks, and cranes, in every bid, but you have to pay for it whether the Navy puts a ship in it or not.
We have not seen the new contract vehicle for San Diego, however, we don't believe that the U.S. Navy will task a small business with the requirement to dock a ship

So it's not just the physical infrastructure. And these are not trivial.
No, they're not. They're major investments.

If during an availability you open up a void and find something that something that needs to be done, but wasn't part of the planned work in the package, wasn't budgeted or scheduled for, but it has to be done before you can get to that next piece of work, and you can't wish it away. So what happens to that?
If the work is authorized by the government contracting officer, a contract modification is issued, priced, and negotiated prior to work commencing.

How do you see the pivot west changing your workload here?
It'll be 19 more ships coming to San Diego. That's roughly a 30% increase in number of ships. This is a major increase. It's not just us, it's all the infrastructure that supports the ship yards. It impacts the entire port; the entire city. It has an impact on all the surrounding businesses, the vendors and suppliers.

And, as you mentioned, you are making other major improvements?
We've gone through and renovated every building in the yard in some capacity. We've expanded the electric department with a new controller overhaul shop and connector shop. In the paint department we've added a new paint repair/spray rig repair facility. We're installed new table saws in the carpenter's shop and updated the automated burn table in the sheet metal shop.
In the structural shop, we've added new weld booths for training our shipfitters, and built a new office facility for the structural shop supervisors. Across the street, in the machine shop, we've purchased an additional shaft lathe to repair main propulsion shafts for the ships
Throughout the entire facility we've installed new LED lighting

As BAE Systems Ship Repair grows its work force here in San Diego, you're going to have to train more people. What are some of the investments you're making in training?
We are constantly training, not only new hires but all employees as well. We have a training center within the facility and staff of personnel to ensure we remain current with requirements. We have teamed up with many training /education providers including Southwestern College to support our employees.

I know you have an apprenticeship training program. How important that is that here at your yard?
As the work force ages, we must find the talent to replace our retirees. We depend on programs such as the apprenticeship program to ensure we maintain our skilled workforce. Programs such as the apprenticeship are vital to our industry.

Your next door neighbor is NASSCO. They are your biggest competitor. They are you're your competitor in Norfolk. And while you compete against each other, you also cooperate. There's also collaboration.
Correct. Although we are competitors, we also share resources in support of the U.S. Navy

Like their paint shop or your dry dock. So…
We share dock, pier space, and personnel as required.

How do you level load that work? If you automatically give them a percentage of the work, you could still have peaks and valleys.
Right. When we see a big peak coming up for a specific craft, we ask if they can support and vice versa.

How does the Navy look at that? Do they look at that positively? Does it limit competition?
It has no effect on competition. We're still competitors. When it comes time to winning the work, we're definitely very competitive. The Navy benefits through the full utilization of assets within the port.

So it's pretty fair.
Yes. We have to stay that way.

If the government wants to get more competition, you can't really submit a low-ball bid.
There are 4 MSRs on the waterfront, all competing for the same work.

What happens if NASSCO doesn't get any more new construction?
Can't answer for NASSCO but I'd guess they'd be more aggressive for repair / maintenance contracts.

How would you characterize your impact on the San Diego economy?
Bottom line – Vital. We have approximately 2,000 BAE employees, plus another 4,000 subcontractors, vendors, and Navy personnel coming through our gates every morning to work on those ships, roughly 5-6 thousand people per day coming in this facility.

What trends have you noticed with the ships coming in here?
Due to a combination of extended deployments and an aging fleet, the material condition of the ships have required a more significant scope of repairs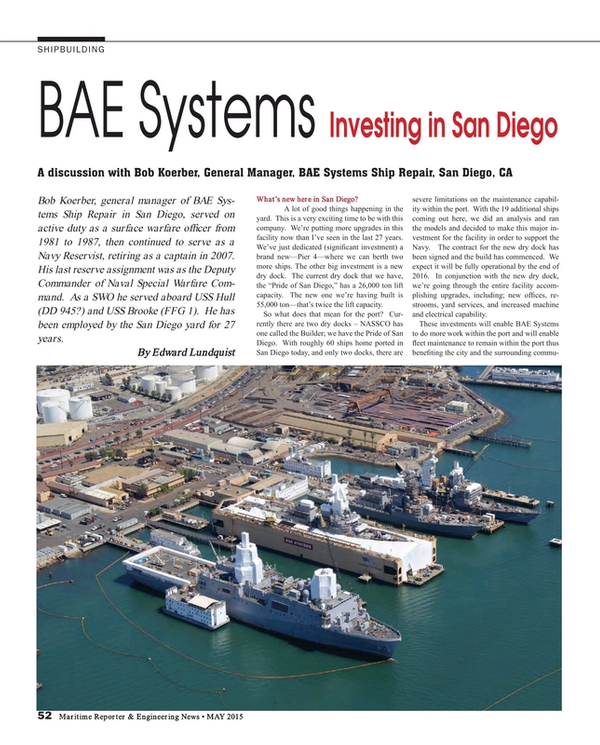 Read BAE Systems Investing in San Diego in Pdf, Flash or Html5 edition of May 2015 Maritime Reporter
Other stories from May 2015 issue
Content