Damen Boosts Composite Focus
By Eric Haun
Coming off a year which saw the Damen Group record its highest ever order intake over a 12-month period, a production value of roughly $2.25b and 160 newbuild deliveries, the shipbuilder looks to expand in the composite vessel market.
For Damen, building with composite materials is nothing new. Already using composites for decades in some of its high speed craft, naval vessels and ferries, the Netherlands-based shipbuilder looks to take composites to the next level. The Damen Group took over Vitters' high-tech composite shipyard Cyrus in Antalya, Turkey in June 2013, starting production just three months later as Damen Shipyards Antalya. Directed by Dutch general manager Auke Van Der Zee, the 100% Damen-owned yard has a staff of 125 Turkish employees and has fully transitioned from custom yacht building to the serial construction of high speed commercial workboats up to 40m long. The yard is now operating at full capacity with three production lines, capable of building 35 composite vessels per year from its portfolio including four vessel types: FCS 1605, Stan Patrol 2205, Interceptor 1102 and Damen Water Bus. Using its existing knowledge of logistics, design, outfitting and standardized construction, and combining it with outside expertise in composite fabrication, Damen has developed knowledge to enable effective series-production of composite professional vessels for the port, offshore and security sectors.
"Times are changing," Van Der Zee said. "Everything that moves – everything that has to do with transport – is moving into composites," he added, citing cars, planes, trains and even racing bikes as examples. Even infrastructure components such as wind generator blades and bridges are built using composites.
By definition, composite construction involves fabrication using different parts or elements, in this case fiber and resin. These materials are much lighter than steel or aluminum, making for vessels that are are faster, consume less energy, or both. Additionally, composite materials do not corrode, and their fibers can be aligned to optimize flexibility, strength and robustness. "The advantage of composites is you can make it strong where you want to make it strong," Van Der Zee explained.
Damen said its newly developed building technique enables it to build lighter vessels (10 percent lighter than aluminum) with lower fuel consumption, less maintenance and a smaller environmental footprint, fitting the shipbuilder's overall strategy for reducing energy consumption over the coming years.
Though Damen's composite build process required a relatively large upfront investment, including R&D and tooling, once the molds are created, serial production enables lower production costs and shorter lead times.
Damen's serial production process at Antalya provides a large cost advantage when vessels are produced in batches of five or more, Zan Der Zee explained; a composite vessel built in serial production is typically 200,000 to 250,000 euros cheaper than a comparable aluminum model with identical outfitting. However, this build process makes one-off orders expensive and impractical, and any corrections required mid-production can be very costly. Additionally, serial composite construction takes away some of the yard's regular flexibility. Once the mold is being produced, there can be no more modifications.
Nevertheless, Damen believes composite building will prove to be a welcome addition to its portfolio on top of existing steel and aluminum offerings. The success of the composite program at the Antalya yard has allowed Damen to add a separate facility – Antalya II – for steel and aluminum fast crew suppliers (FCS) 5009.

(As published in the May 2015 edition of Maritime Reporter & Engineering News - http://magazines.marinelink.com/Magazines/MaritimeReporter)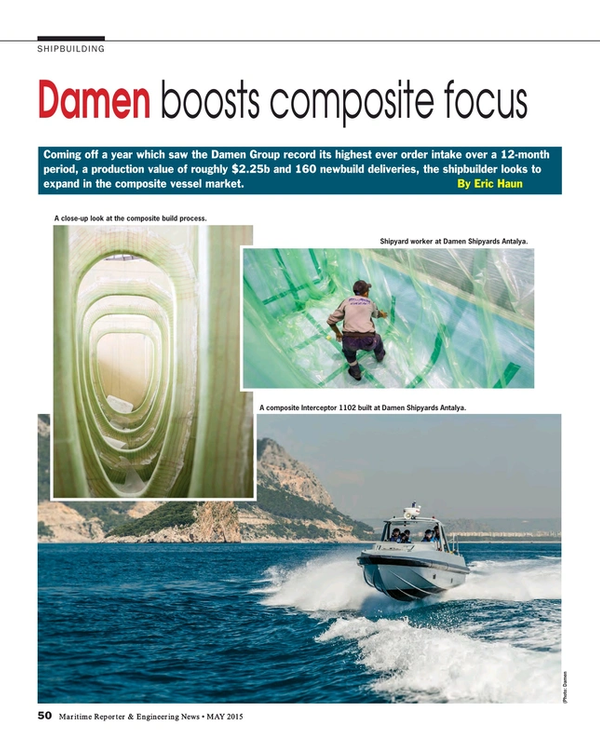 Read Damen Boosts Composite Focus in Pdf, Flash or Html5 edition of May 2015 Maritime Reporter
Other stories from May 2015 issue
Content