Intelsat's EpicNG is on the Ways
Posted by Irina Tabakina
While the true uptake of broadband across the maritime sector has been slow to develop, a number of market conditions are conspiring to drive the service mainstream. Intelsat's Kurt Riegelman discusses the matter with Maritime Reporter & Engineering News.

While the advent of full broadband in the maritime sector is the exception rather than the norm, the tides are changing as companies increasingly deploy fast, modern 'land-like' comms in an effort to achieve everything from attracting and retaining crew, to streamlining business operations at sea and enhancing safety.
"Shipping companies are increasingly relying on true broadband access to improve day-to-day operations and profitability," said Kurt Riegelman, Sr. Vice President, Sales & Marketing, Intelsat. "Broadband connectivity allows ship managers to quickly request and receive support from onshore staff for important business and operational tasks as well as offer value-added services, such as environmental tracking and cargo status to customers. Improved connectivity also enhances crew safety and wellness."
The evolution of maritime communication networks at sea is in many ways analogous to the maturity of software solutions at sea: initially a piecemeal approach to address emerging needs rather than a holistic 'big picture' approach, premised partly by the fact that technology and capability has emerged rapidly.
"Network providers also face unpredictable market demand, as commercial maritime trading patterns continually shift," said Riegelman. "Communications providers need to ensure they have the right capacity to serve the future demand distribution across the existing network, especially in high traffic areas."
Just as land-based network operators face tough decisions premised on many offerings purporting to provide similar capability, at-sea communication network managers face similarly difficult decisions, seeking to maximize hardware investment for as long as possible while trying to evaluate the needs of today and in the future.

The Intelsat Maritime Solutions
"Maritime customers have come to rely increasingly on Intelsat's C- and Ku-band satellite services to provide connectivity for the shipping, offshore and cruise sectors worldwide," said Riegelman. "Intelsat's Global Broadband Mobility Network, the world's only global Ku-band mobility offering, was built specifically to deliver broadband infrastructure to the aeronautical and maritime sectors. The network of 13 customized beams on 10 satellites is fully integrated with Intelsat's existing satellite fleet and the IntelsatOne terrestrial infrastructure. This global hybrid network provides end users with always-on, true broadband access with data rates up to 50 Mbps."
According to Riegelman, Intelsat enables network operators to adjust their services to provide customers bandwidth when and where it is needed. Bandwidth portability allows network operators to shift capacity in response to customer needs, while operator roaming allows end users to transfer onto Intelsat's network in real time. Its services will be further enhanced by launch of the Intelsat EpicNG platform, which is designed to deliver high performance and high throughput with an open architecture.

Intelsat EpicNG
"EpicNG is fully integrated with the existing Intelsat fleet, supporting global coverage from the start of its deployment," said Riegelman.
The first of six EpicNG satellites, Intelsat 29e, is scheduled for launch in Q1 2016, providing services over the Americas and the North Atlantic. Intelsat 33e, which will bring capacity to Africa, Asia and Europe, is scheduled to be launched in the second half of 2016. Finally, four additional EpicNG satellites are designed to provide resilience and connectivity for the busiest global routes.
Technical highlights of the EpicNG system are spot beams and frequency reuse technologies, which help in concentrating the power of the individual transponders over a smaller area, allowing for higher modulation schemes that dramatically increase the number of bits delivered per MHz, ultimately designed to result in lower cost per bit for the service provider.
The Intelsat EpicNG platform is designed to enable throughput in the range of 25-60 Gbps per satellite, and for the maritime sector, each EpicNG spot beam will be designed to deliver total throughput of 290 Mbps to vessels.
"Leading maritime service providers, including Harris CapRock, MTN and Airbus Defence and Space, have already committed to Intelsat EpicNG," said Riegelman.

(As published in the May 2015 edition of Maritime Reporter & Engineering News - http://magazines.marinelink.com/Magazines/MaritimeReporter)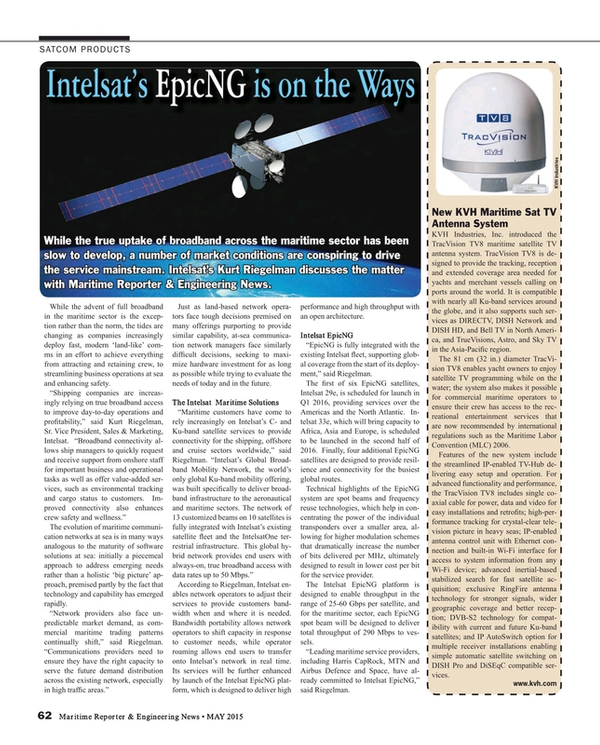 Read Intelsat's EpicNG is on the Ways in Pdf, Flash or Html5 edition of May 2015 Maritime Reporter
Other stories from May 2015 issue
Content