Campbell Industries Completes Specialized Vessel Designed To Tow Oil Drilling Rigs
Campbell Industries, San Diego, Calif., has delivered its second tug/supply vessel, the Independence Service, for Zapata Marine (U.S.), Inc., a subsidiary of Zapata Corporation, Houston, Texas.
The new U.S.-flag ship is the second of six being built for Zapata.
Campbell previously delivered her sistership, the Constitution Service. The newest vessel is scheduled to go into service initially in the Gulf of Alaska.
The 208-foot Independence Service is 40 feet wide at the beam, has a draft of 14.5 feet, and will cruise at approximately 15 knots. The specialized vessel is designed to tow drilling rigs, as well as to relocate the platforms' positioning anchors, which weigh up to 20 tons apiece. In addition to an operating crew of 8 to 12, the ship can also carry crews being transferred to and from the platforms, and all necessary supplies. A reduced manning level has been achieved through installation of additional controls and a Smith-Meeker monitoring/alarm system. Key payload items are bulk cement and the drilling "mud" used by the oil operators. The "mud" is a substance carried in dry form which is used to seal off well shafts and circulates to clean and cool the drilling bits.
According to Campbell officials, the new ship is fully Coast Guard inspected and is rated ABS Ice Class IC, Maltese Cross, with Circle E equipment. Certified for full ocean towing, the Independence Service will carry a full complement of equipment for its duties in the offshore drilling industry.
She will have a mud system made up of four Smatco 1,500-cubic-foot-capacity tanks, each 13 feet 6 inches in diameter, and 13 feet 8 inches high. Included in the system is a Westinghouse air compressor, driven off a General Motors 6/71 diesel engine. The ship's towing winch is a Smatco 72-DAW-250 doubledrum waterfall, rated at 300,000 pounds at stall. It is driven by a GM 12V71 diesel on the main deck aft of the deckhouse. The stern roller, manufactured by Campbell Industries, is a 12-foot 60-inch-diameter model with a safe working load of 150 tons.
The two stern capstans are vertical- axis Smatco versions, with electrohydraulic drive.
Propulsion for the Independence Service comes from two General Motors 16-cylinder 645E5 turbocharged diesels, each rated at 2,875 bhp at 900 rpm. They drive a pair of 132-inch Coolidge four blade stainless-steel propellers through Falk 4.35:1 reduction and reversing gears. The propellers are set inside fixed nozzles with individual rudders.
Auxiliary power is provided by two GM 12V71 diesel drive units with 220-kw Lima generators.
Ship's service air comes from two Quincy D340 compressors.
The Independence Service has a bollard pull rating of 80-90 tons.
The vessel also features a Mc- Mullen Flume stabilization system and a Brunvoll 51-inch-diameter bow thruster. The 405- horsepower thruster is rated at 10,000 pounds thrust and is driven by a GM 12V71 diesel unit.
Navaids and other electronic equipment onboard include a Sperry gyrocompass and autopilot, two Decca radars, a Kelvin- Hughes Loran system, a Raytheon recording Fathometer, a Bendix Marine ADF, a CAI SSB radio, an Intech 55-channel VHFFM radio, a Hallicrafters emergency receiver, and a Standard PA/Intercom system.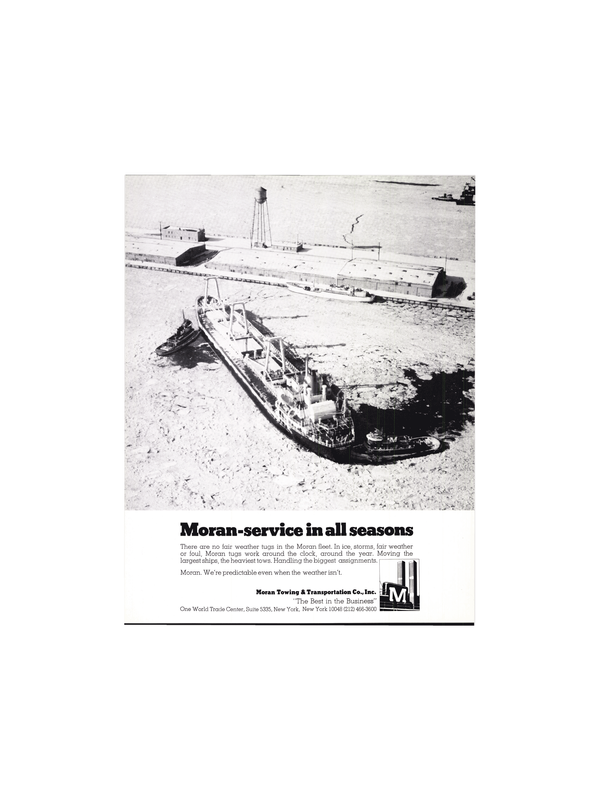 Read Campbell Industries Completes Specialized Vessel Designed To Tow Oil Drilling Rigs in Pdf, Flash or Html5 edition of May 1977 Maritime Reporter
Other stories from May 1977 issue
Content