NOR-FISHING '84
Trondheim, Norway—August 6—12 The organizers of Nor-Fishing '84, one of the world's leading international fisheries fairs, report that interest in this year's event, to be held August 6-12 in Trondheim, Norway, is greater than ever before. Because of enormous demand from exhibitors, the planned exhibition area had to be expanded. Every inch of available space in the Nidaro Hall has been booked, so that this year the fair will cover more than 6,400 square meters—with some companies placed on a waiting list.
This year's exhibition is the 10th time for Nor-Fishing. It was first organized in 1960 at Bergen.
Trondheim was the site for the event in 1965, 69, 72, 74, 76, 80, and 82. It was held once in Oslo, in 1978. The organizers are the Royal Norwegian Ministry of Fisheries/Directorate of Fisheries, in collaboration with the Norwegian Trade Fair Foundation (Norges Varemesse).
Some 234 exhibitors representing more than 400 manufacturers in 20 countries have confirmed space for Nor-Fishing '84. New applications were still coming in as late as May this year, yet in spite of the increased exhibition area now made available, late applicants had to be placed on the waiting list. The organizers had originally planned for 4,500 square meters of indoor exhibition space; this has now been increased to 5,400 square meters. In addition, there will be more than 1,000 square meters of space for outdoor exhibits adjacent to Nidaro Hall.
In previous years the somewhat limited availability of hotel accommodations in Trondheim created problems. However, since the 1982 Nor-Fishing three new hotels have been built in the city, accommodating more than 1,000 guests. Thus the organizers are confident that hotel facilities this year will be satisfactory.
Nor-Fishing '84 will present a comprehensive picture of the latest developments in the field of fishing craft, ships' equipment, fishing gear and other catching implements, navigational and safety equipment, marine electronics, packaging and transport equipment, fish processing machinery, and other products and services connected with the fishery industry.
Concurrently with this trade fair, special seminars will be held on August 8 and 9 (program listed below).
These will be addressed by fisheries specialists of international repute. The main subjects to be covered will be energy saving and the utilization of increasing herring resources—themes that are currently attracting wide attention both nationally in Norway and internationally.
The organizers report active efforts to attract foreign visitors to the fair, through close collaboration with the Export Council of Norway, NORAD, and the Ministry of Commerce. It is already known that both the exhibition and the seminars will be attended by important individual visitors and delegations from every part of the world. More than 24,000 specialists from some 40 nations attended Nor-Fishing '82; an equal number are expected at this year's fair.
Another attraction at Nor-Fishing '84 will be the Bei Dou, one of the world's most advanced fishery research vessels, which will be berthed close to the exhibition hall. This vessel is an official gift from Norway to China. One of the Norwegian Coast Guard's newest vessels will also be berthed in Trondheim during the fair, together with the more than 100- year-old, yet still fully operational, fishing schooner from the Faeroes, and several demonstration craft. With its wide span, high professional standards, and topical seminars, Nor-Fishing should be of great interest to everyone connected with the fishery industry.
Seminar Program Wednesday, August 8 How Should We Use Our Herring Resources?
Chairman: Ole Johan Ostvedt, research director, Institute of Marine Research, Bergen.
10:00 am—"Herring—Quantity and Utilization—Yesterday and Tomorrow," by Jorn Krog, director, Norwegian Pelagic Fish Marketing Board.
10:30 am—"Herring for Consumption— Requirements in the Treatment of Raw Material," by Prof.
Ola Magnussen, The Norwegian University of Fishery/Norwegian Institute of Technology, Trondheim.
11:30 am—"Processing of Herring," by Wiggo Tangstad, senior scientist, Institute of Fishery Technology Research, Tromso.
12:15 pm—Lunch 1:30 pm—"Marketing Possibilities for Herring and Herring Products, with special Reference to the German Market," by Theodor Hubsch, director, Norda Heeringshandelsgeschaft, Hamburg.
2:10 pm—Panel Discussion.
3:15 pm—Conclusion of panel discussion.
Thursday, August 9 Energy Saving Chairman: Finn Bergersen Jr., secretary general, Norwegian Fisherman's Association, Trondheim.
10:00 am—"The Outlook for Energy Prices," by Johan Nic. Void, managing director, A/S Norske Shell, Oslo.
10:30 am—"Potentials for Saving in the Fishery Industry," by Anders Endal, research director, Institute of Fishery Technology Research, Trondheim.
11:30 am—"Design of Energy-efficient Fishing Craft—Hull Design and Propulsion Systems," by Aage Berg, senior scientist, Institute of Fishery Technology Research, Trondheim.
12:15 pm—Lunch.
1:30 pm—"Operation of Fishing Vessels—Correct Use of Speed, Propulsion Machinery, and Propeller," by Torbjorn Digernes, senior scientist, Institute of Fishery Technology Research, Trondheim.
2:10 pm—Panel discussion.
3:30—Conclusion of seminar.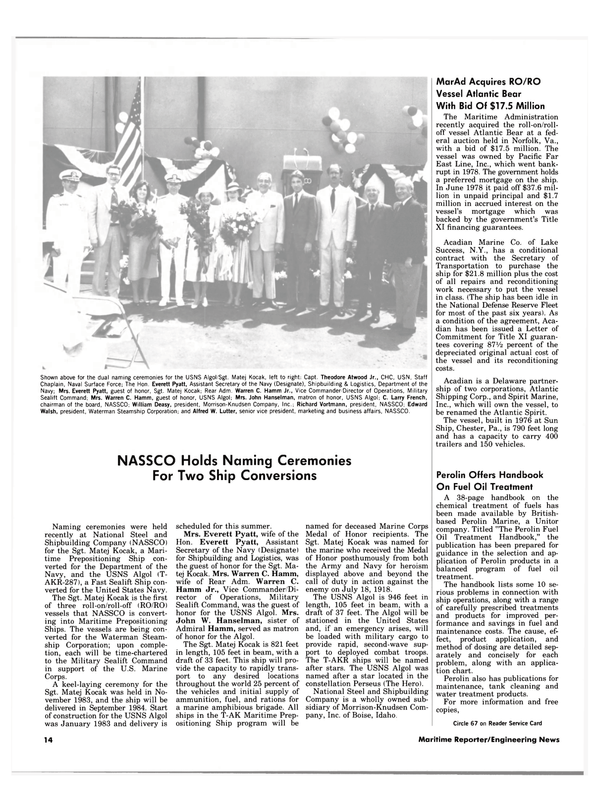 Read NOR-FISHING '84 in Pdf, Flash or Html5 edition of July 1984 Maritime Reporter
Other stories from July 1984 issue
Content