ASNE SYMPOSIUM 1990
DESTROYER, CRUISER & FRIGATE TECHNOLOGY September 27-29, Biloxi, Mississippi The American Society of Naval Engineering (ASNE) in cooperation with the Surface Navy Association (SNA) and the Supervisor of Shipbuilding, Pascagoula, Miss., will sponsor a symposium entitled "Destroyer, Cruiser & Frigate Technology" on September 27-29, 1990, at the Mississippi Gulf Coast Coliseum in Biloxi, Miss.
The symposium is planned to bring the Navy and industry together for an interchange of technical ideas for future ship designs.
The 18 invited papers will emphasize subsystem technology in the area of weapons, command and control, aircraft installation, machinery, hydrodynamics, structures, survivability and detectability. Additional papers are planned on foreign technology, technology needs and technology assessment. Moderators for the session have been selected from distinguished leaders in the topics being presented. Over 40 companies will have exhibits at the coliseum and additional exhibit space is still available.
Luncheon speakers will feature Ron Kiss, Director of Shipbuilding, Office of the Assistant Secretary of the Navy (RD&A), and Rear Adm. William J. Flanagan Jr., Chief of Legislative Affairs. The Thursday evening banquet speaker will be Vice Adm. John W. Nyquist, Assistant Chief of Naval Operations (Surface Warfare). On Saturday morning, September 29, there will be a tour of Ingalls Shipbuilding to include a visit aboard a Ticonderoga Class cruiser.
Registration fee for the technical conference is $75 for ASNE and SNA members, $125 for nonmembers, and $20 for students. For more information, write or call Mrs. Sally Skolnick at ASNE Headquarters at 1452 Duke Street, Alexandria, Va. 22314; telephone: (703) 836-6727; or call Kim Shanahan, symposium chairman, at Ingalls Shipbuilding, Inc. (601) 935-1420.
TECHNICAL PROGRAM Thursday, September 27 SESSION I—MACHINERY Jan Hope, Asst. Sec. Navy Office 8:30-9:15 a.m.—"The MEKO Design of Surface Ships," by Karl Otto Sadler. Blohm + Voss.
9:15-10 a.m.—"Waterjet Propulsion of Large Marine Craft," by Rolf Stovsson, Ka- MeWa.
10-10:15 a.m.—Break.
10:15-11 a.m.—"Advanced Epicyclic and Parallel Offset Propulsion Gearing for Surface Ships," by Alan R. Marquis and Terence J. Dansdill, General Electric.
11-11:45 a.m.—"Future Trends in Auxiliary Machinery," by John R. Ward, DTRCAnnapolis.
Luncheon.
SESSION II—HULL & SUPPORT SYSTEMS George Kerr, DTRC-Carderock 1:30-2:15 p.m.—Advanced Surface Ship Hull Technology," by Jeffrey E. Beach.
DTRC-Carderock.
2:15-3 p.m.—"Hull Form Design Studies for Monohull Combatants," by W. Brett Wilson, Naval Oceanographic Center.
3-3:45 p.m.—"Double Hull Producibilit y , " by Jeffrey E. Beach, Marty R. Fitzgerald and Arun Mehta, DTRC-Carderock and Ingalls Shipbuilding.
3:45-4 p.m.—Break.
SESSION III—AFFORDABILITY Capt. Jim Baskerville, DTRC-Carderock 4-4:45 p.m.—"Affordability, the Watchword of the Nineties," by Capt. Clark Graham.
Commander, David Taylor Research Center.
4:45-5:30 p.m.—"Cruiser, Destroyer, Frigate Technology Assessments," by Dr.
Dean A. Rains and John A. Johnson, Decision Engineering.
Friday, September 28 SESSION IV—ELECTRICAL SYSTEM Timothy Doyle, DTRC-Annapolis 8:30-9:15 a.m.—"Applications of Fuel Cells to Naval Power/Propulsion," by David F. Bloomfield, Analytic Power Corp.
9:15-10 a.m.—"AC Electric Drive Machinery Design," by John P. Casey, General Electric Co.
10-10:15 a.m.—Break.
10:15-11 a.m.—"VSCF Cyclo-Converter Power Equipment (A Versatile Technology for Full Range PDSS)," by Kenneth J.
Hultgren. General Electric Co.
11-11:45 a.m.—"Navy Electrothermal Gun Applications," by Dr. George Chryssomallis and Michael Guilt, FMC.
Luncheon.
SESSION V—CURRENT SHIP DESIGNS SURVIVABILITY Capt. Charles Calvano, NAVSEA 1:30-2:15 p.m.—"The DDG-51 Flight III," by R.H. Fortune and Don L. Ewing, NAVSEA.
2:15-3 p.m.—"The SA'AR-5 Corvette," by Charles J. Gallagher Jr., Ingalls Shipbuilding.
3-3:15 p.m.—Break.
3:15-4 p.m.—"NATO Frigate Replacement for the Nineties," by Harvey G. Kloehn and Roger Schaffer, Westinghouse and Advanced Marine Enterprise.
4-4:45 p.m.—"Enhancing Ship Survivability," by Dr. L. Dean Simmons, Institute for Defense Analyses.
4:45-5:30 p.m.—"Maritime Tactical Deterrence— Why? How? What? The Future for Surface Warships," by G.H. Fuller and Carlos A. Tomassoni, BMT, Designers and Planners.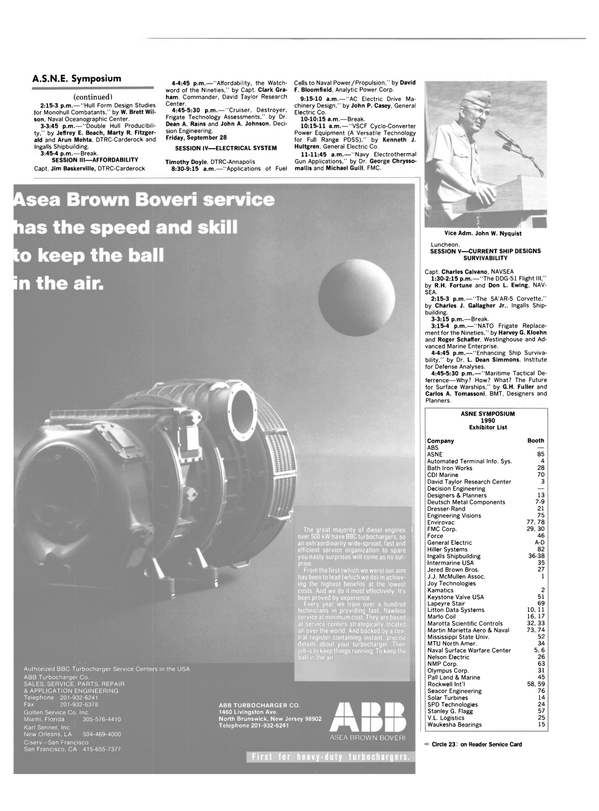 Read ASNE SYMPOSIUM 1990 in Pdf, Flash or Html5 edition of September 1990 Maritime Reporter
Other stories from September 1990 issue
Content