THE PROPULSION SYSTEM: HEART OF TODAY'S NAVY VESSEL
The heart of today's Navy vessel, whether it is a cruiser, destroyer, frigate, corvette, minehunter or support craft, is the propulsion system.
Many of these warships and naval auxiliaries demand high-performance, flexible and durable propulsion systems. A significant number of new surface combatants are being fitted with marine gas turbines because of their excellent power-toweight ratios, simplicity and reliability.
Diesels remain a popular choice in both diesel and diesel-electric applications. In addition, through technological advances, major naval equipment manufacturers of propellers and gears, for example, are constantly improving their propulsion system products and components in an effort to provide the international naval market with the most durable, quietest, most powerful and most fuel-efficient propulsion systems.
This article, based on information received as of press time, offers a brief review of some of the latest propulsion systems that are in use by the world's naval fleets.
FREE LITERATURE AVAILABLE Technical reports, product literature and brochures are available free of charge from the manufacturers included in this review. If you would like additional information, just circle the appropriate Reader Service Number(s) on the postpaid card bound into the back of this issue. See Table 1 in this review for the proper Reader Service Number for each manufacturer.
DIESELS For well over a half a century, Paxman Diesels Ltd. has been a major supplier to the British Royal Navy.
Paxman has supplied low magnetic signature marine diesel engines for the Sandown Class singlerole minehunters, developed and built for the Royal Navy by the U.K.'s Vosper Thornycroft. These GRP-hulled vessels are each powered by two Paxman Valenta 6RP200E propulsion engines. These Valenta six-cylinder engines have a continuous rating of 500 kwb (670 bhp) at 1,200 rpm. When installed in minesweepers, the power rating of these engines is raised to 755 kwb (1,012 bhp) at 1,460 rpm.
In other work for the British Royal Navy, Paxman has provided diesel power modules for the combined diesel and gas turbine (CODLAG) propulsion system in the new Type 23 Antisubmarine Warfare frigates.
Twelve of these ships are now under construction or on order. The first of the class, the HMS Norfolk is due to be commissioned shortly.
The ASW frigates will each be fitted with four Paxman Valenta 12RP200CZ power modules each having a continuous power output of 1.3 mw 440/600 v at 1,200 rpm.
The modules will provide power for the propulsion system and ship's electrical supplies.
Earlier this year, NAVSEA gave its formal approval for three of Paxman's Valenta range of diesel engines to be "Qualified in Accordance with MIL-E-24455" for consideration in U.S. Naval applications.
The three Valenta engine models involved are the 12-, 16- and 18- cylinder versions.
Paxman paved the way for future U.S. Navy use when its Valenta 16RP200CM engines were used in 37 of the U.S. Coast Guard's Island Class patrol boats. Some of these vessels have now been operating for four years.
Fincantieri's GMT (Grandi Motori Trieste) engine division produces the medium-speed B/BL 230 diesel, a typical "naval" engine used in the Italian Navy. The series has a wide selection of models (six to 20 cylinders) and power ranges (1,000 to 5,600 kw), enabling the use of a standard cylinder for all types of vessels, ranging from minehunters, patrol craft and corvettes to frigates, destroyers and cruisers.
The main characteristics of the B/ BL 230.8M (low magnetic signature and short stroke version) are: a piston bore of 230 mm, piston stroke of 270 mm, and engine speed of 1,200 rpm in an eight-cylinder, turbocharged and intercooled model. The long-stroke version of this engine has the a piston stroke of 310 mm and an engine speed of 1,050 rpm.
Fincantieri's Isotta Fraschini engine division produces ID 36 diesel engines, designed to achieve maximum power-to-weight ratios, while maintaining the original characteristics of reliability and long TBO.
The compact engine, well-suited for use in small engine rooms, exhibits very low noise emissions.
In fact, the propulsion or power generation sets driven by ID 36 engines can be easily contained in acoustic enclosures and fitted on a double system of elastic mountings.
This high-speed engine has a piston bore of 170 mm, stroke of 170 mm and engine speed of 1,200 rpm.
The modular design of the ID 36 engine series ensures simple installation as a propulsion or power generation unit.
Shock testing on ID36SS8V-AM diesels was recently completed on behalf of the U.S. Navy. One propulsion and one generating set utilizing ID36SS8V-AM engines will be installed aboard the Navy's new minehunter ship USS Osprey.
Cummins marine diesels, supplied by Cummins Engine Company, Inc., Columbus, Ind., provide all on-board power for the U.S.
Army Troop Support Command's new Utility Landing Craft, LCU- 2000. Built by Trinity Marine Group, Gulfport, Miss., the LCU- 2000 features two Cummins KTA50-M main propulsion engines, rated at 1,250 hp at 1,800 rpm, two NTA-855-GC generator sets, rated at 250 kw at 1,800 rpm, one 4BT3.9- G emergency generator, rated at 40 kw at 1,800 rpm, and one NT-855-M bowthruster engine, rated at 300 hp at 1,800 rpm.
Detroit Diesel Corporation's military marine engines, in the power range of 105 to 2,200 horsepower, have been fitted aboard such military craft as minesweepers, motor lifeboats, torpedo weapons retrievers, and landing craft.
A recent government project undertaken by DDC is the U.S. Coast Guard's 47-foot motor lifeboat program, which utilizes the firm's 6V- 92TA (model 8062-7404 diesel, rated at 450 hp at 2,300 rpm).
In addition, a 78-foot aluminum fast patrol boat under construction at Halter Marine for the Philippine Navy will be powered by two Detroit Diesel 16V92TAB engines driving through ZF BW255 reverse/ reduction gears.
Serving the single engine 50- 10,000 horsepower range, MTU of North America has supplied propulsion equipment for both Navy and Coast Guard patrol boats. In the U.S., MTU has its 16V396TB94 diesel engines, rated at 3,433 bhp at 2,100 rpm, for the repowering of the SES-200, the Navy's only operational surface effect ship.
Textron Marine Systems, New Orleans, La., has begun modifying the SES-200. The modification calls for converting the ship's propulsion system from conventional propellers to waterjets, and removal of existing diesel engines and gearboxes for replacement with higher horsepower units that will increase propulsion power from 3,200 hp to 5,720 hp.
Following the conversion and modification, the SES-200 is expected to achieve speeds in excess of 40 knots in calm water, have greater maneuverability, produce lower in-water noise emission, and be able to operate in shallower waters.
Besides the two MTU diesels, propulsion equipment on board the SES-200 will include two ZF BW755 gearboxes and twin KaMeWa 71S62/6-SII waterjets.
The Electro-Motive Division (EMD) of General Motors, McCook, 111., recently received an order from tbe U.S. Navy for eight 2,000-kw high-shock 16-645E5N diesel engines. The engines will be used as back-up support to the nuclear power plants on two U.S. Navy aircraft carriers.
Sold through EMD's distributor, Morrison Knudsen, Power Systems Division, the complete generator sets will be delivered to Newport News Shipbuilding, where they will be installed on the carriers. EMD high shock gensets have been installed in all six of the Navy's nuclear-powered aircraft carriers, including the recently commissioned Abraham Lincoln. The other CVNs are the Nimitz, Eisenhower, Vinson, Roosevelt and Washington.
The Fairbanks Morse Engine Division of Coltec Industries (formerly Colt Industries) has supplied the main propulsion engines and ship service engine generators for U.S. Navy LSD-41 Class ships and main propulsion engines for U.S. Navy TAO-187 Class fleet oilers.
One of the newest Navy oilers, the recently launched USNS John Ericsson, has two 10-cylinder PC 4.2 Colt-Pielstick main engines, currently the largest U.S.-manufactured medium-speed diesel engines capable of burning DFM or heavy fuels up to 3,500 sec Redwood at 100 degrees F.
For power applications, the ALCO 251, popular worldwide and now part of General Electric's product offering, is a four-stroke diesel engine, available in five sizes— six cylinder in-line and eight-, 12-, 16- and 18-cylinder V configurations.
Maximum operating speed is 1,200 rpm for the six-, 12- and 16- cylinder units. All ALCO's 251 Series engines have the same bore (9 inches) and stroke (10.5 inches), and employ the same operating principles.
ALCO engines were used aboard the U.S. Coast Guard's Famous Class medium-endurance cutters as main propulsion and on the first four U.S. Navy oilers (T-AO-187) in genset applications.
Deutz MWM delivered twentyfour 850-kw self-contained generating sets to the Canadian Navy for installation aboard Canada's new patrol frigates. Deutz MWM sold 32 sets of an almost identical configuration to the German Navy for use aboard their F-122 Bremen Class frigates.
Serving a power range of 880 to 9,900 kw, Krupp MaK Diesel supplied the U.S. Navy oceanographic survey ships T-AGS-39 and TAGS- 40 with three Krupp MaK 6 M 332 diesel engines each as the 2,700- kw ship's services electrical plant.
Among the ships being utilized by the Navy during the present Persian Gulf Crisis are its newest hospital ships, the USNS Mercy (T-AH-19) and USNS Comfort (T-AH-20).
Converted by NASSCO from two 90,000-dwt San Clemente Class tankers, the Mercy and Comfort both feature MAN B&W Diesel auxiliary diesel generator sets. Each vessel is fitted with three gensets (3 x 12V 25/30). Propulsion power for the vessels is provided by a singlescrew GE-geared steam turbine producing 24,500 shaft horsepower.
The recently launched SWATH USNS Victorious (T-AGOS-19), the first of four advanced twin-hull Navy ocean surveillance vessels, is powered by a diesel-electric propulsion system. The system consists of four Caterpillar 3512 diesels with Kato generators driving two General Electric propulsion motors rated at 1,600 shp. The vessel's speed is estimated to be 10 knots.
ABB Marine, a leader in dieselelectric AC propulsion, is developing these type of propulsion systems for a wide range of vessels, including naval ships. ABB Marine began to develop its cycloconverter technology for marine propulsion in the early 1980s and successfully applied it on two Wartsila Marine-built icebreakers.
Since then, ABB Marine has delivered diesel-electric AC propulsion systems for the cruise ships Fantasy, Ecstasy and Crystal Harmony and has just received an order for three additional liners, which will be built by Fincantieri in Italy.
Since the completion of its first prototype submarine diesel engine more than 25 years ago, Hedemora Diesel AB of Sweden has made impressive progress not only in engine design, but also in the specialized field of exhaust turbocharging.
The company's latest design is the twin-turbocharged VB 210 series 18-cylinder engine.
Hedemora Diesel was selected to be the supplier of the main engines for the new Type 471 submarine for the Royal Australian Navy. The new submarines will each be equipped with three Hedemora VB 210 18- cylinder diesel generator sets with a combined output of more than 4 mw electrical power. Hedemora will supply a total of 19 engines under the contract.
Type 471 submarines, which will replace the older Oberon Class, will be harder to detect, have greater range and speed and more endurance than their predecessors.
For over two decades, the Hedemora VA 185 mm range of engines has provided the power for generator sets on Swedish coastal submarines.
At present, 12-cylinder VA 185 engines are providing propulsion for the Swedish Navy's Vastergotland Class of submarines.
GAS TURBINES Last year saw the launching of the U.S. Navy's newest and most advanced Aegis guided missile destroyer, the USS Arleigh Burke (DDG-51), at Bath Iron Works, Bath, Maine. Powered by four GE LM2500 gas turbines, the Burke is scheduled to be delivered in the first quarter of 1991. The DDG-51 Class is expected to grow to more than 80 ships in the 21st century.
Work on the proposal for development of the GE LM3000 Intercooled- Recuperative Marine Gas Turbine has slowed while the Navy reevaluates some of its requirements and reissues the RFP with a new due date. This propulsion technology coupled with an integrated electric drive is currently planned for later ships in the DDG-51 Class and others. The LM3000ICR will reportedly be 30 percent more fuel efficient.
GE's Marine & Industrial Division also reported on the delivery of eleven LM2500 gas turbines for Ticonderoga Class cruisers CG-69 to CG-72. In addition, four LM2500s were delivered to the National Steel & Shipbuilding Co. (NASSCO), San Diego, Calif., for the powering of the fast combat supply ship USS Paul Hamilton (AOE-7), under construction at the yard.
GE's LM2500 gas turbine has found a wide variety of applications in the U.S. Navy. At present, 131 Navy ships in seven vessel classes utilize this type of gas turbine. Over 400 model LM2500 gas turbines have been delivered to the Navy since 1974.
GE has also had great success abroad. Six LM2500s, for instance, will be used on six new corvettes being built by Korean yards for the Korean Navy. Korea has an option for five additional engines. Japan has selected GE's 6,000-shp LM500 gas turbine for use on its new PPG hydrofoils. This is the first naval application for the LM500 since the Danish Navy chose it to propel the Stanfiex 300 multimission ships.
Also recent selections of the GE LM2500 marine gas turbine by Taiwan, Greece and the Royal Thai Navies brings the number of navies using LM2500s to 22.
The gas turbine generator set aboard the Arleigh Burke destroyer uses the Allison 501-K34 engine from Allison Gas Turbine, Military Industrial Engines, Indianapolis, Ind., to produce 2500 kilowatts of shipboard electrical power.
Significant AG9130 design features include: low noise signature (airborne and hull-radiated), fully integrated speed governing controls, voltage regulation, sequencing and signal conditioning.
The 501-K34 is a single-shaft engine using a 14-stage axial flow compressor coupled to a four-stage turbine with air-cooled first and second stages. Six flow-through combustion liners are within a single annular chamber. The five main antifriction bearings are pressure lubricated. An accessory drive housing is mounted under the compressor for gear-driven fuel and lubrication system accessories.
The engine has improved turbine efficiency and increased corrosion resistant materials. It has passed the military qualification MIL-E-173431C for a 3,000 kw continuous duty rating on a 100 degree F day.
The 501K-34, the prime mover for the AG9130, is being purchased by Japanese customers for their latest destroyer, the 63 DDG. That country's generator set will incorporate Allison design features.
STEAM TURBINES Steam turbines, widely used in nuclear propulsion applications, such as in the case of the Nimitz Class aircraft carriers, can be found in use aboard the U.S. Navy's 58,000-ton Iowa Class battleships.
Both the battleships Iowa and Missouri are powered by a propulsion plant consisting of eight boilers and four GE geared steam turbines. GE Naval & Drive Turbine Systems supplies advanced steam propulsion and ships service turbine generator systems to U.S. Navy vessels ranging in size from the largest aircraft carriers to the smallest auxiliary ships.
The USS Wasp (LHD-1), the lead ship of the Navy's newest amphibious assault ship, has a power plant which uses two Westinghouse steam turbines, developing a combined 70,000 shp, with two Combustion Engineering boilers, to drive the ship at speeds of more than 20 knots.
GEARS The twelve 110-foot Island Class patrol boats under construction at Bollinger Machine Shop & Shipyard, Inc., Bayou Lafourche, La., will be outfitted with ZF's BW-755 transmissions. ZF has received orders for 26 of the transmissions from Caterpillar, manufacturer of the engines for the boats.
The twelve 141-ton-displacement WPBs will each be powered by two Caterpillar 3516-DITA engines, capable of providing 2,740 bhp at 1,910 rpm. The BW-755 transmissions will provide a 2.33:1 reduction ratio. The Island Class patrol boats will attain an estimated speed of 26 knots.
The first of the new patrol boats is scheduled for launch in December 1990. ZF marine transmissions were also specified for the 37 Island Class patrol boats previously built for the Coast Guard.
Founded on an over 100-year-old tradition of supplying the Navy with propulsion and auxiliary equipment, GE, through its Naval & Drive Turbine Systems Department, is currently involved in providing geared steam turbines or advanced hardened and ground gears or turbine generator sets for such U.S. Navy combatant programs as: the SSN-688 Los Angeles and SSBN-726 Ohio submarine classes; the CVN-68 Nimitz aircraft carrier; DDG-51 Arleigh Burke destroyer; and LHD-1 Wasp amphibious assault ship.
At present, GE is involved in the development of a highly advanced propulsion system for the Navy's next generation nuclear attack submarine, the SSN-21 Seawolf Class.
The Cincinnati Gear Company, which supplies gearing rated 2,500 hp and up, has gearing systems fitted aboard LCAC, TAO-187 Henry J. Kaiser Class fleet oilers, and AOE-6 Class Fast Combat Support Ships.
The company's most recent technological advancement is in the incorporation of SSS/TOSI reversing unit on a 50,000-hp gearbox in the AOE-6 program. The Fast Combat Support Ships will be powered by four GE LM2500 gas turbines with four SSS clutches transmitting a total of almost 80,000 kw.
SSS clutches have been supplied to about 400 naval vessels worldwide.
The clutches have been used in such vessels as carriers, cruisers, destroyers, frigates, corvettes, gunboats, minehunters and patrol boats, ranging in size from 100 to 19,000 tons.
PROPELLERS The Bird-Johnson Company, Walpole, Mass., was recently awarded a contract to supply Peterson Builders of Sturgeon Bay, Wis., with three shipsets of controllable pitch (CP) propeller systems for three Avenger Class Mine Countermeasure Ships. Bird-Johnson also supplied the propellers for the previous 11 MCM-1 Class ships.
The new propeller systems are destined for MCMs 12, 13 and 14.
The propeller blades will be cast at Bird-Johnson's Pascagoula, Miss., foundry.
Last year, Bird-Johnson Company was awarded contracts to supply the twin-screw controllable-pitch propeller systems for the T-AOs 198, 200, 202, and 204.
In service off the Florida coast, the U.S. Coast Guard's 44-foot fast coastal interceptors feature Record propellers from Rolla Propellers.
The Record propellers are used in the patrol boats' T-Torque drive systems, which provide surfacepiercing drive. The boats can reach speeds in excess of 43 knots.
Last year, the U.S. Navy awarded contracts worth over $28 million to the Materials and Components Group of National Forge Co., Irvine, Pa., to supply military marine propulsion system components.
Components specified by the contracts include propeller shafts for new Aegis cruisers and spares for additional cruisers. Customers are Bath Iron Works, Litton Industries, and the Navy for its Spruance Class (DD-963) destroyers.
Under the contracts, National Forge will also build line shafts for two Nimitz Class aircraft carriers from Newport News, and one LHD- 1 Wasp Class amphibious assault ship from Ingalls Shipbuilding, Inc.
National Forge will construct propulsion shaft systems for Trident and SSN-688 Class nuclear-powered submarines from Electric Boat Division-General Dynamics and Newport News Shipbuilding.
Netherlands-based Lips BV entered the large controllable-pitch propeller market in 1966, when it was awarded the contract to supply the 25,000-hp CP propeller for the Canadian Navy's new DDH-280 Class destroyers.
Since then, many other naval contracts have been obtained and finalized, but at present, the DDH-280 has once again become the focus of Lips' attention. The ships are undergoing a mid-service life conversion under TRUMP (Tribal Class Update and Modernization Program), and it includes a general overhaul and modernization of the propeller systems. After their conversion, these ships will remain operational well beyond the year 2000.
Besides the Canadian Navy, Lips controllable-pitch and fixed-pitch propellers have been fitted aboard naval combatant and auxiliary vessels from such countries as: Australia, Belgium, France, Greece, Italy, the Netherlands, Peru, Spain, Sweden, the United States, Venezuela.
Lips fixed-propeller systems have been used aboard Nimitz Class aircraft carriers, and its CP propeller systems are being fitted aboard four twin-screw frigates for the Royal Thai Navy presently under construction at the Hudong Shipyard, PRC.
Sulzer-Escher Wyss fivebladed CP and reverse pitch propellers are featured on the FRG's Bremen Class frigates, as well as on a number of Canadian, Indonesian, Saudi Arabian and South Korean naval ships.
Three new U.S. Navy Torpedo Test Craft being built by McDermott Shipyard, Amelia, La., will be equipped with Omnithruster hydrojet maneuvering and propulsion systems. The YTTs, -9, -10 and -11, will be fitted with 350-hp Omnithruster Mark II hydrojet Model JT 700TDs. The hydrojet units will offer the craft precise handling, position keeping and automatic heading.
One of the largest RIBs (Rigid- Hull Inflatable Boat) deployed by the U.S. Coast Guard in search and rescue operations uses a Hamilton model 291 waterjet for propulsion.
The 32-knot, 4-ton boat, the Avon 27-foot Searider RIB, is fitted with a waterjet coupled to a Caterpillar 3208 TA turbocharged, aftercooled diesel engine. The waterjet provides high speed, exceptional maneuverability and shallow water operating capability, all of which ensure the craft is suited for its role of close in-shore rescue and vessel grounding operations.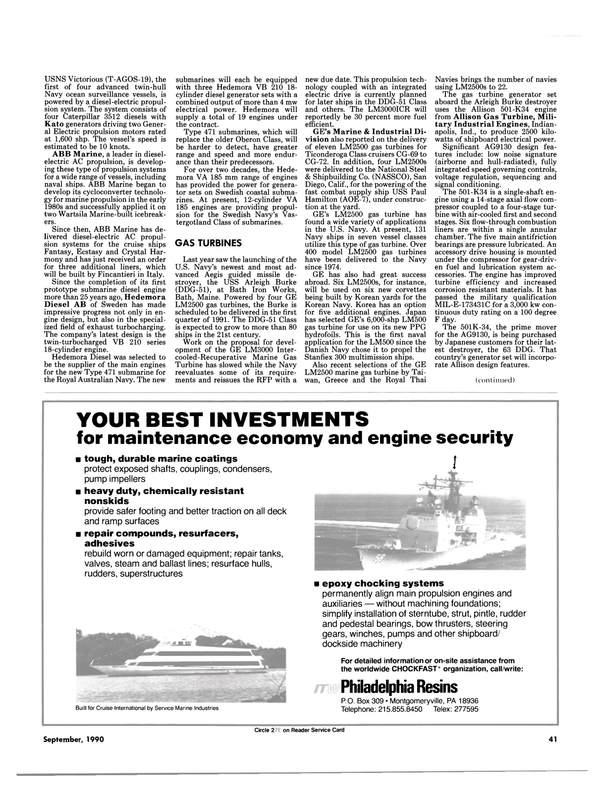 Read THE PROPULSION SYSTEM: HEART OF TODAY'S NAVY VESSEL in Pdf, Flash or Html5 edition of September 1990 Maritime Reporter
Other stories from September 1990 issue
Content