MagneTek Defense Systems Offers Quality Power-Conversion Products For Today's Navies
MagneTek Defense Systems, a world leading electrical/electronic power supplier to the military and unit of MagneTek, Inc., manufactures a wide range of products from transducers and uninterruptible power supplies to one of the industry's most sophisticated solid-state power-conversion systems. The latter, the MK 84, powers Aegis, the highly sophisticated weapons system employed aboard all CG-47 Class guided-missile cruisers.
The MK 84 is often used as an example of truly advanced technology.
Developed back in 1971, the MK 84 reflected the commitment of the company to transistorized power at a time when much of the industry had abandoned the use of solid state for high power requirements due to supposed lack of reliability. Magne- Tek Anaheim (then ALS Corporation) engineers, however, conceived a way to use transistors at the middle of their power range which rendered them highly reliable, as well as very fast in response time, highly efficient, low heat producing and, of course, smaller by far than the older technology. Looking at the Navy's specification for a power system to operate a common bus—which many in the industry said was impossible to meet—MagneTek engineers were able to exceed every requirement with this transistorized power technology. The remarkable overload capacity, response time and other characteristics of that original MK 84 are still considered state of the art today. MagneTek has gone on to improve that first model with a new air-cooled frequency converter which is the power- conversion system chosen in early 1990 for the DDG-51 Class Aegis guided-missile destroyer program.
This new ACFC is lighter, more powerful and is being built at a significant savings to the Navy.
Just as MagneTek Anaheim brings to the company a wide range of expertise in surface vessel power applications, MagneTek EuroAtlas in Bremen, West Germany, has more than 25 years of experience developing static power-conversion equipment for submarines, ships, aircraft and tanks. With systems ranging from 3 w to 300 kw, Magne- Tek EuroAtlas is a supplier to a wide range of national and international military programs. One recent example is a contract with Kockums Marine AB of Malmo, Sweden, to provide power inverters and converters for the next generation of Royal Swedish Navy submarines, the A19.
MagneTek describes its military product line as providing the complete power cycle—generation, distribution, conversion, load management, motive power and support services. In addition to the MK 84 and ACFC high-power frequency converters, the company manufactures AC variable-frequency drives, AC/DC converters, DC/AC inverters, a split-bus conLoller and current- limiting device developed for protection of shipboard distribution systems, sonar power supplies, auxiliary propulsion control systems, Motogard, motor over-temperature protection devices, pressure and position/ velocity transducers and accelerometers.
The intensive testing program employed by MagneTek Defense Systems is exemplified by the computer- controlled test cell that emulates shipboard input power. Over two mega VA of dynamic load can be produced to assure that products can withstand actual battle conditions.
To assure component and production quality, stress-testing laboratories subject components to controlled environmental conditions such as shock, vibration, humidity and extremes of temperature.
Total Systems Support and Integration (TSSI) is controlled through the MagneTek Integrated Logistic Support organization. ILS provides a turnkey system which integrates products into the customer's application and supports them through the life cycle.
Four separate business facilities provide the wide range of Magne- Tek military power products. In addition to MagneTek/Anaheim in California and MagneTek EuroAtlas in Bremen, there is MagneTek Transducer Products in Simi Valley, Calif., and MagneTek Specialty Products in New Berlin, Wis. The company employs vertically integrated manufacturing methods to assure interchangeability of parts within any alternate assembly. A majority of the parts for MagneTek power systems, from integral magnetic components to external machined and sheet-metal parts, are manufactured in-house. This approach gives MagneTek Defense Systems control of quality, delivery, and conformity to military standards.
In addition, a short-run, zerodefect production discipline dictates hands-on, in-process product quality.
For free literature detailing MagneTek Defense Systems' electrical/ electronic power supply products, Circle 90 on Reader Service Card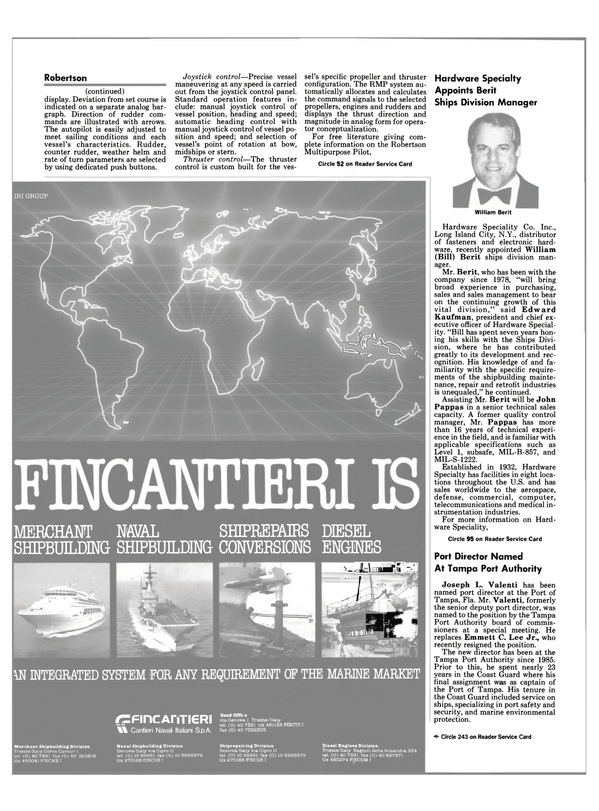 Read MagneTek Defense Systems Offers Quality Power-Conversion Products For Today's Navies in Pdf, Flash or Html5 edition of September 1990 Maritime Reporter
Other stories from September 1990 issue
Content