PHOENIX WORLD CITY: Billion-Dollar Ship Project Takes Shape At Avondale
By John R. Snyder, Editor
Commercial shipbuilding in the United States recently received a vote of confidence in both its ability to construct commercial ships and competitiveness when New Orleansbased Avondale Industries outbid its European counterparts for the contract to complete final engineering and prepare a firm bid price and delivery date for construction of what would be the world's largest cruise ship. The initial contract was signed between Avondale and the shipowner, the World City Corporation, owned by the World City Foundation. The preparation of the contract bid package is expected to be completed by October. An additional four months will be required for preparation of a firm-fixed price and delivery, and the quotation will be good for 120 days, at which time World City would secure financing.
One of the boldest and most ambitious projects ever conceived in cruise ship history, the construction of the colossal 5,600-passenger Phoenix World City—she would be longer than a U.S. Navy Nimitz Class aircraft carrier—in the U.S.
would mean an influx of hundreds of millions of dollars to the builder or builders and equipment suppliers involved in the work. Industry analysts have estimated the value of the cost of construction at anywhere from $800 million to as much as $1.2 billion.
The billion-dollar brainchild of Knut Utstein Kloster, chairman of the World City Corporation, pioneer in the Caribbean cruise market, the Phoenix World City would have a gross tonnage of 250,000—more than three of the world's most prestigious cruise ships, the Norway, QE2 and Sovereign of the Seas, combined. Lightweight tonnage of the megaliner would be 95,500 tons, with an overall length of 1,262.8 feet, maximum beam (at decks 8-11) of 252-1/2 feet, and a maximum draft of about 33 feet.
According to Stan Wallace, engineer, advance programs and marketing, Avondale Industries, the Phoenix World City will feature twin-screw diesel-electric propulsion, consisting of two 20-MW main propulsion motors per shaft, with eight diesel generators of 9,600 kw each. The ship's stainless steel variable- pitch propellers would be 7 meters (about 23 feet) in diameter.
"We have worked with a number of companies," said Mr. Wallace, "but at this stage we have not decided on which diesel-electric propulsion system we will use." Four 2,500-kw bowthrusters and four 2,500-kw stern thrusters with separate motors will provide the Phoenix World City with added maneuverability.
The Phoenix World City's passenger capacity of 5,600, with 600 additional berths for third and fourth passengers, would be more than twice that of Carnival Cruise Line's Fantasy or Royal Caribbean's Sovereign of the Seas. In fact, the Phoenix World City's complement of officers, crew and staff of 1,800 is almost as large as some of today's superliners' passenger capacities.
As explained by Mr. Kloster, the proposed Phoenix World City is: "The largest and most exciting passenger vessel on earth, a premier resort, a fabulous destination in and of itself, a world-class conference and business center. World City [is] an international city at sea, a cultural spaceship for education, exploration and enrichment, a global forum for the advancement of international cooperation, understanding and exchange." Commenting on the recent contract signing between Avondale and the World City Corporation, Albert L. Bossier Jr., chairman and chief executive of Avondale, said: "Avondale is pleased to be included as part of the team working to bring this historic project to completion.
Our company believes that its modular construction techniques and productive labor force will enable it to submit a firm offer demonstrating our capability of producing a vessel of this scale and complexity on terms which will be competitive in the world market." John S. Rogers, vice chairman and chief executive officer of the World City Corporation, said, "World City Corporation is confident that U.S. yards can be competitive and, in fact, come in well below bids of European yards." He cited the low dollar, technological advances, competitive wage rates, ever increasing productivity, experienced and skilled personnel as the main reasons for his company's confidence.
Mr. Kloster stated that: "the agreement with Avondale represents an important step in the development of the Phoenix World City. It provides for performance of the extensive shipyard work on which any firm offer for construction of a project of this magnitude must be based, and even more importantly, it now assures that World City will receive a timely offer and fixed delivery schedule, prerequisites for completion of financing arrangements." Mr. Kloster also went on to state that the agreement raises the "very real possibility of both building Phoenix World City in the United States and operating her under the American flag." The Phoenix World City has been designed by Tage Wandborg of the Knud E. Hansen firm of Copenhagen, Denmark, a noted ship architect and designer of more than 30 modern cruise ships.
More than five years in design, testing and market research, the Phoenix World City project, according to the company, heralds the future direction of the cruise and leisure market. The company claims that as such, it promises to be a highly successful commercial venture.
The company bases these claims on the fact that the Phoenix World City is not only aimed at the cruise market, but also the lucrative $44 billion to $50 billion per year convention/meeting market.
Besides her enormous size, a quick examination of the Phoenix World City reveals that she is a dramatic and bold departure from current ship design. She accommodates her 5,600 passengers (6,200 with third and fourth) in 2,800 staterooms and suites located primarily in three hotel towers whicb give her a distinctive profile. Each tower is a separate entity, providing passengers with the feeling of being on an island retreat rather than a cruise ship.
Massive portals in the stern of the vessel open to reveal a large marina within the ship. This is the port of arrival for World City's visitors when the ship is at anchor or underway.
Four day-cruisers, capable of speeds of up to 50 knots, each with a capacity of 400 persons, dock inside the ship. The vessels would be used to shuttle passengers to and from ports and a variety of destinations within a 50-mile radius of the ship.
These day-cruisers might be similar in design to a previously built Surface Effect Ship (SES) delivered by Avondale.
The marina itself is a spacious and charming "harbor," complete with music, palm trees, cafe, shops, and even a tropical waterfall.
Lifesaving equipment on board the Phoenix World City will include twenty innovative, fully enclosed, capsize-proof 400-passenger lifesaving craft. These diesel-driven, 6- knot vessels will each have an overall length of about 64 feet.
The 21-deck Phoenix World City has been designed to give passengers freedom and spaciousness without losing her sense of community: village squares, parks, a "downtown" area, Rendezvous Plaza, Main Street, galleries, museums, a interdenominational house of worship, tropical gardens, a sports arena, sidewalk cafes, nightclubs, cinemas, bistros, discos, six pools, six jacuzzis, university center, a 100,000-volume library, business center, brokerage office, arts complex, medical center, fire station, police station, and dozens of the world's most famous-name shops, boutiques and restaurants. The ship's 12 restaurants will occupy a total area of 4,800 m2 (51,840 ft2).
The 28 boutiques and shops aboard the Phoenix World City will occupy a total area of 2,300 m2 (24,840 ft2), while her 12 bars and coffee shop, with a total seating capacity of 3,325, will have an area of about 840 m2 (9,072 ft2).
The Phoenix World City will also have a sports complex, including squash and tennis, a state-of-the-art health spa and fitness center, and a half-mile jogging track.
The ship's 2,000-seat theater, with mezzanine, located on decks 7 and 8 will be large enough to stage such events as a Broadway musical, or host the Bolshoi Ballet, the Royal Shakespeare Company, or the New York Philharmonic.
Both for onboard entertainment and for worldwide broadcasting of onboard activities and events, the ship will be equipped with a full television production studio and international satellite broadcast capability.
Plans for the casino on deck 8 call for a gaming room to rival many land-based facilities. The casino will have a total area of 14,000 ft2 with an on-board commercial bank. Part of the casino, an area in excessive of 5,000 feet2, has been set aside as an "executive casino." Other impressive statistics on the 1,262-foot-long Phoenix World City, which would be as long as the Empire State Building is tall (without TV tower) include: the capability to make 2,500 tons of freshwater per day; and a hotel load of 18,000 kw.
Phoenix World City also has been designed to meet the highest standards of environmental responsibility.
All solid waste will be incinerated and converted to electrical energy or, in the case of glass and metals, will be compacted and stored for recycling. Water treatment will purify all effluent that is not recycled, and exhaust will be scrubbed. Bunker tanks will be fully separated from the outer hull to avoid oil pollution.
By virtue of her size and innovative design, the Phoenix World City will be able to devote hundreds of thousands of square feet to World City's multifaceted recreational, educational, and cultural activities.
The Academic Inn will host the ship's visiting scholars, scientists, writers, poets, painters, sculptors, and musicians, who will work on various projects as guests of the ship, and periodically conduct workshops, recitals, and master classes for passengers as part of World City's cultural program.
World City will provide a new venue for business meetings, conferences and seminars. The facilities will range from rooms accommodating just 10, to a 1,600-seat conference centerAiallroom, a 2,000-seat auditorium, and a large "exhibition deck." With a total area of meeting and convention space of 92,000 ft2, rivaling many land-based resorts, World City hopes to attract a significant share of the nation's $50-billion annual meeting market. Conferees will be able to meet with their peers from around the world on board.
The center hotel tower, complete with a helipad atop, will house an association of business organizations, the World Class Corporate 300, which are "committed to the shared task of creating a better future." The ship will offer business leaders a unique forum where they can advance their own corporate objectives, as well as those of the global community.
According to the World City Corporation, membership in the World Class Corporate 300 entitles corporate participants to substantial strategic marketing, sales, and promotional benefits, as well as exclusive use of a premium stateroom in the center hotel tower.
Plans for World Class Corporate 300 programs include an executive development component, with conferees, workshops, and briefings conducted by leading figures from government, business, academia, media, and the research sciences.
And, although the Phoenix World City is primarily designed as a resort, its Global Business Center will provide teleconferencing and communications capability to permit corporate executives to keep in touch with their companies' headquarters and affiliates around the globe.
The World Class Corporate 300 tower will feature three hundred 376-foot2 staterooms with private balconies. In addition, there will also be a number of deluxe apartments and penthouse suites, with balconies or roof gardens, ranging in size from 538 feet2 to 753 feet2.
Mr.Rogers said there are three key elements which would enhance the feasibility of the Phoenix World City project in the U.S. and operation under the U.S. flag, each of which depends upon the cooperation and support of Congress and Federal agencies.
One key element concerns current laws which prohibit gambling on U.S.-flag vessels. These statutes would have to be repealed for Phoenix World City to be fully competitive with foreign flag cruise ships, which are marketed primarily to U.S. citizens and which trade out of U.S. ports with casinos on board. A bill has already been introduced in the House, according to Mr. Rogers, which would repeal federal laws prohibiting gambling on board U.S.-flag vessels. The bill is an outgrowth of the growing interest of gambling on board riverboats, but the Phoenix World City would benefit— give considerable impetus to—greatly from any such legislation.
A second element involves current laws governing tax deductions on business meeting and convention expenses. While the present law limits such deductions to U.S.-flag ships, it carries an additional requirement that all ports of call of such an American vessel must be in the U.S. A bill is being drafted to remove this additional requirement, which, in its present form, has the effect of favoring many foreign resorts over U.S.-flag vessels. To date, this has been largely academic since there are no U.S.-flag cruise ships operating in the international trade.
The third advantage rising from U.S. construction and registry is the possibility of obtaining Federal Title XI guarantees, which would allow for long-term, low cost financing for the construction.
If the Phoenix World City is built in the U.S., she would serve as a showcase for U.S. technology and products, and, if she were U.S. flagged, would provide work for American mariners.
Furthermore, a U.S.-flagged Phoenix World City will also provide the nation with a significant defense and emergency capability.
As a hospital ship, she can be equipped to serve as a fully staffed and self-sufficient 9,000-bed hospital with four separate clinic, examination, treatment and operating facilities covering over 57,000 ft2, gar- age space for 124 ambulances and other vehicles, and capable of serving on station for two months at a time without replenishment.
In comparison, the Navy's newest hospital ships, the San Clemente Class USNS Comfort and USNS Mercy, are designed as 1,000-bed facilities.
As a troop transport, the ship would have a carrying capacity of over 24,000 troops, plus vehicles and supplies. She could thus transport a complete army division, on a fully self-sustaining basis, for 28 days and over a range of 14,000 nautical miles. At destination, while underway or at anchor, the ship could rapidly deploy 10,400 troops at a time, using daycruisers and onboard landing craft.
According to Mr. Rogers, approximately 70 percent of the funds allocated to the shipyard would be used by the yard to purchase equipment from outside suppliers and manufacturers. Equipment supply contracts for the construction of the liner would amount to hundreds of millions of dollars for manufacturers.
A few examples of important categories of supply contracts with approximate dollar values involved are provided in Exhibit 1.
Last March, the World City Corporation nominated Port Canaveral, near Orlando, Fla., as homeport for the Phoenix World City. The Canaveral Port Authority has offered development rights to 95 acres of land within the port to the World City Corporation. Development plans to complement the ship include several hotels, recreational, entertainment and retail areas, a world space center, and an office, meeting and convention complex.
Ron McAlear, Avondale's Phoenix World City project team leader, said: "Detail design and engineering would begin immediately upon contract signing. If everything goes as planned, a contract can be entered into by July 1991. Physical construction would start in early to mid-1992." Mr. McAlear added: "Avondale is very capable of building the vessel and is extremely interested in the Phoenix World City project. This program is valuable to Avondale in the sense that its assists Avondale's corporate commitment to obtaining a larger percentage of commercial work. The Phoenix World City will provide work in a time when current programs are coming to a comple- tion in the shipyard." Avondale Industries has been involved in a number of naval, commercial and industrial projects over the years. Among its commercial shipbuilding projects are: the construction of all 22 LASH vessels built in the U.S.; six 164,000-dwt crude carriers for SOHIO and Exxon; two container vessels for APL; three multiproduct carriers for Exxon; and two chemical carriers for Ogden. At present, Avondale is in the midst of constructing 16 auxiliary fleet oilers and six Landing Ship Dock (LSD) ships for the U.S.
Navy.
Among its latest industrial projects, the company has completed a 192-MW hydroelectric power plant for Vidalia, La., and now has under construction an 800-bed floating detention center for New York City.
The company has also been involved in several offshore industry construction projects.
The construction and delivery of the Phoenix World City would have an immensely positive impact on the U.S. commercial shipbuilding industry, as well as open a new era in the cruise travel and leisure industry.
For free literature detailing the shipbuilding facilities and capabilities of Avondale Industries, Circle 6 1 on Reader Service Card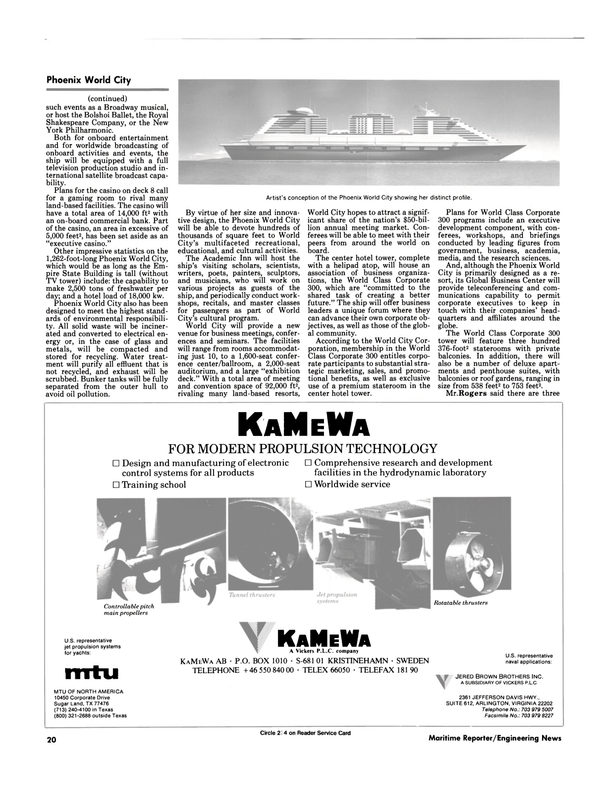 Read PHOENIX WORLD CITY: Billion-Dollar Ship Project Takes Shape At Avondale in Pdf, Flash or Html5 edition of September 1990 Maritime Reporter
Other stories from September 1990 issue
Content