The Environmental Wave: Successes And Challenges
Dena L. Wilson, V.P., Legislative Affairs American Waterways Operators In many respects, 1990 can be summed up as the year that began the Decade of the Environment, evidenced by enactment of major federal legislation reauthorizing the Clean Air Act; the Oil Pollution Act; safer transportation of hazardous materials, along with numerous state initiatives. AWO and its members actively participated in the debate which shaped these measures, and will continue to participate now and in the future.
While the Exxon Valdez oil spill was the impetus for much of the visibility and notoriety given the water transportation industry over the past few years, AWO member commitment to the environment predates that event. The association and its membership have long been committed to demonstrable policies and practices designed to make meaningful contributions to marine safety and environmental protection.
One distinct example of this commitment is AWO's participation in a midcontinent program wherein officials of the Fish and Wildlife Service, EPA, and state environmental agencies have been traveling aboard towing vessels periodically for two years, at the industry's initiative.
This program has resulted in a major leap in mutual understanding through this up-close and personal experience and exchange between these groups, which previously had a history of conflict. Both have learned from the experience, and a new mutual respect has evolved.
With the assistance of a handful of AWO member companies, the EPA has produced a videotape for the use of vessel personnel on how to avoid and minimize the environmental impact of their operations, and still operate safely. And, beginning in 1991, handouts will be given to vessels passing through locks at particularly sensitive times for the environment— informing vessel masters of the need for special caution at selected times—and asking for input from industry concerning fish and wildlife activity in these areas of operation. One other tangible result of this has been the relative ease in reaching consensus on mitigation plans for parts of the upper Mississippi River. This proactive initiative has application throughout the industry.
AWO members have sought to enhance in-house activities as well.
Accordingly, the evolving AWO seminar program will focus more and more on heightening awareness of environmental education and environmental protection, as AWO member companies institute plans to ensure compliance and accountability.
Federal and state initiatives have provided the impetus in many cases; yet the industry shares the deep concern of the American people to strive for the elimination of pollutants through tough company policies, strong crew training and relentless oversight.
Significantly, in early January, the AWO Board of Directors adopted a guiding set of environmental principles that state, in part, "AWO members are dedicated to continually improving operations in an effort to eliminate environmental incidents and to reduce environmental hazards to an absolute minimum." As AWO president Joseph Farrell said concerning the association's adoption of the environmental principles, "The principles emphasize prevention, planning, responsibility, safety, training, cooperation, and environmental stewardship.
Our goal is zero environmental incidents, coupled with economic viability of our industry. A strong industry with a solid environmental reputation is our intent." Recently, AWO has faced perhaps greater challenges than ever before in carrying out its legislative agenda in the area of the environment.
After 15 years, federal oil pollution prevention, liability, cleanup and compensation legislation is finally the law of the land. The debate over this legislation became linked by many in Congress and the media to the intense public outrage over oil spills and the industry's apparent liability to prevent them. Finally, too, sweeping legislation reauthorizing the Clean Air Act was enacted, affecting virtually every industry in the U.S.
In the context of such monumen- tal legislation—certain to have unprecedented ramifications for the tug and barge industry—the association was not intimidated or apologetic.
AWO, in developing strategy on legislative and regulatory issues, began by establishing objectives to allow the industry to retain credibility and participate in the process. AWO's strategy focused on credibility trying to make improvements in the legislation which would enable its members to continue in the business of transportation without sacrificing environment protection.
The new law reauthorizing the Clean Air Act requires the Environmental Protection Agency to establish national standards for emissions from marine tank vessels. The barge industry will not be exempt from regulation if its emissions significantly contribute to a deterioration of health or the environment; yet the language adopted by Congress clearly requires cost-benefit to be a factor in determining the extent of cargoes which will be regulated.
This provision, in our view, will help to depoliticize the process of identifying legitimate sources for regulation.
With respect to the Oil Pollution Act of 1990, overall this new law has many positive aspects. It is the first comprehensive plan, taking into consideration liability, cleanup, safety, hull configurations, penalties, and other preventive measures.
It inspires prevention, and crew training, legislating guidelines for oversight by management. AWO's legislative objectives were clear as the bill went to conference between the Senate and the House of Representatives: development of a reasonable schedule phasing out single hull tank barges; improvements in the language so that "good samaritans" and cleanup contractors would not be precluded from providing assistance; and a distinction in minimum liability limits between small barges and tankers. These objectives were achieved.
Although it is far too early to predict the longer term impact of its provisions on the marine transportation of petroleum and petroleum products, serious problems, however, have already arisen from the absence of federal preemption of state oil spill laws, overwhelmingly defeated by Congress.
The omission of federal preemption . . . in essence the failure of the bill to prevent states from establishing laws and regulations similar to, or in addition to, the requirements set forth in the federal act . . .
encourages an increasing number of states to impose unlimited liability, an "uninsurable risk." Reputable barge owners may refuse to service states with unlimited liability, thus opening up the market to less capable "gypsy operators." Further, several states are demanding that vessel operators comply with unique state certification requirements, despite more than adequate federal requirements in this area; thus far, the domestic and international marine insurance community will certify only federal requirements.
Will the effects of increased transportation cost, distorted and interrupted transportation patterns, rising insurance costs, reduced vessel availability and delayed payments for damages to spill claimants allow for the eventual mitigation of the onerous provisions of the act? These questions will begin to be answered within the next few months.
The lessons of the past few years will not be forgotten, nor will AWO's commitment to improving the environment. The coming years will bring equal or greater challenge; the barge and towing industry intends to meet those challenges with credibility and integrity. Recently, AWO has sought out members of the national environmental community to begin a dialogue to more constructively work together. Certainly, there are differences in perspective between environmental interests and water transportation executives.
But, there is no better way to narrow those differences . . . to work toward consensus . . . than to open channels of communication.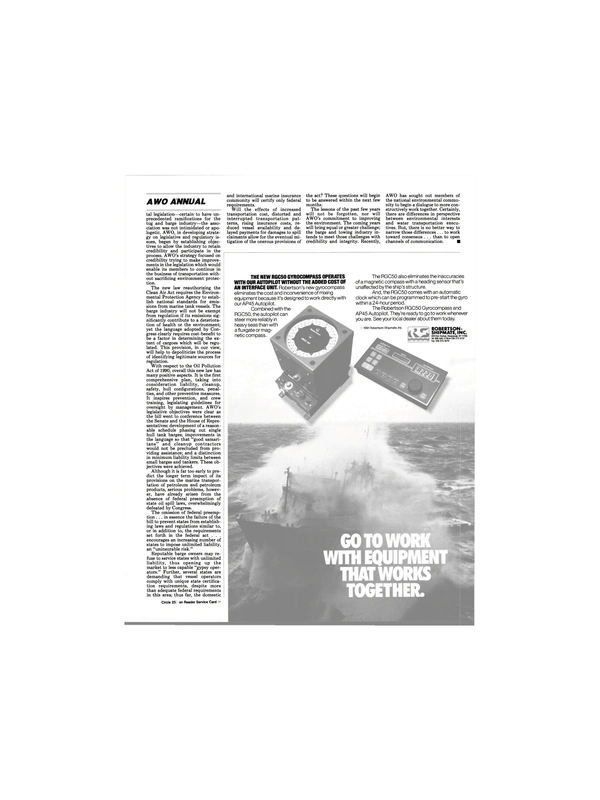 Read The Environmental Wave: Successes And Challenges in Pdf, Flash or Html5 edition of March 1991 Maritime Reporter
Other stories from March 1991 issue
Content