Teamwork, Creativity And Determination
By Joseph Farrell, President American Waterways Operators
On May 22, 1944, the Certificate of Incorporation of The American Waterways Operators was filed with the Secretary of State of Delaware.
It asserted, among other things, that AWO's purpose was, "To promote harmonious and friendly cooperation among all waterway operators; and gather and disseminate information for their benefit." Later the certificate proclaimed in a flourish of admirable bravado that, "The Corporation (AWO) shall have perpetual existence." These extracts from its charter give the reader some idea of why AWO was formed.
However, reading the charter and first minutes of AWO meetings regrettably yield no real insights into AWO's early persona. Its true character is obscured by the stiff and formal business prose of those times.
I have thought a great deal about today's AWO, now a national trade association which would indeed be unrecognizable to its founders. I'd like to share my thoughts about AWO with you.
The association is well respected, we are told. It has built a considerable record for effectiveness. It keeps its eye on the dollar, not spending foolishly. It jealously guards staying lean, relying on teamwork, creativity and determination to succeed. All rather admirable qualities, I think.
But what is more important to know is what animates today's AWO, what gives it its cachet.
The first quality which sets AWO apart is the extraordinary involvement of its members. Members possess remarkable knowledge of the issues enabling them to provide AWO with its essential direction through informed decision making, and consistently constructive oversight.
AWO's future well-being is insured because its members are heavily invested in that future.
Just four examples of recent events illustrate clearly that member involvement.
In 1990, ten of the association's senior leaders spent months gathering and analyzing information which has produced a strategic plan which charts the way for at least the early years of the decade. Another group of leaders have put their mark on the largest membership campaign in AWO's history, a two-year effort with an ambitious goal of bringing 50 members on board.
And, side by side with these accomplishments is an unprecedented program designed to assist the Department of Transportation . . . at the department's request . . . as it embarks on conducting studies and promulgating new regulations spelled out in the Oil Pollution Act of 1990. Fully 51 AWO members are working in eight small groups, each one set up to produce a comprehensive report necessary for issue resolution.
Anyone would agree that all this represents astonishing member involvement!
Taking on the tough ones, head on, is another AWO trait. For example, the association in early January approved and adopted a guiding set of environmental principles that state, in part, "AWO members are dedicated to continually improving operations in an effort to eliminate environmental incidents and to reduce environmental hazards to an absolute minimum." The association is completely committed to policies and practices which will maximize marine safety and environmental protection.
These principles solidify and articulate that commitment within the barge and towing industry. Just as importantly, they let the American people know that our industry welcomes public attention to our performance, and that our member companies have seized the initiative to do better.
The principles emphasize prevention, responsibility, safety, training, cooperation, and environmental stewardship.
Our goal is zero environmental incidents, coupled with the economic viability of our industry.
A strong industry with a solid environmental reputation is our intent.
Another example. "We are simply spilling too much oil in the water." So said AWO's witness before the June meeting of the National Academy of Sciences Marine Board on hull construction issues relating to oil spill prevention. Members of the audience of engineers, scientists and professional ship managers, startled by the candor of that statement, later proclaimed AWO's testimony ". .
. the most objective we've heard." That kind of candor has become a hallmark of this association.
Yet another. Two years ago AWO, speaking for inland carriers and responding to inquiries from Senators putting together a Federal drought relief bill, said that the industry did not want to be included in the relief bill. "You don't go to the government for a handout when things get tough," said inland barge line executives.
[An official of the Association of American Railroads, corresponding with AWO after reading a news account of this incident wrote, "This rivals the biblical dream of the lions lying down with the lambs!"] Finally, in the waning days of the 101st Congress, Senators and Congressmen received letters from AWO's members which asked them to " . . . support Coast Guard user fees of $10 million to $12 million." The letters said that the industry doesn't like asking for user fees but " . . . we expect to do our fair share in reducing the Federal deficit." Doing what is right . . . a second trait of AWO . . . has built for the industry's national trade association a reputation of incalculable value.
Gaining and preserving the trust of Federal officials opens wide the doors of success.
There are seemingly a hundred reasons why a venture cannot work, or should not even be tried. But AWO always searches for that one way that will produce a victory. For example, in the lengthy and emotion- filled debates leading up to the Oil Pollution Act of 1990, AWO scored on behalf of the industry by sending Members of Congress a technical plan view of a coastal and an inland barge, alongside a plan view of the huge . . . by comparison .
. . Exxon Valdez. Sometimes a picture really is worth a thousand words!
We also improved the painful Coast Guard user fee package somewhat by blanketing Congress with our press release on the industry losing millions of dollars because of the steep rise in diesel fuel prices after Iraq invaded Kuwait.
Finding the way. Taking sensible, manageable risks. A third characteristic of AWO. There is no doubt that recent years have been extraordinarily challenging. Though the future is always somewhat hidden in the mists, I expect no letup in the challenges. But as long as our members maintain a hold on AWO's affairs, as long as we preserve our reputation for telling it as it really is, and as long as we fuel our efforts with large doses of ingenuity, AWO will continue to flourish.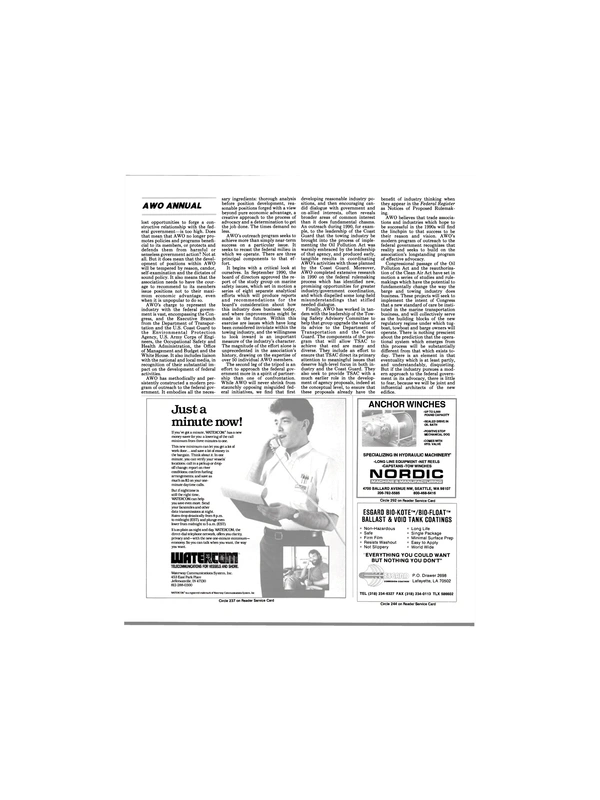 Read Teamwork, Creativity And Determination in Pdf, Flash or Html5 edition of March 1991 Maritime Reporter
Other stories from March 1991 issue
Content