United States Lines Flying High Again
As far back to the early 1900's when the transatlantic crossing ruled the day, the motto of the cruise ship industry was to provide passengers with a vacation that was both relaxing and hospitable. For the most part, the majority of these passengers were of American descent — boarding vessels registered in foreign countries and were serviced by non-American crewmembers. Such is the case now as the major playing cruise companies adhere to these customs. All that changed though, this past March when, American Classic Voyages, headed by CEO, Philip C. Calian, broke ground in the cruise shipping industry with its decision to build and operate two U.S.- flag cruise vessels as part of its newly-established United States Lines. — By Regina P. Ciardiello. assistant editor It has often been said that you never forget your roots. Such could be said about Philip C.
Calian who grew up in the Midwestern town of Dubuque, la., situated along the Mississippi River where the state trio of Illinois, Iowa and Wisconsin meet. At the time, it was probably unimaginable to Calian that he would one day, after an East coast swing to attend college and work on Wall Street — would return to his roots by becoming head of the largest owner and operator of U.S.-flag cruise vessels — based in the Midwestern mecca of Chicago.
It was history in the making last year as the cruise industry was abuzz with American Classic Voyages' (AMCV) decision to contract Litton Industries Ingalls Shipbuilding to undertake the innovative task of constructing the first U.S.-flag cruise ships in more than 40 years. Dubbed Project America, the $1.4 billion deal requires Ingalls to provide two 1,900- passenger vessels scheduled for delivery in 2003 and 2004.
This agreement also included the option for a third vessel (the first two will cost $950 million). The fleet, which recently received the official title of United States Lines, will operate weekly cruises among the U.S. Hawaiian Islands.
Complete with American crew, the former MS Nieuw Amsterdam will lead off U.S. Lines with its December 9, 2000 maiden voyage. The company reached an agreement with Holland America on August 10, 1999, to acquire the vessel for $114.5 million — it will be transferred to AMCV in the fall of 2000 and renamed MS Patriot.
For a relatively lengthy span, U.S.
cruise ship construction has been virtually dead in the water with no new ships being built on U.S. soil. But then in 1995, AMCV brought forth a notion that had been envisioned by many shipyards for some time — the plans to operate large, modern U.S.-flag cruise ships.
A driver in the revitalization of the U.S. flag is Calian, who has held his current position since AMCV's historical idea was formulated that year.
It was Calian and other AMCV executives who led the way for this new revolution, accomplishing two components - with the dual goals of reinventing the U.S. passenger vessel industry, while building the company.
When Calian arrived at AMCV five years ago, he was a welcome addition to the company, whose two brands had been receiving rather tepid returns both in revenue and sales. American Hawaii, which AMCV had purchased that same year was losing money, while the Mark Twain-esque Delta Queen Steamboat Company had new capacity requirements.
"We basically rolled up our sleeves and worked on and planned out what we needed to do to increase profits," Calian said. "It was a total management and employee effort to fix our business." Climbing the corporate ladder After graduating from Brown University, Calian, who majored in chemistry, went to work on Wall Street before landing a job at The Equity Group, an investment firm controlled by Sam Zell in Chicago. It was through Zell that Calian learned the ins and outs of corporate turnarounds and what it took to turn a business that was losing money — into one that was both strong and profitable.
Soon after, Calian took on the position as president and CEO of packaging and plastics company, CFI Industries in Illinois.
The history of events that led up to Calian's presence at AMCV, date back to the mid-1980's when Zell, now chairman of AMCV, acquired Delta Queen, and eventually American Hawaii Cruis- es in 1995. ft was through these two business transactions that AMCV was established, and Calian — who had always held an interest in the hospitality industry — came onboard.
"Hospitality and maritime are interesting industries,' he said. "There are many operating and marketing challenges of running a marine operation as well as a hotel." Building for the future In keeping up with his number one strategy rule of "helping to lead, but also helping to build a strong sense of management partnership." Calian and his team continue to focus on building up value for shareholders, as well as providing their clientele with a wide variety of vacation options.
"Stabilizing our business, along with cash flow, have put the platform in place for our long-term growth," Calian said.
"It is now the responsibility of Rod McLeod. AMCV president and COO.
to further define and lead the execution of our growth strategy." With the plan for U.S. Lines fully in place, Calian is accomplishing a variety of favorable aspects, mainly an addition of more than 2,300 shipyard employees who will construct the two vessels, as well as an additional 2.000 employees onboard and shoreside once the job is complete.
"The goal of U.S. Lines is to increase both maritime and travel interests, and helping to develop commercial shipbuilding procedures for yards," Calian said. "It's also a new cruise capacity for those who did not have the option of a Hawaiian experience by land and by sea until now." Dubbed "America's cruise line," by AMCV, the original U.S. Lines was among the best during the heyday of the transatlantic crossing with a fleet that consisted of SS America, SS Manhattan, SS Leviathan and SS George Washington.
The line remained in operation up until 1969. when the last member of its fleet, SS United States was decommissioned.
"U.S. Lines is a perfect example of taking a product and bringing it into the new millennium," Calian said. "For too long, the American cruise industry was defined by what was in the past — not in the future."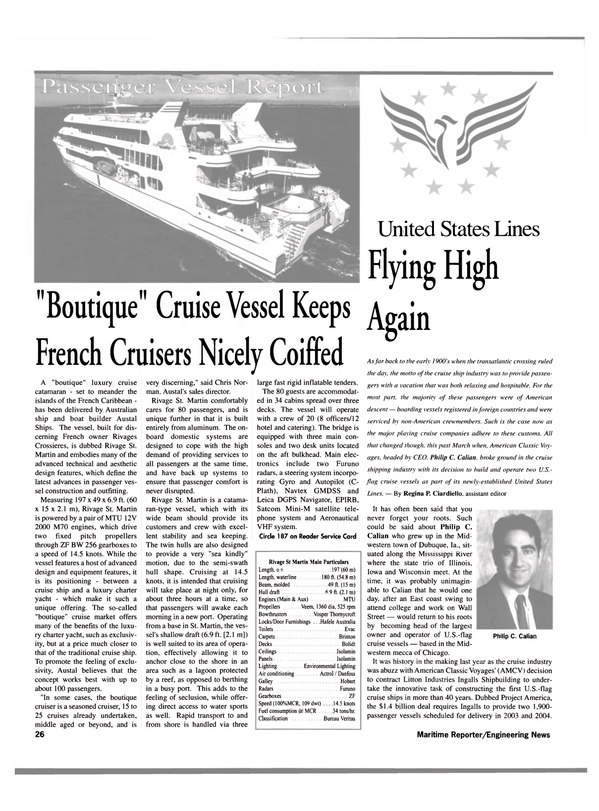 Read United States Lines Flying High Again in Pdf, Flash or Html5 edition of January 2000 Maritime Reporter
Other stories from January 2000 issue
Content