NORSHIPCO Weathers the Economic Storm
By Regina P. Ciardiello, senior editor
A down economy, a disabled drydock and a nation under heightened security measures — not exactly the best position for a ship repair facility to be in — or so one would think. Norfolk Shipbuilding & Drydock Corporation (NORSHIPCO) however has managed to stay on top with its steady stream of government and commercial work coming into its yard. A member of the United Slates Marine Repair (USMR) group of shipyards, NORSHIPCO, as well as its West Coast yard affiliates, Southwest Marine and San Francisco Drydock, have, according to USMR COO and NORSHIPCO president, Alexander Krekicli, "weathered better than most." By Regina P. Ciardiello, senior editor With 70 percent of NORSHIPCO's work on the government side, the yard has still had a steady stream of commercial work. According to Krekich, the work that was performed on MSC ship M/V SSG Edward A.
Carter was successful in terms of schedule, costs and customer satisfaction. The 950-ft. (289.5 m) vessel, which arrived at NORSHIPCO on March 1, 2001, is under a long-term charter to MSC. Owned and operat- ed by Maersk Line, it was converted from a commer- cial containership to a self-sustaining, prepositioning Army ammunition containership— capable of transporting 2,500 20-ft. containers.
Strategically placed next to the Carter in the Titan Drydock was Disney Wonder, which arrived at NOR- SHIPCO on September 12. Originally scheduled to arrive at the yard on the now infamous date of September 11, the vessel could not enter the drydock that day due to security measures that were instilled immediately following the terrorist attacks.
Once the vessel was granted clearance into the yard, it underwent routine maintenance, drydocking and painting in a relatively short period of time — so that there was little itinerary interruption. Since this is a vital component of the cruise industry, NORSHIPCO met this request and provided Disney with a quick turnaround on the job. "You've got to make a commitment to maintain a quick turnaround," Krekich said. "Materials, workers — all the piece parts have to come together; everything has to be a fine, integrated watch." On the government side, NORSHIPCO worked on the cruiser USS Normandie, and according to Krekich, after all the numbers are in, will qualify for the Aegis Flag Award, which is given out by the vessel's project manager for superior work performed on Aegis ships.
Despite a migration of commercial work from West Coast yards to the Asian yards, which has become recurring trend as a vast number of Chinese shipyards are taking business from even other traditional Asian competitors, Southwest Marine in San Diego, Calif, has done a stable amount of Navy work, as well as the company's Ingleside, Texas yard, which according to Krekich, "has had its best year ever." Unfortunately however, NORSHIPCO had an unpleasant experience during the beginning of September while awaiting the arrival of an MSC ship that was to be housed in its Titan Drydock.
As the ship was in the process of being drydocked, several of the dock's plates buckled. After being examined by the dockmaster, it was deter determined that there were signs of serious damage to the plates — some of which were already beginning to thin before the accident. While the repercussions from the accident seemed immense at the time — the yard had to divert three cruise ships jobs scheduled for this fall — workers bonded together and immediately began cutting out new plates and replacing them with new steel. According to Krekich, the drydock is expected to be up and running again by mid-November.
While the yard had to send Holland America's Amsterdam to GMD Shipyard in Brooklyn. N.Y.
and Royal Caribbean's Grandeur of the Seas and Sovereign of the Seas to other competing yards, Krekich laments that NORSHIPCO will still come out of the situation on top — and better than ever.
"This (the drydock accident) was more disappointing if anything," he said. "NORSHIPCO is continuing its efforts to include its share of the competitive commercial ship repair market and will continue to work with ship owners up and down the East Coast once the drydock is working again." In the meantime, the yard will continue to focus its efforts on the government side - specifically with the Navy.
Since the navy's newbuild program has been lean, for the past decade, repair and maintenance of existing ships has become more vital than ever.
In fact, according to Krekich, there have been discussions that the Navy will instill a major modernization program for aging cruisers, which typically have a lifecycle of 30-35 years.
Terrorism Hits Home Since September 11. much has changed in the maritime industry specifically from a security standpoint. Case in point being when MR/EN visited NORSHIPCO during the middle of October, U.S. Coast Guard patrol boats were omnipresent around the yard's environs keeping a close eye on the cruisers and the MSC ships that was stationed at the yard.
"Not much has changed in terms of the amount or degree of work and I don't believe that the events of September 11 will have a big impact on the repair industry," Krekich said.
He did say that security both around the yard and at ports will deal out a huge change to the industry.
"There is a definite increase in security with the presence of the Navy and Coast Guard patrolling the areas around the shipyard," he said. "Increased security in cargo handling will continue more than likely continue indefinitely at the ports as well." "You've got to make a commitment to maintain a quick turnaround — all the pieces have to come together and everything must be a fine, integrated watch i." — NORSHIPCO president Al Krekich confirms the shipyard's ability to provide a cost-effective, efficient dry-docking process.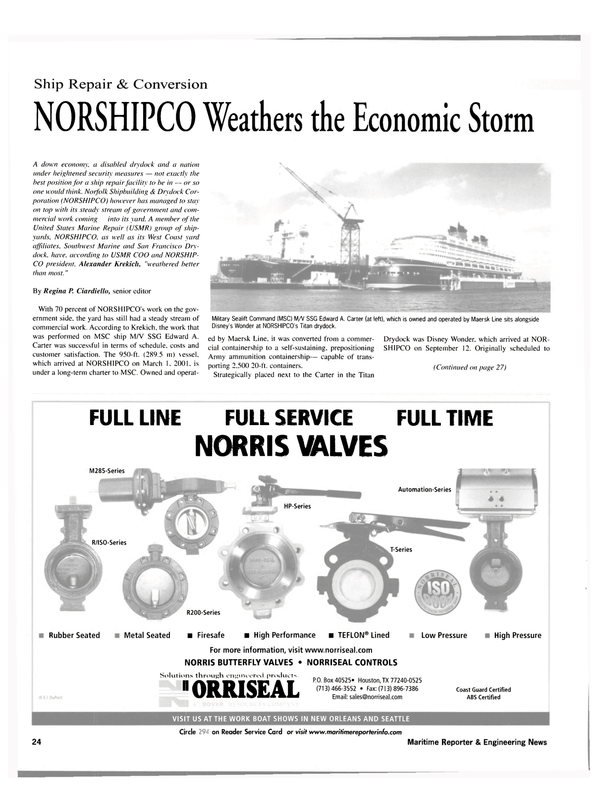 Read NORSHIPCO Weathers the Economic Storm in Pdf, Flash or Html5 edition of November 2001 Maritime Reporter
Other stories from November 2001 issue
Content