Marco Shipyard: Rolling With The Changes
Over their lifetime, fishing vessels are arguably the most robustly constructed maritime structures around, due to their continuous operation in the most arduous of conditions. Marco Shipyard in Seattle — founded in 1953 — built its business and reputation in the fishing industry, producing boats for operation around the globe. In fact. Peter G.
Schmidt, company founder and president.
was an innovator in the use of steel construction for the fishing vessel market, which previously consisted mostly of wooden boats. "He wanted to bring small boatbuilding into the modern world," said Bob McMahon, vice president.
While the market for building new fishing vessels is a far cry from 10 years ago, Marco Shipyard has parlayed its marine expertise and built a company with the facilities, the personnel, the hardware and the software technology that have enabled it to command a reputation of one of the finest builders of tugboats and pilot boats in the United States. According to McMahon. the company will expand its opportunities further in the coming months, when it will announce a licensing agreement to build aluminum fast ferries, primarily for the vessel-hungry California market.
Located on Seattle's Lake Washington Ship Channel. Marco Shipyard has, for nearly half a century served as the leading builder of steel and aluminum vessels for the Pacific Northwest. The shipyard — which touts itself as a true fullservice facility — has constructed vessels of nearly every type, ranging from oil spill recovery vessels to fishing vessels to the most advanced Z-drive tugs in the world. Since the mid-1960s. the yard has built more than 100 steel and aluminum tugboats, pilot boats, workboats and fishing vessels ranging from 58 to 160 ft. (17/7 to 49 m).
Star Gazing Marco Shipyard's approach to vessel construction and repair has engendered a number of loyal, repeat customers, such as Harley Marine Services of Seattle.
"A repeat customer is the sincerest form of flattery." said McMahon. The shipyard delivered its eleventh tractor tug.
Millennium Star, which is a 105-ft. (32 m) vessel with a beam of 36.8 ft. (11.2 m) and a molded depth of 16.5 ft. (5 in).
and is a prime example of Marco's expertise at building the most advanced workboats on the market. According to McMahon, the demand for advanced Voith Schneider and Z-drive tugboats continues lo grow, as vessel owners and operators recognize the superior handling and flexibility of these vessels.
Marco is eager to serve this burgeoning market, as its 105-ft. tug, which was designed in house, can be built — "if we're pushed" — in about six or seven months with about ten to twelve weeks between deliveries in series production..
Powered by a pair of Caterpillar 3516B diesel engines providing a total of 4,400 bhp. Millennium Star is a powerful, multi-purpose vessel capable of providing ship assist, inland and ocean towing and escort services. Winches for the vessel are from Burrard Iron Works of British Columbia.
The model HE split-drum headline winch is fitted with 500 ft. of three in. diameter Vetstran line. The model HJD double-drum tow winch handles 2,600-ft. (792 m) of 2.25-in. (5.7 cm) wire, and 1.000 ft. (305 m) of two in. (5 cm) diameter wire. The hydraulic tow pins/stern roller unit is from Smith Berger Marine of Seattle.
Additional suppliers of equipment onboard Millennium Star include: Ulstein model 1650H Z-drives; Harris Electric switchboards, distribution panels and wiring: Marine Controls master alarm panel: Radio- Holland USA electronics: Stephens VHF and SSB radios; JRC radars: Furuno GPS units and plotter; Anschutz gyrocompass; and Robertson autopilot.
While Marco Shipyard has an enviable reputation in the construction of advanced azimuthing drive tug- boats, it has been equally successful serving other market niches, including the construction of advanced pilot boats.
The shipyard earlier this year completed its contract for two new pilot vessels for the San Francisco Bar Pilots with the delivery of the 104-ft. (31.7 m) California, sistership to San Francisco.
The boats are outfitted with the latest in electronic navigation aids and are designed to transfer pilots safely to and from ships entering or leaving San Francisco Bay.
The San Francisco Bar Pilots must service about 8,500 vessels per year, meaning that it maintains two pilot station vessels, with one on duty 12 miles outside the Golden Gate Bridge at all times and under all conditions. "Our pilots have been delighted with the comfort and safety of the first boat," said Captain Peter Mclsaac, president of San Francisco Bar Pilots, speaking prior to the delivery of California. "The Marco design has met our expectations, and brings a new level of performance to the Bay." California — on her main deck — features a comfortable day room/lounge area with large windows, an entertainment and information center and a full galley. The raised pilothouse forward is designed to provide excellent visibility over pilot transfer operations on both the port and starboard sides, as well as good visibility up the sides of the vessel being serviced. Comfort and safety is enhanced by a large roll stabilization tank located below the pilot- house deck and large bilge keels on the hull. The vessel, on its stern, carries a 16-ft. Ocean Tech RIB for use in emergencies.
In addition to its newbuild capabilities, Marco Shipyard, in some years, garners half of its business through the vessel repair side of the business. With 600-ft. of waterfront and a full complement of trades in-house — backed by its own naval architecture and marine engineering capability — Marco is well-equipped to handle just about any type of repair job that arises. Its largest drydock can handle a vessel to 1,900 tons and 200+ ft., and has seen work lately ranging from routine maintenance and repair to technically challenging repowers and refits.
Circle 160 on Reader Service Card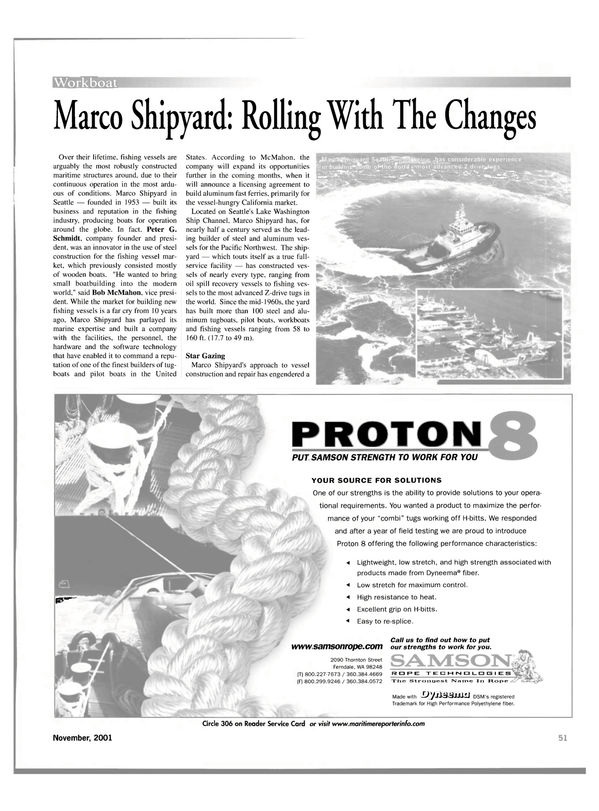 Read Marco Shipyard: Rolling With The Changes in Pdf, Flash or Html5 edition of November 2001 Maritime Reporter
Other stories from November 2001 issue
Content