Don't Forget: Seawater is a Free EAL
By Maritime Reporter & Engineering News
If your vessel is trading in U.S. waters, you need to be aware of the new oil to sea interface law that comes into effect on Dec. 19, 2013. According to the new U.S. Environment Protection Agency Vessel General Permit (VGP), all vessels built on or after Dec. 19, 2013, must use an environmentally acceptable lubricant (EAL) in all oil to sea interfaces. For all vessels built before this date, unless technically not feasible, ship owners must use an EAL in all oil to sea interfaces. Additional information on the EPA's VGP can be found at http://cfpub.epa.gov/npdes/vessels/vgpermit.cfm#final.
Most ships use mineral oil to lubricate the propeller shaft, and the oil is contained in the stern tube by the aft seal – which is the oil to sea interface. In most cases, you cannot simply replace the mineral oil with seawater or other oil-based EAL's. Oil-based EALs need to be compatible with the sealing materials to ensure leakage is controlled – shipowners will need to check with their seal supplier and it may be necessary to upgrade the sealing rings or upgrade to a new seal. Typically, costs of oil-based EAL's are 3-5 times more expensive than mineral oils. If you are using an air seal, you are still required to use an oil-based EAL, as it is not possible to guarantee that oil leakage will never occur.
Still a concern for ship owners is that oil-based EALs are still considered a pollutant under the Oil Pollution Act of 1990 (OPA 90) and U.S. Clean Water Act (if there is a sheen). Any discharges of oil-based EALs still require reporting of the discharge to the U.S. Coast Guard, as well as having clean-up and remediation costs. Even though biodegradable lubricants may be deemed non-toxic by OECD testing, their presence on the water surface is a threat to seabirds.
For newbuildings, some ship owners are specifying seawater lubricated propeller shaft bearing systems, as more than 600 commercial ships are using a seawater-lubricated system that uses no oil – meaning full compliance with the VGP. (Some shipowners such as Princess Cruises, COSCO, Disney Cruise Lines, U.S. Gypsum Corp., CSL Group, Algoma Corp., Flinter Group, ConocoPhillips, Carisbrooke Shipping and Staten Island Ferries have chosen to use seawater as the propeller shaft lubricant.)
Currently, the U.S. EPA recommends that all newbuild vessel operators endeavor to use seawater-based systems for their stern tube lubrication to eliminate the discharge of oil from these interfaces to the aquatic environment.
Existing ships can be converted to seawater-lubricated propeller shaft systems as these systems typically fit in the same space as an oil lubricated system. The oil-to-seawter conversion is accomplished during a planned drydock where corrosion resistant shaft liners and a water lubricated forward seal were pre-ordered and the shaft and non-metallic bearings were ready for install when the ship drydocked.
So when it comes to discharges from a ships propeller shaft system, the shipowner that trades in U.S. waters has two choices for their existing ships and ships they plan to build: 1) replace mineral oil with an oil-based EAL to lubricate the metal bearings and ensure the seal is compatible with the EAL, or 2) convert or build a ship using a seawater-based system using non-metallic prop shaft bearings.

By Craig D. Carter, MBA, Director of Marketing and Customer Service at Thordon Bearings Inc.
(As published in the November 2013 edition of Maritime Reporter & Engineering News - www.marinelink.com)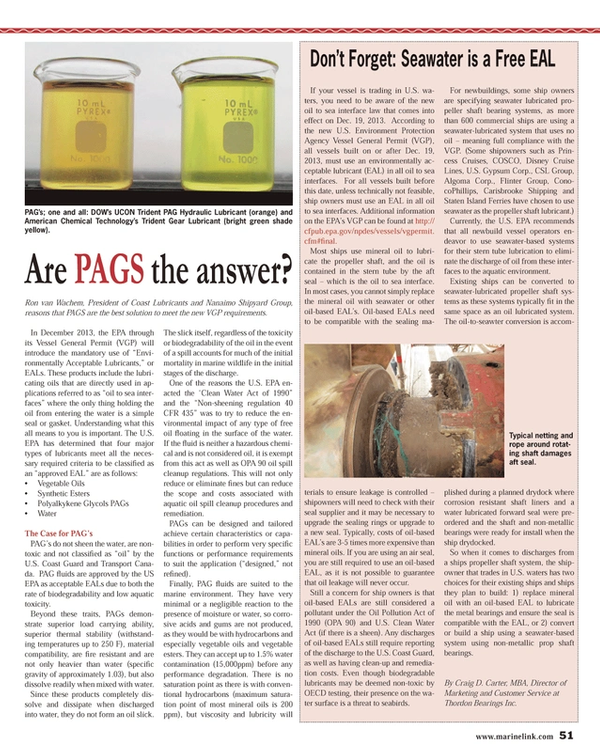 Read Don't Forget: Seawater is a Free EAL in Pdf, Flash or Html5 edition of November 2013 Maritime Reporter
Other stories from November 2013 issue
Content