e-Compliance: Revolutionizing the Efficiency of Compliance for Maritime Regs
By Philipp Lohrmann
Commercial seaborne shipping is regulated by international, EU and national authorities and is subject to a number of commercially oriented constraints. The long history and large number of organizations associated with regulation has led to a high level of complexity in managing the development of regulations, their implementation by transport operators, and their enforcement by authorities. The complexity of the situation is further aggravated by the long lifetime of ships, the different phases of ship operations, the number of parties in the operation and the interests of other stakeholders.
From a business perspective, shipping companies spend a large amount of resources collecting new and updated regulations each year. In addition to the cost, they often remain unsure that their system is up-to-date and that authorities in different ports agree with their interpretation of the regulations.
e-Compliance, a project launched recently by the European Commission, aims to unify regulatory information available to stakeholders, coordinate regulatory actions and as a consequence, reduce the burden of multiple regulatory sources. For this purpose, it will utilise semantic technologies to produce machine-readable regulations within an electronically accessible Maritime Regulations Digital Library. It will incorporate over 10,000 Regulations, covering at least five different areas, including safety, environment, piloting, waste etc. This will cover regulations from at least five different sources including Europe, Ports, Classification, Maritime Authorities and the IMO.
e-Compliance will build on a number of previous European Research projects and private initiatives. The FLAGSHIP project demonstrated a considerable simplification in the management of maritime regulations on board a ship which was based on an advanced semantic search mechanism applied on selected sets of rules and regulations. Furthermore, the MARNIS project specified all EU directives and interrelations/information flows, the SKEMA project investigated the eMaritime application to regulations management and the e-Freight project has developed a prototype Next Generation Single Window dealing specifically with the new Ship Formalities directive.
The e-Compliance project will also seek to integrate other private initiatives into the framework. This includes voluntary systems such as Tanker Management and Self-Assessment (TMSA) and Shipping KPI (SKPI), as well as vetting systems and ship classification regimes. All developments will complement and be kept closely aligned with the e-Maritime programme and particularly the eMAR project.
Specific activities within the project will include the establishment of a cooperation model between regulation setting and enforcement authorities, both for port state control and IMO regulations, for modelling and interpreting regulations and ensuring harmonisation across national and organisational boundaries. The resulting seamless cooperation between the different stakeholder groups will improve the effectiveness of regulations and reduce the burden on practitioners who work with maritime regulations on a daily basis.
Demonstration of automated compliance management will be possible through the modelling and delivery of regulations in electronic format, as well as harmonised e-Services for more effective and co-ordinated enforcement controls and inspections. In addition, e-Services in support of class requirements, particularly on surveys and for ship risk management in upgraded e-Maritime applications, will be used. An evaluation of the practical implementation of the above in representative networks and the provision of recommendations for e-Maritime policies will also be undertaken. To this end, the project will create virtual systems which address the specific needs of stakeholders. For the port community a feasibility study and business case analysis will be carried out to look at the possible integration of Port Community Systems (PCS) and National Single Windows. The vision is to create one virtual port of Europe for the sharing of compliance data and logistics information. This activity will consider the different stakeholder requirements, identify potential barriers and demonstrate the benefits of sharing compliance data via PCS. The analysis will also take into account the role of smaller ports that do not currently have a PCS and advise on how these ports can be integrated into a wider European virtual port system. Consultation with the European Port Community Systems Association will play a key role in supporting this activity. Once developed, the system will be tested in more detail for the ports of Barcelona and Marseille in particular, using the port of Rotterdam for validation. The main stakeholders that will benefit from such a system will be the declaring parties and the enforcers. The principal advantage for the declaring parties is the fact that the information required to enter EU ports will only need to be submitted once. Enforcers on the other hand will benefit because sharing information on inspection and checks between ports will lead to fewer checks being needed in subsequent ports.
Furthermore, to address the needs of the ship owners and operators who must comply with regulations, a virtual ship system will be created. This will include the development of automated compliance checking using real ship and freight data to inform the crew of any issues of non-compliance, as well as tasks which must be undertaken in order to comply with regulations. A forms system will be developed to aid ship operators with the completion of required documentation. This information will then be sent to the port system where it can be validated and the ship operator can be kept up to date about the current status of the form.
Finally, the virtual class system will be a tool for class, port state control and (potentially) private parties to assess the state of the ship's systems, including management, to link actual performance with relevant rules and legislation. This system will be further integrated with the virtual ship and port systems to provide the following services:
• Identify the KPIs and measurements that are linked to selected regulations or specific (safety or security) objectives and who is responsible for collection and quality control.
• Collect available data for a specific ship for these objectives and rules. The data will be collated into a scorecard that will also include reliability measures to highlight the relevance of the scorecard.
By integrating information that is already collected by Shipping KPIs, the Oil Companies International Marine Forum and other organisations that are willing to provide such data on the ship owner or manager's behalf, this system will provide an innovative and efficient approach to documenting good quality management procedures, resulting in higher quality technical and operational systems. This in turn could make enforcement more efficient and reduce interruptions for ships when complying with regulations and other voluntary reporting.
Philipp Lohrmann
studied physics at the University of Bonn, Germany. He received his PhD in Applied Mathematics from Kings College London in 2007. Since joining BMT Group's R&D team in 2010, he has been working on several European research projects on ship safety, robotics and supply chain security.
e: [email protected]

e-Compliance is a three year research project and is co-funded by EC's DG MOVE and maritime regulatory stakeholders. The project's consortium comprises representatives of the three main stakeholder groups involved: classification societies (who create class rules), port state control (who enforce regulations) and ships (who need to comply with regulations). It consists of 10 partners, all of which bring their own areas of knowledge and experience of working in the maritime space. They include:

• BMT Group Ltd.
• Det Norske Veritas (DNV)
• Danaos Shipping Co Ltd.
• INLECOM Systems
• The Netherlands Organization for Applied Scientific Research (TNO)
• TEMIS, Acciona Infraestructuras
• PORTIC Barcelona
• Norsk Marinteknisk Forskningsinstitutt AS (MARINTEK) and
• The Maritime Administration of Latvia.




(As published in the November 2013 edition of Maritime Reporter & Engineering News - www.marinelink.com)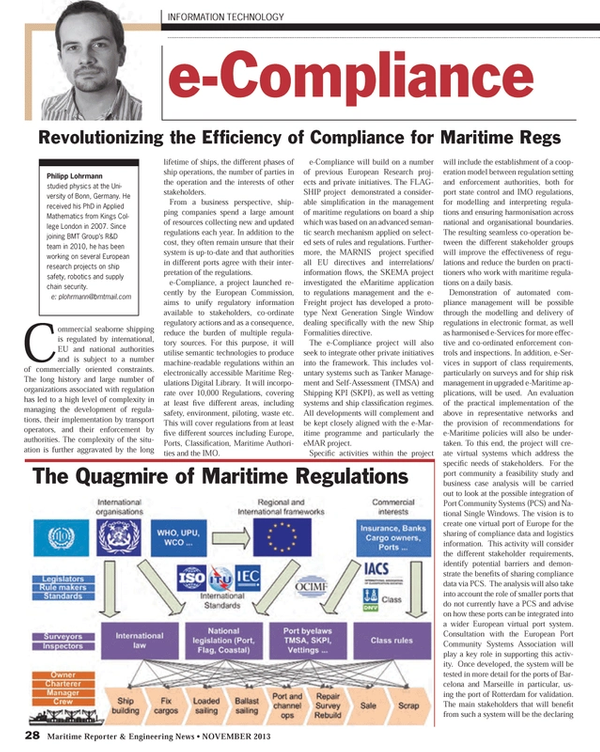 Read e-Compliance: Revolutionizing the Efficiency of Compliance for Maritime Regs in Pdf, Flash or Html5 edition of November 2013 Maritime Reporter
Other stories from November 2013 issue
Content