The U.S. Maritime Bunker Market: Opportunities Abound
By Adrian Tolson
Seizing opportunities in a rapidly changing market
The global shipping industry is no stranger to challenge or change. With responsibility for delivering 90% of global trade, it has had to continually demonstrate an ability to adapt. Now, with the implementation of increasingly stringent environmental regulations, which will increase operating costs and alter the dynamic of fuel procurement, the industry will once again need to evolve.
In successfully responding to the introduction of the North American Emission Control Area (ECA) in 2012, shipping has jumped a significant hurdle, but this is just the beginning. The bunker market in the U.S. will encounter further change on several fronts, each with its own challenges. However, with the right strategy and foresight, there are opportunities for all parties.

Energy Independence
The U.S. is moving towards increased energy independence much faster than most opinion formers had initially anticipated, with national energy self-sufficiency a realistic prospect in the near future, maybe even by 2020. In the main, this is due to the exponential growth in shale oil production, which will affect the market for fuel oil, and alter the bunker market dynamics in the region. Given the improved capabilities for shale oil extraction and transportation, as well as a rapidly growing domestic market for shale, the pattern of energy consumption, and indeed energy import and export to and from North America, is changing.
North American refineries are unlikely to invest in the production of fuel oil along the U.S. Gulf Coast, as it would not be as profitable in terms of operating expenditure and returns. Shale oil crudes are lighter in nature and when refined will produce less fuel oil from domestic production, which could reduce availability in what is already a limited domestic market. For shipping, this raises important questions about the future supply and demand balance of required fuels and what this means for ensuring compliance when the ECA sulphur emissions limit drops to 0.1% in January 2015. Fuel distributors must be cognizant of these market changes and need to work closely with their customers to implement an effective plan that determines their fuel requirements both in North American waters and internationally, and source quality products accordingly. With the right strategy and forward planning a fuel procurement strategy can be implemented for customers that ensures compliance, and supply, and also protects the bottom line.
Widening of the Panama Canal
While there are well-reported challenges with the construction project that will widen the Panama Canal, once completed, the changes to vessel traffic passing through the canal may also impact the bunker market in the US. The third lock will increase the draft capacity of the canal significantly to allow for Post Panamax vessels, meaning the amount of cargo passing through the canal will increase. However, the number of vessels transiting along the canal may reduce, along with the level of congestion at ports and canal entrances, which currently fuels a large part of the demand for bunkers in the U.S.
Upon the project's completion, we may see increased demand for fuel at East Coast ports, which are being dredged and expanded with new berths to cater for larger vessels. Fuel distributors here may benefit from the increase in feeder traffic from the larger vessels at both sides of the canal as well as those operating from ports that have invested in dredging and expanding berths to cater to larger vessels. The West Coast bunker market, in comparison, will have to adjust and create a competitive offering to maintain traffic, which is of course beneficial to customers. West Coast ports would argue that it is cheaper to land in the region and then transit containers cross-country by land or rail. Along both coasts fuel distributors must work with their customers to determine their fuel requirements once the expanded canal opens for business to ensure product availability. For those fuel distributors with the resource, infrastructure and financial strength, there are many opportunities to develop their operations to meet the future needs of customers in the region.

Significant Operational Costs
While changes to the energy and transportation infrastructure will impact upon supply and demand for fuel across North America, there is one ongoing challenge that the bunker industry must address; the increase in operational costs for ship owners and operators at a time of continued lack of liquidity.
It is well documented that bunker fuel accounts for the majority of operational costs. It is therefore up to fuel distributors to take responsibility for working in partnership with their customers to minimize the impact as much as possible. For OW Bunker, as a physical distributor (as well as a reseller), cost-effective fuel procurement is delivered by looking beyond just the price of fuel. It is about implementing solutions that focus on driving savings and increasing operational efficiencies within every element of the distribution process. This takes commitment to providing the highest quality service, investing in the fuel supply chain, processes and infrastructure, as well as working in partnership with ship owners and operators to ensure that the products, means of distribution and management of risk are right for the needs of each customer's business.
For example, in the Gulf of Mexico, OW Bunker's aim in establishing an offshore physical distribution offering was to ensure that every element within the fuel supply chain is designed to increase efficiency. We operate two of the most modern and versatile fuel distribution tankers in the market. The Elisalex Schulte (16,000DWT) and Wappen Von Hamburg (8,000DWT) are ideally suited to provide a full range of quality products to all types of vessels. Both vessels are operated by experienced lightering and bunker crews, and are correctly sized for the offshore business. Pumping rates approach 1000 mts/hr, which also maximizes the speed and efficiency of supply. This saves our customers time through providing quick product supply at location, and because they are offshore, customers do not have to deviate from their course to bunker in port, saving them valuable time and associated calling costs.
While providing offshore services is a skill and niche OW Bunker has developed particular expertise in, the savings for customers quickly add up. On a global basis we look to utilize the latest technologies on our distribution vessels to guarantee the quantity of fuel supplied, such as Coriolis Flow Meters, and through providing additional testing procedures prior to delivery, customers can also be assured of the quality of fuel they receive. Such measures are important ways of creating overall operational savings and protecting customers against undue, and costly risks. It is the hallmark of a value-driven fuel distribution model that meets the demands of ship owners and operators in a changing market.

Opportunity in the Face of Change
Despite the evolution of the market, an effective fuel distribution solution can provide ship owners and operators with a competitive advantage. That is why at OW Bunker, we are focused on proactively ensuring that we adopt the right strategy and are well positioned and equipped with the resources, the expertise and the agility to meet the new market dynamics and the increasingly complex demands of ship owners and operators.
From a North American perspective, we are implementing a controlled expansion of both our reselling and physical distribution operations to ensure we have a presence where our customers need us. We've added offices, further expanded our state-of-the-art vessel fleet, entered into strategic alliances to guarantee supply of high quality products and recruited skilled and experienced teams with real industry knowledge. Most importantly we are driven by building transparent, partnership-based relationships with our customers that are founded on trust, a fundamental understanding of their businesses, and a mutual commitment to improving efficiencies and performance within their operations.
It is through this determination to evolve that we can be on hand to help ship owners and operators manage this transition and thrive in the face change.
The Author
Adrian Tolson is General Manager, North America, for OW Bunker, one of the world's leading independent distributors and resellers of marine fuels and lubricants. Tolson joined OW Bunker in October 2012 to oversee the company's new physical division in the North America.
www.owbunker.com
(As published in the June 2014 edition of Maritime Reporter & Engineering News - http://magazines.marinelink.com/Magazines/MaritimeReporter)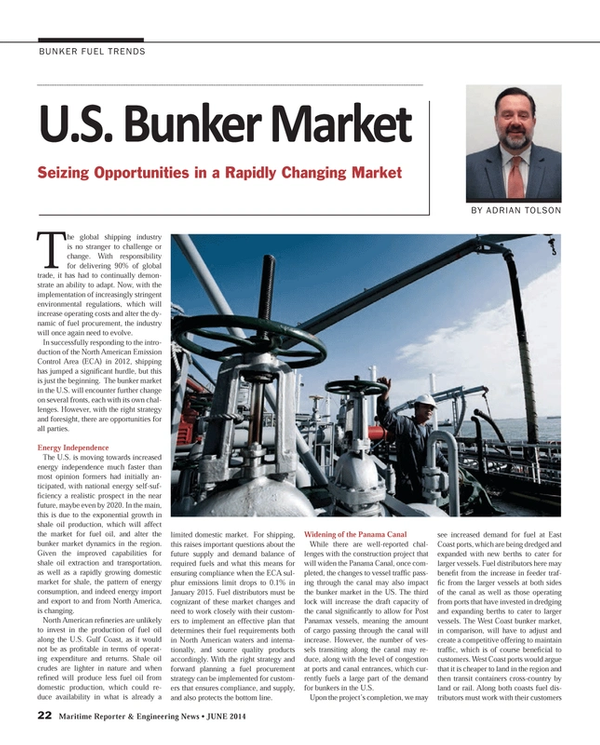 Read The U.S. Maritime Bunker Market: Opportunities Abound in Pdf, Flash or Html5 edition of June 2014 Maritime Reporter
Other stories from June 2014 issue
Content