Fourth Chesapeake Sailing Yacht Symposium Set For January 20
The Fourth Chesapeake Sailing Yacht Symposium will be held on January 20, 1979 in the Key Auditorium of St. John's College, Annapolis, Md.
The Chesapeake Section of The Society of Naval Architects and Marine Engineers (SNAME) joins The Chesapeake Bay Yacht Racing Association ( C B Y R A ) and The Naval A c a d e m y Sailing Squadron (NASS) to bring together the designers, builders, and sailmakers of sailing yachts, and the many yachtsmen who enjoy the leisure of cruising, and the challenge of racing, in a symposium on sailing yachts.
A series of papers by a group of distinguished authors will cover subjects of interest to cruising and racing sailors, as well as to professional naval architects and marine engineers. Interesting discussions of the papers will follow their presentation.
The program is as follows: Session I — Moderator: Olin J.
Stephens II, SNAME.
1. "Offshore Rating Update," David R. Pedrick.
2. "A Summary of the H. IRVING PRATT Ocean Racing Handicapping Project," Justin E. Kerwin and J.N. Newman.
3. "The Measurement Handicapping System of USYRU," Daniel D. Strohmeier.
Session II—Moderator: Robert D. McWethy, NASS.
4. "Selecting a Keel Appendage for a Cruising Yacht From a Standard Keel Series," Deborah W. Berman.
5. "Philosophy and Reasoning for Light S c a n t l i n g D e s i g n , " Halsey C. Herreshoff.
Session III — Moderator: William W. Staley, CBYRA.
6. "Theoretical Estimation of the Influence of Some Main Design Factors on the Performance of International Twelve Meter Class Yachts," Peter van Oossanen.
7. "Photographic Essay: Ship Training on the Tall Ship GAZELA PRIMEIRO," George J.
Roewe Jr.
8. "A Microcomputer Beats to Windward," Milton U. Clauser.
Session IV — Moderator: Richards T. Miller, SNAME.
9. "A Computer-Based Method for Analyzing Flow Over Sails," D.F. Thrasher, D.T. Mook, and A.H. Nayfeh.
10. "The Evolving Role of the Towing Tank," Karl L. Kirkman.
Tour of Towing Tank — A tour will be conducted of the new Towing Tank at the Naval Academy where a sailing yacht model will be tested in waves.
The advanced registration fee of $20 per member of one of the sponsoring organizations and $25 for nonmembers, provides a name badge, program, admittance to the Technical Sessions, and one complete set of papers. A $5 registration fee will be charged for spouses of registrants and student members of the sponsoring organizations. The fee for late registration received after January 10, 1979 is $25 per member and $30 per nonmember. The $5 registration fee for spouses and students does not include papers.
Extra copies of papers will be sold at the meeting for $20 per set.
Further information and registration details may be obtained by writing to R.L. Ward, 110 Avondale Circle, Severna Park, Md.
21146.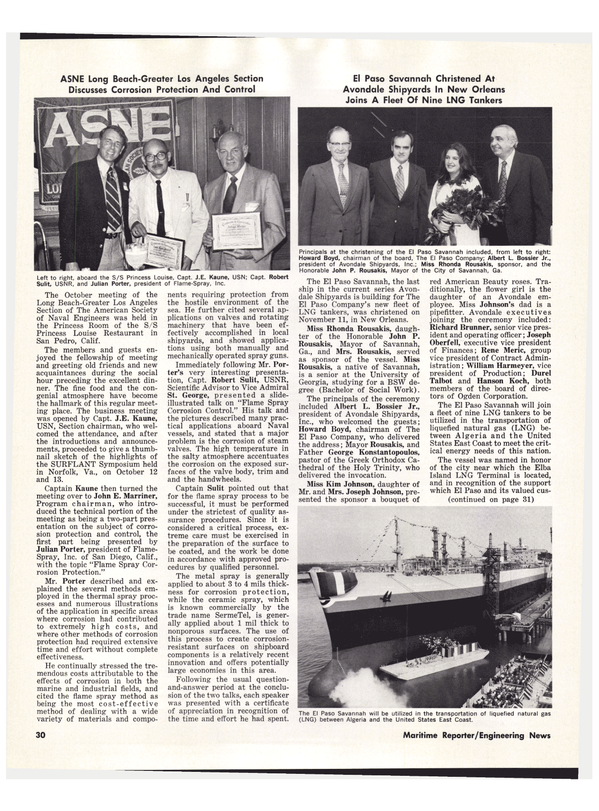 Read Fourth Chesapeake Sailing Yacht Symposium Set For January 20 in Pdf, Flash or Html5 edition of December 15, 1978 Maritime Reporter
Other stories from December 15, 1978 issue
Content