MARINE LUBRICANTS MEETING THE DEMANDS OF NEW AND UPGRADED DIESELS
The trend toward upgrading output and efficiency of marine diesel engines, as well as improving their ability to burn heavy residual fuels with high sulfur content, has placed increasing demands on the petroleum industry to improve their products. The oil producers have responded by offering new and reformulated marine lubricants, including highly alkaline cylinder oils to protect against the acidity resulting from the burning of residual fuels, and improved system oils to meet the severe-service demands of the latest engines.
The following review is based on data supplied by the major U.S.
producers of marine lubricants.
Free brochures and data sheets giving full details on the formulations and capabilities of these oils are available from all of the producers included in this review. To obtain copies, just circle the appropriate Reader Service Number(s) on the postage-paid card in the back of this issue.
BP MARINE Circle 33 on Reader Service Card In a modern motorship, effective cylinder lubrication is vital to successful main engine operation and the role of the cylinder lubricant has been, and still is, fundamental to the development of the low speed marine diesel engine.
As a leading oil formulator, BP Marine believes that for effective cylinder lubrication, the product must possess the following performance characteristics: non-hazardous for safe shipboard use; chemical stability; pumpable at normal storage and handling temperatures; adequate thermal and oxidative stability to minimize coking and degradation; good spreadability properties to enable the oil film to cover the working surface areas of piston rings and liner; good antifriction qualities; adequate film strength and load carrying properties to prevent the occurrence of scuffing and micro- seizure of piston rings and liners under severe conditions of temperature and pressure; adequate acid neutralizing properties to minimize the effects of corrosion; and a highlevel of detergency and dispersancy to maintain pistons, piston rings, scavenge ports and scavenge spaces clean to maximize intervals between overhauls.
BP's Energol CLO 50M is formulated specifically to meet these requirements and to neutralize the acidic products of combustion formed by high sulphur fuels. This product provides an outstanding level of lubrication and protection from a balanced combination of high quality base oils, detergent/ dispersant and other additives.
There are times when a vessel is tied to a trade route and is required to use "non-standard" fuels with either very high or very low sulphur contents. In these circumstances, BP has a range of special cylinder lubricants which offers economic advantages and can be made available for a whole range of different operating and lubrication conditions.
The BP marine lubrication service is not specific to the engine cylinder and many other oils and greases are offered for shipboard application. The engines are the ship's heart and this important area is particularly well covered for both main and auxiliary engines by products that have been developed by BP, in close consultation with engine and equipment manufacturers worldwide and with their respective approvals.
At the bottom end of the engine, BP's Energol OE-M30 has been formulated to provide, economically, the necessary fluid for lubrication of low speed engines with water-cooled pistons. In addition, a low level of alkalinity provides neutralization should combustion acids enter the system. This offers the engine operator: detergency/dispersancy for improved level of engine crankcase cleanliness; rust and oxidation inhibited performance; excellent water separating properties. Additionally, Energol OE-M30 may used in enclosed stern tube systems and for general lubrication.
BP's Energol DL-MP range can simplify operational requirements and Energol DL-MP30 is recommended for the system lubrication requirement of all types of low speed crosshead engines. In addition, Energol DL-MP30 and DLMP40 are recommended for the crankcase lubrication requirements of medium speed trunk piston engines burning distillate fuel with up to 1 percent weight sulphur where there is a requirement for a diesel detergency level up to and exceeding API-CD.
Important performance features are: detergency/dispersancy characteristics ensuring a high level of engine and crankcase cleanliness; high thermal and oxidation stability for superior piston cooling performance; alkalinity to neutralize the acidic products of combustion; excellent water rejection characteristics; rust inhibited; and multipurpose shipboard use.
For medium-speed engines burning heavy fuel, BP's Energol IC-HF 303/304 oils have an established reputation.
Recent trends however indicate that higher levels of alkalinity will be needed for some engine designs, if engine protection is to be maintained. BP introduced Energol ICHF 404 with a high level of alkaline reserve at 40 mg KOH/g to meet these requirements.
The iC-HF range is therefore recommended for the lubrication requirements of marine mediumspeed trunk piston engines operating on residual fuel and is suitable for the lubrication of most reduction gears used with medium-speed engines.
The performance features include: detergency/dispersancy for excellent engine cleanliness and minimum piston deposits; high thermal and oxidation stability to prolong service life; good water separation with minimal additive depletion; rust inhibited; alkalinity to neutralize the acidic products of combustion; and flexibility to match TBN levels with operating requirements.
BP marine lubricants are available at all main U.S. ports as well as worldwide.
CASTROL Circle 34 on Reader Service Card Through continuous research and development, Castrol is constantly striving to meet the ever changing demand of today's and tommorrow's marine industry. To meet recent changes in reciprocating engine design and fuel and operating trends, Castrol, after extensive laboratory and in-service testing, has developed three new products to further enhance their wide range of marine lubricants. They are Castrol Marine CDX 30, Castrol Marine MLC 30/40 and Castrol Marine SMS 12.
Castrol's research and development program is designed to continually develop their existing product range. Recent examples of this activity as reported in three research papers, relates to fully instrumented ships working on slow-speed crosshead engine cylinder oils. Also, Castrol's development of a range of fully synthetic diesel engine oils, which requires extensive research, part of which involves a program of cooperation with a major German engine builder. As stated in "Marine Lubrication— Future Thinking," a paper presented by H.D. Smith at the Motorship Conference 1988, Castrol does not consider, for technical and commercial reasons will be viable in the current commercial marine market. However, the firm, guided by engine builders and their own development scientists, have accepted the need to be prepared for all future options and possibilities.
The current trend towards unifuel for both main propulsion and generator sets, limits the use of the previously highly successful multipurpose lubricants, which served both the main propulsion engine crankcase and the previously less ardous generator sets. Critical analysis indicated the generator sets, burning poorer fuel (similar to the main engine), require lubricants of 30-40 TBN offered by Castrol's MXD 300 and 400 series oils. This led to the development of Castrol CDX 30, a 5TBN oil, tailored to economically serve the exact needs of crankcase bearing, piston cooling, turbocharger and power take-off (PTO) and power take-in (PTI) units. The carefully selected base oils and functional additives offer: high-temperature stability and good oxidation resistance for piston cooling; excellent water-shedding and good anti-corrosion against water and acidic contaminants; and exceptionally high load and carrying properties for PTO/PTI application.
To provide added safety margin, a 12 TBN Castrol Marine MLC was introduced to service highly rated engine operation on distillate fuel, e.g., for coastal vessel's main propulsion and auxiliary generator engines.
Castrol Marine SMS, a 12 TBN heavy duty semisynthetic lubricant with inherent high-viscosity index and extreme low pour point, is designed to work in unusually ardous conditions and is exceptionally suitable for use in extreme temperature conditions.
CATERPILLAR Circle 35 on Reader Service Card Caterpillar engineers have recognized that some marine engine oils currently in use may have become a limiting factor in obtaining longer engine life.
After three years of development and testing by Caterpillar research engineers, Caterpillar is now announcing new lubricant recommendations for Caterpillar marine engines.
These new lubricant recommendations are based on a line of fluid products Caterpillar has developed.
These fluid products have been proven to provide the best performance for Caterpillar marine products.
This line of fluids includes engine oils, transmission/drive train oils and lubricating greases.
The new Caterpillar CXP diesel engine oil is now the recommended engine oil to achieve the maximum life and performance in Caterpillar marine engines. CXP diesel engine oil has been specially formulated and tested to minimize piston and ring deposits. These harmful deposits can lead to premature wear and premature failures.
To maximize marine transmission life and performance, it is now recommended to use Caterpillar's CXP transmission/drive train oil. This oil has also been specially formulated to minimize internal wear.
Caterpillar's goal has been and remains to significantly improve the performance and durability of Caterpillar marine products. Caterpillar wants to insure that its customers get every hour out of their Caterpillar engine that was originally designed into the engine.
CHEVRON Circle 40 on Reader Service Card Chevron has recently introduced Chevron DELO Marine Oil 477 for the inland marine trade class. It is marketed as Chevron DELO 6170 Oil for customers on the western and eastern seaboard.
Chevron's DELO Marine Oil 477 (DELO 6170 Oil) is test proven, demonstrating superior results in the field for today's new generation high-performance diesel engines.
This product is designed especially for use in engines for towboat service where some current lubricants may have limited performance and is compounded to a high alkalinity level, measuring 17 TBN (Total Base Number) by ASTM Method D-2896.
New engine designs require improved oxidation and viscosity control for operating demands of fuel efficient engines with higher combustion pressures and temperatures.
Increased alkalinity reserve is required for corrosive wear protection and especially for operations requiring extended drain intervals.
DELO Marine Oil 477 (DELO 6170 Oil) was field tested in marine and locomotive service in GE and EMD engines with full approval from these engine manufacturers.
Field testing demonstrated increased oxidation and viscosity control compared to typical Generation 4 lubricants. This increased oil control can allow increased drain intervals for GE engines and due to increased drain intervals, the added alkalinity reserve also provides the ability to extend drain intervals.
This superior oxidation stability and viscosity control was also demonstrated in EMD engines modified to run at higher operating temperatures to increase efficiency.
Chevron DELO Marine Oil 477 (DELO 6170 Oil) provides an optimized engine oil formulation for today's service requirements for industrial engine design in marine towboat and ferry service.
CUMMINS Circle 36 on Reader Service Card Cummins Engine Company, Inc., Columbus, Ind., offers Premium Blue engine oil for the marine market. The company reports that Premium Blue 15W-40 oil has specially formulated additives selected to maximize the performance of heavy-duty diesel engines.
Since engine oils are mostly base oil stocks, it is the chemical additive package blended into these base stocks that are the key to oil performance.
Cummins spent eight years in the lab formulating Premium Blue to optimize performance in their engines.
The additives in Premium Blue include materials that modify base stock characteristics with respect to such factors as viscosity, detergency, dispersancy, wear, oxidation, corrosion, pour point and foam.
SAE Viscosity Grade 15W-40 Premium Blue has a pour point of -30 degrees C, viscosity of 3200 cP at -15 degrees C and 3.6 cP at 150 degrees C.
The company reports that Premium Blue is specially formulated to prevent carbon build-up, which is critical to low oil consumption. Premium Blue contains high concentrations of detergents, dispersents and oxidation inhibitors to reduce the rate of formation of deposit-forming materials. Those materials that do form are suspended in the oil so that they can be removed from the engine when the oil is drained.
Also included are anti-wear addi- tives to reduce engine wear rates, corrosion inhibitors to control the tendency of critical parts to corrode, pour point depressants to reduce the tendency for the oil to solidify at low temperatures, and antifoam additives to reduce oil foaming on airentrainment characteristics.
EXXON Circle 37 on Reader Service Card The Exxmar™ line of marine lubricants for crosshead and trunk piston diesel engines is the latest generation of superior quality products to be developed by Exxon Corporation.
Lubrication properties such as wear reduction, cylinder cleanliness, load carrying capacity and retention of alkalinity in the presence of water contamination have all been greatly enhanced. The Exxmar products surpass the already high performance level of the successful Tro-Mar™ marine lubricants which this line replaces. The Exxmar lubricants will meet the challenges of increasingly harsh operating environments in marine diesel engines, including higher operating temperatures and pressures as well as the use of lower quality fuels.
Field testing of these lubricants in the latest generation of diesel engines showed significant improvements in wear performance over the corresponding Tro-Mar products.
Review of operators performance data of the past eight months also supports reduced wear rates and improved engine cleanliness. In crosshead engines, wear of cylinder liners and piston rings was reduced on average by one third in MAN B&W MCE and Sulzer RTA and RLB type engines. These reductions were recorded over a total period of 26,000 hours of testing.
In trunk piston diesel engines, an even greater reduction in wear was recorded with piston ring wear halved in a Pielstick PC 2-6 engine.
The Exxmar trunk piston lubricants were also shown to be capable of almost complete (96 percent) retention of their alkalinity (TBN) when subjected to continuous addition of water.
Enhanced system cleanliness and piston deposit control is achieved in both crosshead and trunk piston engines when using Exxmar oils. The high standards of cleanliness and the superior wear control make it possible to extend engine maintenance periods and provide ship operators with an opportunity to realize cost savings.
For crosshead engine cylinders, a 70 TBN oil of outstanding performance is offered as the main grade for high maximum pressures and high stroke-to-bore ratio engines. At the same time, for less highly rated engines of earlier vintages, the customer has the choice of a more economic 60 TBN cylinder oil. A higher TBN (90) and viscosity oil is available for operational conditions where such an oil is required by the engine builder.
For trunk piston engines, high performance 30 and 40 TBN oils are offered for all highly rated engines in severe service. For customers' convenience, a more economic 12 and 24 TBN oil will continue to be available for applications where a lower TBN lubricant is suitable.
The new Exxmar line of products is the result of expertise with formulating marine oils acquired over many years and reinforces the longstanding tradition of Exxon service to the world's shipping industry.
Most importantly, Exxmar products are being made available worldwide without an increase in cost to the shipowner.
In addition to the Exxmar product line, several synthetic products are also available: Synesstic™, Synthetic Spartan™ and Polyrex™ Grease, which all provide the lubricating benefits of improved operating efficiency, extended drain intervals and decreased maintenance.
MOBIL Circle 38 on Reader Service Card Mobil Oil Corporation has a worldwide network of marine lubricant supply and service points and a long-standing, worldwide lubricant uniformity and availability. In addition, Mobil offers a complete engineered analysis program called Progressive Fast Analysis (PFA) for marine main and auxiliary diessel engines. This engineered analysis program provides a trend analysis of diesel engine oils, on-site evaluation and follow-up, and a new data base of oil analysis results used for more indepth interpretation of analysis vs. equipment make and model, lubricant or fuel in use, contaminants, etc. Trend analysis and interpretation information are reported with periodic service reports or by inquiry.
The Mobilgard series of marine engine oils includes Mobilgard 570, a quality marine diesel engine cylinder oil formulated to provide outstanding performance in high-output crosshead engines with brake mean effective pressures (BMEP) of 14 to 17 bar. These highly loaded crosshead diesels operate on heavy fuel oil with high sulfur content in order to reduce operating costs.
Concurrently, advances in engine thermodynamics have permitted decreases in specific fuel consumption from 155 to 125 per bhp-hour.
These changes in engine design for greater fuel efficiency, the use of higher viscosity residual fuels, and the need for reduced maintenance have increased the requirements on crosshead cylinder oil.
Mobilgard 570 was developed to provide high load-carrying charac- teristics, improved spreadability, tenacious film retention, and to minimize port and piston deposits.
Because of its high alkalinity (70 Total Base Number or TBN), it provides better protection against corrosive wear by neutralizing large amounts of strong acids. This oil is compatible with oils normally used in the crankcase of crosshead engines.
Mobilgard 300 system oil was also developed especially for modern, high-output, crosshead type marine diesel engines. It is formulated from highly treated paraffinic base oils that are selected for their thermal stability and oxidation resistance.
The inherent base oil characteristics are augmented with a balanced additive package including high-temperature oxidation inhibitors, alkaline detergent-dispersants, and defoamants.
The formulation has maximum antiwear properties, good rust protection in the presence of salt water, and excellent water separation characteristics.
The Mobilgard 24 series oils were developed originally to meet the requirements of medium-speed, trunk piston diesels used for main propulsion engines on coastal and river vessels. The series was reformulated recently to provide improved performance in the new, higher-output versions of these engines now coming into service.
The Mobilgard 42 series of marine lubricating oils has been developed to supplement the Mobilgard 24 series (30 TBN) oils for the lubrication of modern high-output, medium- speed trunk diesel engines used in oceangoing vessels and ferries.
Mobilgard 42 oils have an alkalinity level of 40 TBN and are therefore particularly suitable for engines that show indication of corrosive wear to cylinder liners and piston rings.
Mobilgard SHC 120 is a 12 TBN synthetic, medium-speed diesel lubricant.
It contains a balanced blend of synthesized hydrocarbons and ester-based fluids, with an additive system designed to provide optimum performance in diesel engines.
Although its measured viscosity indicates that it is an SAE 40 grade, this oil's inherent high index enables it to perform similar to an SAE 15W-40 viscosity grade diesel engine lubricant. It is formulated for operation in extremes of ambient temperature.
The Mobilgard 12 series oils are intended for marine diesels operating in distillate fuels or light fuel blends. These oils have proven especially effective in small-bore, highspeed trunk engines and automotive- type diesels used in fishing fleets, the new severe service en- gines and in several types of medium- speed trunk piston engines.
The oils come in viscosities of SAE 30, SAE 40 and SAE 50 and have a TBN of 15.
Other marine lubricants are available.
PENNZOIL Circle 39 on Reader Service Card Pennzoil, a long-time supplier of lubricant products to the commercial marine sector, offers Pennzoil Supreme Duty Fleet Motor Oil, a premium quality multigrade (SAE 15W40) motor oil which exceeds API Service Classification SF-CCCD.
It is formulated with some of the finest base stocks and the most advanced additives in the industry.
Supreme Duty provides unsurpassed protection for both two- and four-cycle high-performance diesel engines.
Supreme Duty provides better fuel economy, less oil consumption, reduced maintenance costs, and significantly longer engine life. According to the company, some of the benefits derived from the use of Supreme Duty include: reduction of ring and cylinder wear; improvement of piston cleanliness; increased wear protection for valve trains; and neutralization of acids from bigh sulfur fuel.
Supreme Duty Fleet Motor Oil exceeds the performance requirements of all diesel (both two- and four-cycle) and gasoline manufacturers which specify the use of an engine oil meeting API Service Classification SF, CC, CD or any combination such as SF-CD. Supreme Duty is also available in SAE 10W- 30, 30, 40 and 15W-40. SAE 10W-30, 30 and 15W40 meet API Service Classification SG/CD and CE. SAE 40 meets API SG/CD and CD-II.
Pennzoil also offers Long-Life Motor Oil, which provides premium quality service in both diesel and gasoline engines. It is specially formulated for heavy-duty service in diesel engines.
Pennzoil Long-Life Motor Oil is available as a single SAE viscosity grade 10W, 20W-20, 30, 40 and 50, and as a multigrade SAE 15W-40.
SAE 30 and 15W-40 meet the requirements of API Service Classes SG, SF, CC, CD and CE. All other grades meet the requirements of API Service Classes SG, SF, CC and CD.
TEXACO Circle 42 on Reader Service Card Texaco offers a complete line of quality marine lubricants which are available worldwide to meet the needs of all types of marine equipment.
For crosshead engines, Texaco offers TARO Special, a premium quality cylinder lubricant for large, slow-speed diesels burning residual fuels. It is blended from highly refined paraffinic base oils and oil soluble additives to produce a high alkaline reserve (70 TBN) product with good lubricant film strength. It is approved by all of the major crosshead engine builders. It is specially formulated to prevent corrosive wear and minimize ring deposits.
Taro Special EX 85 is a premium quality cylinder lubricant specifically developed to meet the requirements of Sulzer RLB engines. It has provided excellent performance in field tests and is approved by Sulzer for those applications where an 85 TBN product with a viscosity of 24 est at 100 degrees C is specified.
DORO AR 30 (SAE 30) is a premium crankcase lubricant for large, slow-speed engines. It is blended from highly refined solvent neutral oils and carefully selected additives to produce a moderate alkaline reserve (6 TBN) oil. This product offers unusually good rust and corrosion protection, wear protection and water separation characteristics.
DORO AR 30 meets the Sulzer requirement for engines equipped with PTO units.
Texaco offers a complete line of trunk piston engine oils for medium and high-speed diesels. The specific lubricant required would be based on the sulfur content of the fuel being used in the engine. TARO XD oils, with a TBN of 15 minimum, are used in engines burning fuel with a sulfur content up to 1.8 percent.
TARO DP oils, with a TBN of 30 minimum, are specifically designed for trunk type engines utilizing fuel with sulfur in excess of 1.8 percent.
TARO XD and TARO DP are available in SAE 30 and SAE 40 viscosity grades. TARO XL 40 (SAE 40) is for use in medium-speed engines where the operating conditions or fuel sulfur content requires a 40 TBN product.
All of these oils are blended from carefully refined base oils fortified with specially developed additive packages to give excellent performance even under the most severe operating conditions. They have been extensively tested both in the laboratory and in the field. TARO XD, DP and XL 40 all offer excellent TBN retention and anti-corrosion properties. They are formulated with selected detergent and dispersant additives which minimize piston ring deposits, improve overall engine cleanliness and provide long in-service life.
Texaco supports its marine lubricants with prompt, efficient technical service and the Texlube used oil analysis program for monitoring the condition of the oils in use.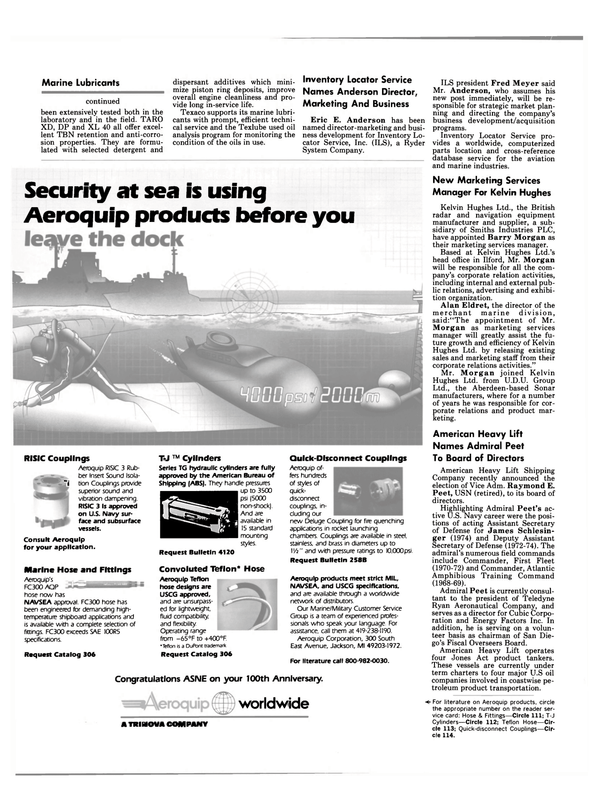 Read MARINE LUBRICANTS MEETING THE DEMANDS OF NEW AND UPGRADED DIESELS in Pdf, Flash or Html5 edition of July 1988 Maritime Reporter
Other stories from July 1988 issue
Content