House Subcommittee Looks To Open Competition To Build Fourth Aegis Destroyer
The House Defense Appropriations Subcommittee recently added language to the FY 1989 defense appropriations bill which would order the Navy to open the competition to build a fourth Aegis guided missile destroyer to all qualified U.S. shipyards.
This, however, is based on whether or not the Navy will be able to come up with the funding to build a fourth Aegis destroyer. The Senate recently amended the FY 1989 defense authorization bill to authorize the Navy to purchase a fourth DDG-51 Arleigh Burke Class destroyer, without appropriating additional funding for the ship. The Navy was authorized by the Senate to use as much as $730 million of funds appropriated from previous years that remained available in order to build the fourth ship. The Navy had requested to build only three DDG-51s in FY 1989.
Last year, similar circumstances arose when the Senate authorized the Navy to build five CG-47 Ticonderoga Class guided missile cruisers, and only appropriated funds for four. The Navy, however, was able to come up witb the funding. Like last year, industry analysts expect the Navy to find the funding to build the fourth destroyer.
Opening up the competition for the proposed fourth ship offers a glimmer of hope to Avondale Shipyards, New Orleans, La., which has been seeking to build the 466-foot ships. At present, only Bath Iron Works, Bath, Maine, which is the lead yard for the class, and Ingalls Shipbuilding Division of Litton Industries, Pascagoula, Miss., are constructing the ships. Bath is building the Arleigh Burke (DDG-51) and the John Paul Jones (DDG-53), while Ingalls is building the John Barry (DDG-52).
Arleigh Burke Class (DDG-51) destroyers are expected to be the backbone of the U.S. Navy, replacing both the older Adams Class (DDG-2) and Farragut Class (DDG- 37) guided missile destroyers. With an overall length of 466 feet, beam of 59 feet and full load displacement of 8,300 tons, DDG-51s are powered by four GE LM2500 gas turbine engines to speeds in excess of 30 knots. The ships are fitted with sophisticated weaponary for long range strike, anti-surface, anti-air, and antisubmarine warfare capabilities.
In other areas, the House subcommittee only made slight changes in the Navy's shipbuilding plan.
The subcommittee cut $107 million from the administration's request for the Trident submarine building program, lowering funding from $1.23 billion to $1.12 billion to construct one Trident. The subcommittee also cut $74 million from the administration's request to build a oceanographic research vessel (AGOR).
However, the subcommittee added three more fleet oilers (TAOs) to bring the total to five ships.
Funding for this program jumped from $284.9 million to $403.9 million.
Overall, the shipbuilding budget dropped slightly, from $9.13 billion to $8.77 billion.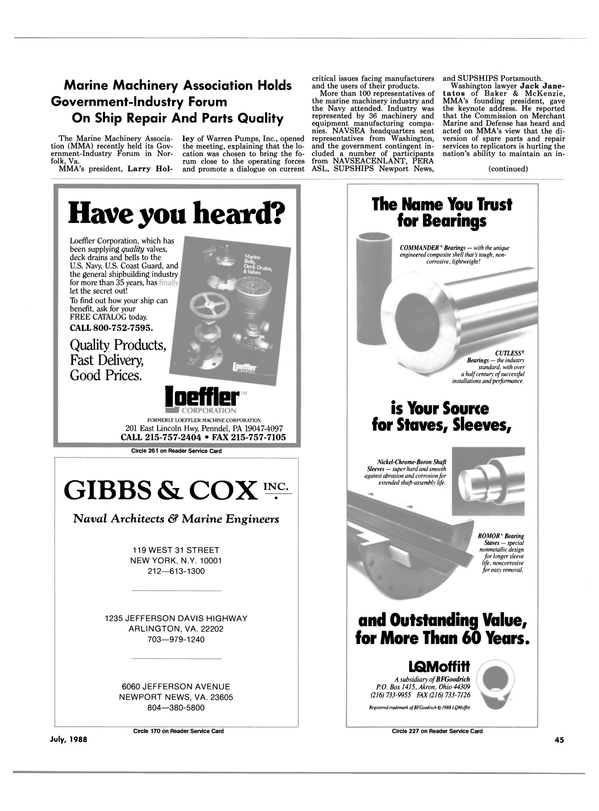 Read House Subcommittee Looks To Open Competition To Build Fourth Aegis Destroyer in Pdf, Flash or Html5 edition of July 1988 Maritime Reporter
Other stories from July 1988 issue
Content