THE LATEST ADVANCEMENTS IN PROPULSION SYSTEMS FOR TODAY'S NAVIES
Some of the most powerful, technologically advanced propulsion systems ever assembled are the driving hearts of today's fast, sleek, maneuverable naval combatants and support vessels. Many new classes of cruisers, destroyers, frigates, corvettes and other warships and support craft of the United States Navy, as well as the world's navies, are equipped with improved main and cruise engines, propellers and gears. Major naval equipment manufacturers are constantly improving their propulsion system products and components in an effort to provide the international naval market with the most durable, quietest, most powerful and most fuel-efficient propulsion systems.
This article offers a brief review of some of the latest propulsion systems that are in use by the world's naval fleets.
Technical reports, product literature and brochures are available free of charge from the manufacturers included in this review. If you would like additional information, just circle the appropriate Reader Service Number(s) on the postpaid card bound into the back of this issue. See the table at the end of this review for the proper Reader Service Number for each manufacturer.
ENGINES When the Ticonderoga Class Aegis guided-missile cruiser USS Leyte Gulf was recently commissioned, she became the 100th U.S.
Navy ship to be powered by GE LM2500 marine gas turbine engines.
Powered by four LM2500s, the Leyte Gulf (CG-55) is cable of speeds in excess of 30 knots.
The LM2500 has been selected by the U.S. Navy and 16 other navies around the world for propulsion applications aboard such vessels as patrol hydrofoil missileships, guidedmissile frigates, Spruance (DDG- 963) and Kidd (DDG-993) Class destroyers and the new Arleigh Burke (DDG-51) Class destroyers.
During the first quarter of this year, GE's Marine & Industrial Engines & Services Division, Cincinnati, Ohio, received an order for 12 LM2500 marine modules for the next group of Canadian Patrol Frigates.
There were naval orders for 22 LM2500s in 1987.
One of the division's latest orders is from the Naval Sea Systems Command on behalf of the Portugese Navy for six LM2500 marine gas turbines.
The turbines will be used in con conjunction with MTU diesel engines in a CODOG (Combined Diesel or Gas Turbine) machinery arrangement to provide power for three MEKO 200 frigates of the Vasco da Gama Class.
The Marine & Industrial Division of GE also recently celebrated the launching of the first LM500-powered naval ship—a Standard Flex 300 fiberglass multipurpose surveillance/ minesweeping craft christened by the Royal Danish Navy.
Called the Flyvenfisken, the 177- foot ship is powered by an LM500 CODAG (Combined Diesel and Gas Turbine) arrangement, which couples the 6,000-shp LM500 with two 2,700-bhp MTU 16V396 diesel engines driving three propellers.
The Allison Gas Turbines Division of GM is another large supplier of marine gas turbine engines to international navies. Allison 570-KF marine gas turbines were selected in a COGOG (Combined Gas Turbine or Gas Turbine) by the Royal Canadian Navy for cruise power for their 5,000-ton Tribal Class destroyers.
Allison's 570-KF's are also being used to boost propulsion aboard the Swedish Navy's Spica III Stockholm Class fast patrol boats. In this application, the drive system uses a singular stage epicyclic reduction gear and a 15-degree V-drive to turn a CP propeller. The 320-ton ghp hull vessel has a boost speed of 38 knots.
The British Royal Navy selected Paxman Valenta l'2RP200CZ power modules, each having a continuous power output of 1.3 MW 440/600 V, three-phase, 60Hz at 1,200 rpm, to provide power for the propulsion systems for their antisubmarine frigate.
The units will be utilized in a CODLAG (Combined Diesel Electric and Gas Turbine) propulsion system.
A CODOG (Combined Diesel or Gas Turbine) plant featuring twin Rolls-Royce Spey SM1C turbines will be used in the Royal Dutch Navy's new M-Class frigates.
In addition, the Japanese Navy's Dawn Mist, the lead ship in a new class of 4,200-ton full load destroyers, will be powered by a Spey COGAG system consisting of four Kawasaki-RR Spey turbines with a total power output of 54,000 shp.
Stewart & Stevenson Services, Inc., Houston, Texas, was awarded a $21.2-million U.S. Navy contract to supply fifteen 2,500-kw gas turbinepowered generator sets. The equipment will provide ship's service power for five Ticonderoga Class (CG-47) Class Aegis cruisers being built for the Navy.
Previously, Stewart & Stevenson Services had been awarded the con contract to deliver 66 generator sets for the first 22 Aegis cruisers.
Steam turbines, widely used in nuclear propulsion applications, such as in the case of the Nimitz Class aircraft carriers, can be found in use aboard the U.S. Navy's 58,000-ton Iowa Class battleships.
Both the battleships Iowa and Missouri are powered by a propulsion plant consisting of eight boilers and four GE geared steam turbines. GE Naval & Drive Turbine Systems supplies advanced steam propulsion and ships service turbine generator systems to U.S. Navy vessels ranging in size from the largest aircraft carriers to the smallest auxiliary ships.
The USS Wasp (LHD-1), the lead ship of the Navy's newest amphibious assault ship, has a power plant which uses two Westinghouse steam turbines, developing a combined 70,000 shp, with two Combustion Engineering boilers, to drive the ship at speeds of more than 20 knots.
Two of U.S. Navy's newest classes of ships feature Colt-Pielstick diesel engine propulsion. Landing Ship Dock (LSD) vessels, with full load displacements of 15,745 tons, are equipped with four medium-speed Colt-Pielstick diesel engines for a total ship's horsepower of 33,000.
Additionally, each of the Navy's Henry J. Kaiser Class (T-AO-187) oilers are powered by two 10-cylinder PC4.2 Colt-Pielstick diesel engines manufactured by the Fairbanks Morse Division of Colt Industries Inc. The big diesels are capable of burning heavy fuels up to 3,500 sec Redwood at 100 degrees F. The fuel rate guarantee is 136 grams/ metric horsepower hour.
On board another U.S. Navy support vessel, the new AOE-6 Class Fast Combat Support Ship, five Caterpillar 3608 diesel generator sets will provide 2,500 kw each, totaling 12,500 kw. Caterpillar has a 20-engine contract with National Steel Shipbuilding Company (NASSCO), which is building the lead ship of the class. Caterpillar will deliver the first five gensets for the lead ship in early 1989.
The recently launched mine countermeasure ship USS Devastator (MCM-6) is powered by four 600-hp Isotta Fraschini diesel engines and is fitted with two 200-hp Hansome Electric motors. For maneuverability, the Devastator is equipped with a 350-hp Omnithruster bowthruster, which is connected to a GE drive motor. Her electric power is furnished by three 60-Hz, 375-kw Tech Systems generators.
With their acquisition of Isotta Fraschini, Fincantieri's Engine Division can now offer a power range of engines which extends from 200 hp to 40,000 hp.
Fincantieri's GMT model A230- 20 diesels, rated at 3,900 hp at 1,200 rpm, are used aboard the Italian Navy's Lupo Class frigates for cruis- ing power. GMT engines have also been used for cruise propulsion in Italian Maestrale Class frigates and Animoso Class destroyers.
Sulzer Brothers engines are on a wide variety of naval auxiliary vessels and research ships. For example, Argentina's naval auxiliary vessel Cabo San Antonio is equipped with four Sulzer 6ZH40 diesel engines.
Additionally, 5RTA76 series engines with PTO were installed on the 615-foot T-5 tankers built by Tampa Shipyards.
Bombardier Inc. of Montreal, which purchased Alco Power Inc. in 1984, supplied 42 Paxman Valenta engines to Bollinger Machine Shop & Shipyard Inc., for installation aboard Island Class patrol boats for the U.S. Coast Guard. The engines, which develop 2,880 bhp each at 1,500 rpm, will be used as main propulsion on the patrol boats. The engines will drive through ZF reverse/ reduction gears. Electrical power for each craft is provided by two 99-kw generators driven by Caterpillar 3304T diesels.
Deutz MWM has begun delivering 24 self-contained generating sets of 850 kw each to the Canadian Navy for their new patrol frigates.
Deutz MWM sold 32 sets of an almost identical configuration to the German Navy for use aboard their F-122 Bremen Class frigates.
Diesel engine manufacturer Krupp MaK, which has more than 100 years' experience in naval equipment, offers a number of medium- speed, four-stroke heavy fuel engines in the output range from 740 to 9,900 kw (1,000-13,500 hp).
For example, Krupp MaK offers the heavy-fuel engines M453C and the M332, both of which boost low fuel consumption. The company reports that both engines feature excellent ratio of maximum to mean piston pressures, but moderate, and therefore, safe, operational values.
The U.S. Coast Guard awarded a $9.2-million contract to the Electro- Motive Division (EMD) of General Motors for 32 propulsion engines, as part of an ongoing program to modernize existing Coast Guard vessels which are being used throughout the coastal waters and the Great Lakes.
EMD propulsion was also selected to power the U.S. Army's newest logistic support vessels (LSVs).
Each 273-foot LSV is powered by two EMD 16-1645-E2 diesel engines to speeds of about 12 knots.
The 270-foot Medium Endurance Coast Guard Cutters under construction at Robert E. Derecktor Shipyards in Middletown, R.I., are each powered by a pair of 3,500-hp Alco diesel engines to speeds of about 19.5 knots. The ship's service electricity is provided by two 475- kw Caterpillar gensets.
Smaller Military Vessels Within the past year, each of a series of seven Spanish Customs Service patrol boats were fitted with a pair of Deutz MWM TBD 234 V- 12 diesel engines. Rated at 1,000 hp each, the engines directly drive Riva Calzoni IRC 41 DL waterjets to propel the 47-foot craft to speeds of about 54 knots. The engines extremely low fuel consumption allows the vessels to operate for long periods of time and in greater sea radius.
Cummins 4BT3.9-M turbocharged four-cylinder diesel engines power Zodiac Hurricane rigid inflatible boats (RIBs) employed by the Canadian Coast Guard. Each of the 3.9-liter Cummins B Series diesels develop 100 horsepower at 2,500 rpm. The boats, which cruise at a speed of 14 knots, are propelled by a Parker waterjet propulsion system.
The U.S. Coast Guard and Navy are both testing Cummins 6BT- and 4BT-powered Hurricane RIB demonstrators and a prototype.
MonArk Boat delivered a 28-foot search/rescue patrol boat to the U.S. Coast Guard, which is powered by twin Volvo Diesel AQAD41/290 engines, each rated for 200 hp at 3,800 rpm. The all-aluminum craft, which features a semi-V planing hull, can obtain speeds in excess of 38 knots.
The U.S. Navy's 135-foot landing craft utility (LCU) vessels, which displace about 404 tons at full load, are powered by two Detroit Diesel 12V71TI diesel engines that develop a total of 850 shp.
Detroit Diesel engines also power two Halter Marine-built Ecuadorian Navy patrol boats. The 44-foot drug interdiction boats are each fitted with two military rated Detroit Diesel 8V71TI diesels driving through Twin Disc 509 down angle gears which give the boats a service speedof 26 knots.
Danish Osprey 55 Class fast offshore patrol boats delivered last year by Danyard, are each powered by two MAN B&W Diesel 12V 23/50 diesel engines, supplied by Alpha Diesel of Frederikshavn, Denmark, with 23V020 reduction gears, controllable- pitch propeller equipment and Alphatronic remote control.
The craft can reach speeds of more than 20 knots.
Twin MAN B&W D2840 LE diesel engines rated at 635 hp at 2,300 rpm power PT Class patrol boats built by Singapore Shipbuilding and Engineering for the Government of Brunei Darussalam for the Royal Brunei Police Force. The 48-foot craft can obtain speeds of about 33 knots.
Tempest Marine-built USCG fast coastal interceptors are powered by a pair of turbocharged and aftercooled Caterpillar 3208T diesel engines, which produce a combined 750 hp at 2,800 rpm. The craft are fitted with Twin Disc reduction gearing and Record propellers and can obtain speeds in excess of 43 knots.
PROPELLERS, THRUSTERS & WATERJETS One of the leading suppliers of controllable-pitch propellers to the U.S. Navy is the Bird-Johnson Company, Walpole, Mass. Bird- Johnson propellers have been selected for the Arleigh Burke, the lead ship of the new class of Navy Aegis destroyers, aboard Ticonderoga Class cruisers, Henry J. Kaiser Class oilers, Landing Ship Dock vessels and Mine Countermeasure Ships.
Last year, Bird-Johnson was selected to supply two 23-foot, sixbladed propellers for the lead ship of the AOE-6 Class Fast Combat Support Ships.
West Germany's Schaffran Propeller Lehne & Co. manufactures CP and monobloc propellers of 3,000 to 7,000 mm to their own designs for all kinds of vessels. One example of a military installation is aboard the FRG Coast Guard patrol boat Falshoft, which is equipped with a three-bladed, 1,200-mm Schaffran CP propeller.
A number of international navies, including the Italian, Venezuelan, Peruvian and Iraqi, use Lips CP and reverse pitch propellers. One of the latest U.S. Navy installations is on the Wasp (LHD-1), the lead ship of the amphibious assault class.
Schottel propulsion systems— rudderpropellers, thrusters and jets—are in use in naval fleets all over the world. The firm manufac- tures over 20 different types of Schottel Rudderpropellers, a combined steering/propulsion unit, covering a power range of 15-5,000 kw (20-7,000 hp). The units are rotable through a full 360 degrees, proving propulsive steering in any direction.
Over 19,000 Schottel propulsion units are in use worldwide.
Another new U.S. Navy class ship, the MHC-51 coastal minehunter Osprey, will reportedly feature Voith-Schneider propulsion equipment. The vessel is under construction at Intermarine USA's Savannah, Ga., yard.
Sulzer-Escher Wyss five-bladed CP and reverse pitch propellers are featured on the FRG's Bremen Class frigates, as well as on a number of Canadian, Indonesian, Saudi Arabian and South Korean naval ships.
Three new U.S. Navy Torpedo Test Craft being built by McDermott Shipyard, Amelia, La., will be equipped with Omnithruster hydrojet maneuvering and propulsion systems.
The YTTs, -9, -10 and -11, will be fitted with 350-hp Omnithruster Mark II hydrojet Model JT 700TDs. The hydrojet units will offer the craft precise handling, position keeping and automatic heading.
In addition, the recently launched USS Devastator (MCM-6) is fur- nished with a 350-hp Omnithruster bowthruster for precise handling and maneuverability.
Michigan Wheel's Towmaster Nozzle/Rudder System, with its triple- rudder design, offers excellent maneuverability and turning efficiency.
The Towmaster System has been proven in over 100 applications.
Ulstein Trading Ltd. A/S of Norway has developed the High Lift Rudder, with a bulbous leading edge, active flap and vane elements, offers excellent steering ability at high-speed ship operation.
South Korean Donghae Class corvettes are equipped with KaMeWa CP and reverse-pitch propellers.
GEARS Cincinnati Gear Company, Cincinnati, Ohio, supplied huge carburized and hardened and precision ground gears for the U.S. Navy's TAO- 187 Class oiler program, as well as supplying Textron Marine Systems with eight gas turbine-powered gearboxes and 24 couplings and clutches for the LCAC program underway at the yard. The lead ship of the AOE-6 Class will also feature Cincinnati Gear equipment—two dual input locked train reduction gears incorporating a hydraulic reversing coupling.
Four Inhauma Class corvettes built for the Brazilian Navy by A.M.R.J. Rio de Janeiro are equipped with Renk reduction gears.
Renk also supplied the reduction gearing for some of the FRG's Bremen Class F122 frigates.
Another Navy supplier, Falk, offers the RW Series of marine drives.
The series features high-efficiency gears, long bearing life and simplified maintenance.
The COGAG propulsion system aboard the destroyer Arleigh Burke includes GE reduction gearing. Over the past few years, GE has invested more than $25.5 million in its advanced hardened and ground gear facility at Lynn, Mass., and now has one of the world's finest gear facilities in the world. The complex is dedicated to the design, manufacture and test of superior and hardened and ground Navy gears.
Two other major suppliers of reduction gearing to the international naval market are Westinghouse and Western Gear. Westinghouse reduction gears are aboard the amphibious assault ship Wasp, as well as Spruance and Kidd Class destroyers and Ticonderoga Class cruisers.
Western Gear has supplied reduction gears for both the Oliver Hazard Perry Class (FFG-7) and Adelaide Class (Australian) frigates.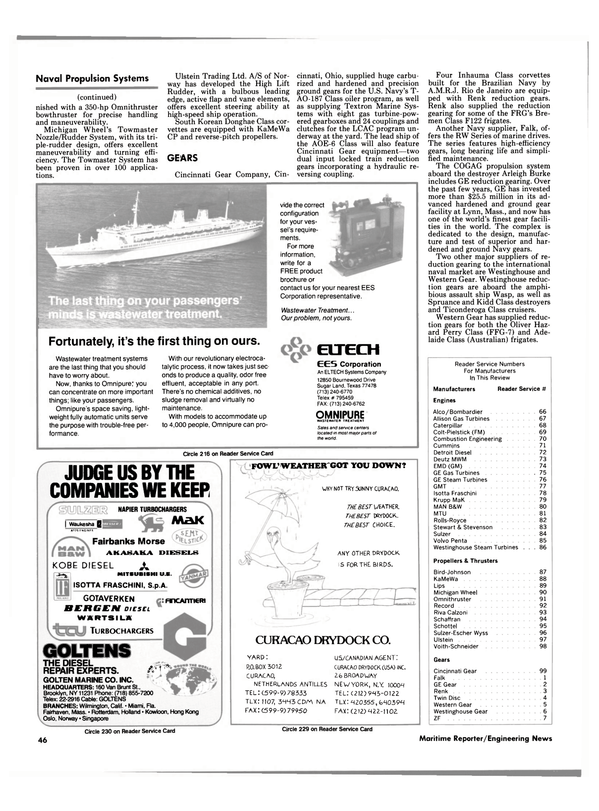 Read THE LATEST ADVANCEMENTS IN PROPULSION SYSTEMS FOR TODAY'S NAVIES in Pdf, Flash or Html5 edition of September 1988 Maritime Reporter
Other stories from September 1988 issue
Content