It's Time To Prepare For MARPOL Compliance*
*Editor's Note: This exclusive article has been excerpted from a special report by Peter P. Lombard, president, American United Marine Corporation, and Flemming D.
Christensen, A/S Vesta.
Starting December 31, 1988, the U.S. Coast Guard will begin enforcing Annex V of the Protocol of 1978 relating to the International Convention for the Prevention of Pollution by Ships, 1973, known as MARPOL 73/78.
Known as "Regulations for the Prevention of Pollution by Garbage by Ships," it defines garbage to include victual, domestic and operational wastes and deals specifically with nonbiodegradable substances such as plastics.
In an article in its August 1, 1988 edition, Time reported that beaches around the world were being contaminated with industrial, human and hospital wastes. Large amounts of marine life are being killed as a direct or indirect result of man-generated pollution.
Time estimates that merchant fleets dump at least 450,000 plastic containers overboard per day. The U.S. Navy, in an effort to lower its plastic waste disposal, has canceled an order for 11 million plastic bags and is testing alternative methods for dealing with garbage and trash.
Under Annex V of MARPOL 73/ 78, disposal into the sea is entirely prohibited for certain materials.
These include all plastics such as synthetic ropes, nets, and garbage bags. These materials must not be discharged at any time, except for the purposes of securing the safety of the ship or saving life at sea.
Other items may be disposed of as far as possible from land, but not within certain minimum distances.
These distances vary with the types of waste.
Certain sections of the sea, because of their particular oceanographical and ecological conditions, are designated as "special areas." Within these special areas, which include the Mediterranean, Black, Red and Baltic Seas and the gulf area located northwest of the line between Ras al Hadd and Ras al Festah, all waste disposal is entirely prohibited except for the discharge of food wastes, which must be dumped at least 12 nautical miles from the nearest land.
In addition, movements are now underway to designate the Gulf of Mexico and other ocean sections as special areas, possibly after the rules go into effect at the end of this year.
A further provision of the regulations states that the disposal of any materials regulated by Annex V is prohibited from fixed or floating platforms engaged in the exploration, exploitation, and associated offshore processing of seabed mineral resources, and from all other ships when alongside of or within 500 meters of such platforms.
The implementation of Annex V is going to require some changes in the way most oceangoing vessels deal with their refuse.
At present, three alternative methods of dealing with the problem exist. These are: (1) onboard storage until the vessel reaches a port with disposal facilities; (2) compaction and storage until onshore disposal; and (3) incineration.
Space requirements, problems of odor, insect control and general sanitation, make the first method, storage and shore disposal, unattractive.
Additionally, problems may be encountered scheduling the necessary number of stops at ports with adequate disposal facilities.
Although the second method, trash compaction, partially solves the problem of space requirements, it still requires the scheduling of stops at ports with disposal facilities.
Annex V provides that if wastes, such as foodstuffs, paper products, rags, glass, metal and similar refuse, have been comminuted or ground to the point where they will pass through a screen with openings no greater than 25 millimeters, the minimum distance from shore required for ocean discharge is reduced to three nautical miles. Also, food wastes which have been comminuted to 25 millimeters or less, can be discharged from floating or fixed platforms located more than 12 miles from land, and from other ships when alongside or within 500 meters of the platform.
In other words, simply reducing the particle size of refuse to 25 millimeters or less lowers the ship-toshore dumping limit from 12 to 3 miles.
However, the most efficient method of fulfilling the newest MARPOL requirements is through the use of an onboard incinerator.
Vesta/Atlas incinerators, for example, all produce ash residues which meet Annex V requirements.
Incinerators are offered in a wide variety of models to meet every combination of requirements, depending on what type of materials are to be burned and how much.
Requirements for shipboard incinerators are governed by 46 CFR Part 63, and the safety requirements for them are found in 46 CFR 58 and 46 CFR 56. When purchasing an incinerator, it is important to ascertain that it meets all these requirements, and is so certified by the manufacturer.
While incinerators do require a moderately large initial investment for purchase and installation, they have the advantages of providing a completely reliable and efficient method for disposing of waste materials without any expenses for or dependence on disposal facilities in ports of call.
Modern incinerators, with their two-chamber design, produce no particulate emissions in the exhaust gases because of complete combustion during the retention in the second chamber. They can be shipped either as one-piece units, or knocked down for assembly onboard, simplifying retrofits on existing vessels.
A number of factors are important for evaluating the best methods for solving the waste disposal problem of each individual vessel. For example: (1) Type of power—steam ships will be concerned with disposing of solid garbage and trash. Motor ships will have the same types of waste as the steam vessels with the addition of oil sludges, which require special techniques for holding and disposal.
(2)Use of vessel—the volume of the material to be disposed of will vary greatly depending on the use of the vessel—whether it carries passengers, freight, crude oil or liquid products, containerized cargoes, and other types.
(3)Trade routes—the routes followed by ships can have a big effect on disposal handling. Largely coastal operations, for example, have the disadvantage of never being far out enough to dump but also have the advantage of being always close to ports with disposal facilities. These vessels traveling through the MARPOL "special areas" must be prepared to deal with the special prohibition in those areas.
(4)Business arrangements—the choice of disposal methods may be affected by the type of business arrangements of the vessel—such as whether it is in a fixed market, an open (spot) market, or a long-term charter arrangement. For example, some long-term charter agreements may specifically require incineration capabilities.
For determining the disposal capability required for a particular vessel, the following rule-of-thumb formulas are generally applied: (1 )for solid waste—number of people on board multiplied by 3 equals the kilograms of solid waste per 24-hour period; (2)for sludge waste—engine capacity in kilowatts by 0.0024 by 24 equals the liters of sludge per 24-hour period, including lubricating oil.
For disposing of these wastes by incineration, the energy released is as follows: solid waste 3,200 kilocalories per kilogram; oil sludge 6,000 kilocalories per liter.
After these requirements values are computed, an incinerator is chosen which will handle the necessary kilocalories, while operating 12 hours in each 24-hour period.
Steps toward installation of an incinerator which will result in full compliance with Annex V ordinarily proceed on a schedule similar to the following one: (1) The vessel is surveyed (one to two days) and a location for the incinerator is chosen (usually in the engine room or, in case of space limitations, a self-contained, pre-wired and piped module is available for easy deck installation), and utilities connections are located.
(2) Development of drawings, which will be submitted to regulatoizations (ABS) (one to two weeks).
These drawings will include: (a) the general arrangement of the incinerator installation; (b) diesel oil piping system, showing the connection points at the incinerator and the diesel oil supply point; (c) electrical system, showing the power supply and cable connections to the incinerator control panel; (d) exhaust gas piping for the incinerator, to either a common or independent stack; (e) foundation support; (f) detailed isometric drawing for diesel oil, electric cabling, and exhaust stack; (g) detailed installation specification write-up, which can be used by owners, shipyards, riding crew, or installation operators; (h) complete electrical and mechanical bills of materials; and (i) one set of reproducible drawings.
(3) Installation by two men, in a matter of days.
(4) Commissioning and start-up in one day.
When these steps have been completed, shipowners and operators can be assured that they are capable of complying with all waste disposal regulations which are planned for the foreseeable future.
A special advantage of Vesta/ Atlas incinerators is that they are manufactured by both A/S Vesta, Copenhagen, and their subsidiary, Klinge Products, Inc., York, Pa., for fast local delivery both in Europe and the U.S. American United Marine Corporation, Saugus, Mass., in the exclusive U.S. agent for A/S Vesta.
For a free copy of the special report by Peter P. Lombard and Flemming D. Christensen, as well as further information on waste disposal regulations and systems and on Vesta/Atlas systems, Circle 113 on Reader Service Card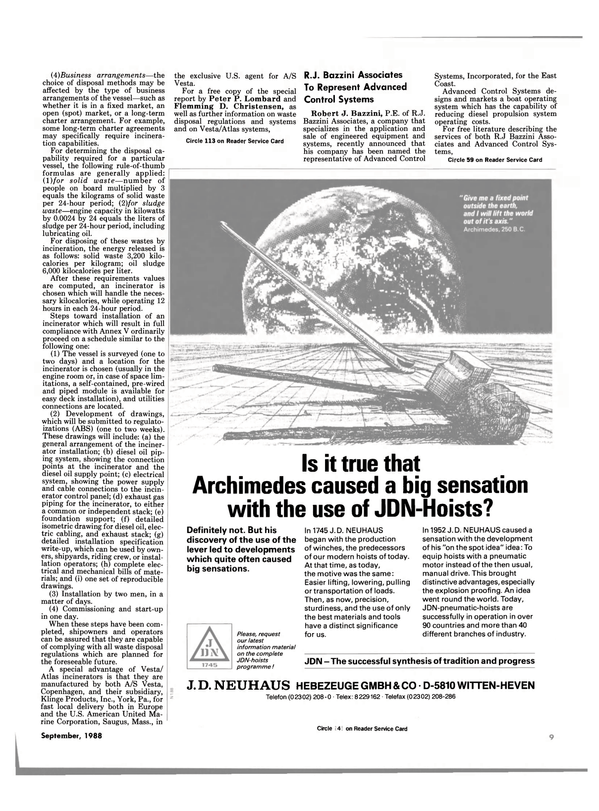 Read It's Time To Prepare For MARPOL Compliance* in Pdf, Flash or Html5 edition of September 1988 Maritime Reporter
Other stories from September 1988 issue
Content