3.MAJ Diesel Works Builds First Sulzer RTA 72 Engine Ever
From the moment of its introduction into the market seven years ago, the RTA series of Sulzer marine diesel engines set new dimensions to operating economy and reliability, and maintenance.
In 1984, the so-called "-8 series" engines, covering cylinder bores of 380, 480, 680, 760, and 840 mm, with a stroke-to-bore ratio of about 2.9, were complemented by the "-2 series" engines covering cylinder bores of 520 and 620 mm, and of a higher stroke-to-bore ratio of 3.46.
During 1985, the demands from the market called for an increase in the maximum speed and output of the "-2 series" engines. This is also the time when a new engine type, the RTA 72, with a complementary bore size of 720 mm was introduced.
In its design concept, the RTA 72 is fully in line with the previous engines of the "-2 series" which, among others, means it is available in versions of up to eight cylinders maximum.
Main performance data of the RTA 72 engine: Two-stroke, single-acting, slow-speed, turbocharged engine; Output range 1,410- 2,570 kw/cylinder; Speed range 66- 91 rpm; stroke 2,500 mm; Cylinder bore 720; and Spec, fuel consumption at mcr 171 g/kwh.
Acceptance testing on the 5 RTA engine built by 3.MAJ, which has extensive experience in manufactur- ing RTA engines under license, were recently completed. The first engine of this bore size ever built in the world, it will be installed aboard a motor tanker. Its particular performance data are the following: output, 10,550 kw; speed, 78 rpm; and sfc at mcr, 169 g/kwh.
In addition to possible variations in combinations of output speed (determining the layout field), the flexibility offered by the RTA 72 engine—actually by all the RTA types—has been further extended to optional possibilities of installing: Two-stage air cooler, providing an excellent possibility of recovering waste heat energy removed through the compressed scavenge air (4.5 percent of engine output); Standard optional power take-off for the connection of an alternator to the main engine for ship's electrical power generation, which for this particular engine features up to 1,350 kw; and Standard optional efficiency-booster using recovered exhaust gas energy directly at the engine crankshaft for further fuel savings—with the 5RTA 72, the recovered energy can be as high as 800kw, which in terms of fuel consumption means a fuel saving of about 5.5 g/kwh.
Design features of the RTA 72 engine: Sturdy engine structure with low stresses and small deflections, consisting of bedplate, columns and cylinder block, pretensioned by vertical tie rods; Singlewall bedplate with integrated thrust block. Standardized, large surface main bearing shells; Robust Ashaped columns, assembled with stiffening plates or of monoblock design; Single cast iron cylinder jackets, bolted together to form a rigid cylinder block; Lamellar cast iron, bore-cooled cylinder liners with load-dependent cylinder lubrication; Solid, forged, bore-cooled cylinder covers with bolted-on exhaust valve cage; Camshaft gear drive housed in a special double column placed at the driving end; For larger bore engines, where required, balancers mounted on the engine; Injection pump and exhaust valve actuator combined in common units for two cylinders, each camshaft driven; and Constant-pressure turbocharging system (highly efficient uncooled turbochargers) with uniflow scavenging assisted by auxiliary blowers for low load operation.
Possibility for in-service cleaning of charge air coolers.
Service Results—The exhaust valve, introduced at Sulzer as a novelty for two-stroke diesel engines, has fully justified the designers' assurances of the exhaust valve actually not being a novelty for Sulzer.
The exhaust valve, positioned symmetrically, made of a top quality material (Nimonic), and operating at relatively low temperatures, has demonstrated excellent service performance and proved to be an excellent solution (more than 12,000 hours of operations between repairs- regrinds).
As for the cylinder liner wear, according to the latest results reported from m/v Malinska (both the ships and the engine built by 3.MAJ) after 5,214 hours of operation, a wear of 0.004-0.008 mm/1,000 h has been measured which is a very good rate. It is to be added that the measuring has been carried out by Sulzer, who follows its field tests on this ship.
For free literature giving full information 3.MAJ Diesel Works, Circle 104 on Reader Service Card For more information and free literature on Sulzer Circle 105 on Reader Service Card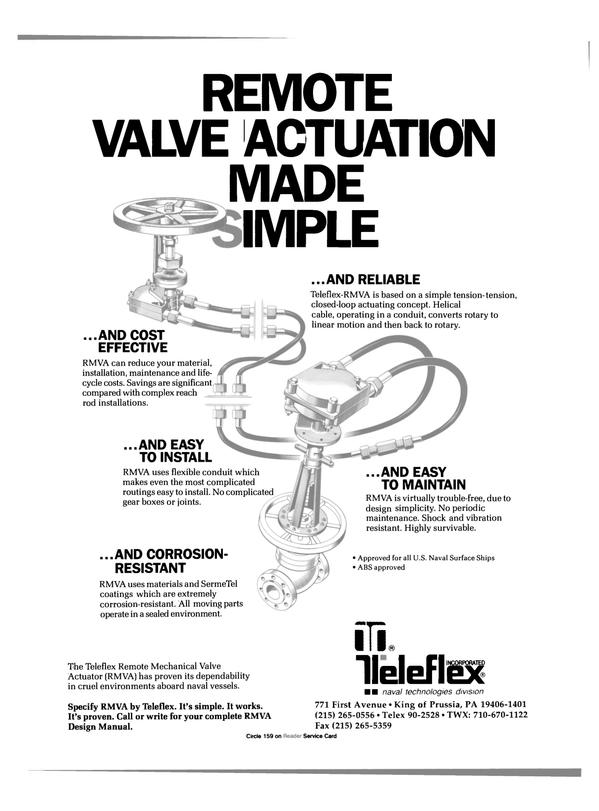 Read 3.MAJ Diesel Works Builds First Sulzer RTA 72 Engine Ever in Pdf, Flash or Html5 edition of September 1988 Maritime Reporter
Other stories from September 1988 issue
Content