U.S. NAVY SHIP REPAIR AND MODERNIZATION
By Dr. James R. McCaul, President International Maritime Associates, Inc.
Review of a Major Forecast and Appraisal of Business Opportunities Available to Equipment Manufacturers and Ship Repair Firms Over the next ten years the U.S.
Navy will spend more than $50 billion on ship repair and modernization.
Logical concerns are where these dollars will be spent, what portion will be earmarked for specific geographical areas, how much will flow through commercial shipyards, how much will be spent on equipment replacement and upgrade, etc.
A new IMA study addresses these issues and provides a ten-year forecast (1989-1998) of scheduled ship maintenance, overhauls and emergent repairs. Also in the report is a five-year (1984-1988) analysis of market share for firms involved in Navy ship and equipment repair.
Navy Maintenance Practices Forecasting ship maintenance and modernization requires an understanding of the Navy's four basic ship maintenance strategies: regular overhaul cycle, engineered/extended operating cycle, phased maintenance and progressive maintenance.
Regular overhaul cycle— Traditional Navy maintenance strategy has been to schedule periodic, lengthy ship overhauls during which repairs and planned alterations are accomplished. A typical cycle is approximately 36 months between major overhauls. The overhaul takes 8 to 12 months.
Of the 505 active ships in the fleet as of December 1987, only 21 continue to adhere to this traditional maintenance strategy. The Navy plans to completely drop this pattern of maintenance once the 21 ships are retired.
Engineered operating cycle— This strategy was introduced in 1974 for ballistic missile submarines.
The objective was to match submarine overhaul intervals to a length compatible with new long life reactor cores. Finding it successful, the EOC concept was extended to surface ships in the late 1970's. Under EOC maintenance, overhauls are scheduled at intervals as great as 15 years. Between overhauls, intermittent depot level availabilities are scheduled which last 2 to 4 months' duration.
As of December 1987, 283 of the 505 active Navy ships were placed in an EOC maintenance cycle.
Phased maintenance—This maintenance strategy was first employed in the late 1970's. Initially it was used for the Atlantic fleet combat stores ships. The concept has now been extended to additional classes and as of December 1987 covered 141 of the 505 active ships in the fleet.
The general idea of phased maintenance is to perform short, frequent phased maintenance availabilities (PMAs) in place of regular lengthy overhauls. Ships are generally scheduled for PMAs of 2 to 4 months' duration of 15- to 18-month intervals. The work is generally ac- complished under multiship, multiyear contracts where one contractor is responsible for a particular group of ships.
Progressive maintenance— In the 1970s the Navy initiated a new ship logistics concept which emphasizes performing maintenance and repair at intermediate and depot level activities. The guided missile frigate (FFG 7), hydrofoil patrol boat (PHM 1) and Trident submarine (SSBN 726) have been designed with this maintenance concept as an objective.
Crew size has been minimized and equipment is designed for component removal and replacement.
For the FFG 7 class, a prescribed set of maintenance actions are to be performed at intermediate maintenance availabilities (IMAs) and selected restriced availabilities (SRAs). IMAs are scheduled at sixmonth intervals, with three weeks planned for maintenance work.
SRAs are to be scheduled every two years, lasting about four weeks.
Every ten years a major modernization is scheduled.
Spending Pattern for Maintenance and Modernization Navy spending for ship maintenance and modernization has increased from about $1.6 billion in 1975 to $5.6 billion in 1987. Taking into account the growth in fleet size, average maintenance expenditure per ship has grown from $2.3 million per year to $7.8 million per year during this period. Average modernization expenditure has increased from $.9 million to $2.5 million per ship/year.
Budget pressures have recently created a buildup in deferred maintenance.
The clearest evidence is the decline in maintenance and modernization expenditure per ship over the past four years. In 1985 the Navy spent an average of $11.4 million per ship for maintenance and modernization. This figure is projected to be $8.5 million in 1988 and $8.7 million in 1989.
Exhibit 1 gives the details for maintenance and modernization expenditures from 1975 through 1989.
Despite the recent dip, the longterm trend in ship maintenance and modernization expenditures is clearly upward. Deferred maintenance can only be deferred so long.
Eventually ships and/or equipment will fail in operation. There is no doubt that Navy ship maintenance and modernization is a long-term growth market—which should interest many firms.
Forecast Procedure IMA's new report segregates work into captive and regional markets.
Captive work includes scheduled availabilities and emergent jobs which the Navy generally restricts to performance in the homeport area. This includes most short term availabilities lasting less than six months. Regional work includes overhauls and other availabilities exceeding six months' duration which are generally bid coastwide.
To project the size of individual markets, IMA first projected the number of ships in each class to be homeported at specific locations over each of the next ten years.
Then using the scheduled maintenance pattern for each ship, IMA projected the number of short- and long-term maintenance availabilities during the ten-year forecast period.
These availabilities were then converted to revenues based on a history of completed contract prices for various types of work. Various assumptions were tested in the forecast procedure.
Illustrative Results Exhibit 2 shows IMA's projection of the number of ships to be homeported in an illustrative major East Coast location. The figures for 1988 are the number of ships actually at the location as of July 1988. Future figures take into account the number of ships to be added or deleted from the homeport over the next ten years. Some deletions are ships scheduled for retirement. Other deletions are ships scheduled for transfer to other homeports as part of the strategic homeport concept.
In estimating the ships to be added, IMA took into account the delivery schedule for ships now on order and ships planned for funding over the next five years.
Captive business—Exhibit 3 shows the number of scheduled job starts attributable to the ships at this location. As shown, we estimate a total of 61 SRAs, 11 PMAs, 33 DSRAs and 3 DPMAs to be generated by the ships in this homeport.
This work is generally captive to the local area—provided there is sufficient competition for the contracts.
In addition there is a base of emergent work—also captive to the local area—which has been estimated in the report.
Regional business—Overhauls of Navy ships are open to coastwide competition. This regional market has been estimated for both the Atlantic/Gulf and Pacific coasts.
Both a projection of overhaul job starts and revenues associated with this work are provided in IMA's report.
Other business— S e p a r a te from the above, IMA has projected the number of job starts and associated revenues over the period 1989-1998 from overhaul and repair of MSC ships, the RRF fleet and Navy service craft. Both MSC and RRF work tend to be regionally competitive. Navy service craft maintenance and repair tend to be captive to a local area.
Market Share IMA's report provides a complete tabulation of Navy ship repair and marine equipment repair contracts over the past five years. The data are arranged by contractor and show the value of the initial contract and subsequent modifications/ change orders. Market share percentages are calculated for each of the five years—showing each contractor's percentage of the market.
Significance of the Information The ten-year forecast will be useful in long-term business planning.
Ship repair firms can identify future business for which there will be only local competition vs. business for which competition will be coastwide.
Equipment manufacturers can identify the number of maintenance and modernization availabilities by ship type. Both ship repair firms and equipment manufacturers can assess their market share over the past five years.
The full report is available for $550. It can be ordered by contacting International Maritime Associates, Inc., 835 New Hampshire Ave., NW, Washington, DC 20037, telephone (202) 333-8501; fax (202) 333-8504. Telephone orders will be accepted.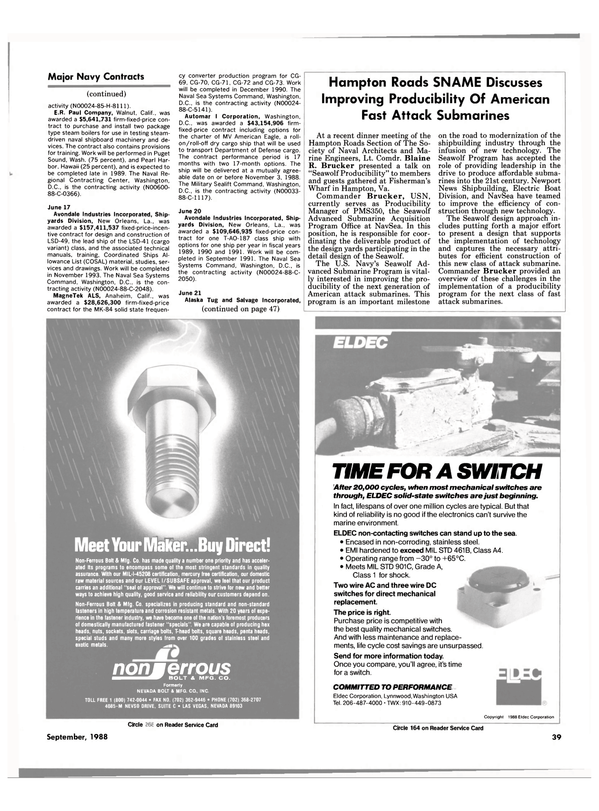 Read U.S. NAVY SHIP REPAIR AND MODERNIZATION in Pdf, Flash or Html5 edition of September 1988 Maritime Reporter
Other stories from September 1988 issue
Content