Fincantieri Predicts Clear Vista For HAL
First introduced last March, Holland America and Fincantieri announced to the cruise shipping community that it had signed a contract to construct one of the world's most innovative vessel series that would incorporate keen interior designs, as well as the most up-to-date safety and technical features.
The first two members of the vessels series — Zuiderdam and Oosterdam — are well on their way to completion; Zuiderdam is currently afloat at Fincantieri's outfitting dock in Trieste, Italy, while Oosterdam is in the midst of the construction process.
Zuiderdam is scheduled for a November 15, 2002 delivery (up from its original December delivery date), followed by Oosterdam in June 2003.
The vessels, which will each measure 951 ft. (289.8 m), and are able to hold 1.848 passengers, are unique in that they will boast innovative side-by-side funnels placed atop two separate engine rooms. According to Pieter Rijkaart, Holland America's director of Newbuildings, Zuiderdam is set to undergo technical sea trials in Italy from July 12 -14, 2002. At this time, engineers will test out a basic "prototype" ship at different speeds, looking for disturbances in the vessel's mechanics that may become problematic later on, such as vibration or glitches in the vessel's combined diesel electric and gas turbine power package.
"During the technical trials, vibration sensors will be run throughout the ship at various speeds," Rijkaart said. "If any type of vibration is detected, then extra steel will be added to the vessel before the final paneling is in place." Rijkaart added that in September 2002, Zuiderdam will undergo its official sea trials for approximately five to six days, prior to its November 2002 delivery date. At this time, the vessel will undergo speed and simulation testing to ensure its safety at sea.
What sets this vessel series apart is its innovative power package — five Wartsila diesel engines, one gas turbine and Azipod propulsion in two separate engine rooms. According to Rijkaart, this is a way of making ships safer by running them via two completely separate switchboards. The aft engine room will hold three diesel engines, while the room forward will house the gas turbine. If a power outage or burn out were to occur, the other engine room could still operate the vessel from between 15 and 16 knots.
"If even just a small fire were to occur in the engine room onboard these vessels, there would be severe water and C02 damage to the electrical switchboard," Rijkaart said. "With the dual engine room concept, the vessel can still be brought back with power from the remaining one." Other innovative safety items onboard the Vista vessels include audible smoke detectors in every stateroom. Up until this ship series was introduced, smoke detectors were present in every cabin, but could not be heard by passengers in their individual cabins. This way if a fire were to occur in a guest room, the passenger could immediately alert a crewmember for safety upon hearing the smoke detector go off in their room. Each ship, according to Rijkaart will also feature a fast rescue boat similar to an RIB. This 22-ft. (6.7-m) IMO-approved vessel, which is able to withstand flames, can accommodate eight passengers — is lowered into the water just the same as a conventional lifeboat. — Regina P. Ciardiello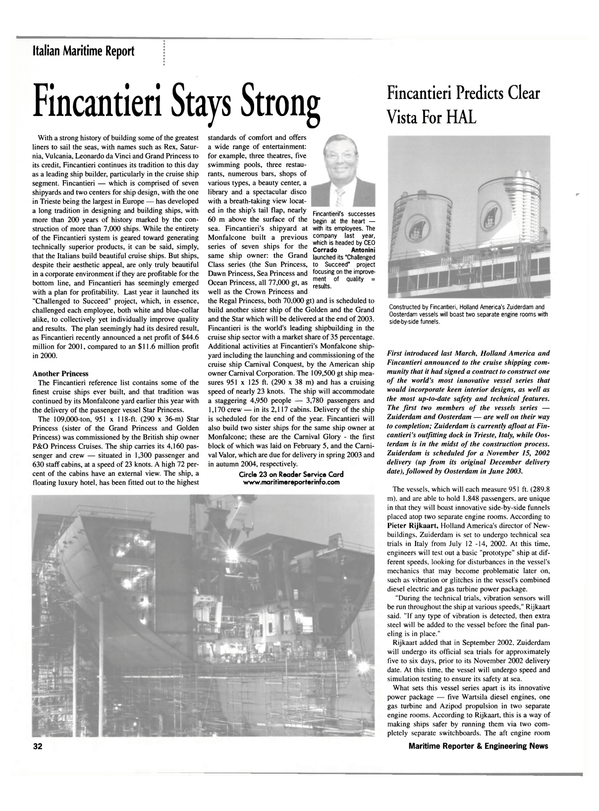 Read Fincantieri Predicts Clear Vista For HAL in Pdf, Flash or Html5 edition of July 2002 Maritime Reporter
Other stories from July 2002 issue
Content