USCG Proposes New Changes in Vessel Arrival/Departure Procedures
By Art Dimopoulos, Of Counsel, Preston Gates, Washington, D.C.
On June 19, 2002. the United States Coast Guard proposed permanent changes to its notification of arrival and departure information for all commercial vessels greater than 300 gt. (See, 67 Fed. Reg. 41659). The notice of proposed rulemaking is part of a greater port security scheme that seeks to ensure port safety, security without compromising the flow of commerce.
The changes to the present Notice of Arrival (NOA) reporting regime are substantive and procedural. The changes affect the estimated 10,367 respondents (vessel owners, operators, masters, agents or others in charge of U.S.-bound vessels, herein "Submitters") that currently submit an approximate, 136,278 NOA and Notice of Departure (NOD) reports. The following changes have been proposed with each change discussed in further detail below: Additional Information in NOA Reports; • Submitting cargo manifest information electronically to U.S. Customs; • NOA submission time changes; • Reporting changes to submitted information Consolidating NOA and Notice of Departure (NOD) reports • Centralizing electronic submissions; and • Revising reporting requirement exemptions.
NOA Reports The submitter would be required to file a NOA with the U.S. Coast Guard's (USCG) National Vessel Movement Center (NVMC). The NOA would have to include information that accurately identifies each U.S. destination the vessel will call on. The submitter would have to indicate the vessel's present location/position at the time of submission of the NOA report. A general description of the vessel's cargo must also be included in the NOA.
The proposed rule requires the submission of the full name (including nicknames, maiden names, aliases, etc.), date of birth, nationality, passport number or mariner's documentation number, place of embarkation, and the position/ duty of each crewmember aboard the vessel. The submitter must also report on every passenger or non-crew member aboard the vessel listing the full name, date of birth, nationality, passport number and place of embarkation for each person.
Cargo Manifest The proposed rule would require the electronic filing of U.S. Customs Service Form 1302 with the U.S. Customs Service (USCS), 96 hours before the vessel's arrival at the first U.S. port of call. The single electronic filing to the USCS Sea Automated Manifest System (AMS) would satisfy USCG and USCS requirements for both agencies. Vessels engaged in the U.S. coastwise trade would not be subject to filing a cargo manifest.
USCS filing is established by: (1) a direct connection with USCS; (2) using a service provider; (3) using a port authority; (4) purchasing filing software from a vendor. More information about the AMS systems is available at the following website: (http://www.customs.treas.gov/impexp2/ auto-sys/ams.htm).
NOA Submission Times* The table in the far right corner provides information regarding substantive changes to already submitted NOA Forms. In sum, substantive changes must be reported as soon as practicable, but not less than, 12 or 24 hours, (see table) prior to entering the port depending upon the vessel and voyage characteristics.
Fortunately, the Coast Guard has eliminated the need to file a NOD report by requiring estimated date and time departures included in the NOA submission.
Furthermore, Submitters would be allowed to file a single NOA report listing consecutive U.S. destinations during the voyage, along with estimated arrival and departure times for each port of call.
Centralization of Submissions The proposed rule envisions the filing of all NOA reports with the NVMC rather than with individual USCG Captains of the Port (COTPs) for each respective district called on by the vessel. Foreign-flag vessels of 300 gross tons or less operating in the Seventh Coast Guard District, would submit NOA reports to respective COTPs. Moreover, inbound St. Lawrence Seaways vessels could fax NOA submissions to the Saint Lawrence Seaway Development Corporation and the Saint Lawrence Seaway Management Corporation of Canada.
Electronic Submissions The Coast Guard is considering adopting an automated electronic filing system as a preferred or required means for filing NOA reports. The Coast Guard is soliciting specific comments on the electronic filing system with six specific questions for consideration: • Enumerate information security concerns regarding electronic NOA submissions • Should Coast Guard have authority to forward all/part of NOA information to marine exchanges, port authorities to facilitate information sharing at the port level?
• Is a desktop e-mail application powered with capability of creating, managing and automatically submitting NOA useful?
• Comment on preferred electronic submission means (e.g.. HTML, SMTP, FTP).
• Enumerate information security concerns in event Coast Guard forward NOA to an FTP server or web server in the public domain?
Is an XML data specification for a NOA useful as means of submitting by e-mail or other means?
Exemptions U.S. non-tank vessels operating solely between U.S. ports on the Great Lakes would be exempt from the NOA reporting requirements. U.S.-flag tankers coming from a foreign port, vessels complying with the Automated Mutual Assistance Vessel Rescue System.
(AMVER) and vessels operating on a regularly scheduled route would be required to submit NOA reports. All barges coming from foreign ports would be required to submit a NOA.
Industry Comments Comments and supporting materials should be sent to the Docket Management Facility c/o (USCG-2001- 11865), U.S. Department of Transportation, room PL- 401, 400 Seventh Street, S.W., Washington, D.C.
20590-0001, on or by August 19, 2002. Comments can also be faxed to (202) 493-2251, or filed electronically through the Docket Management System website at: http://dms.dot.gov.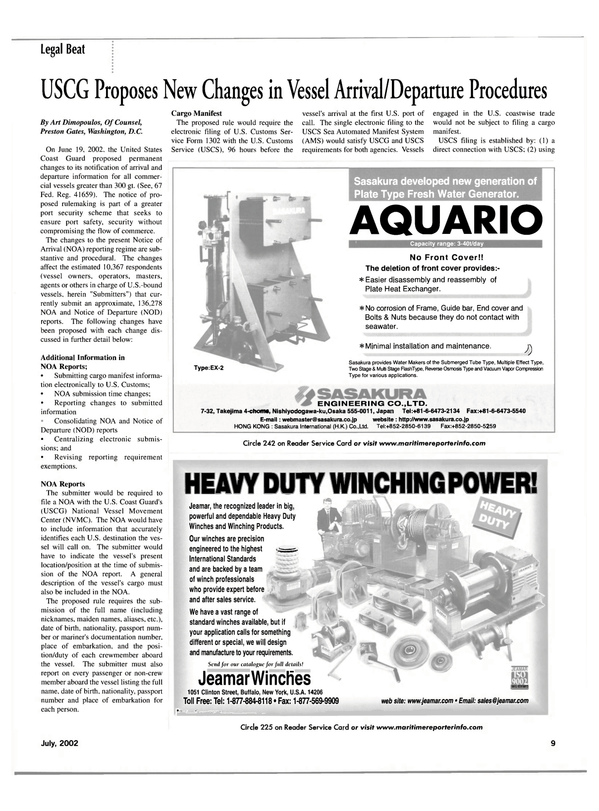 Read USCG Proposes New Changes in Vessel Arrival/Departure Procedures in Pdf, Flash or Html5 edition of July 2002 Maritime Reporter
Other stories from July 2002 issue
Content