Offshore Drilling: 5-Year Projection is $189B
"Over the next five years it is expected that 15,000 offshore wells will be drilled worldwide, at a total cost of some $ 189 billion. Of these wells nearly 4,500 will be exploratory costing $75 billion, and around 10,500 will be development, costing $114bn. It is estimated that drilling and completion expenditure in 2003 was $36 billion. Spending levels are expected to grow somewhat over the next two years and then decline slightly, stabilising at about $37 billion per year." These are among the findings of the second edition of The World Offshore Drilling Report, published by Douglas- Westwood.
Going Deeper The largest change that is forecast by the energy analysts is continuing growth in deepwater drilling (over 500 m water depth) which contrasts with a long-term decline in shallow water activity. "In the last decade reductions in available shallow water drilling opportunities have been counter-balanced by increasing deepwater activity. On average around 3,000 to 3,200 offshore wells are drilled each year of which 12 percent are now in deepwaters. These are expected to increase to around 17 percent of all wells drilled in 2008, with $56bn (30 percent of the total) forecast to be spent globally on drilling and completing deepwater wells over the next five years. This is an increase from $37bn (22 percent of the total) in the previous 5-year period," said study author, Dr. Michael R. Smith of EnergyFiles Ltd.
Africa and Latin America saw deepwater drilling expenditure exceeding shallow water drilling expenditure for the first time in 2003 and the gap will increase in both regions through the forecast period. With the exception of the Middle East where there is no deepwater activity, all other regions should see some shift from shallow to deepwater.
"There will be significant changes in some regions. North America, at $57 bn will again have the highest share of the total spend, increasing (compared to the previous five-year period) by $3.4 bn (six percent growth) even though the total number of wells drilled will decline slightly." "Latin America and Africa are forecast to see an increase in expenditure of $6.1 bn and $8bn respectively, a growth of around 43 percent. Although Asia's forecast five-year spend is about the same as the previous period, the outlook for Western Europe is a decline of 12 percent, despite cost escalation." High Spec Rig Demand "The deep and ultra-deepwater rig market is expected to remain at high utilization rates throughout the period, especially for drillships and fifth generation semisubmersible rigs water depth rated greater than above 1,500 m. Water depth capabilities will continue to grow beyond the current drilling record of 3,053 m. "The shallow water semisubmersible market will be generally weaker, but decline in the Gulf of Mexico and the North Sea will be counter-balanced by a pick-up in demand in West Africa, India and China, at least over the first two years of the five-year period.
"Demand for high specification jackups is likely to remain strong as new gas projects are identified, particularly for Gulf of Mexico deep reservoir gas drilling. Consequently, most new expenditure on drilling rigs is expected to be directed at upgrades of both jackups and floating rigs to allow faster drilling and deeper water and/or deeper reservoir drilling." Opportunity Constraints "Drilling levels increased through the 1990s in an environment of increasing energy demand and stable energy prices linked to improvements in technology.
However, over the next five years drilling levels will become opportunityconstrained and a slight decline is forecast of around 8 percent. Numbers of wells drilled and expenditures may not increase dramatically even if there is real oil price growth. Furthermore, better development wells mean fewer will be needed per field.
"Some growth is possible in the Persian Gulf but this would depend on the controlling governments, primarily Iran and Saudi Arabia, encouraging investment to a much greater extent than they do now.
"The World Offshore Drilling Report" contains 215 pages, 93 figures and 49 tables. It is published by energy analysts Douglas- Westwood and is part of a series used by over 200 organisations in 32 countries worldwide.
For more information visit: www.dw-l.com, or e-mail John Westwood at [email protected]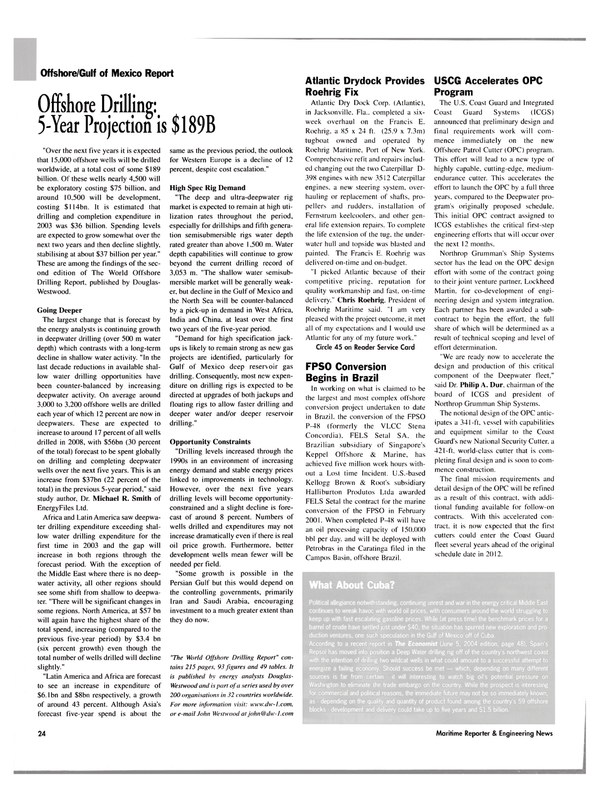 Read Offshore Drilling: 5-Year Projection is $189B in Pdf, Flash or Html5 edition of July 2004 Maritime Reporter
Other stories from July 2004 issue
Content