Interview: Matthew Paxton, President, Shipbuilders Council Of America
By Greg Trauthwein
The U.S. commercial maritime industry is enjoying its most robust period in a generation, with a spate of newbuild activities spurred largely by a resurgent energy production market in the U.S. as well as new rules of vessel emissions which has forced owner to invest in new tonnage. For insight and perspective on the market Maritime Reporter & Engineering News visits with Matthew Paxton, who was selected to be the President of the Shipbuilders Council of America in 2007. In this capacity he advocates for a robust and expanding U.S. shipyard industrial base.

To start off, in your view what is the current "State of the Shipbuilding & Ship Repair" business in the United States?

On the government side, funding for new construction ships is always a challenge and we could always use more. Shipbuilding programs that are under serial production, such as Virginia-class submarines and USCG Fast-Response Cutters, are providing stable and predictable work for yards and their suppliers. Ship depot maintenance is funded at 100 percent, keeping our repair yards busy. On the commercial front, the shipyard industry is experiencing a boom not witnessed in decades. In addition to a regular stream of patrol craft, fire boats, ferries and tugs, we have seen an uptick in barge construction, large complex supply boats, large petroleum carriers and the recapitalization of the non-contiguous containership fleet.

From your perspective what is the status of the U.S. ship yard sector today as compared to any other time in your career?

When you look at the industry overall, I think we are in good shape, particularly on the commercial side with all the recent new building of large vessels and uptick in barge construction. The defense side has its budget issues, particularly with sequestration which is still the law of the land. Some of that large vessel commercial new construction, however, is helping to maintain workloads, supporting both a shared skilled workforce and supplier base, for shipyards that have traditionally built for the government. This is one example of why the U.S. Navy is a strong supporter of the Jones Act.

Political support, or more accurately lack thereof, of the entire maritime sector in the U.S. is regular fodder for conversation and comment. Please give our readers the birds-eye view on Washington and its support of the ship construction and repair sector today.

Actually, I think today we have strong support from Congress. When we lost longtime maritime champions years ago such as Sen. Daniel Inouye, Sen. Ted Stevens, Congressmen Ike Skelton and Jim Oberstar, there was a void that needed to be filled. Many Members have stepped up, including members like Sen. Mary Landrieu, who hold important assignments such as chair of the Energy and Natural Resource Committee and on the Appropriations Committee. On the House side Congressmen Rob Wittman and Joe Courtney have led an active and vocal shipbuilding caucus, and Congressmen Duncan Hunter and John Garamendi have been strong proponents of a national maritime strategy. On the administration side, Maritime Administrator Chip Jaenichen has been a breath of fresh air, and is doing a lot to increase the visibility of maritime within the Department of Transportation.

Legislatively, what is on the horizon that either gives SCA cause for hope or cause for concern in the coming year?

Certainly sequestration, which I mentioned previously, is still a major long-term issue that needs to be addressed. So too does the funding structure for the Ohio Class submarine replacement program. SCA is always encouraging support for the Jones Act, which is the foundation of the commercial world. We do not perceive any credible threats; however there are always efforts to nip at the edges of the law, which we will continue to vigorously fight. Legislatively, it looks like we're headed for another continuing resolution going into the new fiscal year. This has unfortunately become the norm of late, but it makes it very difficult for shipbuilders, repairers and suppliers of government vessels to make the most efficient plans, purchases and hires without knowing how much and when funding will become available to them.

From where you sit, on the commercial shipbuilding side of the ledger, what are the drivers for increased business today?

There are several drivers including a return to normalcy in offshore Gulf of Mexico oil and natural gas development, the domestic oil shale and gas boom, and the looming environmental regulations called emission control areas that are forcing some to recapitalize their vessels to meet more stringent requirements. I do not want to discount, however, the many other vessels our shipyard continue to deliver, such as world class ferries, patrol and fire boats, tugs as well as many other types of vessels. Increased commercial shipbuilding is also good for government shipbuilding. Workers, skills and materials used in commercial shipbuilding translate to government work, providing more value for the taxpayer's dollar. Lastly, with the Administration's military strategy to pivot more to the pacific, this is going to require a very strong Navy and that means more vessels to meet that demands of the vast pacific

The shale oil and gas revolution has overnight changed the energy profile of the U.S. How is this affecting the ship construction business in the U.S.?

As I just mentioned, the domestic shale oil and gas boom has really had a positive impact on our industry. Currently, including options, 22 large product carriers are on order (including options) to meet rising domestic maritime transportation demands. That is a massive number, representing billions of dollars in investments, compared to a few short years ago. Additionally, tank barge construction has increased for the same reason.

The proliferation of shale gas, in particular, seemingly has had a dramatic effect on the U.S. shipping and shipbuilding sector as the U.S. has quickly emerged as an international leader in the design and construction of LNG-powered tonnage. Can you comment on the "LNG Revolution"?

This is something our industry is very proud of. Domestic shale gas is being accessed at unprecedented levels, resulting in an asset that has a great price advantage over traditional maritime fuels. Not to mention its environmental benefits. Because of this unique situation, the shipbuilding industry is really becoming a world leader in designing and now building LNG powered product carriers, containerships and offshore support vessels. We only expect more and more vessels to be built for LNG utilization, especially as landside infrastructure improves.

Looking at the coming 12 to 24 months, what does the SCA see as the biggest challenge to a prosperous and growing ship construction and repair market? Please provide details.

On the commercial front, finding the next market is always a concern. Shipyard backlogs look good for the time being, but we are already beginning to think about what the next opportunities might be – such as expanded offshore oil and gas exploration and development (currently only portions of the Gulf and Alaska waters are open); offshore wind, and potential export initiatives. On the defense side, one of the biggest challenges will be funding the replacement for the Ohio-class ballistic missile submarines. These vessels are an expensive but absolutely necessary leg of the nuclear triad and will put pressure on other shipbuilding programs without additional funding.

Going forward, what do you count as the number one initiative for SCA and its members and why?

SCA has a robust membership, with a diverse set of workloads and specialties. SCA is first and foremost about advocacy. If we had to pick one goal or initiative, it would be to increase the visibility and awareness of the critical importance our industry has to the nation's economic, national and homeland security within the halls of Congress and within the administration.
(As published in the November 2014 edition of Maritime Reporter & Engineering News - http://magazines.marinelink.com/Magazines/MaritimeReporter)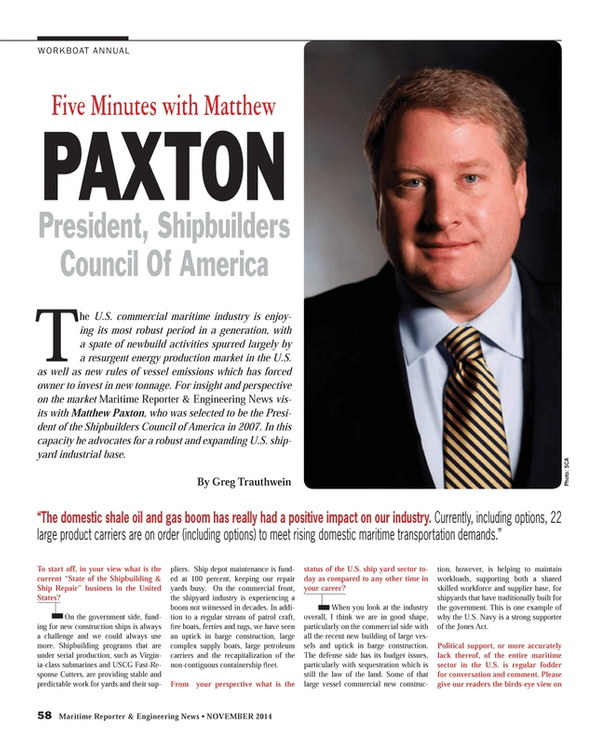 Read Interview: Matthew Paxton, President, Shipbuilders Council Of America in Pdf, Flash or Html5 edition of November 2014 Maritime Reporter
Other stories from November 2014 issue
Content