A TIME OF GREAT EXPECTATIONS, ENTHUSIASM AND EXCITEMENT
By John P. Laborde, Chairman, President And Chief Executive Officer Tidewater Inc.
Taking a long hard look at the f u t u r e without resorting to crystal ball gazing of any kind, it's fair to say the offshore oil and gas support service industry in general and Tidewater Inc. in particular stand at the threshold of a m a g n i f i c a n t business environment. It is my firm belief that the long term will reflect substantial growth, progress and profitability, not only for our marine fleet, which is the world's largest by a substantial margin, but also for our c o m p r e s s i on service and oil and gas businesses.
Let's take a look at the current a r e n a f o r our marine business and see if the facts lead to the conclusion suggested.
In recent months, we have witnessed a firming utilization for our fleet of approximately 400 vessels and are now experiencing the strongest sustained demand in the 25 years since we first began operations in the Gulf of Mexico early in 1956. The demand is consistent in most, but not all, areas of the globe where our fleet is currently deployed.
As followers of the industry know, capital spending for exploration and development worldwide has resulted in a 99-percent utilization rate for mobile drilling rigs worldwide. More rigs are being built today than in any other industry period. New production facilities are also on the rise, up 84 percent over 1979. We are also optimistic that there will be more lease sales at more frequent intervals, and are hopeful t h a t further favorable action by the new Administration will continue a strong domestic offshore program that will keep apace with the current foreign demand. This level of exploration, development and production activity should result in maximum utilization of our fleet and usher in a period of great expectations and enthusiasm for the long term.
The Tidewater fleet is active in 28 areas of the globe with on-theground management that supports day-to-day operations for our charterers, who are primarily national oil companies and their contractors, international major oil companies, and drilling contractors.
We have responded to the surge in capital spending in exploration and development worldwide by acquiring existing equipment and by building new vessels. The number of vessels in our fleet has remained relatively c o n s t a n t f or several years but we maintain an active, ongoing program of upgrading, modernization and replacement.
During the last fiscal year ending March 31, 1981, we acquired or committed to construction 40 vessels which aggregated a total capital commitment of approximately $83 million. This is the largest annual capital commitment for marine equipment in Tidewater's history. If our current plans are realized, the capital commitment for fiscal year 1982 will exceed 1981 commitments.
In general, we have found that current shipyard costs are too high and charter rate structures in some operating areas have been too low to allow us to build all types of new equipment and expect it to currently yield appropriate returns. However, we are beginning to see rates improve to a level which will provide adequate returns and consequently we continue to examine new construction possibilities.
Tidewater has long enjoyed a position of leadership within the marine services industry. A greater number of vessels and a wider variety of specialized vessel types deployed to more locations around the globe than any single competitor have been important factors contributing to the company's leadership position. Another key factor has been the company's strong f i n a n c i a l position, which has provided muscle to withstand industry-wide difficult times, to respond to special vessel needs of our customers, and has permitted us the flexibility to make a wider range of business decisions quickly.
The 40 vessels that were acquired or committed to construction prior to the close of the past fiscal year are becoming available precisely when they will be needed most by the offshore oil and gas industry. And it goes without saying they will also be c o m p e t i t i v e in most operating areas of the world.
The present approximate value of our fleet, based upon acquisition cost as of March 31, 1981, including wholly owned and joint venture equipment, is $364 million.
Included in the fleet makeup are towing/supply and supply vessels, offshore tugs, crewboats, utility vessels, inland tugs, barges, crane vessels and other specialized equipment.
Nearly half of the number of vessels in the fleet (77 percent of aggregate fleet value) consists of towing/supply and supply vessels in the medium horsepower range, with the supply vessels forming the focal point of the company's current expansion program. The new vessels are equipped with an improved pumping system that provides liquid mud and other chemicels, in addition to fuel and water, to offshore drilling rigs.
Vessels in the class are fitted with twin Caterpillar D-399 engines which deliver 2,250 continuous horsepower, a speed of 12 knots, and are particularly suited for jackup drilling operations and other relatively shallow water exploration and development programs.
Equipped with the latest communication and n a v i g a t i on devices, they have air conditioned and heated quarters. The deck area is 114 feet by 34 feet, with below-deck storage that accommodates 4,000 cubic feet of bulk storage.
Along with the strong demand for new and acquired equipment, construction p r i c e s have shot up. Typically, a basic 180-foot straight supply boat with no towing gear and an open deck, could now cost at least $3.75 million.
A larger towing/supply vessel with winch, roller, and more power in the engine room could cost an additional million dollars or more. And as the industry moves f a r t h e r o f f s h o r e , larger, more powerful and higher-cost vessels will be required to support it.
There also has been a trend to "extra" or "special" equipment on our vessels. All or most transport drilling- f l u i d in internal tanks. There also are fire monitors.
Public and industry concern about blowouts, fire, collisions and other accidents at sea has also created the need for improved rescue and pollution control equipment. This new equipment is rapidly becoming standard in the industry.
Tidewater has responded in yet another direction with respect to its expansion program by "packaging" a broad range of specialized equipment built to the customer's specifications.
A recent example of such specialization is a 170-foot, 3,000- bhp support vessel for the rug- ged Bass Strait offshore Australia.
This vessel is designed to provide support for a remotecontrolled undersea submersible used to survey and monitor pipelines and underwater construction, and to aid seabed survey work. Important secondary functions of the vessel include diving and fireflghting roles. It is among the most advanced vessels currently engaged in the offshore oil and gas industry, and ranks high among the world's most specialized offshore support equipment.
The remote-controlled vehicle is attached to the vessel by cable, propels itself along the seabed or pipeline, and relays pictures by television camera to the mother vessel. The mother vessel keeps station on the remote-controlled vehicle by operating in the dynamic positioning mode.
Another specialized vessel with extreme shallow draft capability (six feet) is now under construction for geophysical applications in the Gulf of Mexico. This vessel will represent another "first" for the industry.
Tidewater is beefing up its fleet of inshore towing/supply vessels in the 72-foot class. These new vessels have an open foredeck area t h a t provides carrying capacity for 25 long tons of cargo. They are also equipped to deliver diesel fuel and fresh water to inland drilling rigs and platforms. The most innovative feature of the new tugs is that they permit the delivery of limited amounts of deck and liquid cargoes to the drilling rig that heretofore required the use of a barge working in combination with the vessel.
These vessels are certified by the U.S. Coast Guard to serve the oil and gas industry.
Tidewater continues to acquire offshore tugs in the 4,200 horsepower and larger classes to meet the requirements for towing new jack-up drilling rigs due to come into Gulf of Mexico service within the next few years.
Although there are no current plans to add to the 218-foot, 10,000-horsepower towing-supply vessels in our fleet, we continue to remain alert to the opportunity.
These vessels were in demand in the North Sea in the decade of the 70s, and their resurgence awaits the step-up in construction of semisubmersible drilling rigs and consequent exploration and d e v e l o p m e n t of areas far offshore, in deep water or in harsh operating environments.
The f u t u r e also appears geared for work in frontier areas in addition to established oil-producing areas around the globe. The West Coast of Alaska, the Beaufort Sea, the East Coast of Canada, Argentina, China, and other areas yet to be opened to exploration, suggest continued strong utilization for higher-horsepower vessels in the Tidewater fleet.
The increase in opportunity also poses some problems. Our domestic industry continues to be beset by an increase in the number of passive investors who have risen to the bait of the investment tax credit and accelerated depreciation for the immediate benefit of the investor's personal tax situation.
This has resulted in lower levels of profitability in the U.S.
Gulf for publicly held vessel operators such as Tidewater.
However, recent changes have been proposed both in the qualification standards for Maritime Administration Title XI financing, and in the level of investment tax credit availability as part of President Reagan's "Economic Recovery Tax Act of 1981." If consummated, these changes will substantially erode the benefits that these limited partnerships now enjoy and should result in their decline.
Future opportunities for the Tidewater fleet are impressive on a broad scale. We close in on this new decade in industry progress confident of demonstrating good operating results, and also with high expectations, e n t h u s i a sm and excitement, not only for our marine business segment but for our other lines of business, too.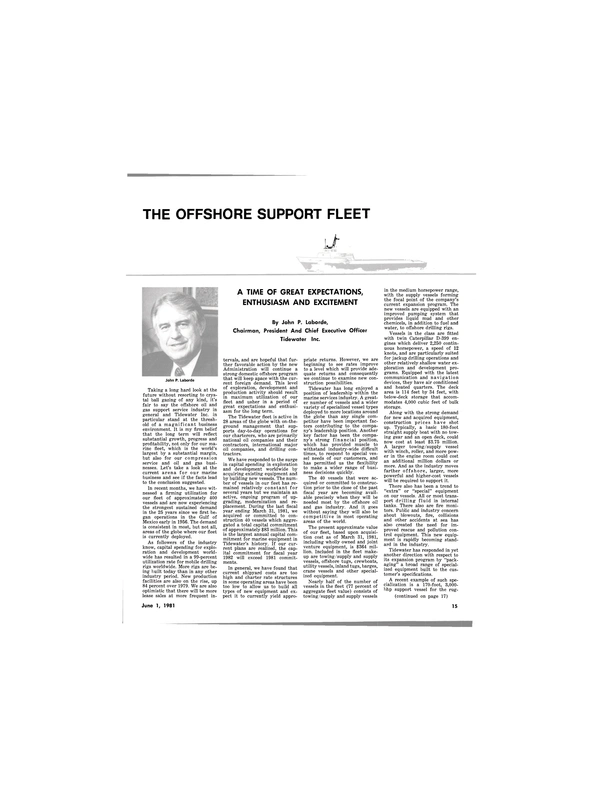 Read A TIME OF GREAT EXPECTATIONS, ENTHUSIASM AND EXCITEMENT in Pdf, Flash or Html5 edition of June 1981 Maritime Reporter
Other stories from June 1981 issue
Content