NASSCO Holds Christening For Second Ingram-Class Tanker
Christening ceremonies were held recently at National Steel and Shipbuilding Company (NASSCO), San Diego, Calif., for the M/V Hunter Armistead, the second Ingram-Class tanker built for American Tankships, Inc., a subsidiary of Ingram Corporation, New Orleans.
The vessel is the latest addition to the U.S.-flag Jones Act tanker fleet and is the final vessel planned for construction in the independent tanker fleet. As soon as the Hunter Armistead goes into service, Ingram Tankships, Inc., another Ingram Corporation subsidiary, plans to offer the ship for hire to major oil companies and the Military Sea Lift Command for transportation of crude oil and/or petroleum products.
The vessel is named for Hunter Armistead of Nashville, Tenn., who is chairman of Ingram's Insurance Division and is a member of Ingram's board of directors. His wife, Clare, served as the ship's sponsor. Mrs. Guilford Dudley Jr. and Mrs. William F. Earthman Jr. of Nashville, were matrons of honor. Mr. Dudley, a former U.S. Ambassador to Denmark, is vice chairman of the board of directors of Ingram Corporation and Mr. Earthman has just been named deputy chairman of the Ingram Group. Others participating in the ceremonies included C.
Larry French, NASSCO president; Cyrus E. Webb, Ingram Tankships president; Adm. Harold E. Shear, U.S. Navy (ret.), Maritime Department, U.S. Department of Transportation; and Alfred W. Lutter Jr. vice president of marketing for NASSCO.
The keel of the vessel was laid June 10, 1982, by Fred B. Baldwin, Ingram Tankships vice-president, who struck the initial arc.
C. Larry French, president and chief operating officer, represented NASSCO in the keel-laying cere- mony. The Hunter Armistead was launched January 29, 1983.
The Hunter Armistead is of a new NASSCO design and is 658 feet long, 90 feet in beam, with a draft of 36 feet. It will be a U.S.- flag ship, capable of carrying up to 300,000 barrels of refined petroleum and petrochemical products from U.S. refineries to distribution centers in this country. It will be powered by a Sulzer slow-speed diesel.
The vessel will also be a prime candidate for the transportation of Alaska North Slope crude oil and newly discovered offshore California crude. The vessel will incorporate the most modern equipment available and will meet the latest safety and environmental protection standards, including double bottoms, a clean segregated ballast system, an inert gas system, a sewage treatment plant, collision avoidance radar, and a backup steering system.
Cy Webb, Ingram Tankships president, stated that the Hunter Armistead is the type of ship the Department of Defense has said the nation needs in case of a national emergency. The military must have ships capable of entering strategic ports all over the world to deliver fuel and other petroleum products to support military campaigns. Utilization of ships larger than the Hunter Armistead is limited by depth and width restrictions existing in most ports and significant number of tankers of the size smaller to the Hunter Armistead are old and outdated.
In recent years, only a few ships the size of the Hunter Armistead have been built.
NASSCO has produced an average of three tankers a year over the past decade in addition to delivering an average of one vessel a year to the U.S. Navy.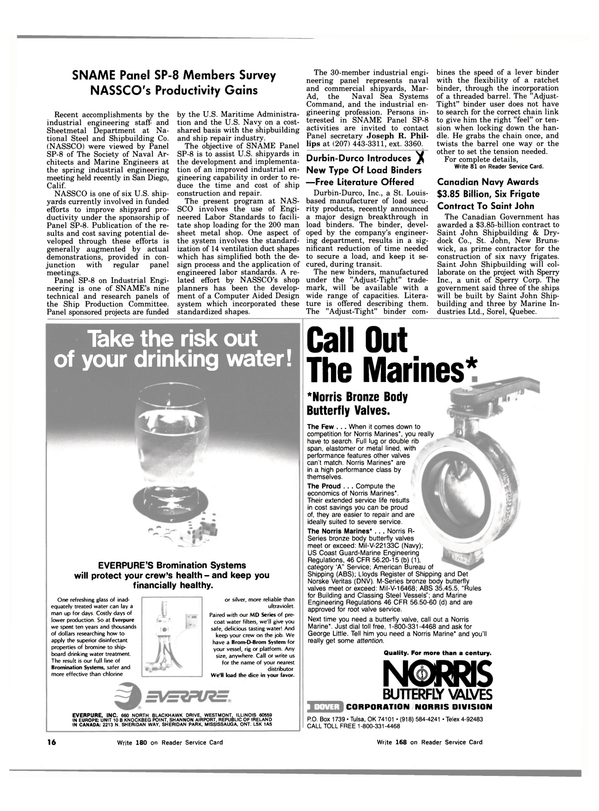 Read NASSCO Holds Christening For Second Ingram-Class Tanker in Pdf, Flash or Html5 edition of August 1983 Maritime Reporter
Other stories from August 1983 issue
Content