DECK MACHINERY A REVIEW
Faster, more efficient cargo handling reduces costs and increases profit opportunities for all vessel owners—inland, coastal and deepdraft.
To satisfy the changing needs of these cost-conscious customers, manufacturers of deck machinery and cargo handling equipment are continually improving existing equipment and introducing new models. Lighter weight, increased capacities, safer designs, automation, increased speeds and corrosion resistance are just a few of the areas of advancement.
We surveyed the major designers and manufacturers of cargo handling equipment to learn of their latest developments as well as their proven products. The following review on cargo handling is based on the replies we had received as we went to press.
Brochures and literature describing all of the products manufactured by the companies featured in this article are available free of charge.
FOR MORE INFORMATION If you wish to receive additional information on any particular products in the following review, write the corresponding reader service card number(s) on the reader service card in the back of this issue.
If you wish to receive information from all the manufacturers and suppliers of deck machinery included in this review, Write 20 on Reader Service Card AMHOIST Write 21 on Reader Service Card American Hoist & Derrick Company, St. Paul, Minn., designs and builds lifting equipment for every type of energy project. Standard marine cranes come in capacities of 30 to 3,000 tons; larger sizes can be custom-engineered for specific applications. Amhoist products range from huge barge- and shipmounted revolvers to the Sea Horse pedestal crane for materials handling aboard offshore oil rigs.
Lucker Pullers—linear hydraulic "cable grip" devices—can be used singly or combined in different ways for an endless variety of lifting, pulling, and positioning tasks.
Amhoist also manufactures American stiffleg derricks in many configurations and sizes for use on barges, ships, platforms, or gantries.
Representative of Amhoist's marine revolver cranes is the M-56 supplied to Bouygues Offshore, a French marine construction firm.
The crane, with a maximum capacity of 1,200 tons on the main hook, is mounted on Bouygues Offshore's new combination pipelaying/ derrick barge, the BOS-400.
The all-electric machine has 235 feet of boom, an auxiliary hook capacity of 350 tons, and a whip hook capacity of 75 tons. It will be ready for operation in early 1984.
APPLETON MARINE Write 22 on Reader Service Card A bulk commodities processing vessel working in the Mississippi River is employing three identical Appleton Marine winches to maintain vessel position during cargo transfers between supply barges and ocean-going bulk carriers.
The electrohydraulic, selfcontained winches have line pull capable of up to 140,000 pounds at infinitely variable speeds of 30 fpm. The Appleton winches can operate as automatic constanttension units or can be switched to manual operations as required.
Both modes can be achieved at the winch or at a central control room.
In addition, the winches provide greater user flexibility in that both the line pull and line speed are infinitely variable from zero to the maximum in any combination.
Appleton (Wis.) Machine Company's Marine Division designs and manufactures a wide range of marine cranes, winches, and deck equipment that are in accordance with the requirements of the USCG and the major classification societies.
Appleton has also added hydrographic launch and recovery systems to its extensive product line which includes offshore mooring winches and anchor windlasses, oceanographic winches, and deck fittings, knuckleboom cranes, diving support winches, and mooring systems control consoles.
BEEBE INTERNATIONAL Write 23 on Reader Service Card Beebe International, Inc., Seattle, Wash., offers a series of high capacity air chain hoists that represent an important advance in the air powered hoist industry.
These unique air chain hoists range in capacities from 10 to 50 tons and are powered by a radial piston air motor which provides increased reliability and longer life.
Primary applications for the Beebe hoist include BOP handling systems for the drilling industry and individual hook mount units for the shipbuilding and ship repair industries.
The hoists are very lightweight and compact in design. They also are fitted with lifting lugs which permit easy installation and relocation of all available models. The 7/8-inch chain on all models allows for fewer chain falls than other conventional hoists.
An inherent advantage of air powered units is that they may be operated in explosive environments and the motor will not overheat and burn up.
The horsepower and lifting speed of Beebe's air chain hoists provide more power per unit weight than other hoists. Each of the units is also available with hydraulic motors.
Beebe also recently introduced a low-profile electric barge winch available with a 25-ton dog holding capacity. It has a line speed of 50 feet per minute. The simple design reduces component wear and tear, and also provides for major parts replacement without moving it. The unit can be controlled from the deck or remotely from the pilothouse.
BLOHM & VOSS Write 24 on Reader Service Card The winch series offered by Blohm & Voss A.G. of Hamburg, West Germany, comprises large winches of high pulling power and heavy unit weight for applications in the offshore industry, for heavy lift operations, and for use on floating cranes and crane barges.
The company is represented in the U.S. by Blohm & Voss Co., of Springfield, N.J.
The Blohm & Voss winches and windlasses can be powered by AC electric or DC traction motors, hydraulic motors, or diesel engines with torque converter. The winches are designed according to local or customer requirements in accordance with the applicable requirements of the classification societies.
Winch control for speed, engagement of drums, drum dogs, wildcats, brakes, and couplings of Blohm & Voss positioning winches can be effected at the winch from a control console or from a centralized master control.
Blohm & Voss drum winches can be equipped with drum grooves or with a reliable level wind system which is chain driven from the drum with a tension measuring system, line counter, and line speed meters.
B&V also offers other deck equipment such as chain stoppers, chain and rope fairleads, deck or underwater mounted tension measuring systems, deck sheaves, and Kampnagel shipboard cranes.
Kampnagel shipboard cranes are of the four-rope grab type. The arrangements of the cranes—they are mounted on an undercarriage which traverses on a longitudinally traveling portal—provides an optimum operating range over the ship's length and over both sides.
The grab hoist gear is specially designed to ensure filled and securely closed gears without timeconsuming readjustments and slack rope. The cranes are electrically driven with a power consumption of about 760 kva for two cranes.
The cranes have an outreach of 10m and a lifting capacity of 16 tons during grab operations and 20 tons for general lifting at 16m radius and 25 tons heavy lift at 10m radius.
BRADEN WINCH CO.
Write 25 on Reader Service Card Braden Winch Co., of Broken Arrow, Okla., a Division of Paccar Inc. is now marketing the second generation of planetary hoists titled the "CH" series.
The "CH" series is four planetary hoists with capacities from 15,000 lbs. to 23,000 lbs. These hoists are offered with four motor options—three single-speed motors and the Braden two-speed motor.
The motors have improved starting efficiencies to 84 percent, and the two-speed motor can be shifted on the fly.
The following features have been incorporated in the Braden "CH" series hoists: lower minimum motor speeds—200 rpm for the single- speed motors and 150 rpm for the two-speed motor, anti-friction bearings throughout which improve the hoists' starting efficiency (less motor) to 93 percent; longer life; longer duty cycle; smoother spooling; reduced noise level; improved brake valve stability; improved brake clutch assembly; and faster line speeds.
The accessibility of motor bolts, brake discs, wire rope anchor and fill, level and drain plugs makes the "CH" series more easily serviceable.
Maximum interchangeability of parts results in lower parts inventory to service all hoists in the series.
CLYDE Write 26 on Reader Service Card Clyde of Duluth, Minn., a unit of AMCA International Corporation, has redesigned its popular line of medium-capacity winches, frame 4 through frame 8 series, As a Component: Signal-conditioned, 2-wire, 4-20 ma DC output.
As a System: Supplied with display receiver modules.
achieving greatly improved performance ratings in anchor/mooring service.
This series of winches spools wire rope in the 3/s+ diameter through l-Vi-f- diameter sizes and withstands first layer stall pulls in excess of 50,000 pounds. The winches may be powered by diesel or gasoline engines, or electric or electrohydraulic motors. They are available as single drum units, or as two, three, or four-drum units in waterfall configuration. For effective corrosion resistance the winches are prime coated with inorganic zinc, with a finish coat of marine epoxy enamel.
The literature on Clyde frame 4 through frame 8 winches includes data on wire rope size, drum dimensions, spooling capacities, drum clutch and drum brake specification, as well as dimensional drawings and typical performance data for anchor/mooring service.
Clyde frame 4 through frame 8 winches are available through the 48 contiguous United States from Hydraulic Power Systems, Inc., Kansas City, Mo. In addition, HPSI handles Clyde car pullers and barge movers. HPSI offers full service, dedicated to every phase of the business—sales, rentals, parts, and service.
CONMACO Write 27 on Reader Service Card Amcon air-controlled hoists are an exclusive with Conmaco, Inc. of Kansas City, Kan. The flagship of the line is the Amcon 6250, which handles up to 12,000 feet of 3-inch wire rope.
Also new to the 7-hoist Amcon lineup is the Amcon 150. This versatile hoist will handle wire rope up to 1-inch and delivers up to 35,000 pounds of line pull. It has proven itself to be well-suited for anchor-handling applications on small vessels and supply boats, or for mooring small barges on inland waterways.
Conmaco also recently introduced a line of deck-mounted fairleaders, each with the rugged construction to withstand the breaking strength of indicated wire rope.
Bearings in the barrel and sheaves are engineered for long life and dependability, even under rapid or severe changes of lead.
New to the Amcon line of winches is the 20C Hydraulic winch with a line pull of up to 40,000 pounds (1-inch wire rope) and spooling capacity of 1,434 feet. An important feature of this winch is that each drum is fitted with a friction clutch allowing the drums to "free wheel" independently.
In addition to a full line of aircontrolled winches, fairleads, deck guide sheaves, and chain handling equipment, Conmaco also offers rental, sales, and service on hydraulic continuous pull machines with CPL as high as 1.5 million pounds.
CROSBY GROUP Write 28 on Reader Service Card A 180-page, full-color catalog is available from The Crosby Group, a Division of Amhoist, which is comprised of Laughlin®, Lebus®, McKissick, National, and Western.
The companies manufacture every conceivable kind of fittings and accessories for deck machinery, cargo handling and other applications, including forged fittings, hooks, blocks, sheaves, pulleys, load binders, chain, etc.
The catalog describes all of the products of all divisions in full detail with photos, detailed drawings, all measurements, and full specification charts.
McKissick products, a division of the Crosby Group in Tulsa, Okla., now has new Roll Forged Sheaves available in the most complete range of sizes from 12 through 72 inches. The sheaves are an ideal choice for original equipment in self-unloading systems and as replacements.
McKissick sheaves are forged from controlled quality 1035 carbon steel which provides excellent welding and flame hardening characteristics. All incoming steel is tested by chemical and spectrographic methods to insure consistently high quality.
Steel sheaves have excellent flexibility when choosing bearings and also provide better cold weather properties than nylon sheaves.
Crosby links and rings are manufactured in a complete line of sizes and types for almost any application, with working load limits from 1,600 to 232,500 pounds.
Lebus products include lever and ratchet type load binders, grab hooks and tail chains, snatch blocks, and hook latch kits. Mc- Kissick specializes in custom designed blocks to any specification, oil field blocks, crane and hook blocks, overhaul balls, swivel hooks, and snatch blocks, as well as many other products. Western manufactures sheaves and sleeves, wood and steel blocks, and cargo blocks and fittings, just part of its extensive product line. National's product line includes steel swaging sleeves, duplex sleeves, swage buttons and furrules, as well as swaging presses in capacities from 500 to 3,000 tons.
DYNAMIC AIR Write 29 on Reader Service Card Dynamic Air, Incorporated, St.
Paul, Minn., is presently participating in the design, manufacture, and installation of dense phase pneumatic conveying equipment to transfer 2-inch and down stoker grade coal from the primary coal storage bunker to a service bunker above the boiler at the inlet of the stoker equipment.
Coal is gravity discharged out of the primary bunker into the blow tank or transporter. The transporter— which is an ASME coded, National Board Certified vessel— is then sealed and pressurized with compressed air. The coal is pushed out of the vessel and into the conveying line and moves through this line until it arrives at a receiving bin above the service bunker. The coal exits the receiving bin, passes through a crusher which reduces the 2-inch lumps to a maximum of IVi-inch, and then enters the service bunker.
Dynamic Air's patented Dynachek2 booster fittings are provided at strategic locations along the conveying line. These air injection points serve three vital functions: they apply the air, or motive force, at the vessel and across the material in the conveying line to help reduce the resistance that would normally be experienced by a nonbooster design system where all of the force or air is put into the blow tank at the origin of the system.
This optimizes air consumption.
They help balance the system resulting in controlled material velocities, yielding less wear on the convey line components; and they provide optimum reliability. Should the ship experience an electrical failure or a compressor failure, causing the system to stop during the middle of a conveying cycle, the boosters would allow the easy restart of the system after the malfunction has been corrected.
EMMI-PUSNES Write 30 on Reader Service Card.
Pusnes was founded in 1875 as a shipyard and started deck machinery production in 1890.
Today, Pusnes is one of the few companies in the world concentrating on the development and manufacture of all types of deck machinery for mooring systems used on a broad range of floating equipment. When you board a 540,000-dwt ULCC you will find Pusnes steam deck machinery.
Looking closer at the windlass on any of these large tankers you will notice up to 1,000-hp disc brakes used to drop the anchors under finger tip control. Visit a semisubmersible on a drilling station and you will find Pusnes mooring systems for chain, chain-wire combo, or all-wire and moored in depths up to 3,500 feet. Systems for greater depths and hostile environments are under development today.
Pusnes also manufactures mooring equipment for smaller coastal ships, barges, tugboats, offshore supply boats, pipe-laying barges, and similar vessels.
Minimum crew and safety are Pusnes trademarks. The unique roto-bollard for mooring rope handling is a typical innovation.
Mooring systems for chain, cable, and rope employ steam, electric or hydraulic drives. The equipment can be local or remotely controlled and, when necessary, the mooring forces constantly monitored.
Pusnes is part of "SUBTECH" Norway, a firm developing complete diving systems which employ diving bells, underwater vehicles, bell winch systems, divers gas recovery systems, external life support systems, and the "Hyperbaric" saturated divers lifeboat.
Concern for offshore personnel resulted in the development of "Pudes," the controlled extendable protected gangway for dry evacuation.
Pusnes has a joint venture company in Japan, Nippon-Pusnes, and both are represented in the U.S. by EMMI Corporation, of Flemington, N.J.
FMC Write 31 on Reader Service Card A 22-page full-color guide describing Link-Belt's crane and excavator line is being offered by FMC of Bannockburn, 111.
The guide discusses FMC's crane operations, engineering and research programs, and the manufacturing and testing programs for structures and components. Within each of eight categories of Link- Belt cranes, such as pedestal mounted hydraulic offshore cranes, is a model number and specifications.
The specifications include capacity stated in tons and metric tons; capacity at 50-foot radius; maximum crane boom; main drum line pull/line speed for three speeds; and overall length, width, and working weight.
FMC has added a 33-ton (29.93 mt) capacity API-65 to its Seahawk series of Link-Belt® hydraulic offshore cranes. The lightweight 25,000-pound API-65 is specially designed to perform all the material, equipment, and personnel lifting required on offshore oil production platforms and drilling rigs, and meets API-2C (1982) specifications.
The API-65 features pin-connected components that permit fast modular erection and easy maintenance.
The heaviest component weighs just 7,200 pounds. The compact design features a 7-foot 7-inch tailswing with onboard engine and cab, and an overall height of 14 feet 7 inches reducible to 8 feet.
A maximum API rating of 34,200 pounds is achieved with a 50-foot boom at 30-degree radius, best in its class. Superior load handling speed is provided by a matched engine, 3-section pump and winch combination that develops 300-450- fpm maximum line speed with 12,600-pounds maximum line pull on main or auxiliary drums. A horsepower limiter prevents engine stalling due to excessive loads.
Especially designed for easy maintenance and serviceability, the API-65 hydraulic crane features a minus 20-degree boom angle permitting access to head machinery; full access to both sides of the engine; hydraulic filters with visual indicator; pumps all grouped behind the cab; eye-level winch location; replaceable bushings in frame and boom foot; fold down bail; replaceable fuel and oil tanks; and cadmium plated bolts and stainless steel pins. A 3/16-inch plate operator cab permits repeated blasting and repainting.
The API-65 is mounted on a cy- lindrical pedestal base 13V2 inches high and 55 inches in diameter with IVi-inch wall thickness. The A-frame structure is reinforced steel plate with a support frame for main and auxiliary load hoist drums and boom hoist drums. The ball bearing turntable has a 55- inch pitch diameter with an internal ring gear. Inner and outer bearing races are bolted 360 degrees on the mounting plate.
GEARMATIC Write 32 on Reader Service Card Gearmatic Co. of New Westminister, B.C., Canada, a division of Paccar of Canada, Ltd., has pioneered many new features in hydraulic winch design such as planetary gearing, totally enclosed construction, automatic breaking, single lever control, mechanical two-speed, and free fall.
Every Gearmatic hydraulic winch and hydraulic drive is virtually custom-built to meet specific performance needs, based on proven modular designs and assembled at the factory from a wide selection of optional features. Representatives of the range of offerings is Gearmatic's model 54 threespeed hydraulic planetary hoist.
The model 54 provides speed and flexibility in operation without sacrificing the qualities of simplicity, dependability, and long-life that are hallmarks of Gearmatic.
The model 54 features line pulls up to 56,000 lbs., line speeds of up to 474 fpm, a three-speed power shift, gear changes that can be made under load and with the cable drum in motion, built-in automatic safety brake, and the complete drive train totally enclosed sealed, and running in oil. Options include various cable drum sizes, hydraulic motors, gear ratios, and Gearmatic's free-fall capability.
The model 54 is a result of Gearmatic engineers sophisticated testing both in the lab and in the field that proves out new designs, refines production models, and develops new applications for many industries—including fishing, offshore exploration, oil and gas pipeline, marine, and dock installations.
Gearmatic hydraulic winches and drives are sold and serviced throughout the U.S., Canada, and worldwide through a network of distributors convenient to maritime centers. They offer technical assistance, service, and parts.
HIAB Write 33 on Reader Service Card HIAB Cranes & Loaders, Inc. of York, Pa., offers five models of its well-known hydraulic deck cranes.
Features and capabilities of HIAB Sea Cranes include ease of operation, light weight, maneuverability, load control and precision placement, compactness, low operating height, horizontal outreach and load carrying capacity, and corrosion resistant construction.
Trim and compact in design, they do not require guide ropes, cables or hand-operated winches to handle. They take up little space and can be mounted anywhere on a boat deck. HIAB cranes are easily operated by one man using positive, direct hydraulic controls.
The crane's movements are fast and smooth due to the highpressure hydraulic system.
On smaller boats, the lightweight feature permits a bigger cargo payload. The cranes have a flexible elbow between the main boom and outer boom, and a telescoping extension boom. (The cranes rotate up to 410 degrees on some models.) These features provide exceptional maneuverability and the capability for lifting heavy loads close in or at maximum horizontal reaches. Outer booms provide a firm, rigid support for the cargo hook. In conjunction with the flexible elbow, this provides steady load control and the ability to precisely spot the load. The cranes fold down into a compact configuration with a low center of gravity that will not affect vessel stability and provides more cargo space on the deck.
HIAB hydraulic cranes are specifically manufactured for maritime use. Protection against sea and salt corrosion is ensured by the extensive use of galvanized components, waterproof fittings, nickel chrome-plated boom cylinders, and special marine coatings.
Available in various models with different outreaches and loadcarrying capacities, HIAB hydraulic marine cranes can be fitted with a wide range of standard HIAB mechanical or hydraulic attachments.
A.C. HOYLE Write 34 on Reader Service Card The A.C. Hoyle Company, Iron Mountain, Mich., has been a major supplier of deck machinery and deck fittings to the marine industry for vessel, offshore, dockside, and barge use for nearly a quarter of a century. Unique and special equipment design problems are always welcomed as a new challenge by the A.C. Hoyle Company. As may be required, designs will be approved by regulatory bodies such as ABS and the U.S. Coast Guard.
A.C. Hoyle Company offers a complete product line of marine deck equipment including anchor windlasses, constant tension mooring winches, mooring winches, topping and vang winches, barge haulage winches, towing winches, accommodation ladder winches, capstans, cranes, W. T. bronze master switches, fairleads, chocks, and bitts to both the commercial and naval markets.
Although equipment can be built to numerous existing designs, the company specializes in custom building to customer specifications.
A.C. Hoyle Company personnel are available to assist their customers from early preliminary design stages throughout final design, installation, and test. Major consideration is given to providing the best equipment available to meet the customer's requirements at an affordable and competitive price.
Winches, windlasses, capstans, and cranes are available with all electric (A.C. or D.C.), electrohydraulic, hydraulic, static D.C., or diesel drives. All deck equipment, including fittings, is available in conventional steel construction as well as stainless steel and aluminum. Construction is always of the highest marine standards.
JERED BROWN BROS.
Write 35 on Reader Service Card Jered Brown Brothers of Birmingham, Michigan, is a major supplier of marine equipment, including deck machinery on naval and merchant vessels in the U.S.
and abroad. Products include: anchor windlasses, capstans, deck cranes, deck edge elevators, special deck machinery including nonmagnetic construction on vessels including FFG-7 class frigates, Nimitz class aircraft carriers, and minesweeper classes.
Jered Brown Brothers also offers steering gears, controllablepitch propellers, bow thrusters, watertight doors, thrust and lineshaft bearings, cargo and passenger elevators.
In addition to the manufacture of new equipment, Jered Brown Brothers maintains a complete and separate facility to supply replacement parts for the broadest spectrum of marine machinery.
Included in the hundreds of thousands of available items are parts for deck machinery, steering gears, elevators, sewage treatment plants, to name a few. Names such as Jered Industries, C. H. Wheeler, American Engineering and Baldwin- Lima-Hamilton are included in the list of companies whose replacement parts are available.
HAGGLUND Write 36 on Reader Service Card AB Hagglund & Soner, one of the world's leading manufacturers of marine deck cranes, is a wholly owned subsidiary of the worldwide ASEA Group. Represented in the U.S. by ASEA Stal-Laval Inc., Hagglunds has become well known in the U.S. market through the extraordinary design, performance, and durability of electro-hydraulic G-type cranes. The "G" crane, with 20 to 60-ton capacity and outreach up to 30 meters, is available in single, twin, or team arrangements.
Twenty-four years of crane experience with over 4,000 cranes on the seven seas, coupled with depth of engineering and cargo handling know-how, has resulted in new designs which now complement the G-type crane. Cranes such as the new 25-ton "K" crane, a 4-rope grab crane with all machinery located inside the weatherproof crane house, have recently been manufactured, tested, and delivered from Hagglunds.
Hagglunds product program also incorporates "H" and S-type cranes.
The "H" crane has a capacity of 12-16 tons, the "S" crane 2-10 tons. "S" cranes are available in a variety of arrangements, including fixed or articulated jibs for cargo service such as hose handling on tankers. A very unique S-type crane, the SVC 10X20, has a 10-ton capacity, 20-meter outreach.
This sizable outreach allows one hose handling crane to service both sides of a ship.
The "S" crane is also available in a number of special designs, e.g.
explosion proof and arctic design, suitable for operation in conditions down to minus 40 degrees centigrade. Hagglunds arcticcondition service cranes come equipped with a fully enclosed, heated operator's cab.
Hagglunds hydraulic service cranes are designed to be simple and robust. Each crane is delivered as a complete unit, fully tested and ready for installation on a pedestal or other suitable foundation. Hagglunds has complete resources to assist with the installation of the cranes and a worldwide service organization that insures economy.
HYDE PRODUCTS Write 37 on Reader Service Card Hyde Products, Inc. is a leading supplier of ship's deck machinery and steering gear, serving the marine industry since 1865. Originally founded as the Hyde Windlass Company in Bath, Maine, Hyde today is headquartered in Cleveland, Ohio.
Equipment offered by Hyde includes steering gears, steering systems, vertical and horizontal anchor windlasses, constant tension mooring winches, cargo winches, special purpose winches, capstans, mooring chocks, vacuum and compressor systems, and oil/water separators.
While Hyde has a standard product line, custom-designed machinery is its specialty.
In addition to equipment manufacturing, Hyde offers replacement parts and service capabilities. Hyde maintains complete microfilm files of original equipment drawings to provide replacement parts that exactly match original specifications.
Hyde also supplies parts made to customer specifications.
Experienced Hyde service personnel perform installations, repair, and overhaul work worldwide.
Hyde has recently been contracted by the Naval Regional Center in Long Beach, Calif., to build a 2-speed, 20-hp boat winch for the USS Fox (CG-33).
Hyde has recently begun delivery of a series of steering systems and windlasses to the South Korean Navy. Hyde's contract is for the design and manufacture of steering systems, rudder angle indicating systems, and vertical anchor windlasses.
The anchor windlasses are single wildcat vertical types powered by a multispeed electric motor through triple reduction gearing.
The units feature a low abovedeck profile, with the speed reducer, motor, brake, clutch, and controls below deck, protected from weather.
The steering gears are of the basic two-cylinder link type.
Through the innovative application of modern electronic and fluid power technology, many of the traditional intricate and cumbersome mechanical components have been eliminated. The net result has been a significant reduction in cost and weight without the sacrifice of operational performance or reliability.
The hydraulic power units feature multistage fixed displacement pumps controlled by a system of flow, pressure, and directional valves which regulate speed, direction, and regenerative horsepower.
The system is designed to meet current IMO standards and is totally redundant in that each of the power units will develop full speed and torque requirements.
The steering gears are built as duplicates of previous machines and utilize more conventional designs to maintain interchangeability with the originals.
INTERCON Write 38 on Reader Service Card Intercontinental Engineering- Manufacturing Corporation (INTERCON) of Kansas City, Mo., has recently added to its existing product line of large towing and mooring winches a series of smaller waterfall configuration mooring winches.
The new series of winches are intended for the requirements of barge and supply vessel mooring needs in the construction and oil field markets. Power source options include diesel, hydraulic, and electric—all designed specifically for the offshore environment. The winch series will handle mooring lines ranging from l-Vs inch diameter thru l-3/» inch diameter. The units are available for lease or immediate purchase.
KOCKS CRANE/ SALZGITTER GROUP Write 39 on Reader Service Card Having established itself as a designer and constructor of con- tainer cranes for seaports, the Kocks Crane and Marine Company (KCM) of Pittsburgh, Pa., has concluded an agreement with one of the Salzgitter Group of companies for supplying all of its bulk materials handling products for the U.S. market. The new venture will be identified as Salzgitter- Kocks Bulk Systems and will operate as a division of KCM.
Richard W. Theobald, executive vice president of KCM, plans to expand the firm's container crane activity and further develop KCM's interests with the major port authorities around the U.S. through bulk handling projects.
Market areas being looked at are seaports, inland terminals, utilities, and general bulk commodities terminals including cement and grain industries. The company's diverse product line includes every conceivable material handling and storage system . . .
pneumatics, belt conveyors, mining, ship loading/unloading, indoor storage, and stacking and reclaiming.
LAKE SHORE Write 40 on Reader Service Card Among the noteworthy applications of deck cranes from Lake Shore, Inc., Iron Mountain, Mich., were the cranes installed on the Moore McCormack Lines ship conversion performed by American Ship Building, Tampa, Fla., and Lorain, Ohio Divisions. These cranes, rated at 40 metric tons at 65.5 feet radius, are all electric, utilizing solid state SCR controlled General Electric D.C. drives.
They have both wide boom tips and tagline winches to reduce load pendulation and were manufactured in Iron Mountain under license from Clarke Chapman Marine— U.K. The first shipset of three cranes was designed and delivered in less than 12 months.
In addition, Lake Shore designs and manufactures a full line of deck machinery, including mooring, cargo, hose, topping, anchor handling, and traction winches; anchor windlasses, life-boat davits; and cranes for cargo handling, hose and stores handling for ocean, Great Lakes, offshore or Navy applications.
Types of drive systems supplied include hydraulic, electro- hydraulic, diesel, static D.C., wound roto A.C., and variable frequency A.C.
Lake Shore specializes in custom designed machinery to meet customer specifications.
McELROY MACHINE Write 41 on Reader Service Card McElroy Machine and Mfg. Co., Inc. of Biloxi, Miss., began furnishing deck machinery to the offshore workboat industry in early 1980. The company now has three very successful years and has machinery working in all parts of the world.
The latest additions to Mc- Elroy's standard line of anchor windlasses, anchor winches, capstans, and towing winches is a line of self-contained electrohydraulic tuggers and a line of stern rollers.
The hydraulic tugger is manufactured in a 5-ton line pull model and a 10-ton model. A 15-ton and 20-ton model are on the drawing boards for the future.
The stern rollers are manufactured as a standard model or a heavy-duty model. Custom sizes are also available upon request.
Some of the latest installations have been hydraulic tuggers aboard the last Nicor Boat built at Moss Point Marine in Escatawpa, Miss., anchor windlasses for the Gulf Fleet boats being built at St. Louis Ship, and the Gulf Fleet boats being built at Quality Shipyards in Houma, La.
Additionally McElroy Machine is furnishing the capstan and vertical capstan/windlasses for the split hopper dredge being built at Southern Shipbuilding, Slidell, La., and the vertical capstans for the landing craft being built by Champion Swiftships of Pass Christian, Miss.
McElroy Machine has a complete engineering and design department to assist with special or custom specifications and machinery.
MARATHON LeTOURNEAU Write 42 on Reader Service Card Marathon LeTourneau Company introduced its new line of marine pedestal cranes with solidstate electronics at the 1983 Offshore Technology Conference.
The three new solid-state cranes are: the 50-ton-lift-capacity PCM- 120SS; the 55-ton-lift-capacity PCM-220SS; and the 75-ton-liftcapacity PCM-350SS. All three can be supplied with standard and optional features that make it easy to tailor the cranes to perform all the materials, equipment, and personnel lifting requirements of offshore drilling platforms.
All three cranes have a single AC power source rather than a motor-generator arrangement. Microprocessors rather than electrical switch gear control power flow to all drive motors. Since each electric motor is individually and precisely controlled by means of solid-state technology, the new cranes function with a high degree of efficiency, offer faster lifting speeds with loads, and feature smoothness of operation. The solidstate controls also provide precise control of current flow, voltage, and operating temperatures. These factors translate into extended service life and minimum required maintenance for motors, gears, and other moving parts.
Electrical power requirements for all three solid-state marine cranes are the same: standard commercial 600-volt, 60-Hertz, 3-phase, 500-ampere external supply.
An integrated solid-state S.C.R.
control system provides DC power to each drive system. Peak power requirement, under maximum load, dual function, 20-minute continuous duty with DC dynamic braking, is 250 KVA at 0.7 power factor.
All three cranes have regenerative electrical braking during lowering operations. In addition, there is a multiple disc "fail-safe" holding brake for each function which is automatically activated when a particular function is completed.
In addition, brakes are also automatically applied if power supply is interrupted.
The power system for all three cranes consists of Marathon Le- Tourneau N-7 DC electric motors with N drivers for hoist and lifting functions. A D-10 electric motor with # 5 gearbox provides power for crane swing on all three units. Remote control is standard on all three cranes, with controls terminating at a spring-centered, infinitely variable potentiometer controller located at the operator's station. All three cranes can be supplied with an operator's cab as an optional item.
MARCO Write 43 on Reader Service Card Marco of Seattle, Wash., celebrating its 30th anniversary in 1983, continued its tradition of continual improvements in its lines of deck machinery during the past year. Best known for its worldwide marketing of the Puertic Power Blocks and other fishing deck machinery systems, the company is also the world's largest producer of oil skimming vessels.
In addition to improvements made to existing products, Marco introduced three new pieces of fishing deck machinery recently.
First was a new aluminum longline drum, used in a variety of longline fisheries on both coasts of the U.S. and Canada, as well as in other areas of the world. The hydraulically powered drum features gear drive that makes it powerful enough that no secondary hauler is required. The new unit also features a diamond-screw levelwind and a unique declutching motor and adjustable drag brake to controll freewheeling speed.
Marco's San Diego-based subsidiary, Campbell Industries, this year introduced a long-needed product for the world's high-seas tuna purse seine fisheries. Its new purse block for large superseiners is larger and yet 50 percent lighter, at 210 pounds (95 kg), than any other block of its capacity (20T/18mt).
This new, stronger block features a spring-loaded grease reservoir to automatically maintain lubrication under load, eliminating the problem of bearing failure due to inadequate lubrication. The design also handles 1-inch (25 mm) connecting links through its throat, which are necessary to handle the heavier loads on %-inch (22 mm) purse lines with 1-inch center piece.
The most recent introduction by Marco was its unique line of FoamFlo fish pumping systems.
Designed to meet the particular needs of the salmon and herring fisheries, the FoamFlo was developed with its chief goal being fish quality. The challenge has been to develop a pump that could handle great quantities of product, and yet treat both small and large species - without damage. With its unique combination of injected water and air creating flow, FoamFlo answers this important challenge.
There are no impellers, venturi chambers, valves, or changes of flow direction to damage product.
FoamFlo operates without cycling and maintains an uninterrupted flow of product from suction to discharge.
One of its unique features is its ability to operate submerged in a pursed net or flooded tank, as well as on the surface of a dry hold.
MARKEY Write 44 on Reader Service Card Markey Machinery Company, Seattle, Wash., has been adding to its production capability, to better handle the larger wires and chains which are following the increases in vessel and rig size. A heavy duty long-bed lathe with a 100- inch swing is newly in service, and a horizontal boring mill with increased head travels and a much larger table is being set up.
A Markey side-by-side double drum diesel towing winch to handle 5,000-ft. and 3,000-ft. of 2Vzinch wire is under consideration, and double drum units with foreand- aft drums are being offered. A recently installed 2-inch single drum towing winch provided an under-slung wire lead—an arrangement feature which was selected with vessel stability rules in mind.
The oceanographic community is expressing renewed interest in research winches utilizing SCRpowered D.C. drives for their excellent speed control, wide speed range, regenerative payout, low noise and long term reliability.
Research wires and electromechanical cables are growing in diameter. This demands larger drums with tremendous scantlings to resist the spreading forces, as well as larger sheaves to extend the life of the EM cables.
Deepwater high-speed lowering of very heavy anchors is presenting a design challenge which involves multiple brakes, disc brakes, regenerative drives, and high capacity retarding systems. Remote windlass controls and remote monitoring systems are becoming increasingly sophisticated and demanding.
The Markey Machinery Company was founded in 1907.
NABRICO Write 4 5 on Reader Service Card An all-new electric winch designed for long life, easy maintenance and dependable service and an "easy-to-get-off" cast utility twist lock flush hatch are among the latest developments from Nashville Bridge Company (NABRICO) of Nashville, Tenn.
The electric winch is designed for use on towboats or for any sort of intermittent winching operation requiring a large holding capacity.
It has a 10-ton pulling capacity and a 40-ton holding capacity.
An oversized brake ensures that the NABRICO winch will hold its rated capacity of 40-tons. And a back-up mechanical locking paw can be used to hold the rated capacity in case of brake failure. The NABRICO electric winch has a free-wheeling feature to allow faster cable pull out. Ball bearings on the highspeed shaft and the precision machining of the side plates and shafts add to the overall efficiency of operation and life of the electric winch.
The winch is powered by a 5-hp motor. It requires only a simple power lead connection to begin operation.
All necessary controls are supplied by NABRICO with the winch. In addition, the company stocks all replacement parts to ensure customers minimal down time should any repairs become necessary on the electric winch.
The new cast twist lock flush hatch is designed especially for use by companies involved in the transportation of solid materials, such as rock and gravel or coal.
Suitable for any hopper or deck barge application, the cast hatch is sturdy, durable and easy to maintain. Its simple twist lock operation ensures that the hatch will remain easy-to-get-on-and-off for many years.
Headquartered in Nashville, NABRICO is a wholly owned subsidiary of The American Ship Building Company, Tampa, Florida.
The company has been in the marine field for more than 60 years and is primarily concerned with the design, engineering, and construction of grain and coal barges, deck barges, liquid tank barges and cement barges for river and ocean service as well as drydocks and towboats.
With plants in Nashville and Ashland City, Tenn., Nashville Bridge Company is a major supplier of marine deck hardware to the entire marine industry. The company pioneered in the design and construction of much of the modern equipment used on rivers today.
NATIONAL CRANE Write 46 on Reader Service Card National Crane's pedestalmounted cranes are cost-efficient lifting systems for shipboard, dockside, and other marine uses.
A wide selection of boom lengths and capacities are available from the 28-foot reach and 10,700-pound capabilities of the Marine 200 to the 75-foot length and 34,000- pound maximum capacity of the 800.
A new addition to National's already popular line of marine equipment is the 400, a mediumduty crane with lighter boom sections and increased capacity.
Each crane from the Waverly, Neb.-based company is built to rigid specifications and strict quality control standards for years of profitable service in harsh marine environments. National Crane booms are built stronger and lighter with box-section construction of high-strength, low alloy steel to handle heavy loads. The sequential extension of the telescoping boom sections interlock for strength and long reach, up to 75 feet. All cranes are fully marine conditioned by a process that includes sand blasting of all external surfaces, an inorganic zinc primer coat, followed by paint and covered with a durable chlorinated rubber topcoat. National turret drives are specifically engineered for fast, smooth controlled slewing and minimum maintenance.
Four models of telescoping marine cranes are available to jobmatch the best crane for particular lifting needs.
The Marine 200 is an inexpensive, shorter radius machine for use on smaller boats and barges, in general purpose dockside and terminal work, and on offshore platforms. The 200 is ideally suited for many jobs where larger capacity cranes prove inefficient, while still providing the workhorse capabilities of a reach up to 28 feet and maximum capacity of 10,700 pounds.
The National 400 and 600 series provide increased reach and capacity for bigger jobs with maximum reaches of 55- and 56-feet, and load capacities of 16,000 and 25,000 pounds, respectively.
National's 800 series offers some uniqueness in marine applications because of its four-section hydraulic extension capabilities up to 75 feet and 34,000-pound capacity.
Heavy-duty construction and tough planetary drive rotation mean more work-time and less down-time, even under extreme duty.
NATIONAL SUPPLY COMPANY Write 47 on Reader Service Card A cargo-handling barge has been designed to accept a National Supply Company continuous lift jacking system which enables operators to readily convert the barge into a stable platform for loading and unloading.
The barge uses a rack-andpinion jacking system originally developed by National for offshore drilling rigs and production platforms, said Bruce Dawson, engineer for National's marine equipment.
With the "legs" jacked up, the barge retains its mobility and can be easily transported between shipyards. Once in location, the barge can be jacked up to create a stable platform at various dock levels.
Mr. Dawson said the jacking system has a "smooth continuous lifting movement." The system uses an arrangement of horizontally opposed pairs of pinions which provide positive engagement with a precision-torch cut, double-sided rack.
The National jacking system has been used in 18 different rig designs and is offered by more than 30 shipyards around the world, according to literature available from National Supply. The literature also contains specifications for various unit arrangements, tensile properties for its components, and a description of other features, including push-button control operation and various safety features.
Eight-pages of text and full-color photographs depict various applications of the jacking system and describe its engineering and safety features. Also, specifications for various unit arrangements are shown in a chart.
National jacking systems use an arrangement of horizontally opposed pairs of pinions which provide positive engagement with a precision-torch cut, double-sided rack. Individual leg control is accomplished in a central operator's console where the operator can operate all legs individually or simultaneously with mixed hull-up and hull-down operations.
Each climbing pinion also has an individual gear motor and gear train drive, with each motor having an electromagnetic-released, spring-set, fail-safe, multi-disc brake.
NAUTILUS CRANE Write 48 on Reader Service Card Nautilus Crane & Equipment Company has a modern 50,000 square-foot plant for the manufacture of high-speed cranes for shipboard and offshore drilling and production rigs. The acceptance of the Nautilus hydraulic crane designs since the company was founded in 1973 has been excellent.
Used on drilling rigs, production platforms, jackups, workboats and ships, Nautilus cranes are designed to handle loads from 2 to 100 tons. Features include telescoping or straight booms, hydraulic diesel or electric power, and a variety of mounting and boom length options.
The Metairie, La.-based company is now owned by Beckwith Machinery Company, a Caterpillar dealer serving the northwest Pennsylvania and West Virginia area from Pittsburgh.
Nautilus points out that their present manufacturing facilities occupy eight times the manufacturing space of the previous plant.
The present facilities include a CAD/CAM system for computeraided engineering design and manufacturing.
The system provides faster crane deliveries and the ability to more easily adopt design features to special requirements. Nautilus also uses a computer to analyze a crane design to determine its ability to withstand forces it encounters in severe environments. It can take into account the effect of high winds and seas on the crane and select or modify a design to satisfy the requirements.
The new Nautilus 100-ton lattice boom crane has a unique structural design that aids in transforming loads to the foundation.
Other features of the crane include a new type winch which has multiple braking modes, a cylindrical designed pedestal, and a small tail swing working radius.
PACECO Write 49 on Reader Service Card In the fall of 1982, O&K Orenstein & Koppel AG of West Germany, and Paceco, Inc., a subsidiary of the Fruehauf Corporation and one of the world's leading manufacturers of container handling cranes, agreed to cooperate in engineering and manufacturing in the U.S.
Among the products involved is the new O&K-designed doublejointed deck crane that is capable of handling cargoes—particularly containers—twice as fast as conventional deck cranes.
In addition to faster operation and greater precision, particular design emphasis was placed on improving the operator's field of vi- sion and to reducing the overall height of the cranes to improve vision from the bridge.
The new O&K deck cranes guide the cargo loads with short pendulum movements that are absolutely horizontal as on a quaymounted bridge. The movement is also on selectable lines transverse to the ship while the jib point turntable automatically retains its direction parallel to the longitudinal axis of the ship.
By manual control, the crane operator can additionally bring the jib point turntable into any position.
The operator's cabin, always traveling above the load, is attached under the articulated jib and, owing to ideal vision, makes it possible for the operator to handle cargo hatches or containers without assistance to guide it.
The cranes are designed with good accessibility to the machinery, electrical and/or hydraulic equipment accommodated in the jibs. The smooth surfaces of the structure provide for easy and trouble-free maintenance. Hydraulic pipes and equipment are arranged in such a way that all oil-carrying components are located inside the individual crane assembly groups.
The cranes are available with certificates from the requested classification society for a threephase ship's mains with 440V/60 cycles or 380V/50 cycles, for 5 degree heeling and 2 degree trim for ambient temperatures of minus 25 degrees to plus 45 degrees C, material St52-3.
Crane types include the BEH with electrohydraulic drive with three phase squirrel cage rotor motors, hydraulic variable displacement pumps, closed circuits, electrical controls. The crane type BEE features all-electric drive, statis transformers and DC motors.
The cranes will be manufactured at Paceco's newly expanded computer integrated facility located on deep water near Gulfport, Miss.
R E E L - O - M A T IC Write 50 on Reader Service Card Reel-O-Matic Systems Inc., of Wrightsville, Pa., offers a variety of machinery to the marine industry.
One of the most popular pieces of equipment used is the series CPD or custom power drum. This unit is constructed of a fabricated steel drum mounted in bearings with various drive styles available.
These machines are built to customer requirements for size and capacity.
The CPD is designed primarily for storage and winching of cables and lines in marine usage.
A special weather proofing package for shipboard environment is also available. This package includes stainless steel shafting, totally enclosed motors and controls, sealed bearings, and galvanized undercoating with rubberized paint.
These same corrosion preventive measures can be applied to any of Reel-O-Matic's equipment that have applications throughout the marine industry.
Another frequently used piece of equipment is the RS/VS series of shafted stationary coiling and reeling machines. These units can be bolted or welded to the deck of a ship to pull any flexible material onto a reel or coil. The RS/VS is offered with various drive configurations to suit any particular need.
Reel-O-Matic's HJ/KVS series mobile reeling and coiling machine also is often used aboard ship because it has all of the outstanding features of the RS/VS and, in addition, it is mobile. A configuration of locking wheels and swivel casters allows this machine to be easily moved from job to job.
S C H O E L L H O R N - A L B R E C H T Write 51 on Reader Service Card Schoellhorn-Albrecht Division of St. Louis Ship, St. Louis, Mo., is presently concluding fabrication of four 1824 deck capstans for Todd Shipyards in San Pedro, Calif.
This family of capstans, which has been in service for over 40 years, is not presently represented in the company's brochure but will be shown in revised literature available later this year.
The deck capstans have fully normalized and stress-relieved cast steel barrels and right-angle worm gear housing. The capstans are driven through a structural frame mounted, spur gear reduced, rightangle worm drive. Worm drive operates in a continuous oil bath and bronze bushings have pressure grease fittings. Primary power is furnished from a 30/30-hp marine electric motor, fitted with a 120 percent torque capacity magnetic disc brake.
Capstan has been designed to provide 10,000 pounds of pull at 55 fpm and 20,000 pounds at 28 fpm.
Ultimate pull is 55,000 pounds with an ultimate static holding capacity of 100,000 pounds.
Other deck capstans with barrels of 14 inches to 24 inches and driven either electrically, pneumatically, or hydraulically are available.
Also featured in Schoellhorn- Albrecht's new brochure will be a smaller, totally redesigned capstan/ carpuller. These surface mounted units designed for less severe marine and industrial applications will be available with operating capacity of from 5,000 pounds to 15,000 pounds at 30 fpm to 50 fpm.
SMATCO Write 52 on Reader Service Card SMATCO, Inc. Division of TBW Industries, Inc., of Houma, La., has recently supplied complete shipsets of Norwinch low pressure hydraulic deck equipment for two ME-303 anchor-handling/tug/supply vessels. The two vessels, built at Halter Marine, Inc. in New Orleans, are 225 feet long, 12,280-hp vessels.
The Kodiak I, recently delivered, and Kodiak II were ordered by Penrod Drilling Corporation of Dallas, Texas. The two boats will be used primarily for long distance towing of semisubmersible rigs and other towing and anchor handling tasks. Each vessel is equipped with the following SMATCO/ Norwinch deck machinery: one 4S-250-2T waterfall 250-ton hydraulic anchor-handling/towing winch. The winch is powered by four Norwinch low pressure hydraulic motors and is arranged to enable either of the drums to pro- vide full pulling power. Both drums can provide half pulling power simultaneously and they can be operated independently of each other in either direction of rotation.
The utilization of a four-motor drive provides an extremely flexible winch. Each hydraulic motor has a two-speed/torque range, but in practice five of the totally eight speed/torque ranges obtained by the four-motor drives are sufficient.
Therefore additional geartrains are not necessary for high speeds.
The system gives the advantage in allowing a controlled maximum load in the lines—preset by the operator.
The winch is also equipped with Norwinch patented high power hydraulic dynamic braking system, which provides a hydraulic braking control of speed and pull. Also onboard is a 30-ton hydraulic anchor winch type S-50- 1T bow windlass.
This winch is powered by one Norwinch low-pressure hydraulic motor and consists of one declutchable drum, one declutchable cable lifter for 38-mm 43 chain and two fixed warping heads. The vessels also have two hydraulic tugger winches, type MV-12.
In addition each vessel has two hydraulic capstans, type C-9.
Completing the shipset are two cable storage reels, each having one fixed drum divided into two sections and directly driven by one Norwinch low pressure hydraulic motor. All machinery was manufactured by SMATCO, Inc. through a licensing agreement with SMATCO and Norwinch.
SMITH BERGER MARINE Write 53 on Reader Service Card Smith Berger Marine Inc., of Seattle, Wash., is well known for its line of durable marine fairleaders.
The fairleaders are designed and built to withstand the rigors of the marine environment and heavyduty service. The Smith Berger line of fairleaders features heavy one-piece machined steel sheaves that are mounted on heavy duty bearings.
The fairleaders are self-aligning and self-balancing which provides positive smooth seating when used at any line tension and with any lead direction. The Smith Berger staff provides individual service and prides itself on providing deck machinery that fits and particular requirements of each customer.
STANSPEC Write 54 on Reader Service Card The Stanspec Corp. of Cleveland, Ohio, designers and manufacturers of materials-handling equipment, offers a line of standard and custom-built "Rightway" deck winches.
The winches are manufactured to customers requirements from interchangeable, standard components.
Capacities of the units range from 500 to 50,000 pounds with electric, air, gasoline, or hydraulic power available.
Among the special features of the Stanspec winches are: totally enclosed motors; safety brake; precision gearing; free-spooling drum; and an all-steel fabricated winch base. Optional features include an electric motor brake and a torque limiter clutch.
Stanspec offers catalogs detailing its range of deck machinery.
They are available without charge.
SUPERIOR • LIDGERWOOD •MUNDY Write 55 on Reader Service Card Lidgerwood Manufacturing Company of New York, was established in 1873 as a continuation of the Speedwell Iron Works of Morristown, N.J. From its standard hoisting equipment, Lidgerwood evolved marine winches.
These were produced extensively for steam power and later were adapted to electric applications.
Capstans, anchor windlasses, and marine winches still continue to be a source of pride to Lidgerwood, which has definitely stood the test of time.
The company offers a full range of well-illustrated literature that details the capabilities, special features, and specifications of its line of marine equipment. Included are marine equipment such as integrated barge moving systems; carpullers; capstans; steam hoists; trawling winches; towing winches; mooring bits and winches; cargo winches; gasoline, diesel, or electric hoists; anchor hoists; crane, dock, hatch cover, and dredge hoists, and windlasses.
TIMBERLAND Write 56 on Reader Service Card Timberland Equipment Limited of Woodstock, Ontario, now offers a Canadian built choice in mooring and anchoring systems with a wide range of winches that will handle up to 2V2-inch wire rope.
Timberland has designed and manufactured powered winches for over 25 years for the construction, mining, and marine industries.
Recently they have expanded the product line to serve a wider range of winch applications for mooring, anchoring, and positioning of service vessels. One of these new custom designed winches went into operation in mid-June 1982 on Lake Erie. Timberland's heavy duty diesel powered double drum waterfall-type anchor winch (model #HR-280-2) is being used aboard Pembina Exploration Co. Ltd.'s work barge—the Erie West. The Erie West is laying and repairing underwater pipelines and stimulating gas wells on the lake.
Pembina's Drilling superintendent J.R. Rouble said that this winch has performed to their satisfaction and has met their expectations since being installed aboard the Erie West. The principal rea- sons for choosing the Timberland design and manufactured winch were the basic economic advantage of acquiring a Canadian built product and the availability of parts and service.
UNIT CRANE Write 57 on Reader Service Card A new series of hydraulic Unit Mariner pedestal-mounted cranes that meet 1983 API specifications covering offshore cranes is described in literature offered by the Unit Crane & Shovel Corp., New Berlin, Wise.
The new Mariner line offers maximum lift capacities of 27,000 pounds; 36,000 pounds; and 55,000 pounds with basic boom lengths at 30-foot radius. Modular design is said to provide fast assembly and easy, accessible servicing. A variety of hydraulic winches is available to meet specific load capacities and line speed requirements.
An exclusive "Power Demand" hydraulic system, powered by diesel or electric prime movers, automatically matches hydraulic working pressures and horsepower to load requirements. Deck configurations include remote or onboard power; "walk around" control; or fully enclosed cab. Detailed specifications are included in the literature.
WASHINGTON CHAIN & SUPPLY Write 58 on Reader Service Card A new machine from Washington Chain & Supply Inc., of Seattle, Wash., offers an easy, hydraulically powered method for wire rope socketing. The machine is marketed under the name of Cab- L-Mate and provides a one-man process for positioning wire rope into a socket.
James Ballard, president of Washington Chain, states: "A Cab- L-Mate machine makes it possible for one man, within a few minutes, to accomplish what it would take two or three men to duplicate in one hours time . . . and do it with less effort. Also, unlike the manual or crimping method, the Cab-L-Mate positions the wire rope "broom" into the socket without damage to the wire." The Cab-L-Mate wire rope socketing machine is offered in two durable models. Model 101 accommodates wire rope up to 2 inches thick and operates with dies in Vi inch increments. The larger machine, model 201, handles wire rope from 2 inches to 4-¥4 inches.
Dies for the 201 are made to special order only. Both machines are hydraulically operated with manual control valves.
WASHINGTON CRANES Write 59 on Reader Service Card The 150-ton revolver crane installed at Todd Shipyards, Seattle, Wash., is typical of a new generation of equipment manufactured by Washington Cranes, also of Seattle, a division of Ederer, Inc.
Some of the advanced design concepts incorporated include Ederer DC adjustable voltage controls for all motions, all-electric operation, and a high-efficiency operator's cab. The crane has all independent hoists, each with its own solid-state control.
All gearing is in totally enclosed oil baths and all hoist machinery is gear driven. The new revolving cranes have unique travel trucks with each drive motor driving one wheel.
The design allows increased load on existing tracks.
The diesel generator house is located over the portal to isolate noise, lower the center of gravity, and improve accessibility. These design features and others, Washington Crane reports, result in increased reliability, lower maintenance, and more efficient operation due to the resulting greatest possible capacity for a given size.
The main hook lifting capacity of the Todd crane is 150 tons at a 55-foot radius, and 50 tons at 120 feet. The auxiliary hook lifts 15 tons at all radii from 61 to 210 feet.
The main hook speed is 12 fpm while the auxiliary is 100 fpm.
The boom can be fully elevated from the fully lowered position in three minutes. The crane can travel at 150 fpm. The Todd crane is powered from an on-board diesel generator set of 685 hp.
WILDEN PUMP Write 60 on Reader Service Card The Wilden pump is an airoperated, double-diaphragm, positive displacement pump designed to handle very thick and very abrasive materials. The pump handles up to 90 percent solids to over 250-foot heads in permanent, submerged, and self-priming operations.
Simple clamp band construction and one moving part air valve make it virtually maintenance free.
The Wilden pump can run dry indefinitely without damage with no pressure relief valve needed.
When discharge pressure equals air supply pressure the diaphragms simply stall out.
Four models are available: the M2, the newest model in the Wilden line, for flow rates up to 30 gpm; the M4, for flow rates to 70 gpm; the M8 for flow rates up to 135 gpm; and, the M15 for flow rates up to 240 gpm. Wilden pumps are used to transfer waste sludges, thickener under-flow, filter press operations, and secondary sewage.
Wilden pumps are available in optional alloys and elastomers to handle most erosive and corrosive applications.
MacGREGOR-NAVIRE INTERNATIONAL Write 6 1 on Reader Service Card Formed following the acquisition of MacGregor International by Kone Oy, of Finland, which already owned Navire Cargo Gear International, this new company is a major force in the area of cargo access equipment and systems.
Both partners have developed numerous designs of specialized equipment including, in the area of deck machinery, all manner of hatch covers. The range of covers designed vary from units for the largest bulk, OBO, and ore/oil carriers down to the smallest inland waterway vessel.
Recent innovations for folding covers on medium sized vessels have included the self-engaging auto cleat and the gravity cover.
The self-engaging auto cleat system uses angular interlocks, or wedges, on the cover side/coaming and at the cross joints to form the cleats. It has been incorporated in the "Direct Pull," "Foldtite," and "Foldlink" cover designs.
The gravity cover uses wedge line positioners each side of the meeting panels to ensure constant compression while the wheel arms at the leading edge of the panels engage catch devices on the coaming top rails. The end hinges allow lateral movement but can still act as battening hinges together with the center hinge. With this design, only four manual cleats are required for a hatch, drastically reducing securing time.
An area of development for inland waterway vessels and barges has been telescopic covers which effectively concertina when opened.
There are designs for two and three panel sets of lightweight construction and available as watertight or raintight units. Others now include a light alloy version significantly lighter than those in steel and with a reduced maintenance requirement. This alloy design is raintight and being lighter, large panel sizes can still be manhandled while the power requirement for driven panels is reduced.
One of the most innovative ideas to emerge in recent years involving hatch covers is their use as cranes. In particular, a system has been developed for vessels without cranage so that they can handle 'tweendeck pontoon covers. Called the rolling crane hatch cover, this unit can be rolled along the weatherdeck coaming like a gantry crane.
Not only is it a straight pontoon cover, it is equipped on the underside with winches and a cable hoist arrangement whereby a 'tweendeck cover panel can be lifted, transported, and stowed. A recess in the top of the cover contains controls and a seat for the crane driver.
Equally valuable to an owner is the possibility of using 'tweendeck pontoon covers as portable partitions.
This approach has been used on a recent vessel, the 5,780 dwt Stephan J. A Ro-Ro/containership, this vessel has 14 'tweendeck pontoon cover panels. Four of these panels can be used as partitions, standing upright on the tank top.
On the largest of dry cargo vessels, side rolling covers are predominant.
Much original work in this area has been carried out, including development of rack and pinion drive. The latest versions of the system enable one man to open up a nine-hatch ship in under 30 minutes, exclusive of unbattening.
Seals are also important and the unique "Hydroseal" system overcomes even the largest amount of movement between the cover and its coaming by maintaining the pressure of the gasket frame against the coaming.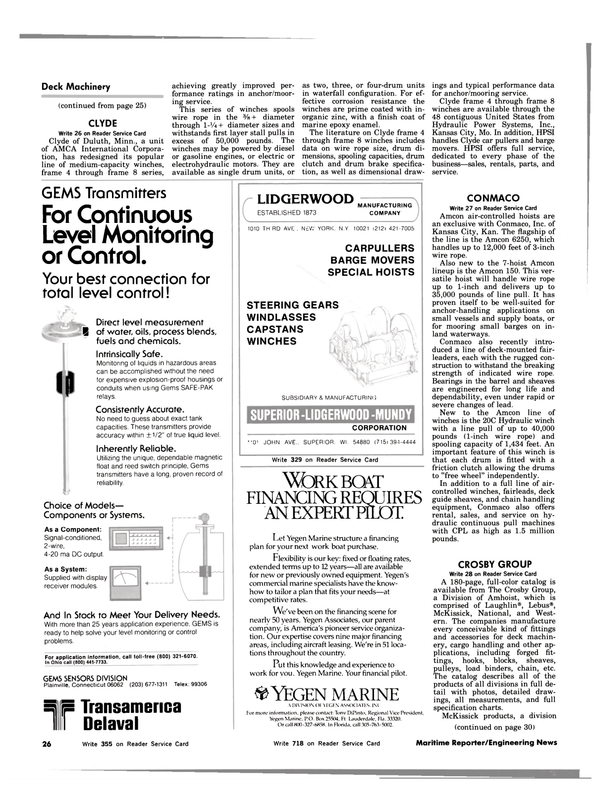 Read DECK MACHINERY A REVIEW in Pdf, Flash or Html5 edition of August 1983 Maritime Reporter
Other stories from August 1983 issue
Content