FMC Delivers Third Hydraulic Dump Barge To Smith-Rice
A 258-foot-long hydraulic dump barge was launched recently by the Marine and Rail Equipment Division of FMC Corporation, of Portland, Ore. Smith-Rice Company of San Francisco purchased the barge—its third from FMC—for transporting and dumping dredge material in the San Francisco Bay region.
According to William R. Galbraith, FMC's vice president of sales, delivery of the 3,000- cubic-yard-capacity barge was made following operational tests of the dumping mechanism.
Built in two halves along the longitudinal axis, the barge incorporates an unusual selfdumping design. Two giant hinges, fabricated from 14 pieces of nine-inch thick steel plate, connect the barge at either end. Below each hinge, 16-inch diameter hydraulic cylinders control the opening and closing sequence. The system is remotely operated by radio from the attending tugboat.
"The best feature of the self-dumping design is its economy of operation. The barge can be loaded in the conventional way and then dumped at a prime disposal area while underway and without further equipment. Radio control adds to the safety, speed, and simplicity of operation", Mr. Galbraith explained.
By design, the hinged dump barge tends to open by itself when loaded and tends to close when empty. This is due to the different transverse locations for the center of gravity and center of buoyancy in each half of the hull. Flotation comes from watertight compartments within each hull half.
When the barge is loaded, its center of gravity is well inboard of the center of buoyancy, thus it tends to open the barge. Dumping the load causes the center of gravity to shift outboard; the resulting moment force tends to close the hull halves. Hinges at the deck connect the two hull sections, allowing each half of the hull to act as an independent unit when rotating. Hydraulic cylinders also connect the two barge halves, primarily to control opening and closing movements, with load and buoyancy providing most of the force.
The barge is 258-feet long, with a molded beam of 45 feet, a mean loaded draft in fresh water of 16 feet 6-inches, and a depth of 20 feet 6-inches at forward and aft deck, 18 feet at port and starboard decks. The hopper is 176 feet long and the barge's light draft is 3 feet in the closed position and 7 feet in the open.
The maximum opening of the hull is 12 feet.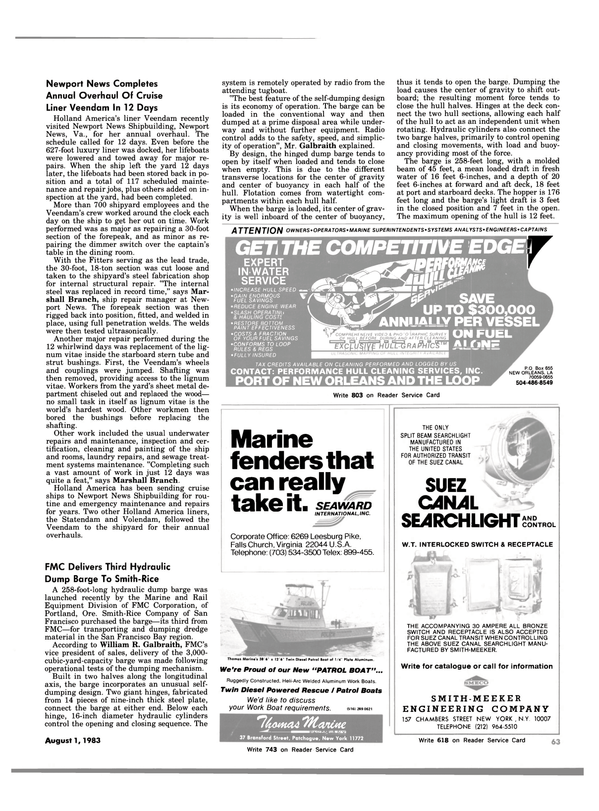 Read FMC Delivers Third Hydraulic Dump Barge To Smith-Rice in Pdf, Flash or Html5 edition of August 1983 Maritime Reporter
Other stories from August 1983 issue
Content