Barge Industry Says USCG Proposal Could Paralyze Oil Transport
The U.S. Coast Guard has proposed that all petroleum-carrying ships and barges operating in U.S.
waters be able to provide proof they have new, higher levels of insurance sufficient to pay the cleanup costs of a major oil spill—or stop operating.
But the tug and barge industry, which transports almost 30 percent of all U.S. petroleum, claims t h a t if implemented, the rule would shut down the waterborne movement of petroleum—including gasoline, diesel fuel, home heating oil, lube oils and other petroleum products in many coastal areas of the U.S.
"Many coastal states are totally dependent on waterborne transportation of oil for the bulk of their citizens' energy requirements. This proposal is big trouble for energy consumers," said Joe Farrell, president of the American Waterways Operators (AWO), the primary trade association of the tug and barge industry.
The Coast Guard proposal is an outgrowth of the Oil Pollution Act of 1990, a bill passed by Congress last year in the wake of the Valdez spill.
Among other provisions, the bill requires the Coast Guard to develop rules to enforce the requirement t h a t all petroleum transportation companies carry a Certificate of Financial Responsibility (COFR) for each vessel—proof that they can fully cover their liability for a catastrophic spill.
Insurance companies in the U.S.
and abroad have stated they will refuse to issue the insurance guarantees necessary to comply with the new requirements. Without such guarantees, virtually all petroleum transport companies must cease operations.
"One can infer from the Coast Guard's proposed rule that the new requirements for COFRs are manageable, when in fact, they are not," said Mr. Farrell. "Arguably, the Coast Guard has been caught between the Congress—which was frenzied by the Valdez spill when it passed the new Oil Pollution Act— and the insurance industry, which claims it cannot provide the necessary guarantees for companies to get a COFR. Without a COFR, petroleum transport vessels cannot operate." Mr. Farrell noted t h a t the Coast Guard intends to conduct a regulatory impact study in order to determine the economic effects of its proposal.
"To the extent that the proposal has redeeming qualities, it is by its stated requirement to conduct a regulatory impact study, and publish it before the Coast Guard publishes its final rule on this issue.
The answers to the questions about economic impact should make an irrefutable case that something has to give. AWO intends to help make this case, directly from the industry it represents, and indirectly by working with allied industries and American consumers of energy."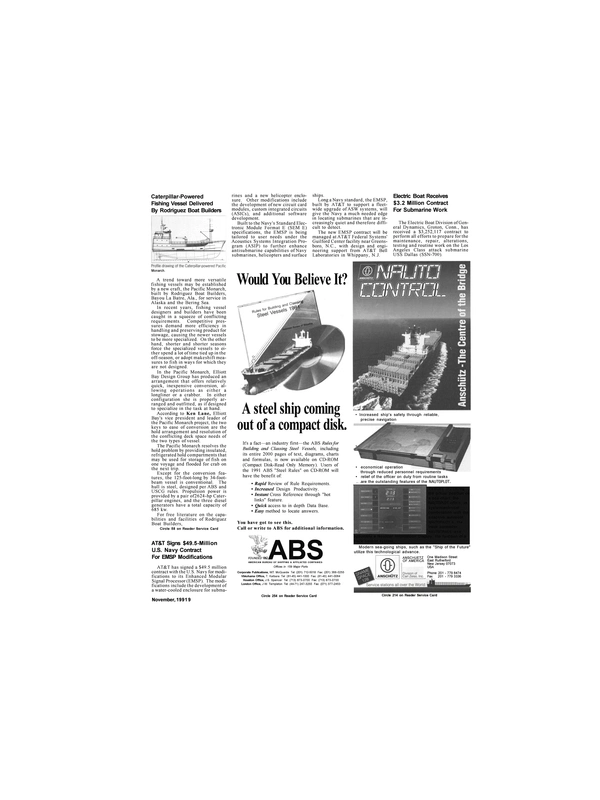 Read Barge Industry Says USCG Proposal Could Paralyze Oil Transport in Pdf, Flash or Html5 edition of November 1991 Maritime Reporter
Other stories from November 1991 issue
Content