Waterways Conference Delegates Urge Maritime Industry To Lobby For Repeal Of Shipping Taxes
Shipping leaders at the recent annual meeting of the National Waterways Conference, charging that the U.S. Government might be taxing the maritime industry out of the global marketplace, called for an uprising to force repeal of recent user fee increases.
Panelists at the National Waterways Conference, after detailing a dozen separate maritime user fees recently enacted or increased by Congress, urged the maritime industry to take action. Ostensibly, the new or enlarged fees pay for such things as Coast Guard services, dredging of shipping channels, and inspection of vessels for possible insect pests. Many of them were enacted last year as part of a wide-ranging deficit reduction package.
A shipping company president, two port officials and Harry N.
Cook, president of the National Waterways Conference, were included in the panelists who called for a stepped-up lobbying effort against the fees. Comdr. Bruce A. Russell, a USCG official responsible for implementing the new user fees, was also on hand. He limited his presentation to a series of slides explaining Coast Guard plans and acknowledged one hostile question—" Why should we pay for service we don't want?"—with the suggestion, "Talk to your Congressman." The president of Biehl & Co., Don Waheed, charged that the nation's competitive position in world trade has been weakened by imposition of excessive user fees imposed against the maritime industry.
Acting director at the Port of Houston, Tom Kornegay, told the group that new fees and taxes have resulted in a very noncompetitive situation for U.S. ports. He said a typical ship will now pay about $80,000 in total fees. He joined others in warning that these fee increases have come at a time when other nations like Canada stand poised to take more shipping business away from the U.S.
Pat A. Younger, legislative affairs manager for the Port of Houston, listed these 12 new taxes and fees that should target for repeal or reduction: • Harbor maintenance tax, which more than tripled last year, to 0.125 percent of the value of international cargo handled at U.S.
ports.
•Vessel tonnage tax, raised more than 350 percent, to a maximum of 27 cents a ton of vessel capacity.
•Coast Guard user fees.
•Customs user fee.
•A $544 fee collected by the Agriculture Department Animal and Plant Health Inspection Service from each incoming ship—even when no inspection is performed.
•Federal Grain Inspection Service fee.
•Ship passenger international departure tax.
•The 4 percent transportation revenue tax.
•Various navigation fees.
•State and local user fees.
•Section 404 permits.
•LUST—the leaking underground storage tank tax, amounting to one cent a gallon on most fuels used on inland waterways.
The National Waterways Conference is a trade group representing companies involved in U.S. domestic water transportation.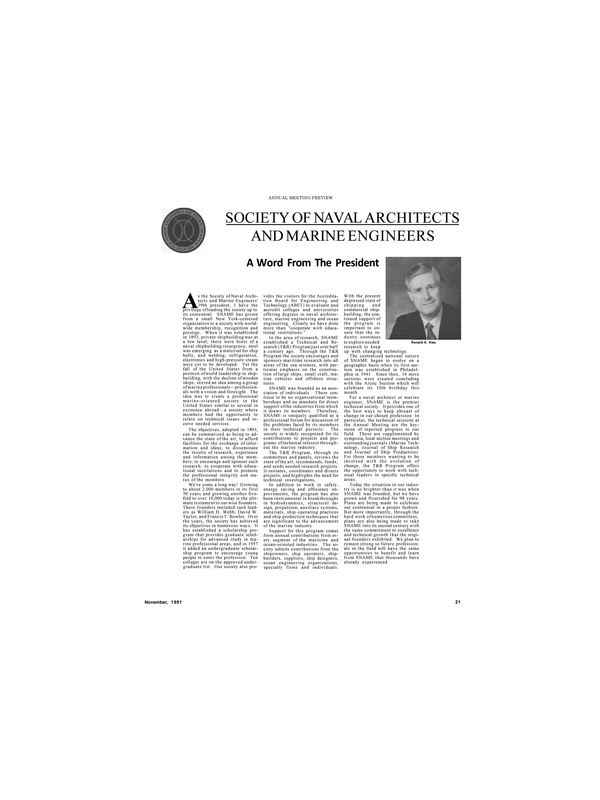 Read Waterways Conference Delegates Urge Maritime Industry To Lobby For Repeal Of Shipping Taxes in Pdf, Flash or Html5 edition of November 1991 Maritime Reporter
Other stories from November 1991 issue
Content