The German Maritime Industry
Although the overall market share is small (four percent based on gt; seven percent based on cgt worldwide), the German shipbuilding industry is number one in Europe and number three in the world. German shipyards are specialists in building high-tech container vessels and passenger- carrying ships. Their designs are circulating around the world and influence market needs worldwide, as they have done with container vessels.
German shipowner Hapag Lloyd, for example, was the first who asked for ships in the Panamax-breadth of 105.6 ft. (32.2 m), to carry 11 containers side by side in the holds instead of 10. The carrying capacity of vessels of nearly the same shape was increased by about one third only by optimizing designs. But unfortunately German yards were too expensive to build these ships, and Hapag Lloyd ordered the ships at Korean yards. This one case embodies the challenges of German shipbuilding today: the Germans can deliver highly sophisticated designs, but these designs are not always price competitive to build. To receive orders they need some capital aids from the government, which are delivered in various forms.
Thus, the question often asked is: what would happen if these subsidies were canceled?
It was always claimed that German yards need governmental capital aid to reach the same price level as competitors in, mainly, the Far East. But it was also said that German yards could live without subsidies, if all others would do the same. As of late this spring, Dr.
Heinz Ache, chairman of VSM, was not so sure that the industry would be able to survive without subsidies: "It comes a little bit too early for us.
We are just now in the middle of a new restructuring round of getting better productivity." But in the middle of July it happened in Paris. Negotiators from the European Union, the U.S., Japan, South Korea, Finland, Norway and Sweden agreed on an international treaty to eliminate shipbuilding subsidies.
Although the signing ceremony of the treaty is due to take place this October, if the draft text passes safely through the armies of lawyers from the individual governments and the legal department of the Organization for Economic Cooperation and Development (OECD), it can be assured that a new era of building and financing shipbuilding contracts is coming.
Once the treaty has been ratified and signed, it is due to take effect from January 1, 1996. From that date, signatories of the treaty should be removing all direct and indirect subsidies to shipyards.
The OECD members covered by the agreement accounted for 75 to 80 percent of the world's shipbuilding production capacity, but are they all really willing to follow the treaty?
In Europe opposition came mainly from France. The accommodation of the Jones Act into the agreement has provoked a strong French response, reportedly directed by French President Francois Mitterand, and which theoretically may have the power to kill the European Union's ratification by the use of its veto.
Basically, German shipbuilding officials are not against this OECD treaty, but they are warning that the treaty is not clear enough, that shipyard expansion plans in South Korea were not discussed, and that some of the main low-price shipbuilding nations are not covered by this deal. There are some shipyard chief executives who believe that the Germans should strongly oppose these OECD ideas.
GERMAN SHIPYARDS: A STATUS REPORT Although the orderbooks of German shipyards showed a small increase compared to the end of 1992, the employment of capacities varies substantially from shipyard to shipyard.
Whereas some shipyards are fully booked, small and mediumsized yards especially are suffering from a lack of orders. The ordering behavior of German owners — who again placed a large part of their orders at foreign shipyards, especially in East Europe and the Far East — contributed to worsening the situation.
Privatization of East German yards has been finalized. Now, in order to build competitive companies, the restructuring process is under way. This is taking place in accordance with the directives of the EU Commission concerning the level of maximum subsidies allowed, as well as capacity reductions. As all of these regulations were fixed and made public, the whole restructuring process for East Germany is more transparent in comparison to other cases. But internationally some European shipbuilding nations, especially Denmark, and nationally some small West German yards, are opposing these restructuring plans.
The chief complaint is that the East German yards are building new facilities with governmental subsidies (subsidies not available to all) and the result will be stiffer competition from these modernized yards.
Because of the restructuring and capacity reductions, the workforce of East German shipyards has been reduced from 14,500 to 11,100 employees.
In 1995, this number should reach 9,000 workers. The employment of West German shipyards decreased from 30,400 to 28,300.
The development of exchange rates led to a partial relief of competitive pressure by devaluation of the Deutsche Mark (DM) against the U.S. dollar, the yen and the won, but on the other side the DM rose strongly in value against most of the other European currencies. This led to some contracts going to shipyards in Finland and The Netherlands.
Considering the discussions on the quality of Germany as a suitable location for industries, VSM ordered a comprehensive study on the perspectives of the competitiveness of the German shipbuilding industry. Roland Berger & Partner, the well-known consultants, came to the conclusion that the shipbuilding industry is very efficient and has a leading technological position for sophisticated ships and naval craft. However, the competitiveness is endangered by high labor costs, which keep German shipyards away from bigger markets for vessels such as tankers and bulk carriers.
Thus, to keep the industry competitive for the future, German shipbuilders have to take the following actions: • intensify efforts to increase productivity • more outsourcing of production • more intensive forms of cooperation • intensification of research and development • cooperation among the maritime industries within Germany and Europe.
These efforts can only be successful if they are supported by corresponding governmental economic policy.
Some German yards have already taken action. The big yards started campaigns to raise productivity by more effectively motivating employees and by large investments into more effective plants.
Howaldtswerke-Deutsche Werft AG (HDW), Kiel created its plan "Shipyard 2000," which is projected to raise productivity 40 to 50 percent.
HDW invests in new production methods, cutting and welding lines, semi-automatic panel fabrication, highly automated bloc assembly, complete new corrosion protection and a high grade of pre-outfitting of their blocs. HDW reportedly has and will pay for these improvements from its own earnings.
Yards in Wismar, Warnemiinde, Rostock, Stralsund, Wolgast and Boizenburg are receiving rebuilt, newly equipped plants from the restructuring program of the German government for East German yards.
There was a long-lasting fight for privatization and for the final look of the yards. Today West German yards feel strong pressure from East German yards in the daily fight for new orders.
This is partly the reason that 17 western yards are cooperating under a self-formed roof to become more competitive. The yards have joined forces to make investments together they would not be able to make alone.
It means that, for example, cutting and welding of plates and profiles is done at one yard, and the assembly of blocs and oufitting to complete the ships is done at another. The yards want to be able to build a longer series of ships in cooperation with different yards.
Bremer Vulkan Group is heavily involved in the privatization of East German yards. Bremer Vulkan became owners of MTW Schiffswerft in Wismar, DMR Dieselmotorenwerk Rostock, Neptun Industrie und Reparatur in Rostock, and part owner of Volkswerft in Stralsund.
New production facilities are under construction at nearly all places and Bremer Vulkan management is busy keeping everything under control.
In Wismar, plans for a new yard were a bit too big. Final plans call for a smaller, more practical plant on the existing premises.
Bremer Vulkan invested in a 3,800-ton carrying transport lift for its old yard in Bremen-Vegesack.
This lift is able to completely shift pre-outfitted heavy blocs from covered building to the drydock, and from normal level down to the blocs of the dock. The lift is overcoming the work of the big gantry crane.
One of the most qualified yards with the best orderbook of all of them is Meyer Shipyard in Papenburg. Meyer Werft has built a very effective yard over the years, with capital improvements made from its own earnings. Meyer Werft has specialized in passenger carrying vessels and gas carriers. Today the yard has four cruising vessels of nearly 70,000-gt each on order. Although Meyer Werft's plant is highly sophisticated, it has the disadvantage of being positioned approximately 25 miles (40 km) away from open waters and the river Ems is less than 19.7 ft (6 m) deep for the time being. Nearly 24 ft. (7.3 m) is the depth needed for the future, and to deliver the four vessels, of which the first is due for delivery in spring 1995. Recently the decision was made to start deepening the waterway.
DELIVERIES 1993 According to VSM statistics, the shipbuilding results for 1993 are: • 93 vessels of 966,000 cgt were delivered • 58 units with 655,000 cgt came from West German yards • 35 units with 311,000 cgt from East German yards • 76 vessels with 1,136,000 cgt were on order at the beginning of the year; only 50 percent of the volume of the year before.
Consequently, roughly 67 percent ofGermanshipbuildingis positioned in the West and 33 percent in the East. And although the order situation has changed slightly, it is still not considered satisfactory.
In 1993 German shipyards produced mainly container vessels (51.8 percent), passenger- carrying ships, ferries and RoRo tonnage (26.1 percent), cargo vessels (9.4 percent), special tankers (5.9 percent), offshore supply craft (3.5 percent), fishery vessels (1.7 percent), tugs (1.5 percent) and other floating units. It can be said that German yards have specialized in sophisticated vessels, but the grade of sophistication has been going down over the years.
German shipbuilding officials are of the opinion that German yards have to compete for the future also in areas of standard vessels, bulk carriers and big tankers. This is one of the reasons why five European shipyards joined forces to at least design the E3 tanker, a highly specialized, double-hulled and environmentfriendly tanker. The first E3 tanker, with an option for a second, was ordered with a Spanish yard.
Another specialty not counted in the official statistics is naval craft. Some big yards count nicknamed in Germany, as nearly one third of its turnover, whereas some smaller yards (Abeking & Rasmussen, Liirssen) which in the past counted more than 80 percent of its work as naval, count it today as just over 50 percent.
When the unification of Germany occurred, an old enemy was lost, and consequently the navy had to reduce and restructure its needs and plans for new vessels. Building programs for frigates, submarines and mine-sweepers are completely revised or phasing out.
New plans are under discussion but may be delayed beyond the year 2000. But some naval craft have to be built, at least to keep competence in designing and producing these units in the future.
SHIPREPAIR The repair activities in 1993 were, again, at a lower level than the year before. The repair volume was unsatisfactory and unevenly distributed, so capacities could not be employed as planned. Competition from East European countries and Scandinavia had a negative impact.
Most of the German yards count 10 to 20 percent of their turnover coming from ships' repair and conversion.
Today in Germany it is felt that the time is over to compensate for lack of work in newbuildings by repairing and converting vessels.
But just recently, German yards received some prestigious contracts. Blohm + Voss won the contract to refit the Cunard flagship Queen Elizabeth II. There has been keen competition for this work with bids from other German as well as a number of overseas shipyards.
Lloyd Werft carried out the previous extensive re-engining and conversion of the pure passenger ship, which was originally built in 1967. But Blohm + Voss, which last docked the ship late in 1992 following her grounding off the U.S. East Coast, was favored by the vessel's owner. The ship has been stemmed at the yard for late November for a four-week refurbishment period, scheduled to have her back in service in time for the Christmas cruising itinerary.
The Hamburg-based Blohm + Voss shipyard has been prominent in the shiprepair market in recent months, and is reported to be in negotiations with other owners attracted by the innovative conversion work the yard is carrying out for Sea-Land. The unique Sea-Land contract covers the conversion of the large containerships Galveston Bay, Sea-Land. Value and Raleigh Bay by November this year. These ships are being shortened from 949.8 ft. (289.5 m) to 856.9 ft.
(261.2 m) by removal of 113.5 ft.
(40.7 m) mid-body sections. In addition, the bow form is being streamlined and new shaft motors and generators are being installed. The changes mean an increase in speed from 18 to 21 knots.
The yard claims the idea is finding favor with other owners who would like to reduce ship operation costs. The yard said it is also looking at ways to re-use the mid-bodies in new ships. Meanwhile the first co-operative outsourcing venture with Lithuania has been completed, with the delivery of the 21,890-gt large ferry Kaunas. This job was carried out in co-operation with Klaipeda shipyard.
German shipbuilding is still working strong to deliver, now and in the future, close to 100 newbuildings with around one million cgt. Main specialties of German yards are still container vessels and passenger-carrying ships, but also standard vessels, bulk carriers and tankers are again planned to be built at German yards.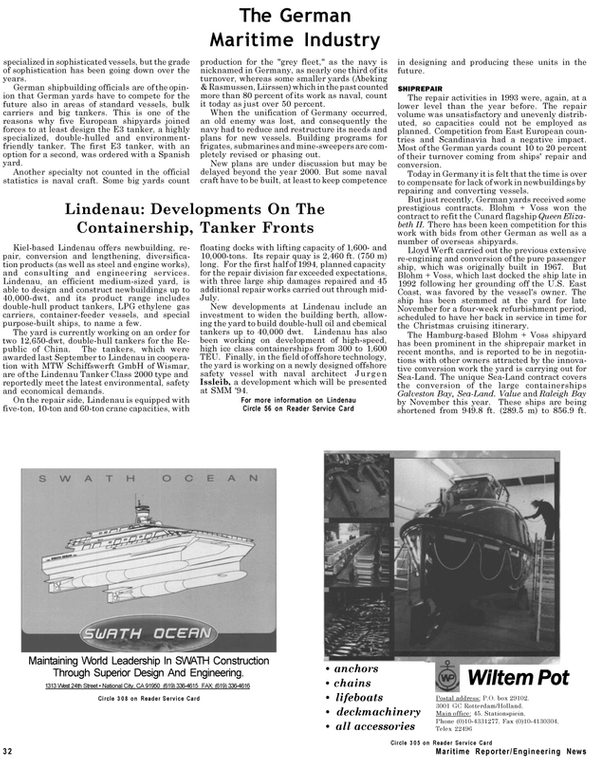 Read The German Maritime Industry in Pdf, Flash or Html5 edition of September 1994 Maritime Reporter
Other stories from September 1994 issue
Content