Midland Enterprises Expands With The Times
Since planting its roots in 1925 as a small coal delivery business known as the Ohio River Company (ORCO), Midland Enterprises has evolved from one chartered boat and four barges to more than 85 boats and 2,400 barges moving the entire eastern inland waterways system.
Established by Albert Converse Ingersoll, the Ohio River Company's main focus at that time was to float West Virginia coal to Cincinnati using its premiere boat — the E.D. Kenna. Built for its newest customer, Cincinnati Gas & Electric (the company's longest running business relationship), the vessel cost $179,325 in 1926. Subsequent to this successful venture, the company's demand continued to grow, causing a need for added capital. Ingersoll called upon C.E. Hutchinson, president of the West Virginia Coal and Coke Company to discuss a possible venture. Talks between Ingersoll and Hutchison proved favorable, as ORCO was incorporated as a subsidiary of the coal-mining company on April 17, 1925. Operating under the partnership of Ingersoll and W.W.
Marting, the company's contract with CG&E spawns the construction of another facility in 1931 — the Mill Street terminal in Cincinnati. Located next to the utility's company plant at Front and Rose Sts., the new building is able to unload coal barges into either railroad trucks or cars.
In 1937, Ingersoll formed an Illinois division of the company to move coal from Havana, 111. to Commonwealth Edison's steam plants in Chicago. Headed for a short time by Ingersoll's son A.C., the division eventually fell under the direction of John C. Marting (son of W.W.) whose tenure with company spanned 35 years.
An era ceased in 1938 when both Ingersolls left the company to establish Central Barge Company in Chicago, which would eventually evolve to become part of the Valley Line. W.W.
Marting, Ingersoll's original partner takes over the company that he worked to establish — as general manager — position he would hold until his death in 1945. The 1950s brought about myriad of change for ORCO, beginning in 1954, when the company was taken over by a group of New York businessmen headed by Simon H. Scheuer, instilling a change in leadership and direction.
Scheuer, along with attorney Eli Goldston, the company's new vice president, collaborated in the selling of coalmines to focus on barging. One year later, West Virginia Coal and Coke's name is changed to Midland Enterprises; the towing end of the business continues as The Ohio River Company.
At this time, not only was it the end of the former West Virginia Coal and Coke, but it was also the end of an era with the traditional steamboats being replaced more modern, streamlined vessels powered by diesel engines. Difficult changes to get accustomed to, many steamboat captains were not shy about expressing their dissatisfaction with this new development.
"They're [the new vessels] noisy and they stink," one captain quips.
"Besides, they don't have a decent whistle, only a bleating horn." In 1961. the company is very appealing to Eastern Gas and Fuel Associates of Boston, who purchase ORCO and its parent company. At the time, the company estimated as holding revenues of $24 million and handling 15 million tons a year, is employing 900 people. That same year, the new company deploys the John Ladd Dean, which in 1962 set record for tow size by picking up 43 standard and two jumbo barges.
Expansion best describes the focus of the company throughout the 1960s and 1970s with the formation of the Orgulf and Red Circle divisions, as well as the signing of a 15-year contract with Freeport Sulphur Company in 1967 for the transportation of 2.25 million tons of wet phosphate rock from Tampa to Uncle Sam, La. In 1969, it was noted that the complete Midland conglomeration of companies was moving more than 25 million tons of cargo annually.
Known as the largest tonnage carrier on the inland waterways, the company operated 30 towboats and more than 1,000 barges at that time.
Shortly before the company is taken over by "the modern era," John D.
Geary is elected president of the company in 1974. Geary spearheaded a sig- nificant fleet expansion, the commencing of barge building at Port Allen Marine and renovations at Huntington Terminal. He also furthers the importance of long-term contracts, which will prove to be instrumental for the company's success. In 1982, Midland further expands its base with the acquisition of two companies in Paducah, Ky. — Walker Boat Yard and R&W Marine.
The company also attains Federal Barge Lines two years later — a move that would expand its presence in the transportation of grain and grain products.
Midland also changes with the times in the mid-80s by joining the technology revolution by installing a system called TowLine, a computerized tracking system that gives customers the most revised information about each barge load. In addition, onboard computers become a standard fixture on all operating equipment in 1993. Following the end of Geary's tenure in 1988, John W.
Hancock for whom the company's training center is named, now heads the company. Established in 1990 on a deck barge at Walker Boat Yard, this floating classroom provides facilities for deckhand orientation and other types of training. In cooperation with Seaman's Church Institute, the first group of Midland captains completed Midland's training program in 1997. Presently, the company has moved to partner with customers and signs agreements to provide complete U.S. water transportation logistics for Trico Steel, as well as managing dock operations for Lafarge Gypsum.
According to Mark Cook, Midland's current president, the company will continue to prosper for another 75 years because of its strong ties to its customers and reputation for service. The announcement by Midland's parent company that it will merge with KeySpan Energy of Brooklyn, N.Y., best echoes Cook's sentiments.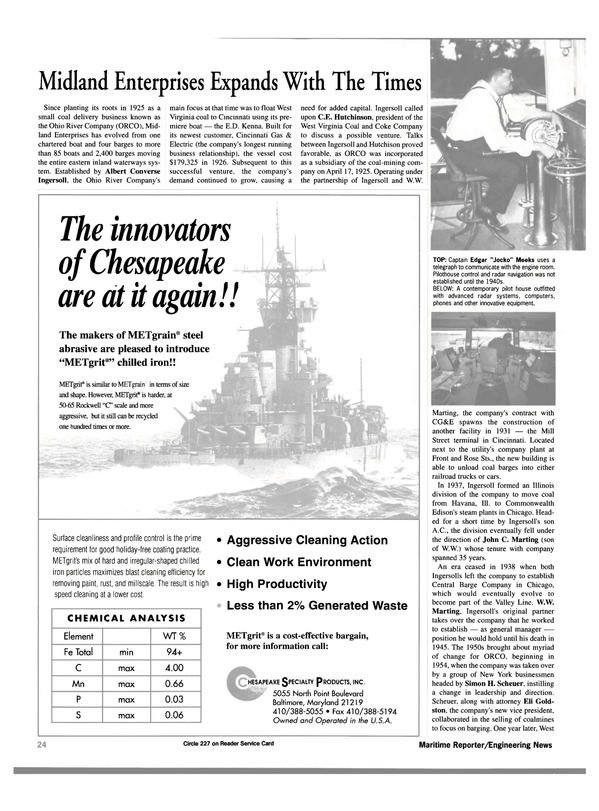 Read Midland Enterprises Expands With The Times in Pdf, Flash or Html5 edition of June 15, 2000 Maritime Reporter
Other stories from June 15, 2000 issue
Content